How to Choose Bedroom Carpet That Won't Disappoint
Do you need to replace the carpet in your bedroom? Or do you want to add carpet to your bedroom?
Carpet is not something that every home has. It's a trend, like everything in homes. It was very popular to have carpet everywhere at one point in time, but now wall-to-wall carpet is NOT as popular. In fact, finding photos of a bedroom with carpet to share wasn't easy.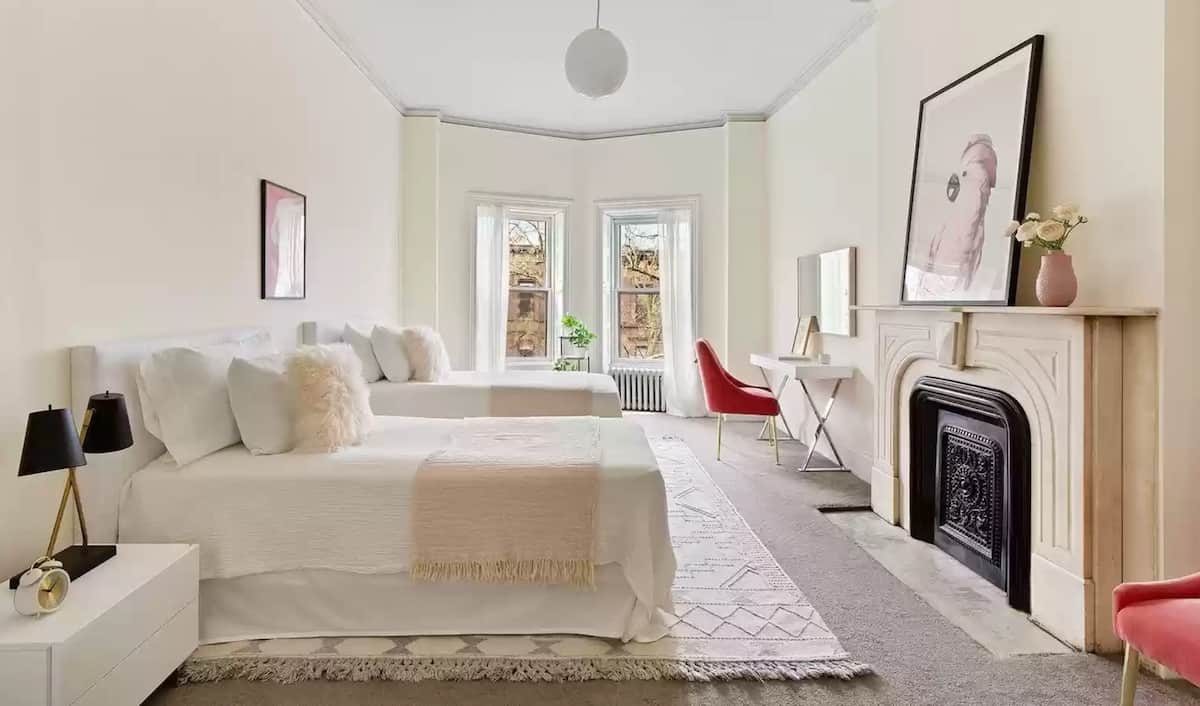 But real people have carpet because it feels really nice in a bedroom. We want our bedrooms to be quiet and restful, and a hard floor doesn't give you that feeling. When you're shopping for carpet there are lots of factors to consider including material, pattern, pile types and rug pads. This post will help you find the best carpet for bedrooms.
Types of Carpet Material For A Bedroom
What is the best bedroom carpet type? There are five main types of carpet materials or carpet fiber. Each one has different pros and cons. Some are softer, some are more stain resistant and some hold their color better.
Bedrooms tend NOT to be high-traffic areas, so softness is one of the most important features. All but one of these materials are made from synthetic fibers vs natural fibers. The difference is that synthetic fibers tend to be more stain-resistant.
Wool Carpet – Wool has natural dirt repelling properties. It is the softest material and also the most expensive. A wool blend can be a great way to get the comfort of wool at a lower price.
Nylon Carpet – Nylon is the most popular synthetic material because it is very durable and resists stains. It is the most affordable.
Polyester Carpet – Polyester carpet naturally repels water, which is not as important in a bedroom and it can fade.
Triexta – Triexta is a type of polyester fiber that is only made by Dupont. It is known for being long lasting and stain resistant.
Polypropylene Carpet – This is a good choice if you have pets. It's very soft but also easy to clean.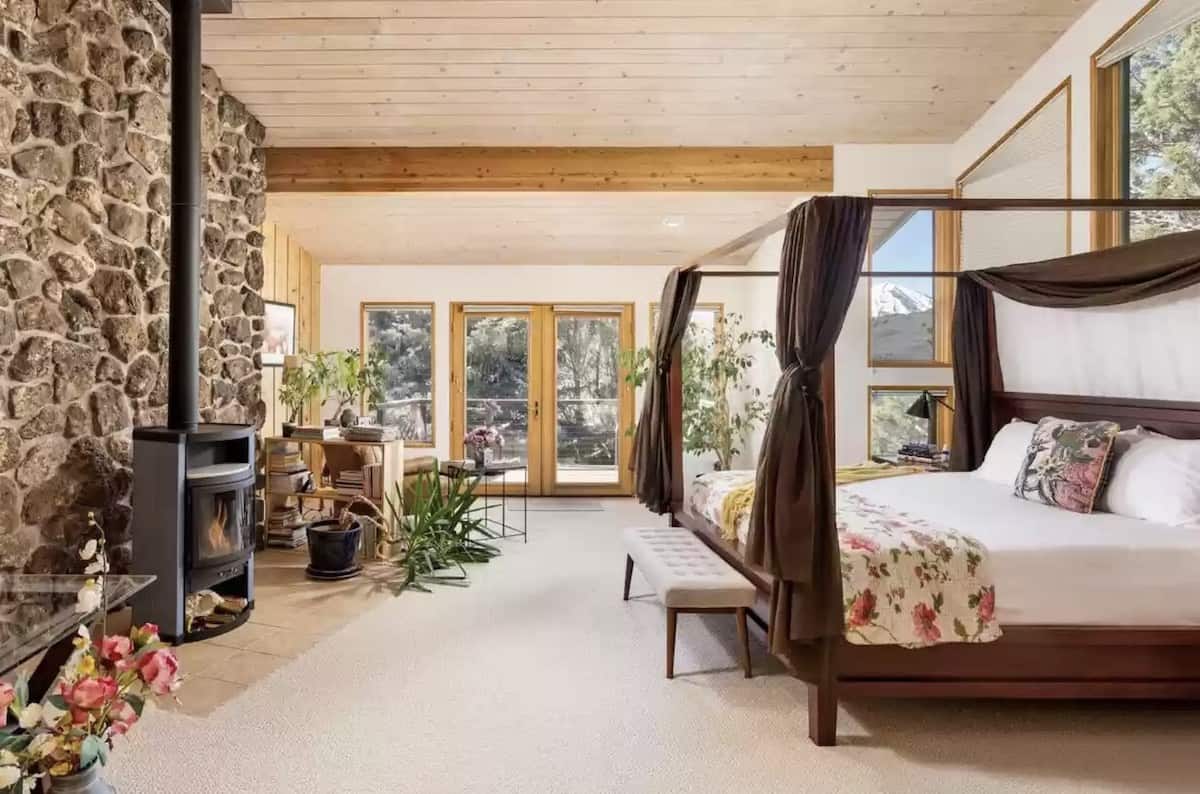 If you can afford a wool carpet (just like a wool rug) it's the best carpet in terms of softness underfoot in a bedroom. It feels very indulgent. It's not as good for other rooms if you are trying to choose the same carpet for your living room.
Carpet Pile Styles Defined
Another factor that affects the feel of the carpet is the pile. There are different pile styles.
Berber carpet is the style with the lowest pile height. The yarn is uncut and looks like small tight loops. This is the style that is the best at resisting stains, but not the softest. It can also snag if you have pets or children. Mohawk and Shaw call berber a "loop" style.
Cut pile carpet is the type of carpet that looks and feels like individual strands of yarn. There are different pile lengths and thicknesses. This type of carpet tends to show foot marks and vacuum marks. Manufacturers use different names, Shaw and Mowhaw call this style "texture" or "twist" for higher pile.
The styles get even more confusing by adding in the "pattern" style which is a mix of berber (knotted) strands and cut pile. The combination gives the carpet the look of a pattern even if it's all the same neutral color.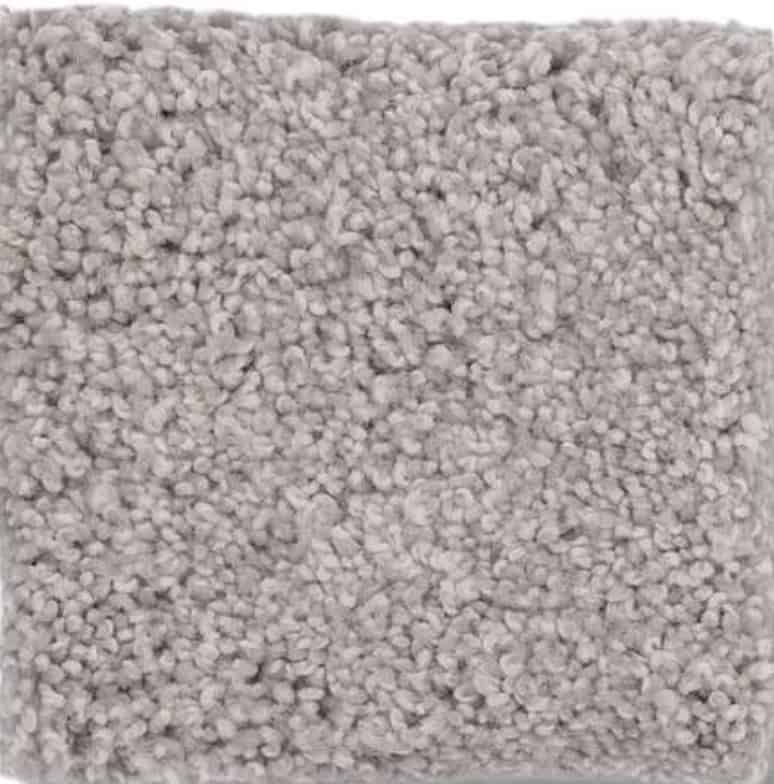 Can Wall-to-Wall Carpet Look Modern?
When looking for pictures of amazing bedrooms with carpet, I had a hard time coming up with a large sample.
If you want your carpet to have a more modern or updated feeling consider these current carpet trends.
Get a natural fiber carpet or sisal-style carpet. These aren't as comfy, but they have a more modern look. Like this one from sisalrugs.com, They offer wall-to-wall carpeting that has the look of a rug.
Get a subtle pattern like this carpet from AbuDabi carpet or this one from Flor, you can do wall-to-wall Flor tiles (these tiles are amazing if you have pets).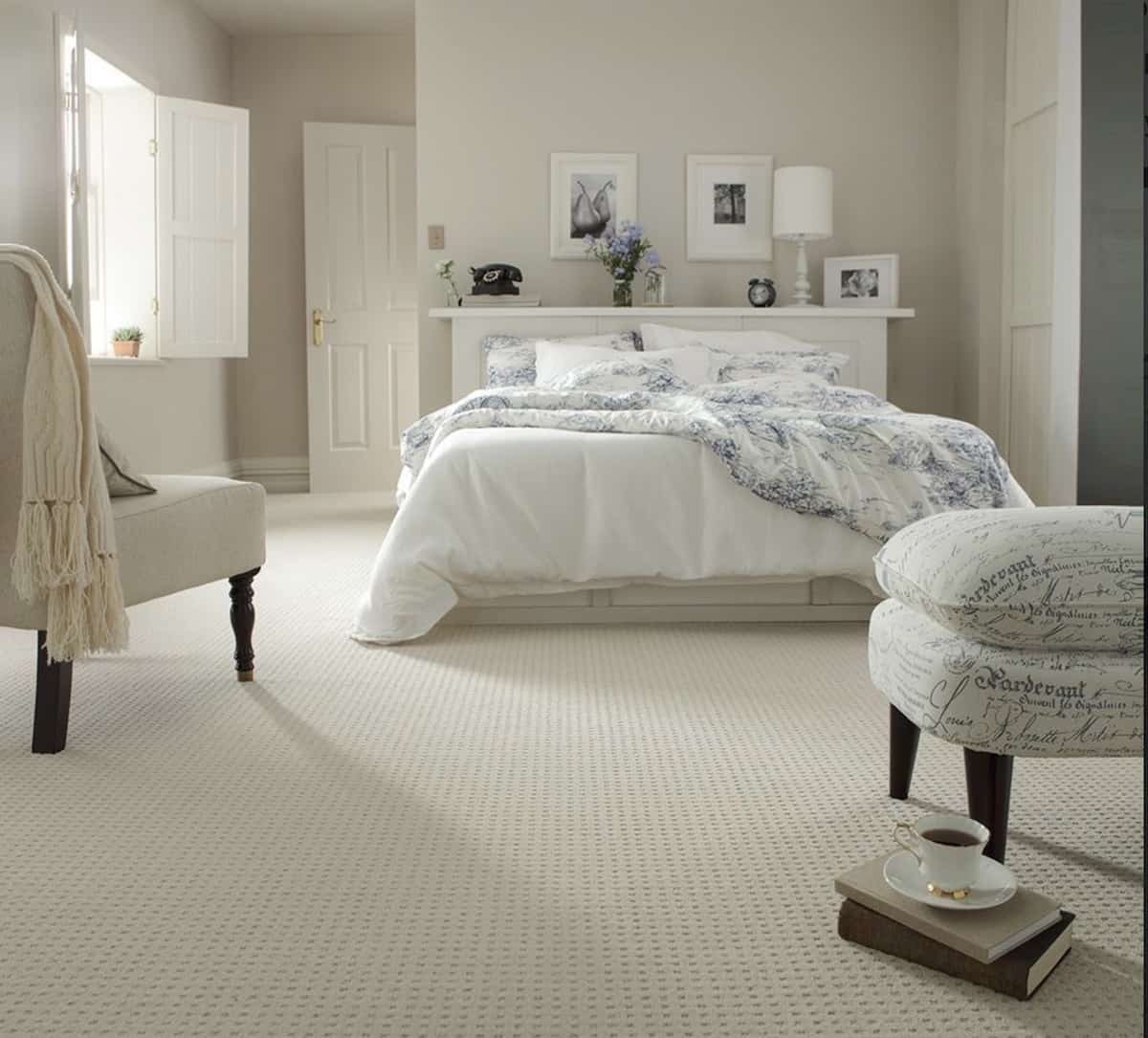 Use a neutral carpet color – Most carpets that look current are a lighter shade in a neutral color, grey or natural.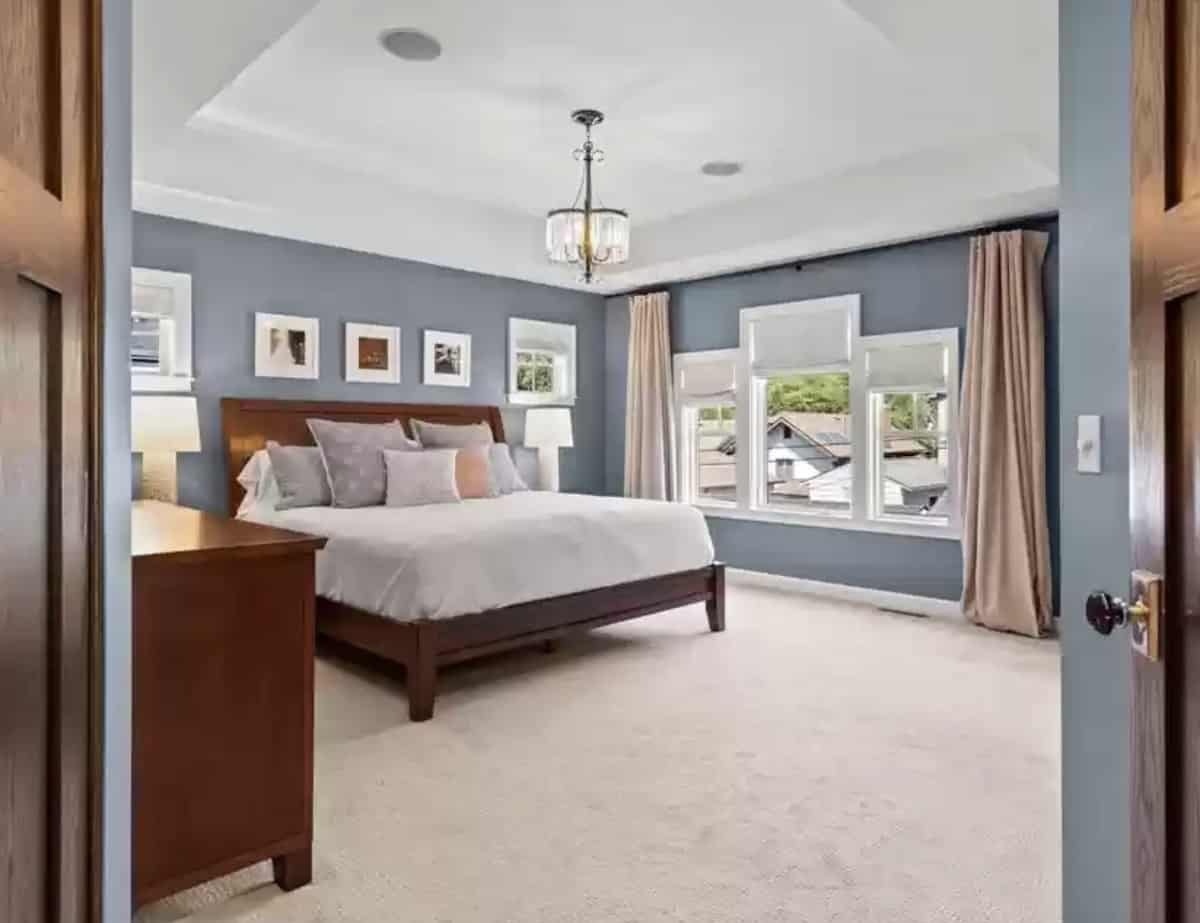 Use an area rug in addition to your carpet. This layered look can be a really good way to keep your neutral carpet, but get the statement that is more bold from a rug.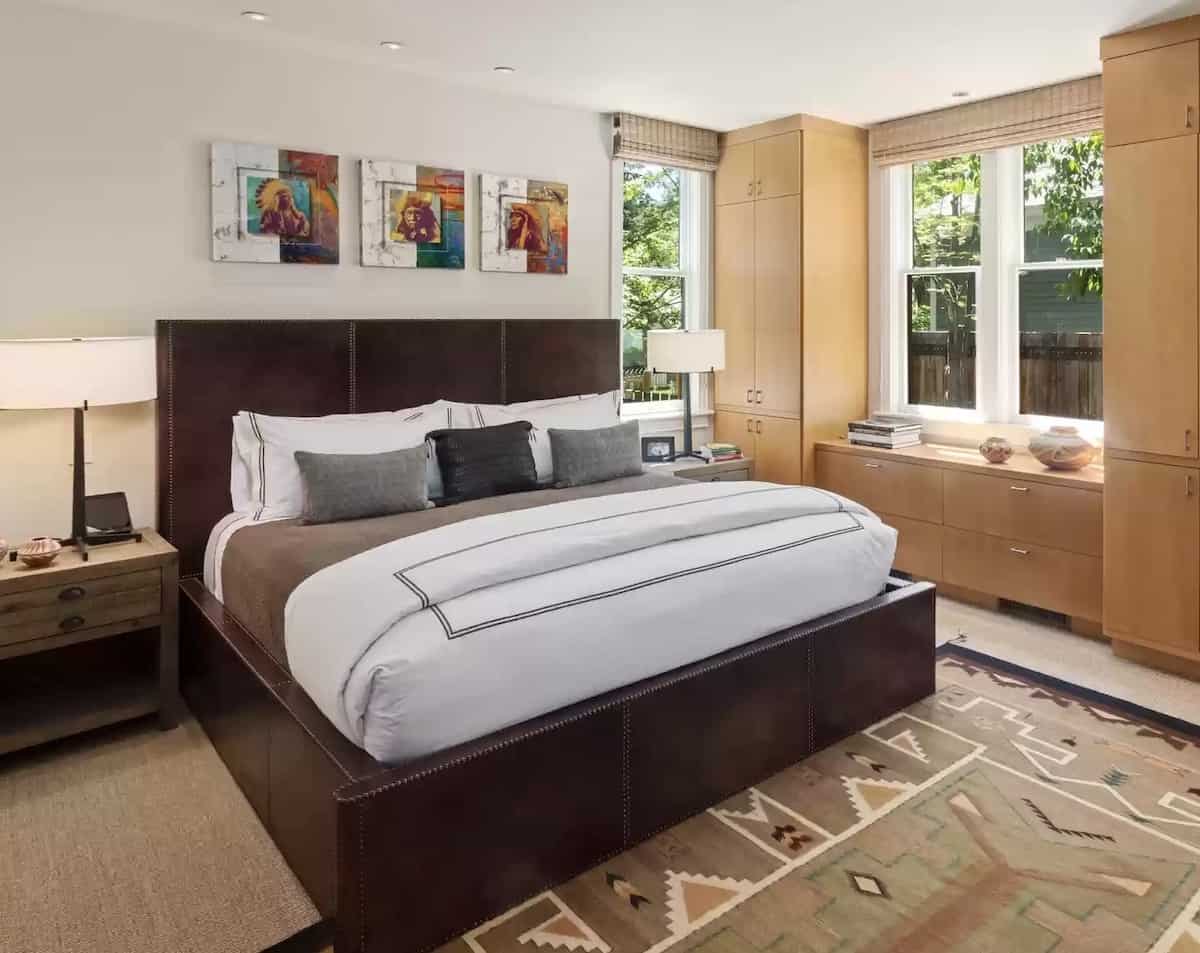 Carpet styles to avoid include shag carpet or really plush pile carpet. This type of carpet feels nice, but doesn't have an updated or current look. It is also hard to maintain and leaves a lot of foot marks (like this).
Don't Forget About The Rug Pad
Rug pads are often an afterthought when it comes to carpet selection, but they can make a huge difference in how your carpet feels.
Is it better to get a really thick pad? Your bare feet might suggest the answer is YES. But the reality is that thicker is not always better. A really thick carpet pad compresses over time and can leave you with a carpet that doesn't look properly stretched.
In the carpet buying process you will probably hear a lot about rug pads with a moisture barrier. These seem tempting if you are replacing your carpet as a result of water damage, however the barrier is not enough to protect your home from a big water leak.
The water barrier is more equipped to handle smaller puddles, like pet accidents. It is a good option if you have a pet or small children.
Where to Find Carpet
You can find carpet at places like Lowes, Home Depot and Floor and Decor. If you live in a metro area, chances are pretty good you can also find a carpet dealer.
If you want to see carpet in person, I recommend googling "best place to buy carpet in your city". It's a great option if you find a dealer so you can touch and feel lots of carpet samples in one place. They can also give you more solid advice about carpet than you will get at a big box store.
At the end of the day, the best bedroom carpet is a matter of personal preference. If you re-carpet your bedroom, I would love to see the end result (and I'd be happy to send you a $5 cup of coffee in return). Please add a photo in the comments.
Before you go, you might enjoy how to furnish a bedroom in four easy steps or do you want a European feel in your bedroom?