Do you have a porch or patio? Even the smallest porch can look more pulled together and cozy with the addition of a rug. You don't have to worry if it gets wet or dirty.
First I'll give you my three tips for choosing the right outdoor rug and then I'll show you some of my favorites by color family, blue, red/pink, black and white and neutral.
Try adding an outdoor rug to your porch or patio and you'll be surprised at how much it changes the way your space feels.
Tip 1 – Choose Your Outdoor Furniture First
In a living room you want to choose a rug where all of the furniture can at least rest the front legt on the rug. The same is true for outdoors, so you will want to have your outdoor furniture before you decide what size rug to purchase.
Maybe you have a small patio and the only thing that fits are two small chairs. Or maybe you want an outdoor sofa and chairs with a coffee table. Once you have your furniture in place it's much easier to see what size rug will suit the space.
You don't want the rug to be like an island floating in space. It feels much more cozy if the furniture anchors the outdoor area rug.
Here's an example from my friend Chloe's porch.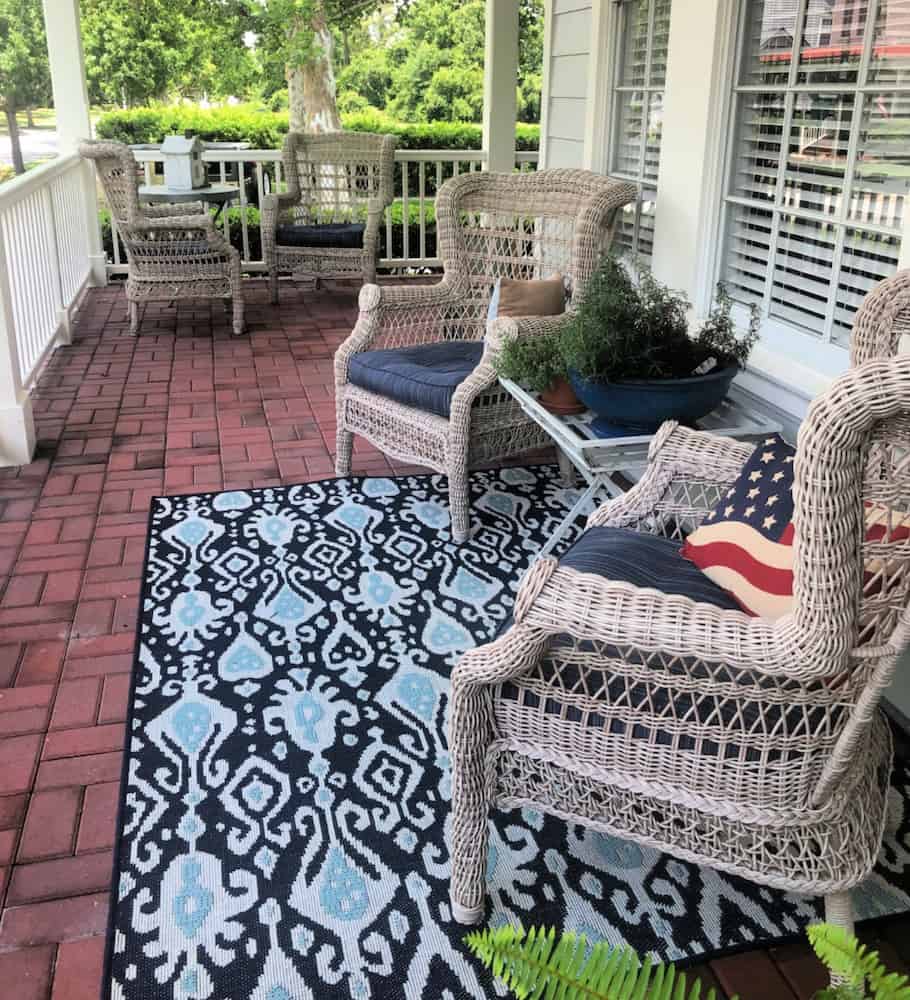 Determine the Size Rug you Need
Once you have the furniture in place measure the distance to the outside edges of your furniture. It is harder outdoors because often there are no walls to limit the space. That's what the rug does for your outdoor space, it can define the area for you.
You will want the rug to be large enough where chair and sofa legs all rest on the rug. Outdoor rugs are so inexpensive that you can buy a little larger than you think you need. Bigger is better and probably not much more expensive.
There are fewer outdoor rugs to choose from than there are cushions and pillows. I recommend choosing the rug first and then deciding on any pillows or cushions. They don't need to match, they just need to coordinate.
Use Vivid Colors and Pattern
Outdoor rugs are exposed to everything. They can be hosed off, but if you get too light of a color it will look dirty more quickly. It's far easier to disguise the dirt if you buy a rug with a lot of pattern. I've had both, one rug with not much pattern and one with a lot and the pattern helps.
Since it is outdoors, it's a great opportunity to use something a little bit more wild than what you would choose inside. If you can see your outdoor space from the indoors, it looks more pulled together if you use the same color palette or similar.
Favorite Sources for Outdoor Rugs
Outdoor rugs are everywhere and they are very inexpensive. My favorite places to shop fit into two categories – in person and online.
My favorite in person sources are Target and World Market. You'll see picks from each of these below. My favorite places online to buy outdoor rugs are Overstock, Amazon and Walmart (they have a lot more selection online.
I choose every product you see. I may earn an affiliate commission if you buy from one of the product links, at no extra cost to you. Read my full disclosure.
Blue Outdoor Rugs
There are so many blue choices in 2022 and these are just a few of the ones that I loved.
Red and Pink Outdoor Rugs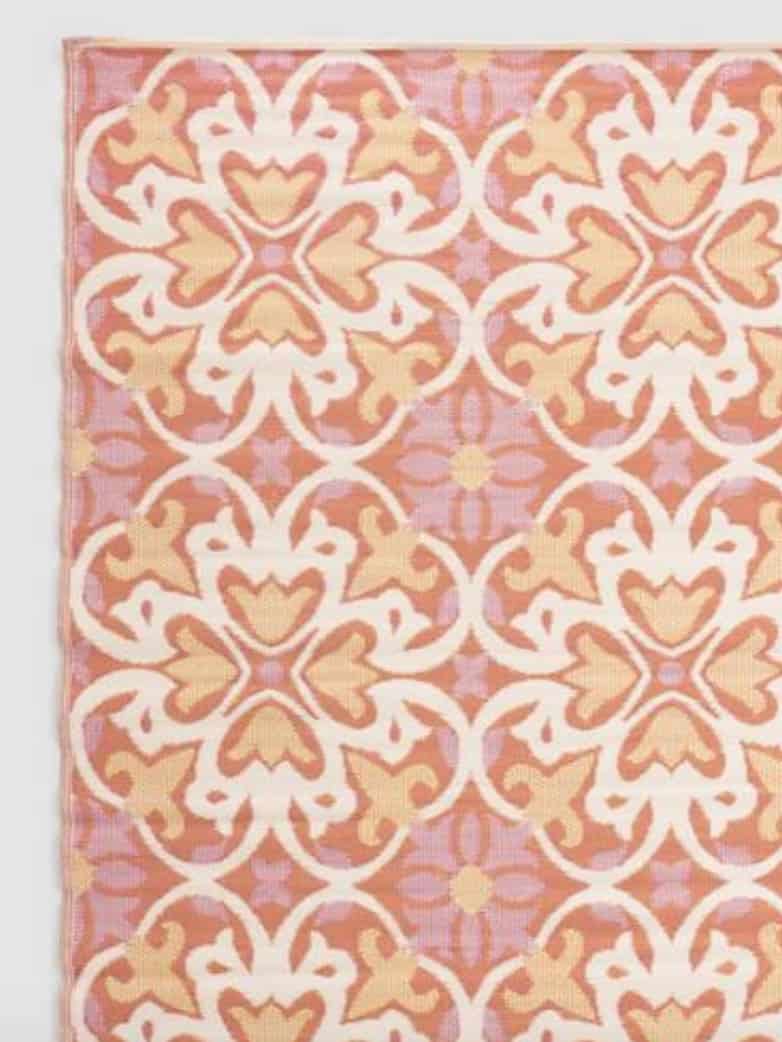 Black and White Outdoor Rugs
Neutral area rugs
Would you like to add an outdoor rug to your patio or porch? It's so nice to have a soft spot the make your outdoor space more cozy. Cleaning is easy too.