Updated for 2022: Have you ever owned a wool rug? if you have, you know how soft and luxurious they can feel underfoot. If you haven't, I suggest starting with a small affordable one in a place where you want a soft landing like right beside your bed.
There are pros and cons to owning wool rugs. Wool rugs can be a big investment, but they can be so worth the price in certain rooms.
If you're shopping for a rug and you would consider wool, keep reading for my best tips on where to get them and how to care for them.
Pros and cons of wool rugs
I'll start with the pros of wool rugs, because I love them so much. Wool is a 100% natural fiber. It resists dirt, stains and even mold and mildew. Yes, you read that right. Wool as a fabric has a waxy coating that makes it repel liquids and dirt.
This might be oversharing, but my first wool rug has seen SO much pet vomit and poop but you would never know it. I'll talk more later about how to clean your wool rug, but I can personally attest to them being stain resistant. It's harder to see where you've cleaned on a patterned rug, but if you have a solid wool rug it's better to treat and clean a wider area around the spill.
Wool rugs also last forever. Sometimes they are passed down from generation to generation.
The biggest downside of buying a wool rug is that they are a big investment. In addition, if you are putting one in a nursery, or someplace where you plan to spend a lot of floor time they can feel itchy (just like a wool sweater) if you are laying on them. I've seen many people comment about the smell of a wool rug, but I've never had that issue with either old ones I've bought or new ones.
Types of Wool Rugs
There are different weaves of wool rug. There are hand knotted rugs, hand tufted rugs, hand loomed rugs and machine loomed rugs. Prices vary depending on the amount of detail work required.
Hand-knotted rugs require a lot of manual labor and are very expensive. You can most easily tell the construction of a rug by looking at the back. Hand knotted rugs have a very clear pattern similar to the front on the back. You can see the knots like this rug.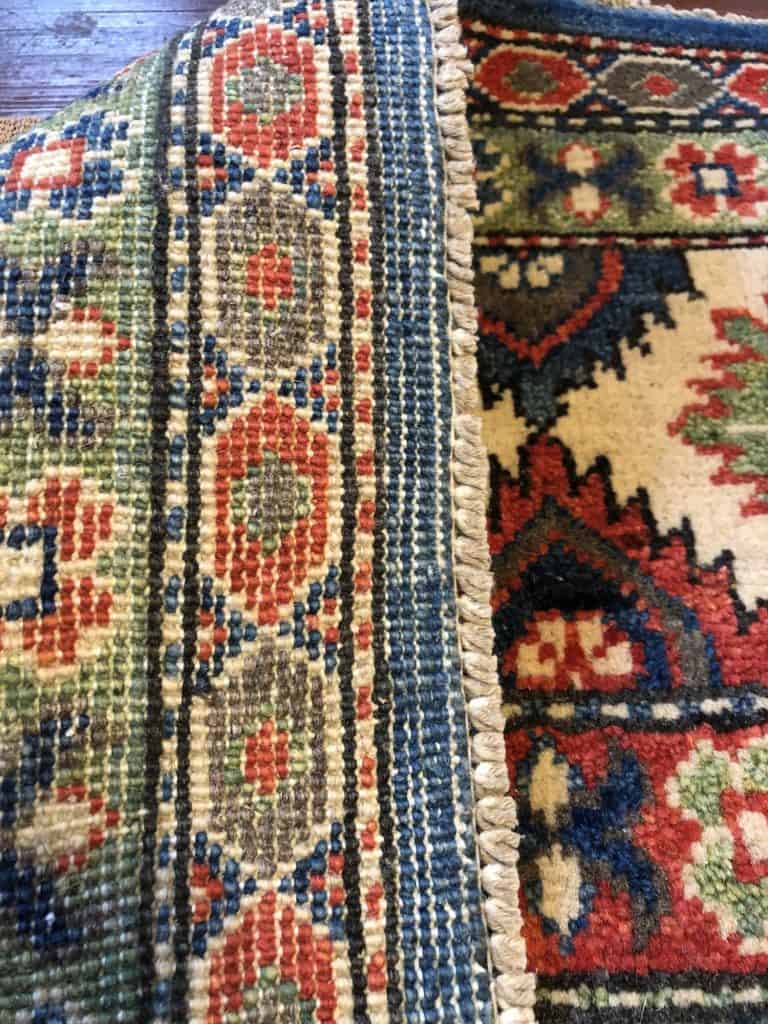 In contrast, this is what a tufted wool rug looks like. It doesn't have fringe and the pattern doesn't continue through on the back side. It's still very thick and has a nice feel underfoot.
Best Sources for Wool Rugs
My favorites places to buy wool rugs that don't cost an arm and a leg are Overstock, Etsy (for vintage patterned rugs), West Elm, Pottery Barn Teen or Kids (NOT the regular PB, prices are better) and my local rug dealer (which won't mean much to people outside Dallas).
You probably have a rug seller in your area and it's a nice way to see a larger rug before you buy. In Dallas I like Rugland.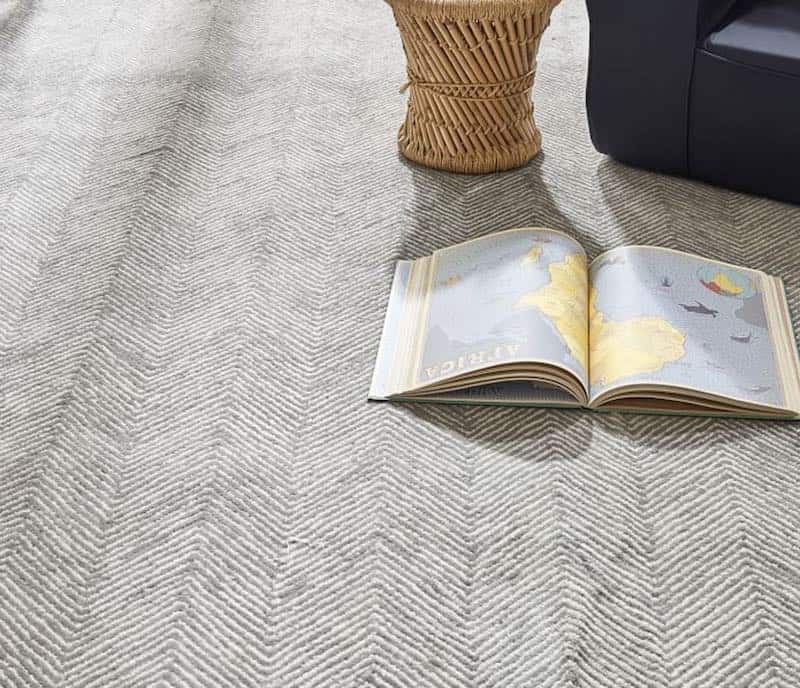 I choose every product I review. I may earn a small commission if you buy from one of the product links, at no extra cost to you. This income supports this site. See the full disclosure.
How to Clean a Wool Rug
Wool is a stain and water-resistant fiber. With that said, I'm not saying that you should put a light cream wool rug under your dining room table. If you do and something spills on the rug my first tip is to clean it up as soon as you can.
If it's been a while, I recommend first scraping off what you can before you add any liquid. This is gross, but I came back from a trip once to find that my dog had been using my wool rug as the emergency toilet. Before I did anything to the rug, I got a dustpan and scraped the solid parts off to avoid rubbing them in with my steam cleaner.
My next step is to use a steam cleaner, if it's a tough spill or stain. I have a small handheld one like this handheld steam cleaner. They make larger ones, but this one is small enough to store (without having a second vacuum). I use Resolve carpet cleaner, which I've found doesn't damage my rugs. If it's a more minor spill you can just blot it up with a dry cloth and use Resolve spray without the steam cleaner.
Best Pad For Wool Rugs
A good carpet pad can be worth a lot. It can really make your rug have an even softer cushion feel when you step down. The best rug pads I have found to use under rugs is at Overstock. They are more expensive than the cheapest non-skid rug pads, but they make your rug feel more expensive. Even a thin cotton rug feels better with a nice thick pad underneath it.
Read more about rug pads and why they matter.
Layering rugs
Since wool rugs are one of the more expensive types of rugs, one way to cheat and get the look of wool without spending a fortune is to layer a wool rug on top of another less expensive rug. I have a small 5×7 wool rug in my sons bedroom, but it's not really big enough for the room. The room needs a 9×12. If you buy a less expensive large rug, you can layer a smaller more luxurious wool rug on top.
This is a great post that explains how to layer rugs. Here's an example from Overstock.com where they have layered a more luxurious wool rug on top of a low pile acrylic rug.
Argument For Wool Rugs
I love wool rugs in the right place. They are a large investment but they can't be beat in the bedroom and living room. I don't use one in my dining room yet, but I will keep you posted. I think they are worth the price because they feel so nice to step on and they last.