Ruggables: Is the new cushioned rug pad worth the price?
You've probably heard about Ruggable rugs if you have a pet or young kids. They are washable rug systems. The phrase ruggable system is a very important part of how they work.
A Ruggable is not like a traditional rug. They only work with two parts, the rug pad PLUS the rug topper. The top part or rug itself has a backing that clings to the pad like velcro. The pad has a technology called "Cling Effect®", which is similar to velcro and sounds like velcro as you pull the topper on and off. The only piece that is machine washable is the top or rug cover.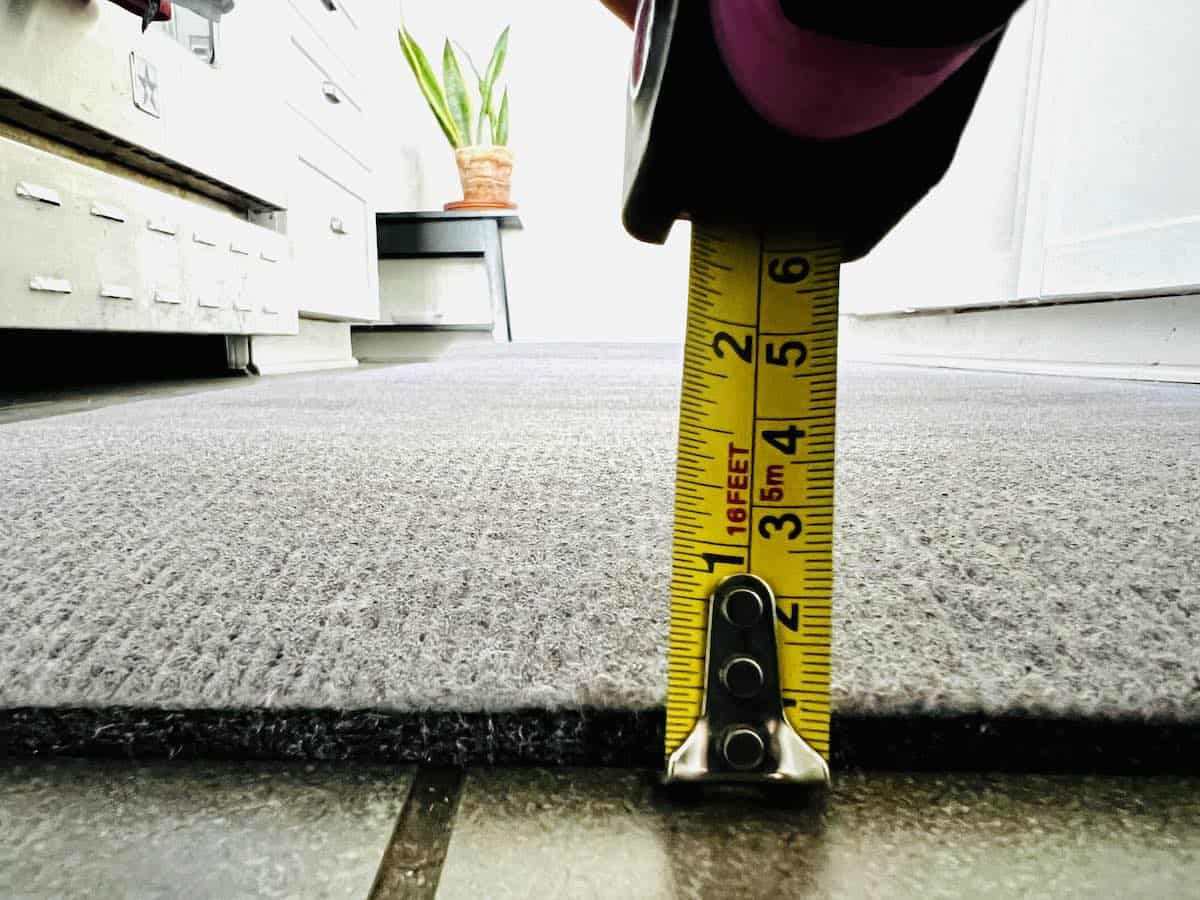 The standard classic pad is very thin AND the rug itself is thin. They developed a newer cushioned ruggable pad that gives the rug a more plush feeling. I was excited to try it out and asked Ruggable if they would be willing to let me put the new pad to the test. I did receive the rug for free, but this is an honest review of both the pros and cons of this two-part rug system.
What is the Price Difference Between the Pads?
The price difference depends on the size of the rug. The rug that I got is a 7-foot runner. For this size, the thicker ruggable pad is $40 more (or 24%). For a larger rug like an 8×10, the plush pad is 20% more.
In my opinion, ruggable's cushion rug pad is WORTH the extra price. It makes the rug feel much more luxurious. The main reasons that I've never bought a larger Ruggable were mainly related to the thickness of the original rug system. The original pad makes the rug feel less substantial. If you have hardwood floors, it's nice to have a little extra cushion in some less high-traffic areas like a bedroom.
Are Ruggable Pads Sold Separately?
When you buy a Ruggable you choose which pad you want to come with the top layer. The pads can be purchased separately, see the classic rug pad and cushioned rug pad. Now that the thicker rug pad exists, I will upgrade my existing rugs to this pad.
I use affiliate links so I can afford to keep doing this. Hope it saves you time. See my disclosure policy.
How Thick Is The Cushioned Pad?
The cushioned pad is about 2/5 of an inch thick. It makes a sizeable difference underfoot. The original classic rug pad is about 1/8 of an inch thick. This might not sound like a lot, but the thicker pad is so much nicer than the classic Ruggable pad. That extra padding is worth 20% more in my book.
I would NOT get the cushioned rug pad if the rug is for an office an area where you will have a rolling chair.
The rug pads do NOT go in the washing machine. I've written before about how to clean a Ruggable rug pad. The method for cleaning both types of pads is the same.
Pros and Cons of Ruggable Washable Rugs
Let's start with the reasons that you should buy a Ruggable.
Washable – This is the one feature that makes the rugs unique. They are washable in standard washing machines. If you have lots of dog hair or young children, the easy cleaning makes them a good option and definitely worth the price.
Great Designs – This company works with big names like Jonathan Adler. They have rugs that fit every kind of style from traditional to modern.
Stain resistant – Not only are these floor coverings washable they are also stain resistant.
Now what I don't like about them:
Hard to Get In Place – The very feature that makes them washable is the same one that makes them difficult to place. You have to unroll them pretty precisely to get them back on the pad. Then you have to smooth out any wrinkles, almost like you do when you make a bed. I've only done this with two smaller-sized rugs. For a larger rug, this could be more difficult.
Low Pile – I'm not sure low pile is an accurate term. The rugs have almost no pile. This is a personal preference, but I really love the feel of wool rugs which are thicker.
Do Ruggable Pads Damage Wood Floors?
There are some rug pads like the waffle foam ones that can leave a sticky residue on wood floors as they break down. If you leave a rug on one of these on your wood floors you will regret it. The Ruggable rug pads are not sticky at all.
I don't know how but they do not slide around on wood, but the bottom is not sticky. Both the standard pad and the new cushioned rug pad are thicker than many rug pads, which is part of why they don't slide.
Where I Like Using Ruggables
I think these are a great option for high-traffic areas, like hallways or doorways. They are also good in front of the kitchen sink because so much gets spilled there. And of course, washable rugs are a great idea for little kids' rooms.
I don't like to use a Ruggable in places where I need a large area rug. While I really like the addition of the more plush pad, I prefer to use a regular rug in my living room that can be spot cleaned rather than picked up and washed.
Does the Cushioned Pad Work Outside?
The cushioned pad is NOT meant to work with outdoor rugs. The standard pad does work outdoors.
At the end of the day, I absolutely think this new pad improves the feel of these rugs, and they already look great. 
Before you go, you might be interested in reading about how to clean a Ruggable rug pad.  
Related Posts: