Thanks to a reader, Julie, I have a makeover to share. Julie recently moved into a new home and wants to makeover her master bedroom.
What stays? The master bedroom is fully carpeted and there is no budget to change the flooring. She also wants to keep the paint, which is a nice neutral creamy color and her queen bed.
This is my favorite kind of makeover. You can see that it's possible to dramatically change a room just by adding a few pieces to what you already have. Just changing the lighting, drapes and a few pieces of furniture makes a big difference. It takes a lot less time and money and you can still end up with a space that looks new.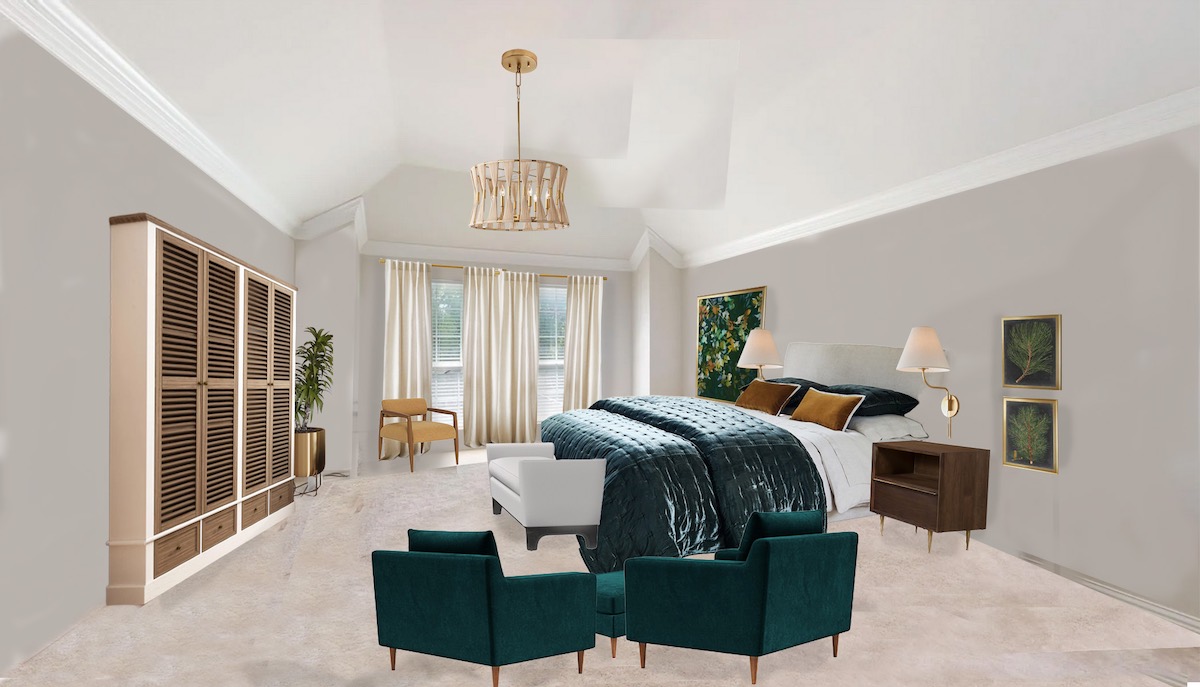 This video that walks you through the process, with tons of other bedroom examples.
Function Questions to Ask Yourself
Before you do a redesign of any space in your home you have to consider how you need the room to work for you. For example, do you need your bedroom to have a desk in it? Do you need more storage because your closets are small? Do you want a seating area? Will you watch TV in your bedroom?
Julie desperately needed more storage and requested some hanging storage because the closet space is limited. She also wanted a seating area but wasn't interested in a TV in the bedroom.
Here's a space plan for Julie's room. Ignore the colors, I used Pottery Barn's free space planning tool to get a layout she liked, but all of the pieces below are not from Pottery Barn.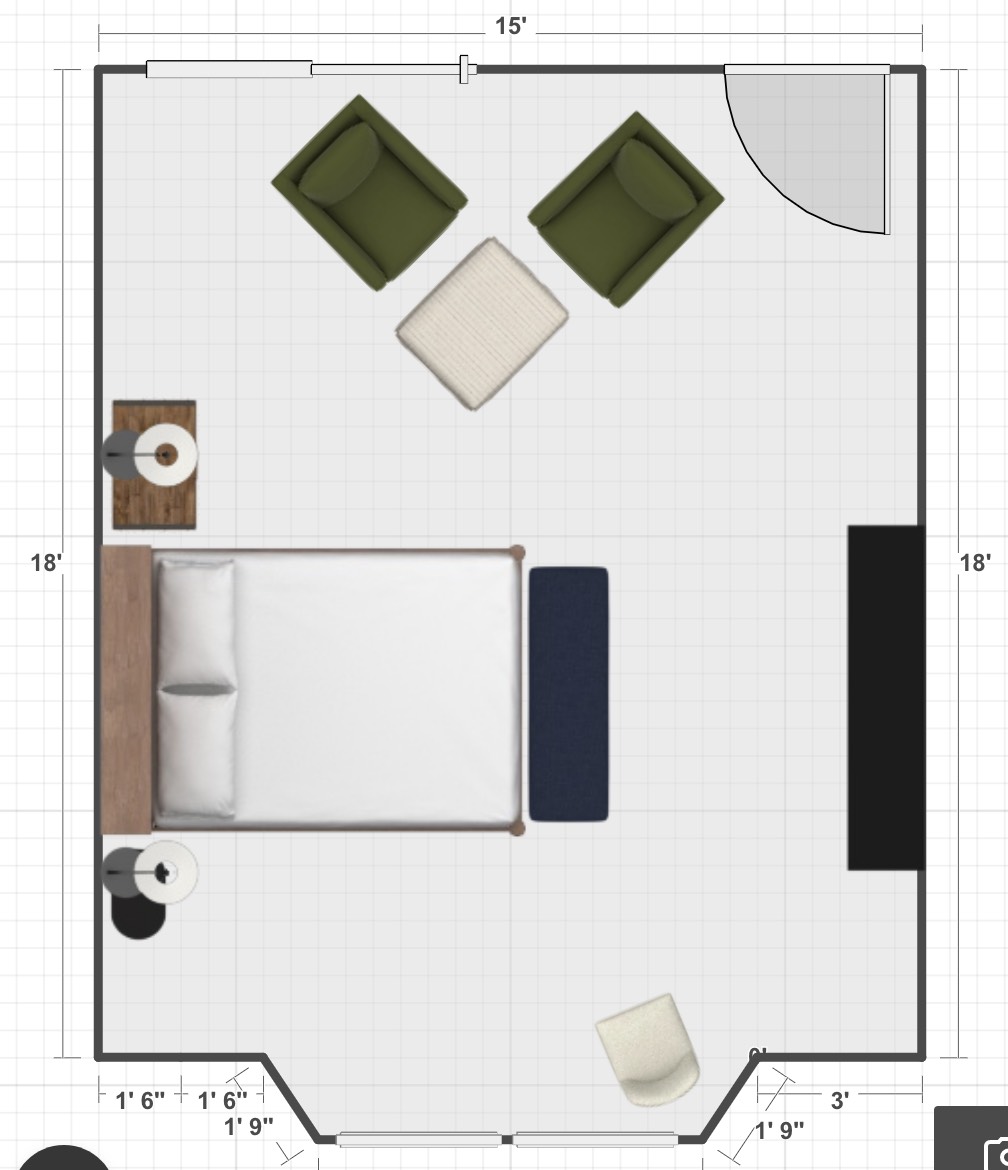 There are two doors in the room, a pocket door on the left leads to the bathroom and closet and the door on the right leads to a hall.
Choosing a Bedroom Color Palette
There are a few different ways that you can choose a color palette. Professional designers recommend using fabric as your inspiration. This is a shortcut because you don't have to choose colors that go together, the fabric designer has already done that for you.
You don't have to use fabric for your inspiration, you can use a painting or a rug. These are often things that have a combination of colors, whether they are complimentary or analogous.
In design school we were taught that a color palette should be one of three options: complimentary, analogous or monochromatic. A complimentary color scheme means you use colors are on opposite sides of the color wheel, like blue with orange or yellow with purple. There is more contrast between the colors.
Analogous colors palettes use colors are next to each other on the color wheel, like blue with green or blue and purple.
A monochromatic room is all one color. Here's an example of an all white and off-white bedroom.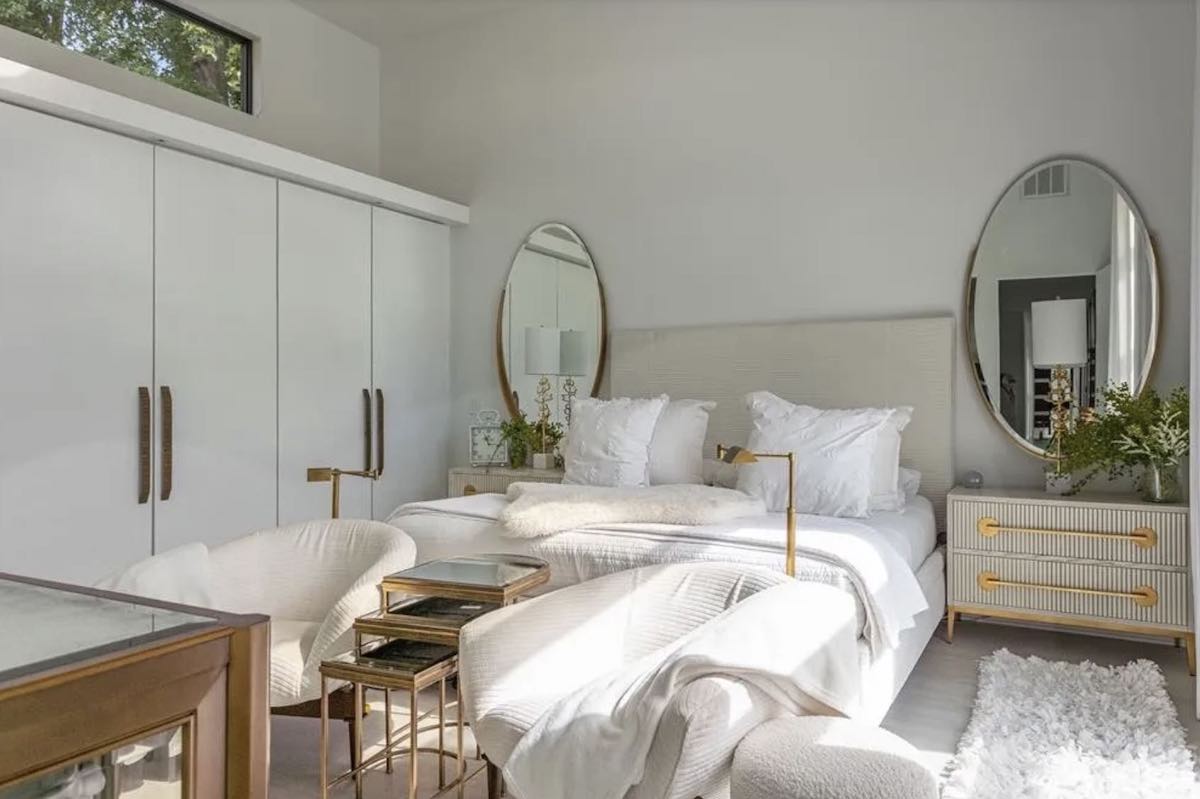 Complementary colors look good together but there are some amazing bedrooms that don't follow these narrow color definitions. Don't feel like you have to follow any rules as long as YOU like the colors you choose and you use them intentionally throughout the room.
In a bedroom, you want a color palette that makes the space feel peaceful and relaxing. This is the color palette that Julie wanted to use and her inspiration for these colors, which is a piece of art. Julie really likes bold colors, as you can see with her peacock chairs.
Here's a look at the room before and after. We intentionally sprinkled the colors in her color palette around the room.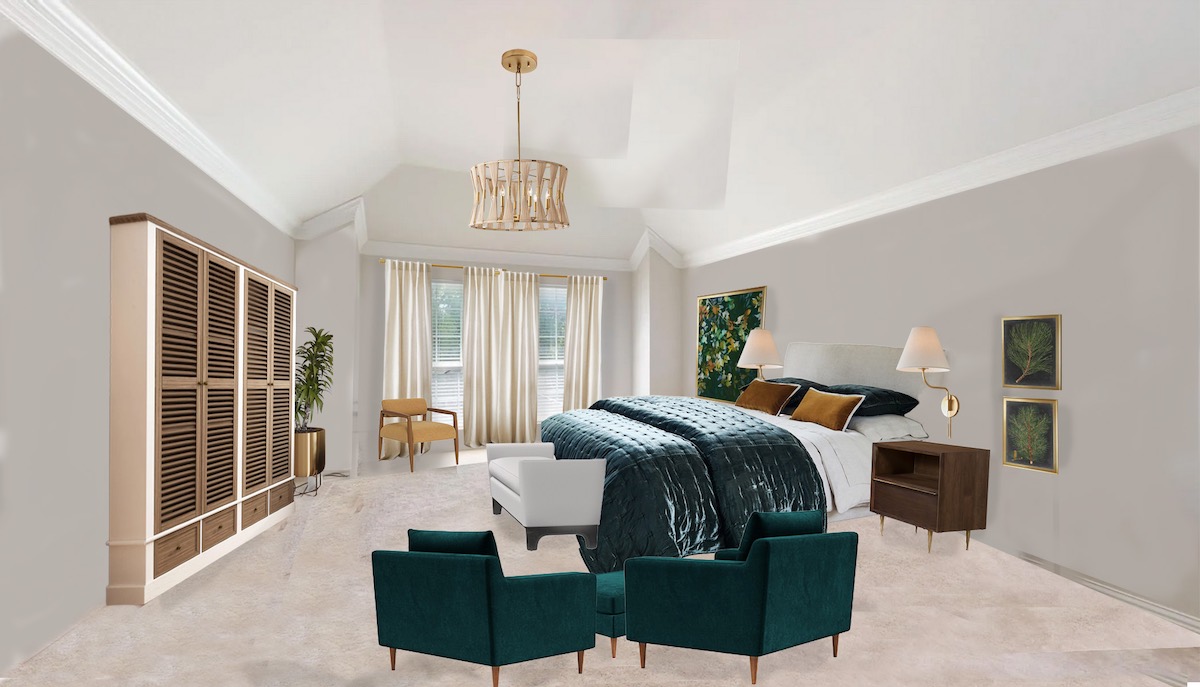 I use affiliate links so I can afford to keep doing this. Hope it saves you time. See my disclosure policy.
Rug Over Carpet?
Julie didn't want a rug over her carpet, but I love a good rug to pick up all of the colors in the palette. There's nothing wrong with carpet in a bedroom. It feels so cozy and can have a modern look.
But you can also put a rug over your carpet. Here's Julie's room with a rug added. Which do you like better?
If you enjoyed this post, would you like a FREE ROOM MAKEOVER? Really, no strings attached. All I need from you is a few photos you can take using your phone. I also need a few inspirational photos or pins that are in a style you like.
If you enjoyed this post you might like how to choose carpet for a bedroom or read more about choosing a color palette.