How to Decorate A Room Without A Window To Get A Cozy Feeling
Do you have a dark room that has no window that you find you don't use? If so, one of the reasons that you don't use the room could be that the room feels dark.
Here are eight ways to make your windowless room feel cozy and inviting, instead of dark and dreary. I've included photo examples to show you these tips in practice. You can see each of these has more than one of the tips that help the room look less dark.
This room with no window is doing all the right things, read more to see.
Use At Least Three Sources of Light
This is something that every interior design expert agrees you should use in EVERY room. It's even more important in a room with no natural light sources. There are several ways to get this without JUST using overhead lights, which can make the space feel really cold.
Use a combination of lamps (for tasks), ceiling lights (for ambient lights) and wall lights (accent lights). String lights can also be a fun way to get more light into gloomy rooms.
A floor lamp can be a good idea in a windowless room because they bounce light off of the ceilings, especially if you get a torchiere type. You can find stylish torchiere lamps (I talked about some here), not just cheap looking ones that might be what you are visualizing. Floor lamps are also a great way to open up dark corners.
Wall lights are often overlooked, but they can really add a sense of warmth to a room without windows. Think about adding sconces, even if they have to be plugged in vs wired in. They can be an easy way to light up a focal point (more on that later).
Pendant lights are an alternative to overhead fixtures. They add a lot of style if you have a table, bar or counter.
This windowless bedroom looks light because they used a table lamp on both sides of the bed and overhead lights.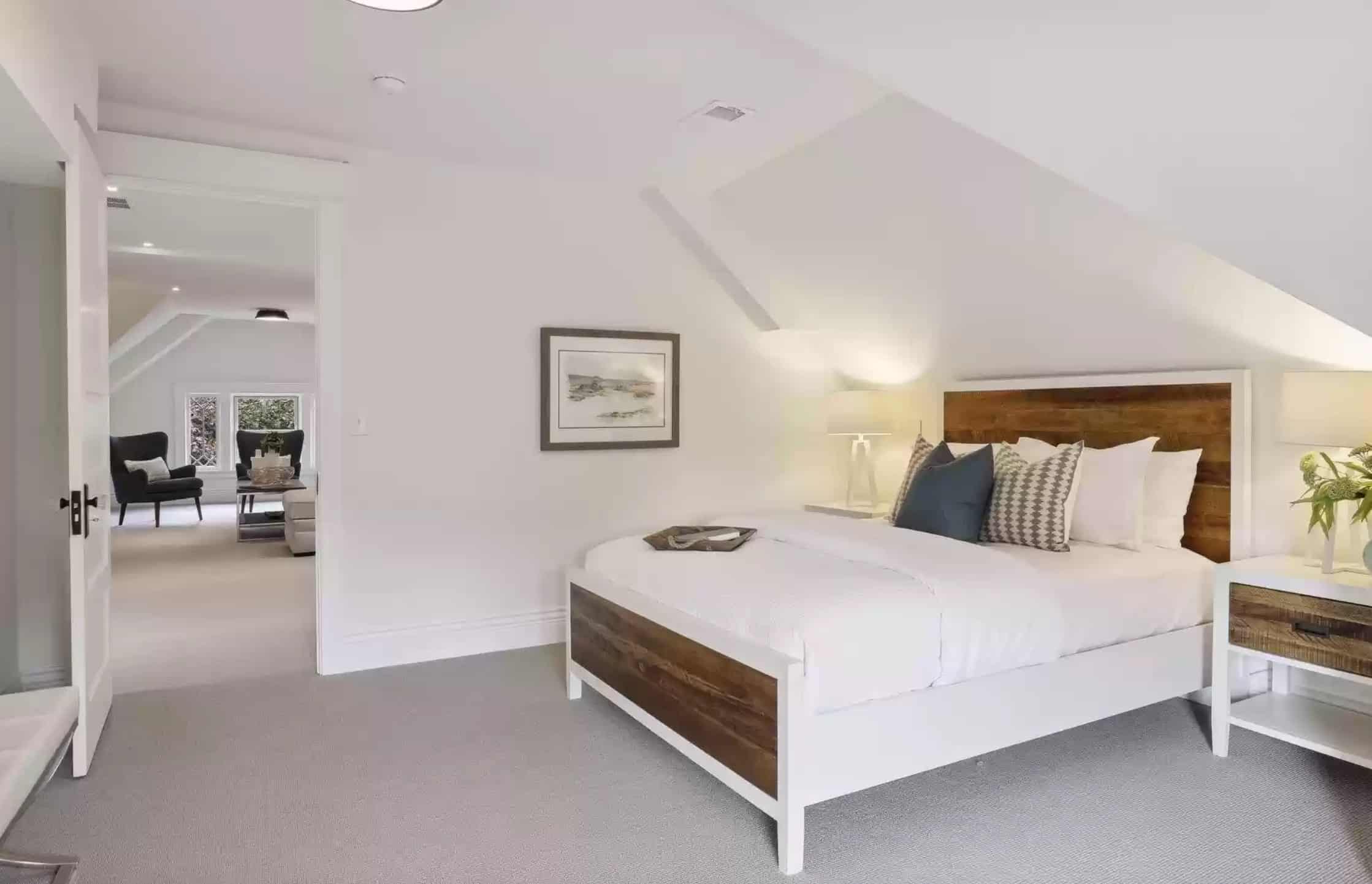 Use Many Mirrors
Mirrors reflect light and if you can put one where it picks up the light from your light fixtures you get a two for one. A large mirror works just like a window if you can incorporate a floor length size. Using other reflective surfaces, like glass can help to maximize light, especially in small rooms.
Create a Focal Point
A focal point is what your eye is drawn to when you walk in a room. Windows are a natural focal point because they are usually a large part of the room. To make up for the lack of windows, make sure your room has a solid focal point. This can be a fireplace (or faux fireplace), a bar or wall art. Something bold is the best way to make up for the lack of natural light.
Use Doors To Add Light
If the room has a solid door, try replacing it with a door with windows. This gives you the benefit of outdoor light in other adjacent rooms. If you have a bigger budget, a pair of french doors makes even more difference or even a wider door that can be left open.
Paint The Room In Light Colors
Light colors can add airiness to any room. White walls can give the space a cold feeling but use light warm colors. If you are going for an ultra-modern feeling, white is a great solution.
Create a Faux Window
This tip is similar to the focal point tip. It's sometimes not the absence of a window, but the absence of a focal point. If you create a faux window that is covered with drapes, it gives your eye somewhere to look. Here's an example in my windowless office.
Use Lots of Textiles
Textiles can include rugs, pillows, and upholstered furniture. Here is an example of a basement with no window that feels warm and cozy. This room feels good because there are so many soft textures to sink into.
Use of Faux Plants
Plants give every room a warm feeling. If there aren't any windows, faux is the way to go. I have had good luck with a snake plant in dark rooms, but the only real option I can recommend. Plants give the illusion that there is fresh air in a closed-up space.
You don't have to use ALL eight of these ideas, but try adding more than one. In this room there are at least five of these tips and it feels very light and cozy.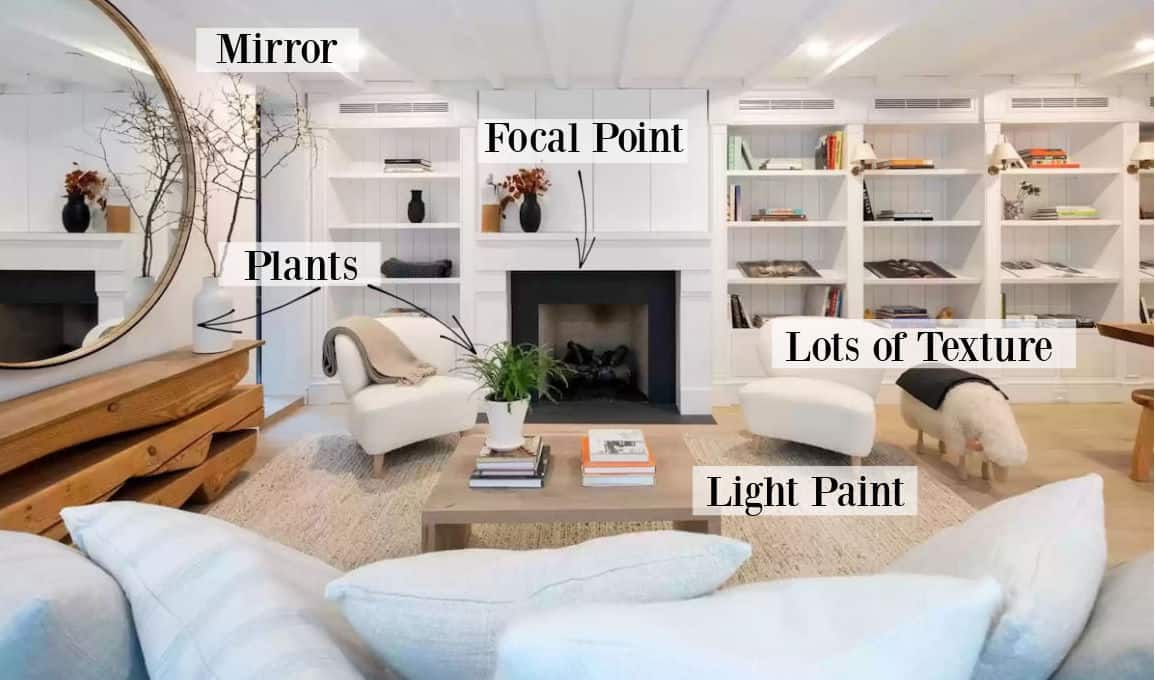 Before you go, check out how what to do with a low ceilings in your basement. You might also like how to make any room feel larger.