Shopping for Fabric? The shelves are empty so you have to shop online.
Have you noticed how sparse the shelves are when you go to the fabric store or to Joann's? If you are desperate for fabric there is only one place to look – your computer. The greatest part is that you have almost an infinite number of choices, but that's also the most difficult part.
I've been buying fabric online for years, but now it's practically a necessity if you NEED FABRIC. I'm sharing my tips for buying fabric online and the best sources that I like to use, depending on the type of fabric you want. I'm always on the hunt fabric to make pillow covers, curtains, a table runner or something for my home.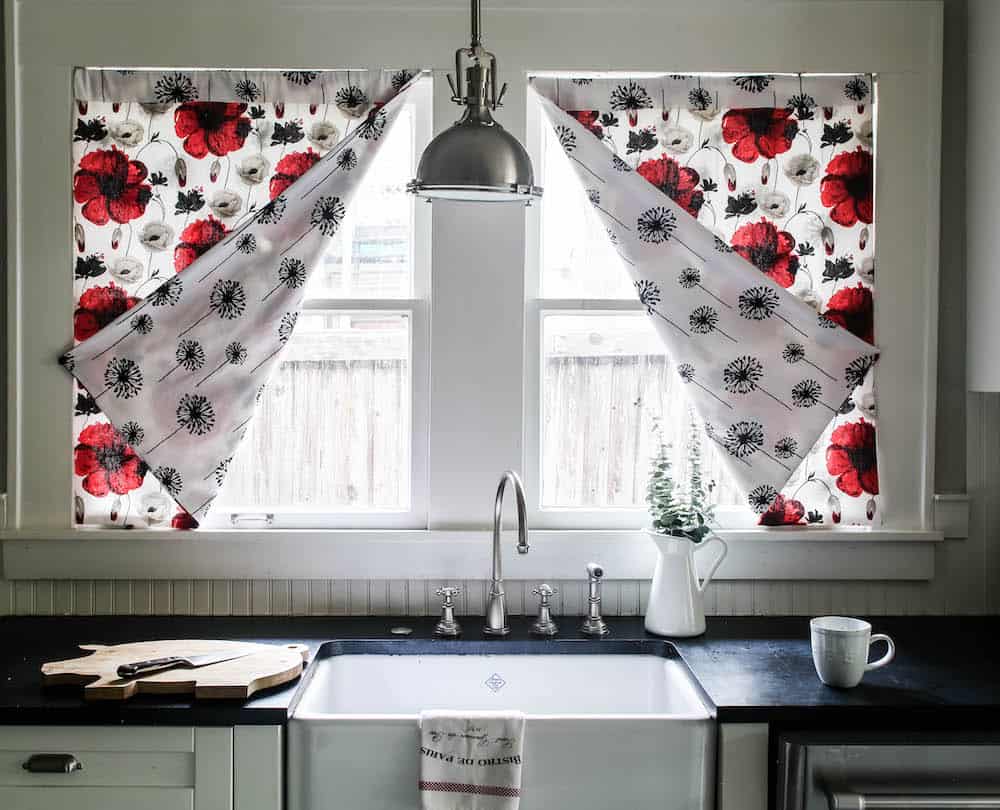 Below you'll find the best places to purchase fabric online depending on what you want to make. I'm also sharing practical tips for how to get the right fabric for your project. These suggestions are limited to home decor projects only, not clothes. I use fabric for drapes/curtains, shades or pillows. These types of projects can save you hundreds of dollars and you can still make them even if you are a beginner at sewing.
Best Places to Find Fabric Online
There are a few obvious ones and then I'll list a bunch that maybe you haven't heard of and what they are good for. I will start off by telling you that there are lots of really high end fabrics available online, but those are not the ones I'm sharing.
I like to save money by making pillows and drapes and that doesn't work if I spend $50 for a yard of fabric. I've found that some places are better for solid fabrics, some are better for prints, etc. My recommendations are by type of fabric, but all my selections are for home decor fabric (not clothing).
Joann is place people think of most when they are looking for where to buy fabric online cheap, but they don't have everything. Shopping Joannn online is SO much better than in person because the fabric supply is limited in person. The advantage of shopping there is that you can limit your search to the type of fabric (decor), color, pattern and more. There are so many other great places to shop, here are a few in each category.
Best Fabric Sources For Solid Cotton Duck/Twill/Denim
Solid cotton duck fabric is good for lots of home decor projects because it's heavy weight.
Best Place to Get Plaid Fabrics (And Stripes)
Plaid fabric includes checks, like buffalo check and tartan fabrics. I like to use these for pillows or chair covers. I prefer NOT to use these for drapes because I get tired of them faster.
Best Fabric Sources for Quilting
I don't quilt, but my sister is a HUGE quilter. She has made quilts for everyone in our family and you can choose all the fabrics you want.
Best Fabrics for Slip Covers And Upholstery
I'm a huge fan of slip covers. I can't make the complicated ones myself, but I can make a simple cover for a chair. The best places for this type of fabric are:
Best Place to Find ONE OF A KIND Fabrics
Best Fabric Sources for Kids Fabric
I've got some repeats here. Minted has great fabrics for kids, except they are on the high end of what I like to spend. I also like Spoonflower for kids fabric.
Tips For Buying Fabric Online
The biggest disadvantage to buying fabric online is that you can't see if with your own eyes before you buy. Or can you?
Tip 1 – Get samples. If it's a large project, for me that means drapes, I will order samples. Samples are easy to get AND it can be really helpful to see the fabric in our room first. The reason that I do this with drapes is that I don't like to replace them for many years, so I want to be sure I like the fabric in my room. For throw pillows I'm more willing to gamble and skip the sample. These can be replaced more frequently.
Tip 2 – Choose the Right Fabric Type. Theres more to fabric than just the way it looks. You might find a pattern that you can't live without but the fabric is too light weight for drapes. Here's a basic guide for home decor projects (which is what I make).
Tip 3 – Comparison shop with Exact Match Phrase. When you find a fabric you like, use the descriptor and search for just that in google. For example, "large blue buffalo check fabric". You can see everyone that carries it with the price per yard.
I hope this gives you a few new ideas about where you can go to find fabric in 2021. It's a new world, where fabrics from EVERYWHERE are available with just the click of a button. What are your favorite places to buy fabric online? Share in the comments.