Simple DIY Drape – Only 4 Seams
Do you sew? If you've always wanted to try making curtains, the is a great project for beginners. This DIY curtain requires only four simple, straight seams. It looks custom because the pull back reveals a different fabric. Making these simple curtain panels is easier than you think.
This DIY curtain is good for smaller windows in your kitchen, living room or bathroom. It works great in any room in your home where you like to have light since it stays pulled back.
This type of curtain fits best in a rectangular window where the length is greater than the width. This makes the pull back angle fit better. These DIY curtains are an inexpensive alternative to a roman shade or any type of blind. You don't need a lot of time or skill to make this super easy tie back drape.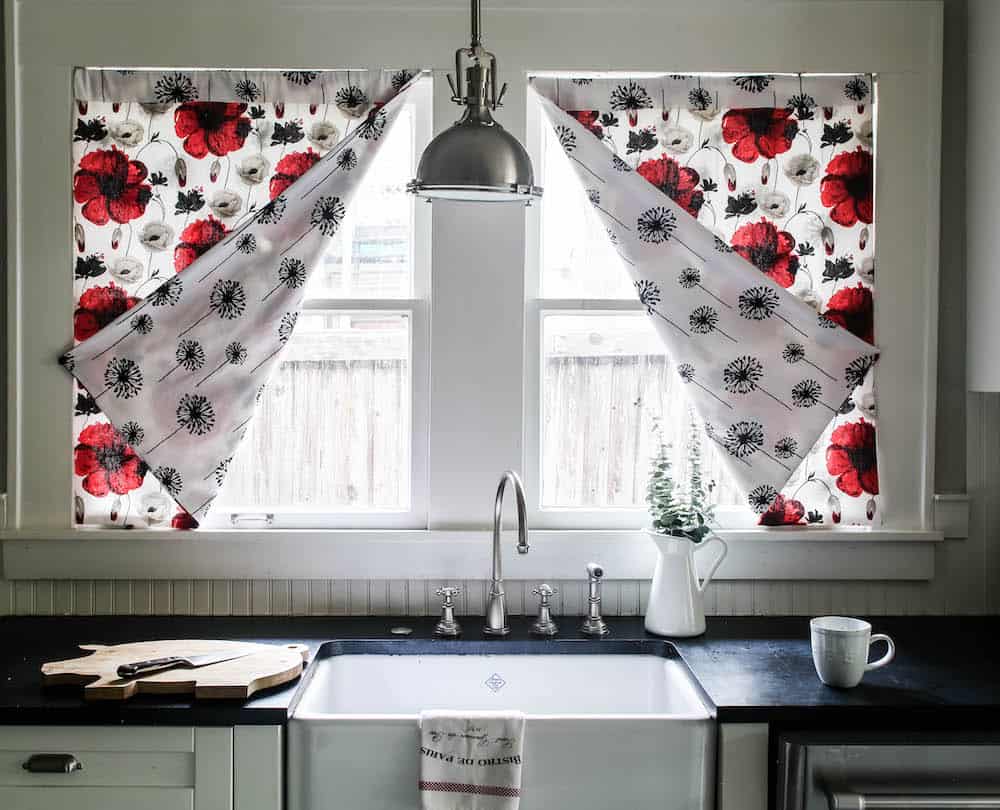 Materials Needed
Fabric of choice – This pull back shade looks really cute if you use two contrasting fabrics, but it can be made with just one fabric. You will need to measure the length and width of your window inside the frame. Add 1 1/2 inches to the width. Add 4 1/8 inches to the length to decide who much fabric to purchase.
Spring rod (1 per window) – Be sure to get the rods that are the right width for your window. I like to get a curtain rod that is fairly small around.
Thread
Sewing Machine
Best Fabrics for Drapes
This drape is made with two different fabrics. This makes the curtain thick enough that it looks like it is lined, even though it isn't. There are a few important things to consider when choosing your fabrics. If one fabric is very thin and light weight, you might see the other fabric through it.
It's best to use a thicker fabrics like a cotton duck, canvas, denim or pique, or any home decor fabric. This style of window treatment hangs better if the fabric is one of these thicker more substantial varieties. Something like linen would be too light weight. If the two fabrics you choose are not the same weight, use the heavier fabric as the front side of the drape.
Before you start to make your own curtains, hold your fabrics up to the window so you can get an idea of what the light will look like coming through both layers.
This might seem obvious, but choose fabrics that complement each other. You can use a solid fabric on one side and a pattern on the other. You could use a stripe and a dot. There are countless combinations but I don't use a fabric that has the exact same scale on both sides. If you choose a large print on one side (as I did), use something smaller on the reverse side of the window treatment.
Steps to Making the curtain
I don't have much sewing knowledge. When I work on a sewing project I always do them with my mom who is so fast I can hardly get a photo. This step by step guide for making simple double sided curtain includes even the most basic steps. If you sew a lot, you may be able to skip steps because they may be obvious to you. If you're like me and you don't sew a lot it is still easy.
1.) Wash fabric
If the curtain will be in a space where you think washing once in a while will be required, be sure to wash your fabric before doing any more steps.
2.) Get a straight horizontal edge
This is for beginners. Before you start cutting the bottom of your curtain you need to make sure you have a straight edge. Sometimes the fabric is not cut straight when you buy it.
The way to do this is by pulling on a loose thread from the frayed edge so that it gathers up and defines the bottom straight line. If you have never done this, take a look at this article that explains how to cut a straight line in detail (it includes photos). This is what mine looked like.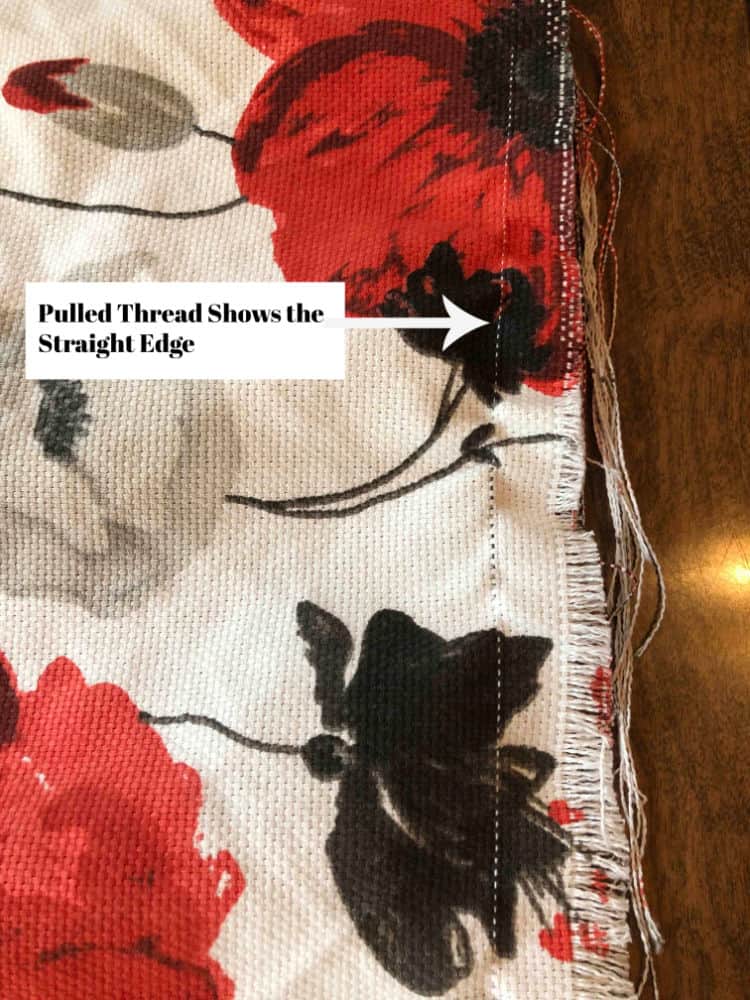 Cut Your Fabric to the Correct Width
Cut your fabric to the width of your window inside the frame. Add 1 1/4 inches for the seams (5/8 per side) and 1/4 inches for "take up". The fold of the fabric once you sew the pieces together will take up a little bit of space. If your window is 30 inches, you will want the total width of your fabric to be 31 1/2 inches.
I like to mark my fabric with a pencil and a ruler before making the cut. If you are using two different fabrics as I did, you will need to cut both pieces to the same width.
Cut Your fabric to The Correct Length
Before you can cut the length of the drape, you will need to measure around the rod plus 1/2 inch. If you follow these measurement guidelines the inside fabric will be longer. This makes it loop over to form a header. The length of the inside fabric (fabric closest to the window) is the length of your window plus the distance around the rod plus 1/2 inches plus 5/8 inches for a seam allowance.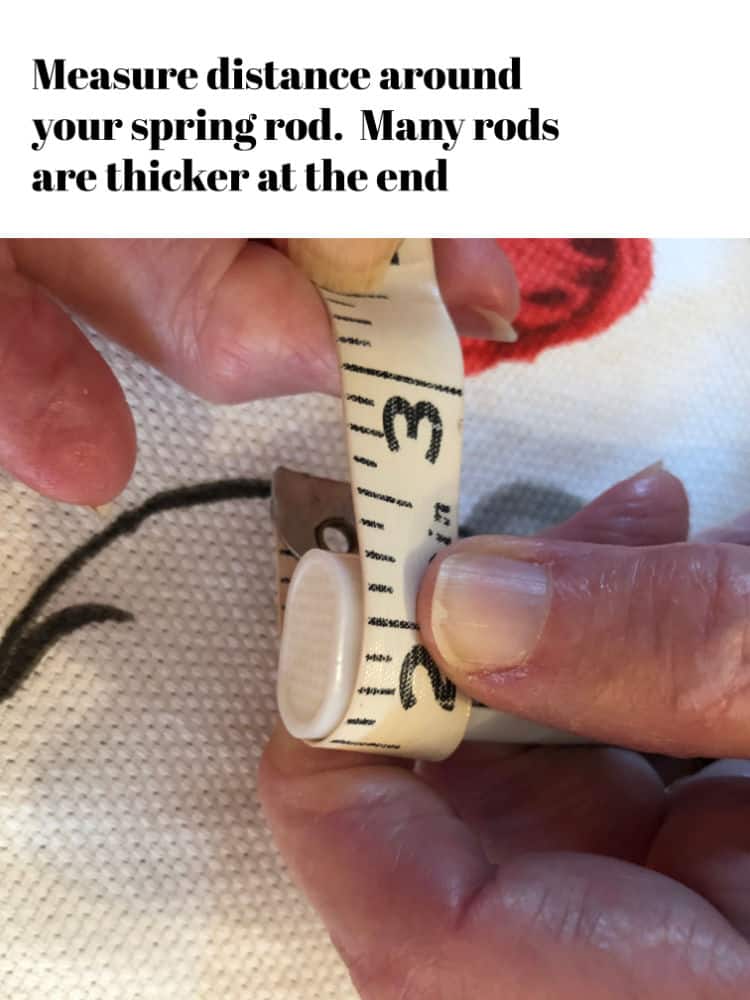 If your window is 40 inches tall you would cut the inside fabric to 43 5/8 inches (40 inches + 2 1/2 inches for the rod + 1/2 for extra space plus 5/8 inches for the seam).
Cut the outside fabric, closest to the room, to a length of the window length plus 5/8 inches for seams on each side plus 1/4 inches for take-up. If your window is 40 inches the total length should be 41 1/2 inches.
Sewing is a lot of math!
Press fabric with right sides together
It's almost time to start sewing. Put the bottom edge of your drapes together (since one fabric is longer than the other) and press them together. Be sure to put right sides of the fabric facing each other.
Sew the vertical sides
Sew a straight seem down one of the vertical sides. Be sure you are sewing with the right sides of the fabric together. Make the seem at 5/8 inches from the edge. After you sew one side, press your new seem flat.
Turn your fabric back to right sides together and sew the other side allowing for a 5/8 inch seem. Once you have the second seem, flip the fabric with right sides facing out and press the seam flat.
Sew the bottom seam
This is seam number three. Turn your curtain with right sides together again. It's important to do the bottom seam before the top because one side of the top is longer than the other. Sew the bottom seam allowing for a 5/8 inches.
Once you are finished with this seam flip your drape so that the right sides face out and press it flat.
Sew the Top Seam
The top seam takes a bit more finesse. Lay your curtain with right sides out and the longer fabric on the bottom. Fold the top over until you get the correct length for your curtain. For example, if your curtain is 40 inches, fold the top down until the current panel is 40 inches.
With your fingers, turn the bottom edge under to make a finished edge. Press the fold under and then sew the bottom seam.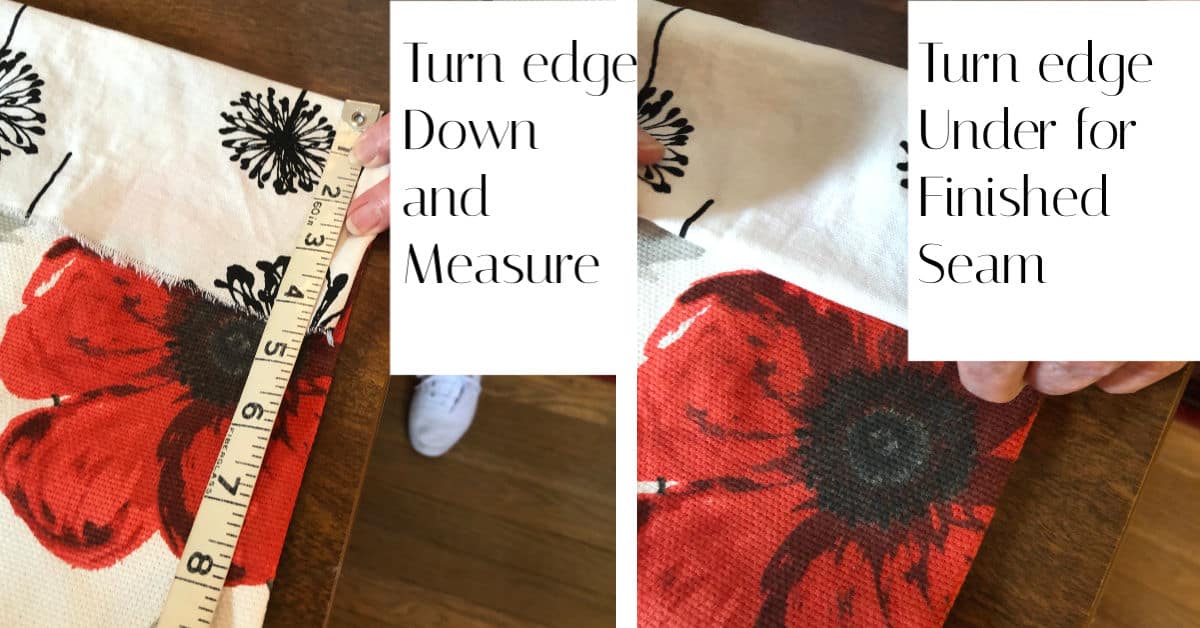 hang curtain and tack/tie back corner
Make sure to twist the spring rod where it fits very tightly because this drape can be heavy. Push the rod through the top pocket and mount the curtain.
The final step is to tack back a corner. This is what makes the drape unique because it reveals a different fabric on the other side. You can hold the corner back using a tack, velcro or even hot glue. I used a small piece of velcro. You can tie back the curtain onto the edge of the curtain or onto the window sill.
Conclusion
Try this out if you are looking for a quick four seam curtain for a small window. It can bring so much more character to the window than a plain solid color shade. If you want more curtain ideas be sure to subscribe to our email list.
If you liked these, I made the same curtains for Christmas. If you need to lengthen your curtains, read this.
I use affiliate links so I can afford to keep doing this. Hope it saves you time. See my disclosure policy.