How to Light a Vaulted Ceiling: the Complete Guide
If you have a vaulted ceiling it's one of the most prominent architectural features in your home. This means that you need lighting to accentuate the space and really show it off.
High ceilings can be tricky to light because the standard lighting rules for size in a regular room don't apply. For example, a 10×12 living room with regular 8 to 10 feet ceilings will need different lighting than a 10×12 living room with vaulted ceilings.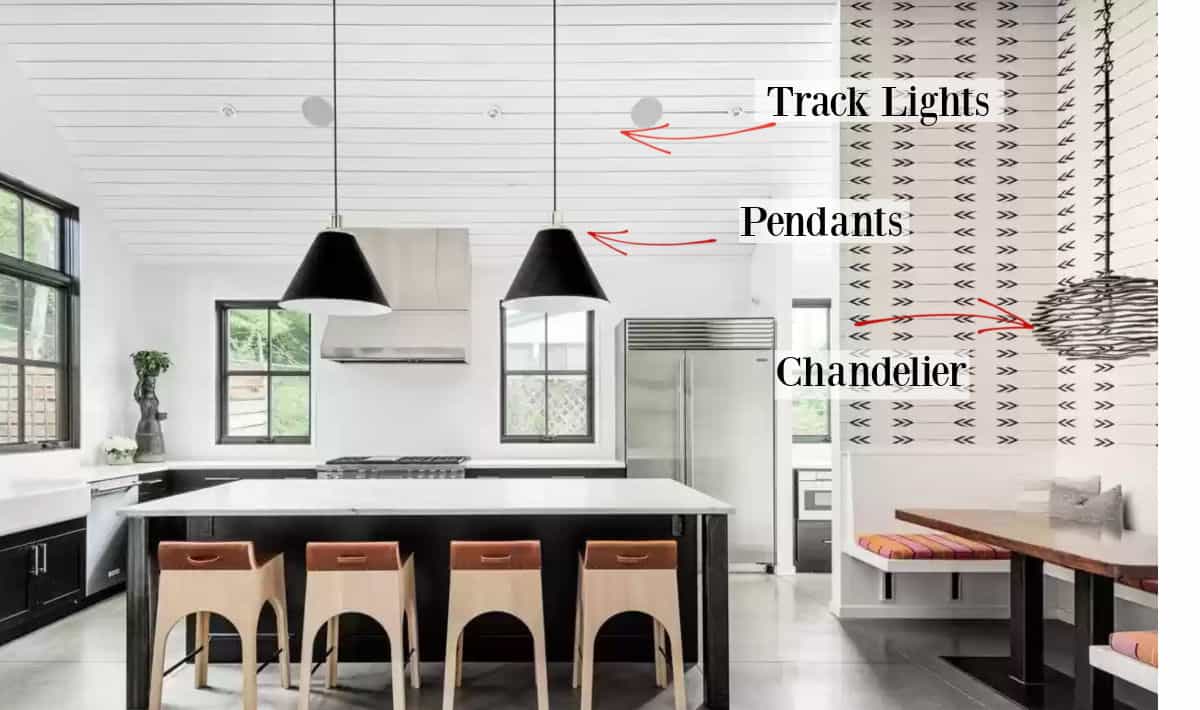 As always I will share some examples of ways you can light rooms with vaulted ceilings and how to adjust the general size guidelines for ceiling height.
Consider the Function of the Room First
Before you choose lighting, you need to consider what you'll be doing in a room. For example, if you need lights for a kitchen with a pitched ceiling, you need to provide light that is appropriate for tasks like chopping. The lights need to be brighter and more focused.
If your bedroom has a cathedral ceiling, you don't need task lights coming down from the ceiling. You need more accent lights or ambient lighting.
What Is the Desired Effect?
When you choose lighting, think about how you want the room to feel and this helps choose the right lighting to achieve that. For example, in a bedroom, you might want a cozy feeling but if you have a vaulted ceiling in your dining room you might want a dramatic feeling.
Three Types of Lighting In Every Room
Interior designers will tell you that every room needs three different sources of light or different types of lighting for a good lighting design. Rooms with higher ceilings are no exception. Every room needs general ambient lighting (overall room lighting), task lighting (more focused light or directional lights) and accent lighting (like wall sconces).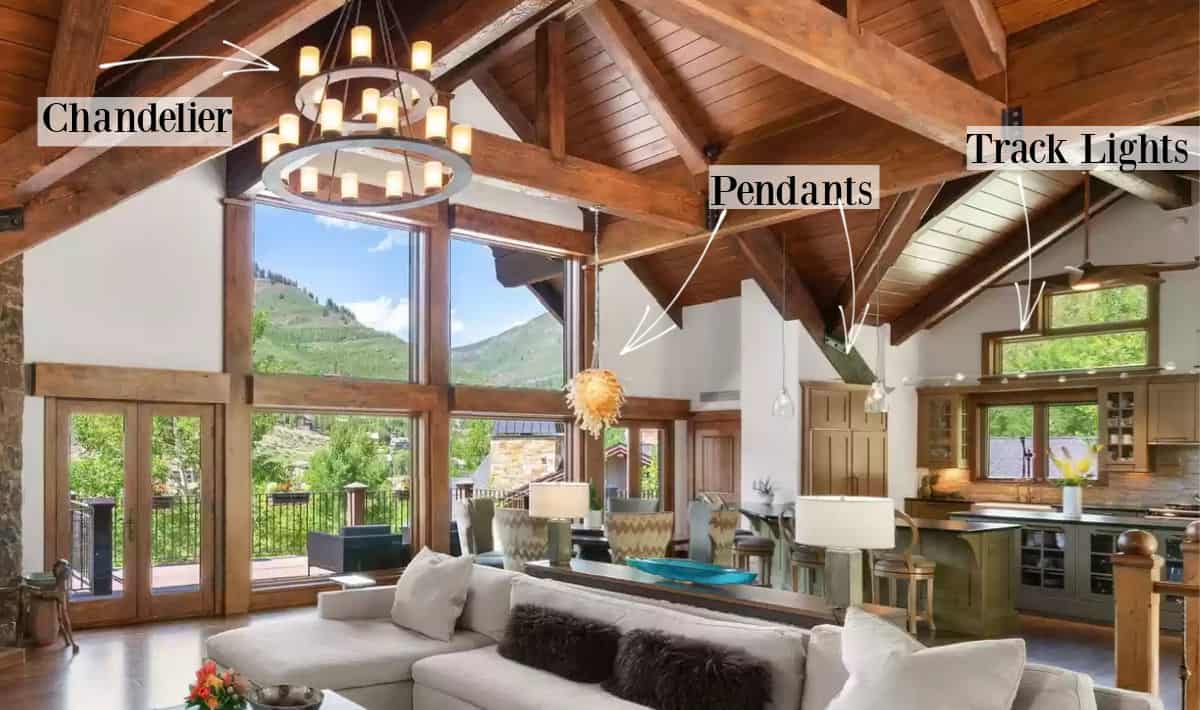 The most common lighting options for a vaulted space are:
Pendant lights – are better for task lighting
Chandeliers – are a good source of ambient light because they light up the entire space
Track lights – track lights can be either ambient lighting or task lights (if each light is aimed at something specific)
Recessed lights – is good for ambient lighting
This is an example of a room with a vaulted ceiling that has a number of lighting fixtures serving different functions. The chandelier over the sofa area is providing ambient light. The pendants over the bar and track lighting over the cooking area add task lighting. Finally, the chandelier/pendant light over the dining room table is good ambient light.
It's a good idea to make sure that your lighting plan has the right light fixture in each area. Since vaulted rooms tend to be big, there can be areas that each need a different light source.
A ceiling fan is often nice to have in a vaulted room because it's harder to cool rooms with really high ceilings.
How Big Should Light Be When You Have Tall Ceilings?
There are size guidelines for light fixture size if you have flat ceilings. Once you add height into the mix you have to start sizing up your fixtures.
The general rule of thumb for standard ceiling height is to add the length of the room plus the width of the room and that tells you how large your fixture should be. For example, a 10 ft. x14 ft room would fit a 24-inch fixture.
For every extra foot of ceiling height you need to add inches to the size of your fixture.
How Low Should Fixture Be With Vaulted Ceilings?
If you have standard 8-foot ceilings, light fixtures should hang around 7 feet from the floor. If you have higher ceilings the light fixtures will help to fill up the large space.
As your ceiling height increases, the distance from the floor should also increase. This applies to fixtures hanging over seating areas or open rooms, not tables. Here are suggested heights:
Hanging down from 9 feet – Distance from the floor 7 feet, 3 inches.
Hanging down from 10 feet – Distance from the floor 7 feet, 6 inches.
Hanging down from 11 feet – Distance from the floor 7 feet, 9 inches.
Hanging down from 12 feet – Distance from the floor 8 feet
Hanging down from 13 feet – Distance from the floor 8 feet, 3 inches
Etc, 3 inches for every extra foot.
If your ceilings are vaulted, you may need to hang fixtures at varying drops. The best options are fixtures that have an adjustable chain or rod. If you have a row of pendant lighting over an island with a sloped ceiling they should all hang at the same height above the island.
There are special considerations for a dining table or a kitchen island. In these cases the fixture height should be measured from the bottom of the table. The light should be 30-34 inches from the bottom of the table. It's a little lower for dining spaces to make them feel more intimate.
Ceiling Lighting Ideas
Vaulted ceilings are an ideal place for oversized or taller fixtures. These can be a great way to really show off your room. When you are shopping use search terms like "oversized" and tiered in your search. The size requirement can make them more expensive, but they serve as a focal point for your room.
Here are a few of my favorites.
In general, for lighting I like to go to Wayfair, Lamps Plus and Overstock for bargains. Wayfair makes it easy to search by a variety of styles, from traditional to contemporary design.
If you have a bigger budget I like Shades of Light, Rejuvenation, Ballard Designs and Pottery Barn. If you have larger rooms and a big budget Restoration Hardware has lots of selection.
Now that you know the basics of adding multiple sources of light and you know how you want the room to feel you are ready to light up your vaulted ceiling. If you're looking for more examples, reply in the comments with your specific question and photos if you can.
Lighting can make such a difference in every room, but even more so in rooms with high ceilings.