Get The MOST Light From These Floor Lamps For Your Dark Room
Do you have one room in your home or apartment that is always dark? Most houses, especially older ones don't have enough ambient lighting. There is sometimes a lack of overhead lighting and not enough plugs. Try using one of these four tips for a light source in a dark room using floor lamps.
First, choose a standing floor lamp that uses more than one bulb. Second, go for floor lamps that accept high wattage bulbs. Third, get a floor lamp that bounces light off the ceiling or other reflective surfaces. Fourth, choose the right type of lampshade. If possible, avoid lamps with dark shades, directed spotlights or task lamps, which are not as good lighting a whole room. I'll explain more about each of these below and give some of my favorites that meet some, or all of these criteria.
Best Multi-Bulb Floor Lamps
If you choose a floor lamp that takes 2-3 bulbs, it's a great choice and gives plenty of light. It's almost a substitute for overhead lights. Think of it like a tall lamp or an overhead light on a stick. These are going to be more expensive, but you get a lot more light.
Watch out for multi-light fixtures that only take a candelabra bulb (the kind with the skinny neck). Candelabra bulbs DON'T have high wattage, 15 to 40 watts, which is not a lot of light for a dark space. Many multi-bulb fixtures only take a fluorescent bulb, which gives off very blue light.
I choose every product I review. I may earn an affiliate commission if you buy from one of the product links, at no extra cost to you. This income supports this site. See the full disclosure.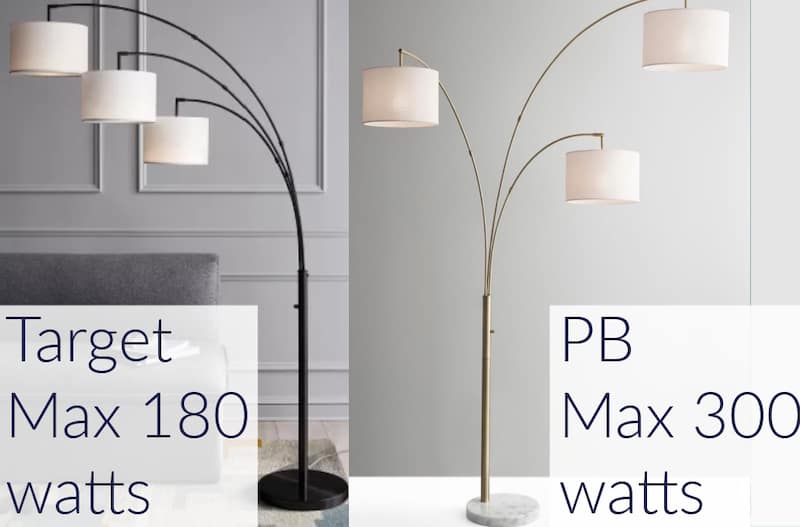 This three arm lamp from Pottery Barn takes 3 – 100 watt bulbs and it has light-colored lamp shade. That's tons of light. It is an excellent choice for providing plenty of light to any living space. A similar lamp at Target costs much less and while it's a good floor lamp, the total wattage of all bulbs has to be below 100. It comes with 800 LUMEN LED bulbs (which is equal to a 60 watt bulb). This is an example of how you have to check the details.
Best Lamps That Bounce Light Off Ceiling
If you want to get more light into a room, bouncing it off the ceiling or any reflective surface, is a great way to do that. The light shines out the top of the lamp. This is not my favorite style of lamp, but it serves a purpose. This has the bonus of spreading the light around the room more than standard lamps, that just lights the immediate area around it.
Why Spot Lights Aren't As Good For Dark Rooms
There are lots of spotlights out there with multiple bulbs, but generally these types of lamps are really meant for task lighting. For example, you shine the spot down on a reading nook. They may not be the right floor lamp as they don't light up an entire room, but are designed to provide light for a specific task.
Here are a few examples, of what I mean by a spotlight.
I hope these rules give you a few key things to look for if you are looking for lighting options for a dark room. Maximum wattage is king! If you're using LED bulbs, that is Lumens instead of watts.
learn more lamps and lighting, check out these posts that cover all the details to make sure you get the right lamp for your space. Want to learn more about regular incandescent bulbs vs LEDs?