Window Treatments For Bathrooms – Get Privacy and Light
Do you have a window in your bathroom? Having natural light is a good thing, but you may still need bathroom curtains.
Bathroom windows are tricky because you want natural light BUT you need privacy. There are many bathroom curtain ideas that provide privacy while also letting in plenty of light. In addition, there are so many wet things happening in the bathroom. An important factor to consider is using something that can get wet.
Here are the best options for bathroom window treatments. These won't make your bathroom feel like a dark cave.
Window Film/Decal for the Bathroom
If you have a window in the shower area, a curtain is sometimes not the best solution. For windows in the shower, a great choice is using removable decals. These decals are a lot better looking than they used to be and they are a great way to provide privacy and light filtering. These work great in a humid environment and they are easy to apply and remove.
Amazon has a great selection and the prices are very reasonable. You can get just a plain frosted film, or one with a pattern like pebbles, stripes or even a simple frosted look.
Roman Shades for Your Bathroom
What if you have a window right beside your toilet? It's nice, but you may feel like a film does not provide enough privacy. Shades are good for smaller windows because they stay neatly tucked inside the window frame and don't get as dirty as floor length curtains.
Custom roman shades can be pretty pricey. See this posit if you want to find roman shades on a budget.
ETSY has the best selection of fabrics if you can afford a custom shade (make sure to buy from a seller that has lots of good reviews). Custom roman shades start at around $100 and go up from there. Here are a few examples of some amazing shades on ETSY from sellers that do all kinds of custom drapery with great reviews.
[Advertisement] Your video will begin shortly: 0:01
If you want a roman shade but you don't want to spend a lot, try selectblinds.com. The fabrics are not as luxurious but they are simple and good quality. The prices are about 30% lower than custom shades on ETSY.
Cafe Curtains For Your Bathroom
Cafe curtains are really just curtains that don't cover the entire window. They can be a great option to let in light and come in many different styles, but they have gotten a bad reputation. If you search "cafe curtain" on google you will see really dated looking options. Here are some examples of more modern cafe curtains.
This is the cafe curtain I made for my bathroom using a shower curtain from Target. You can see the tutorial for this simple curtain here. I'm a beginning sewer and I was able to make this with just one cut and one seam.
Rod Pocket Curtain For Your Bathroom
Another option for window dressing is a rod pocket curtain. This is a simple curtain that has a rod on the top. It's easy to make even if you are not the best seamstress and may be the perfect way to cover a bathroom window. Here's a link to a great video that will show you an option for making these yourself with just a few easy seams. You can customize them to complement your design scheme.
If you prefer not to go the DIY route don't despair. A better choice may be purchasing a pre-made curtain. There are inexpensive options that you can doctor to fit the window. They come in a variety of colors and patterns. Here are two options from Pottery Barn that are $40-$63.
In bathrooms the windows are often small, so you may only need to hang one panel and you may need to shorten it, which can be done with hem tape if you don't sew. Keep in mind that curtains will look better in a bathroom if they are light filtering vs. a light-blocking curtain.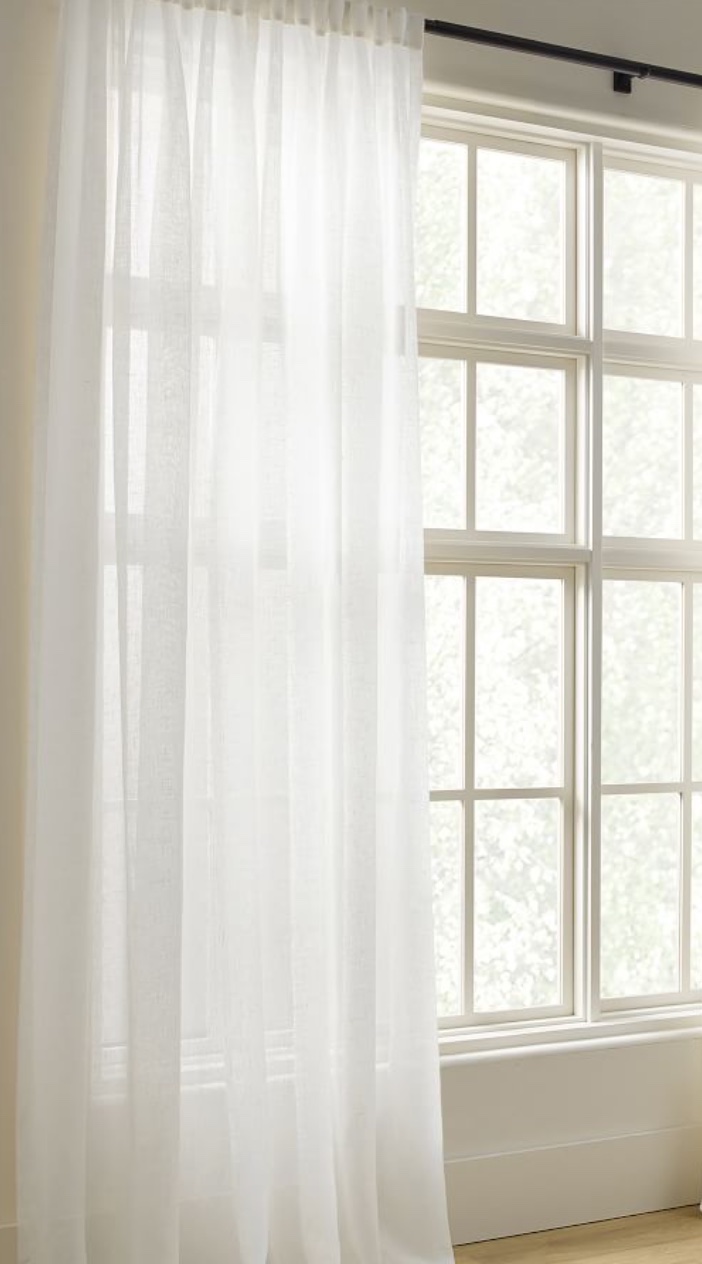 Fabric Panel For Your Bathroom
This is a DIY approach to covering a window. I read a great post from Serena at Thrift Diving. It's inexpensive and you will need to make a wood frame and buy fabric. This looks amazing if you have a fabric that has lots of pattern and visual interest and may be the perfect solution if you are OK with something that doesn't move.
No Window Covering
There's no rule that says you MUST have bathroom window curtains. If you can get away with it ,because your bathroom is on the second floor or at the he back of your house, not covering the window at all gives you the lightest and brightest option.
How have you covered the windows in your bathrooms?