Do you need something to cover up your window for privacy or decoration but a drape just won't work? Drapes don't fit every window and if you have kids or pets, they can get dirty. Roman shades are a more compact way to cover and dress up your windows.
Window coverings are one of the five essential ways to make your room feel more cozy and decorated. All of that fabric can really add warmth to your room. See what your options are for getting roman shades on a budget.
How to save money on custom roman shades
If you want to get custom roman shades they can be very pricey. Hands down the best, and least expensive place to get them is on ETSY.
I learned this after searching endlessly for 7 roman shades in one room (which adds up). The least expensive way to get custom roman shades is to find a seller that will allow you to send in your own fabric. Sellers will quote a price based on width and length measurements.
For custom roman shades you can save money with these three options:
Faux vs. Real – If you get faux shades they are less expensive, but beware. Faux shades don't go up and down. They are purely for aesthetic purposes, they can't be lowered. Faux roman shades are a great option in a kitchen or living room where you don't need as much privacy or darkness.
Cords vs. Cordless – If you opt for "with a cord" it is less expensive than cordless roman shades. If you have small children, getting shades with a cord can be dangerous if they are in a child's bedroom. The cords do make awesome cat toys though.
Lined vs. Unlined – The liner is usually extra. Blackout is the most expensive kind of liner and works well in bedrooms. If you don't get them lined, you may not get as much coverage as you want. I recommend holding the fabric up to your window so you can see how much light you will be getting through one layer of fabric. If it's a room that can withstand light, or you want the shades to be light filtering this can be a money-saving option.
Best Etsy Roman Shade Suppliers
I worked with several ETSY sellers to get quotes for roman shade projects. It's important to deal with sellers that have good ratings. These are the three I recommend:
I choose every product I review. I may earn an affiliate commission if you buy from one of the product links, at no extra cost to you. This income supports this site. See the full disclosure.
SewlovelybyKelly – Her custom shades start at $75 for blackout lined shades and go up depending on the size of your window. You provide the fabric, but that's a GREAT price for a custom working roman shade. She has over 200 5 star reviews and responds quickly to emails. I purchased seven roman shades from this seller made using fabric I sent to her. They turned out great and the price can't be beat. This photo is my room with these shades.
WindowsbyMelissa – Her prices also start at $75 and she has lots of fabrics to choose from or you can send your own. This doesn't include lining. She has 5 stars and over a thousand reviews and responds very quickly to email questions.
KARUILUhome – Her prices start at $88 and she has some cute modern fabrics (like the one below). She has almost 400 5 star reviews and is also quick to answer questions by email.
DIY Roman Shades
There are lots of good tutorials for out there for both sew and no-sew roman shades. I don't want to reinvent the wheel. so I'm going to share my favorites with you. They fall into two types, using mini-blinds as the base and using tension rods. I didn't invent these, so I won't pretend. I just want to give you options for getting roman shades for less!
Beginner No Sew Shades Using Blinds as the Base
You need some mechanism that allows you to create the folds in the fabric that give the shade the full texture you want. You can take mini blinds, which are inexpensive, and use them as the basis for making your own shades.
Here is a tutorial for how to use mini blinds to make your own shades. It doesn't involve sewing and the end product is a fully functional shade. It does require cutting up mini blind, and pay close attention to which strings you cut.
No Sew Shades using Tension Rods as the Base
If you choose this option, it is even faster BUT the shades are not as operational, they are more like faux shades. They aren't made to move up and down unless you want to move the rods each time.
The folds in the fabric are set with the tension rods. If you don't want to raise and lower them this is an excellent choice, maybe in a kitchen, living room or bathroom. Not as ideal for a bedroom.
Follow this tutorial for the Tension Rod Method
This is the option I used for my office where I don't plan to move the curtains, I just want the fabric for texture.
How to Measure your Windows
How you measure your windows depends on how you plan to hang the blinds, inside the window frame or outside the window frame.
Inside mount
For an inside mount blind, you will want your blind to fit snugly in the window. Measure the width of your window at the top and bottom inside the frame (see the red arrows below). Subtract 1/4 inches and that's the width you need. Next Measure the length of the window inside the frame and that's your length.
Outside Mount
For an outside mount you will want to make sure you get the blinds wide enough and long enough to completely cover the window's opening. See the blue arrows below.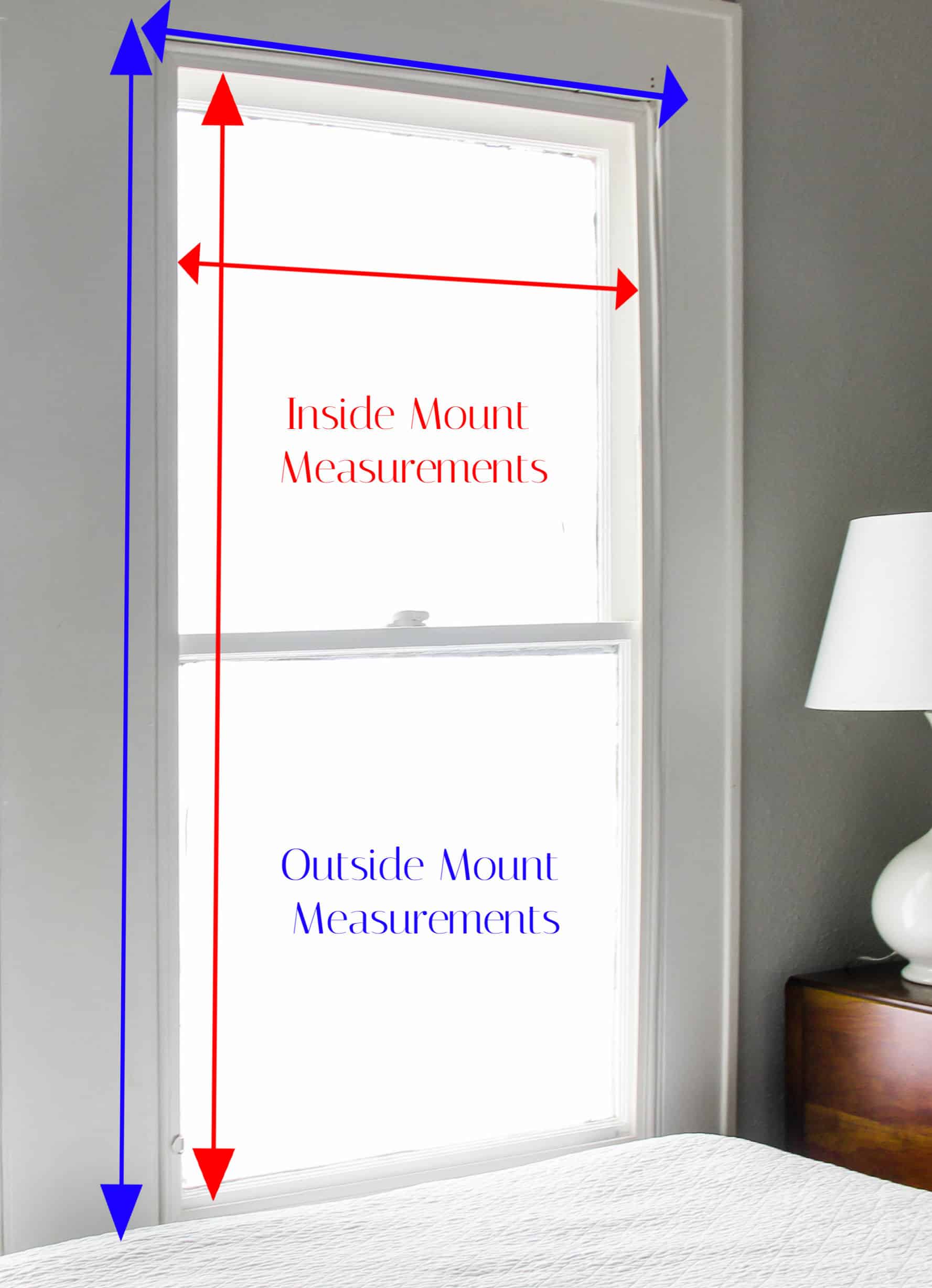 Lining
Before you decide that you don't need lining, I urge you tape your fabric up in the window and make sure that you are happy with the amount of light that comes through. It can save you both time and money not to line your shades, but they might look like you expect. In 95% of the cases, lined roman shades have a more finished and full look.
Bamboo Shades
Bamboo shades are a great budget friendly option, if you want light filtering shades. I used them in my dining room with drapes. As you can see, they let plenty of light in.
If you decide to go this route, Overstock has some great choices including these shades used in the photo above. They are cordless, they come in many sizes and colors and are very easy to install.
Conclusion
If you think you want roman shades but you've heard they are expensive, there are affordable options. There are sellers on Etsy that don't charge an arm and a leg. There are also two DIY options that don't involve sewing.