How to Get Good Lighting In A Small Bathroom
Lighting in a bathroom is one of the most important details. You HAVE to be able to see in the bathroom and often there isn't a window. If you live in an older home chances are your bathroom isn't huge, but you can make a statement with your lights.
Every bathroom needs three sources of light, even if it's small. The three types of light are ambient lighting, task lighting and accent lighting. All bathrooms have ambient light. These are the lights in the ceiling, usually over the tub or shower, at a minimum.
The FUN part of lighting your bathroom is the task lights and accent lights. You might be thinking, my bathroom is too small for all that lighting. This is NOT true. It's hard to photograph small bathrooms, but I'll here's an example of my small bathroom that has all three.
Why do you need these three lights in your bathroom? Other than the obvious reason of visibility, it will elevate the look of your small bathroom. You don't need a bathroom as big as a bedroom to have an upscale-looking bathroom. Lighting makes a huge difference.
Task Lights for A Small Bathroom
Task lights in a bathroom are usually near the sink or vanity. There are two ways to get task lights. You can add a light OVER the mirror or NEXT to the mirror. If your bathroom is very small, it's probably easier to add a light over the mirror.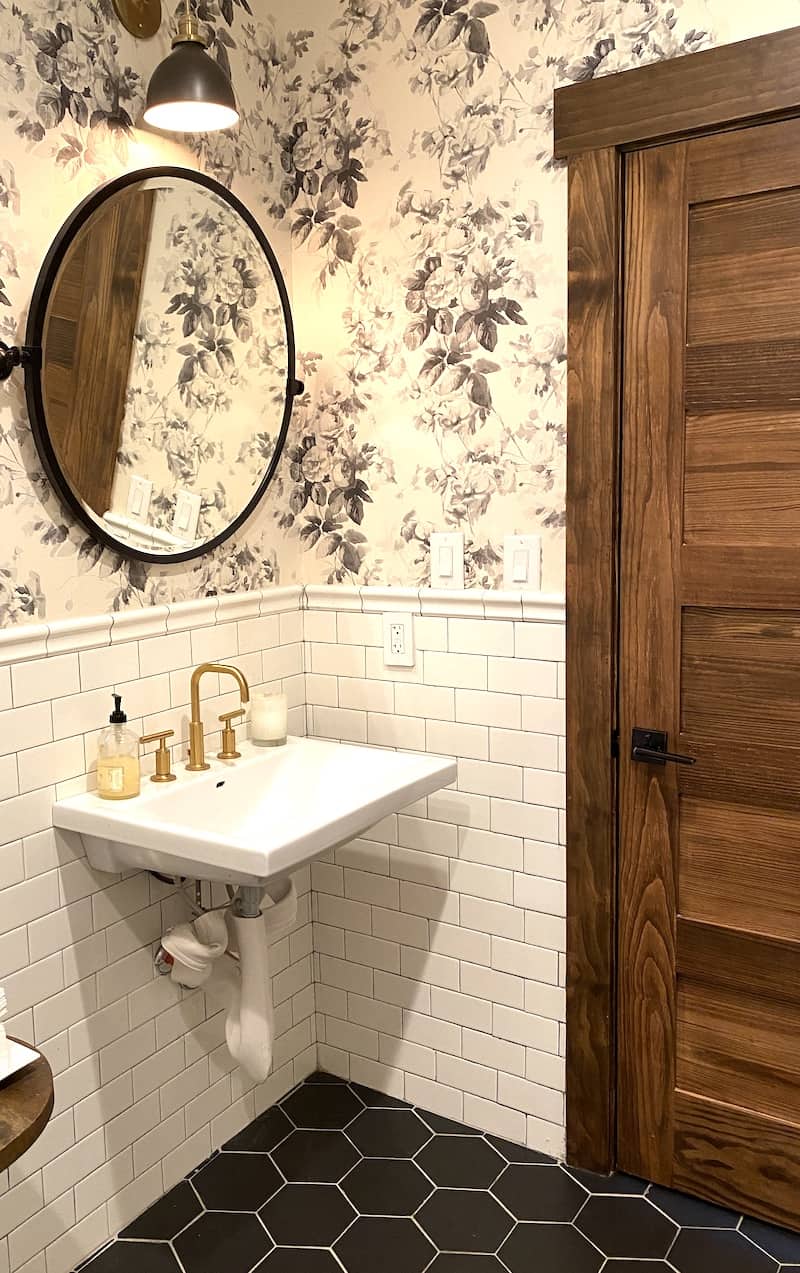 My favorite places to find scones and vanity lights (two terms to search for as you look), are Shades of Light and Lamps Plus. If you struggling with which metal to choose, use the safe choice and match it to your faucet.
I choose every product I review. I may earn an affiliate commission if you buy from one of the product links, at no extra cost to you. This income supports this site. See the full disclosure.
Accent Lights for Small Bathrooms
This is the most fun part of lighting a small bathroom. The function of this light is mostly for looks. You don't have to rely on it to put on your mascara. This is what takes your small bathroom from ordinary to extraordinary. Wayfair is a great place to find deals on small-scale accent lighting.
You can use a SMALL chandelier or pendant. If you have a small bathroom, hang it right in the middle. If your ceilings are eight feet, use a flush mount. Here are my favorites for small bathrooms. When you're searching for something to fit a small bath add the word "mini" to your light fixture search.
If you're in the process of renovating a small bathroom, try adding a small accent light. You won't regret it. Most small pendants or chandeliers are affordable, many around $100.
When you're choosing an accent light be sure to factor in the height of your ceiling. You want the bottom of the light to be high enough it doesn't feel like you have to duck (if you're using a hanging pendant or a chandelier).
What Finish Should I Choose For Bathroom Lights?
In a small bathroom, the safest choice is to choose a finish that matches your fixtures. If you have satin nickel faucets, get a fixture with satin nickel accents. Same goes for brass or bronze.
Mixing metals is a popular trend, but it's harder to make it look good in a really small space. The one exception to this would be your accent lighting. It you find a light you love as an accent and it doesn't match your fixtures, go for it.