A French Country Bathroom, with just lighting and a mirror
If you really love the French country style, why not use it for your bathroom? I refreshed my bathroom and decided to go for a French country feeling. But I had a very small budget, so no remodeling. I only changed a few small things and I think it made a big difference.
This is the before and after.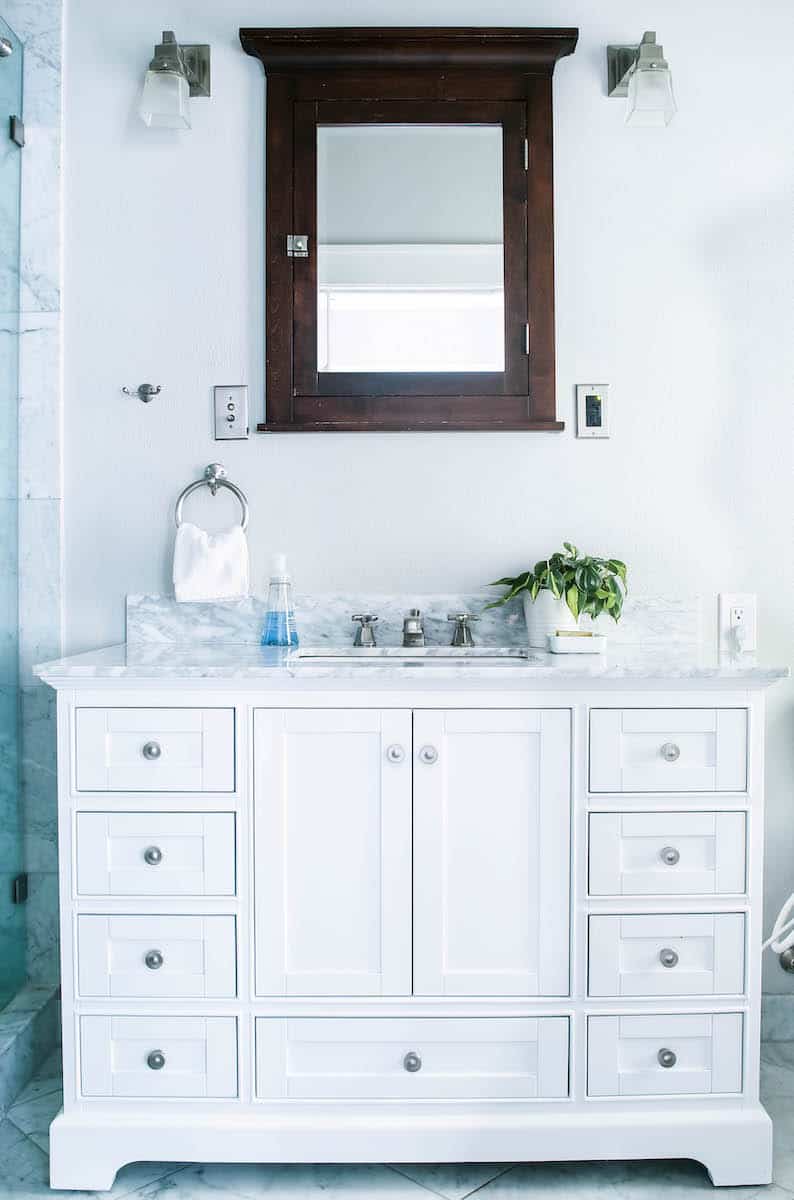 All of the changes were less than $500. I already owned the mirror, but I've found some affordable look-alikes.  
What makes it look more French country?  I think it can be done with just three small changes:  the paint color, the mirror and the lighting.  You don't need to change everything, just a few things CAN make a big difference.  
I started with a mood board to see if my ideas work together.
Blue Paint – I chose Sherwin Williams Inky Blue for the paint.  There is nothing that makes this color exclusively French country, but blue is a very popular color in many French country designs.  
Curved Mirror – I knew that I wanted to include wood in the room and since I didn't have the budget for a new vanity, I decided to use a mirror. Vintage mirrors can really give a space a more French vibe.
If you are looking for similar wall mirrors, you can see a few here. The style is a Louis XV.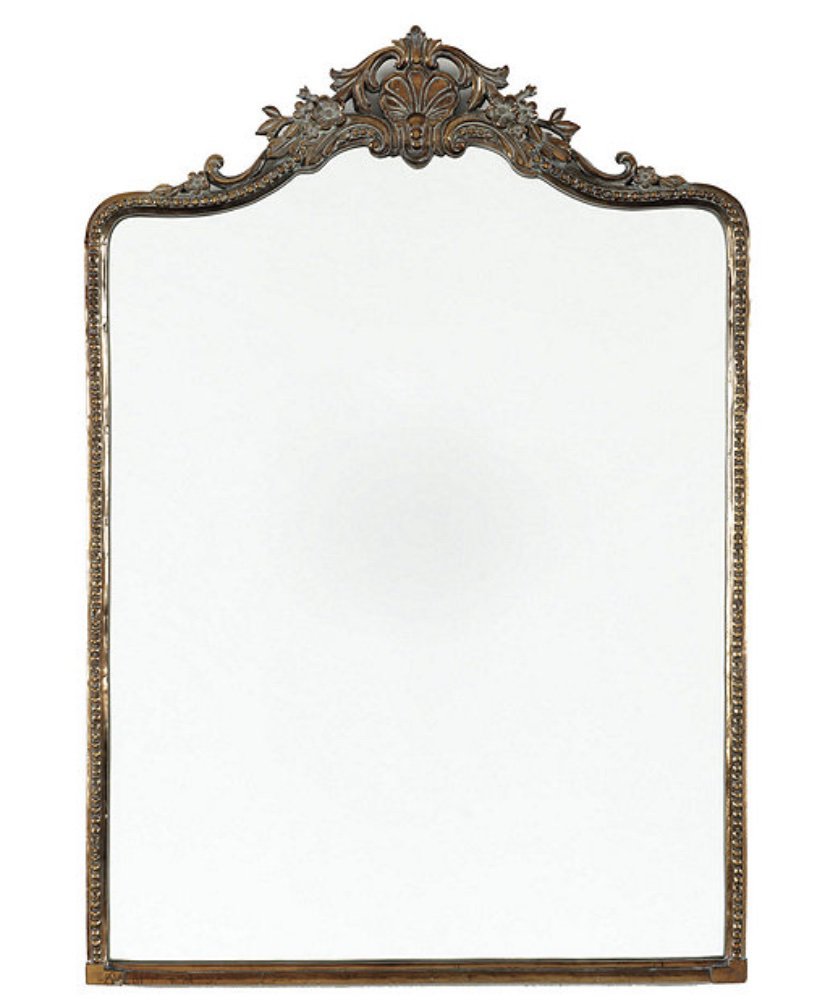 Ballard Beaudry Mirror, Woodenstuff Crafts Mirror on Etsy, Target mirror
I saved the best for last.  If you haven't heard me say it before, lighting can really transform any room.  A light fixture is the equivalent of jewelry in interior design.  You might not think bathroom lighting can make a difference, but it does.  
One of the easiest ways to transform your lighting is to add a bathroom vanity light that has curves and a feminine look to it.  I really wanted a French chandelier, but not sure my husband love that.  If I had my own bathroom it would definitely have a chandelier.  
I added a few wall mount sconces with a French flair since I couldn't get a chandelier. Here are a few similar sconces with a French design. You'll notice all of the similar fixtures have a curved look and the shades are not clear glass shades, they are misk colored glass.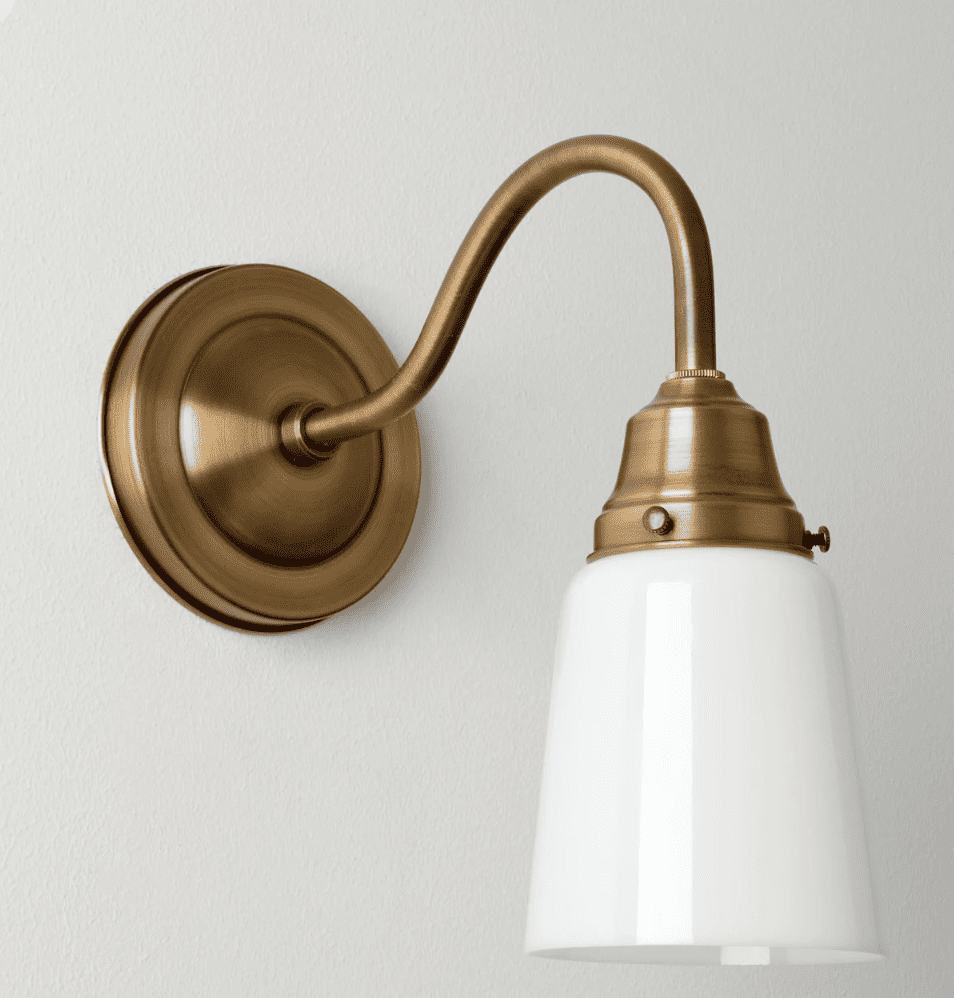 Etsy brass wall sconce with milk glass.  Kate Spade sconce, Rejuvenation sconce.
The only other things I added were a few shower hooks instead of a towel rack and a washable Oriental rug.
I love it when I can get what feels like a brand new room to me just by tweaking a few things. For me, those things are always lighting, usually a rug and paint.
If you liked this, you might be interested in learning more about washable rugs and the best places to find vintage lighting.