Refinishing Teak Furniture
What's the one thing you always hear about teak furniture? That it lasts forever because you can just refinish or restore it. People also say that teak is expensive. Teak can pricey but that's because it is furniture that holds up year after year. This weekend I'm joining in with my blogging friends to share backyard projects (the first Sunday of every month).
When we moved into our house, the seller didn't have room for her teak outdoor furniture. Big win for us because we had no back yard in our last house. For two years the teak table and chairs has continued to get dirtier and more grey.
I'm ashamed to say that last year I began the process of restoring it, but I stalled out before finishing. This year I was determined that with all this extra time at home I was going to finish it. It's not hard, it is just time consuming.
This is the table right before we started refinishing it.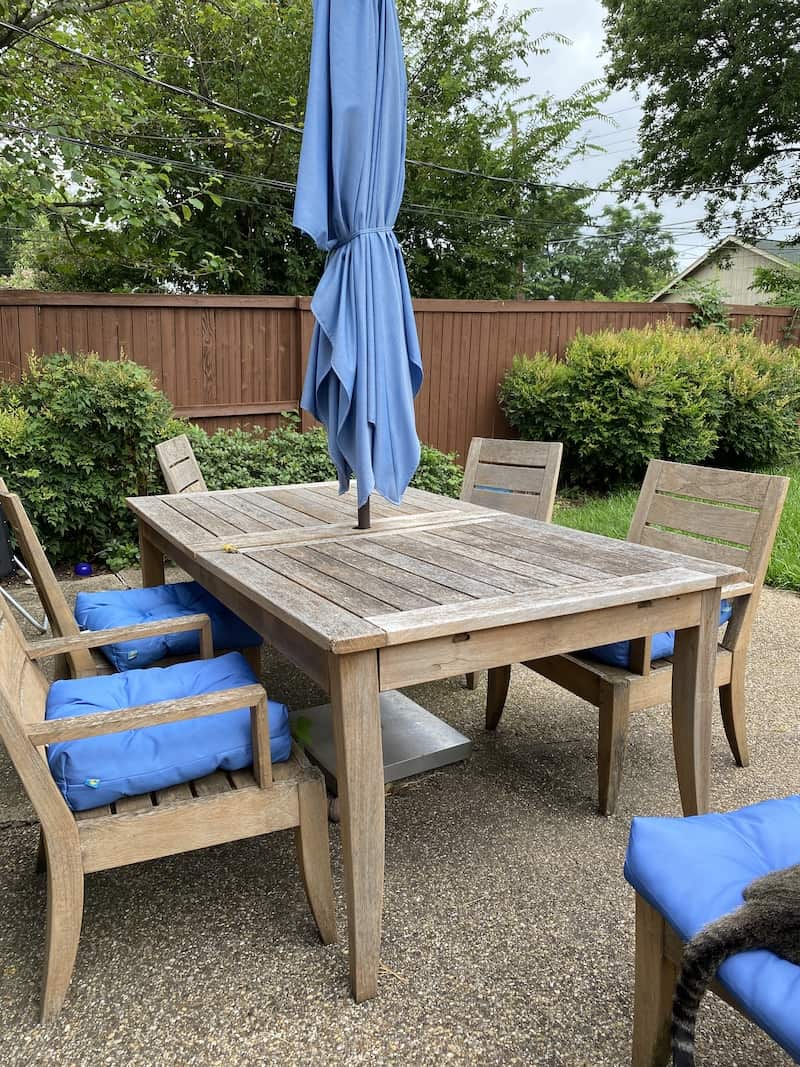 Can Teak Furniture be Refinished?
You might be thinking that your teak furniture looks too far gone to bother with, but it isn't. You don't even have to sand teak to get it back to it's warm brown finish.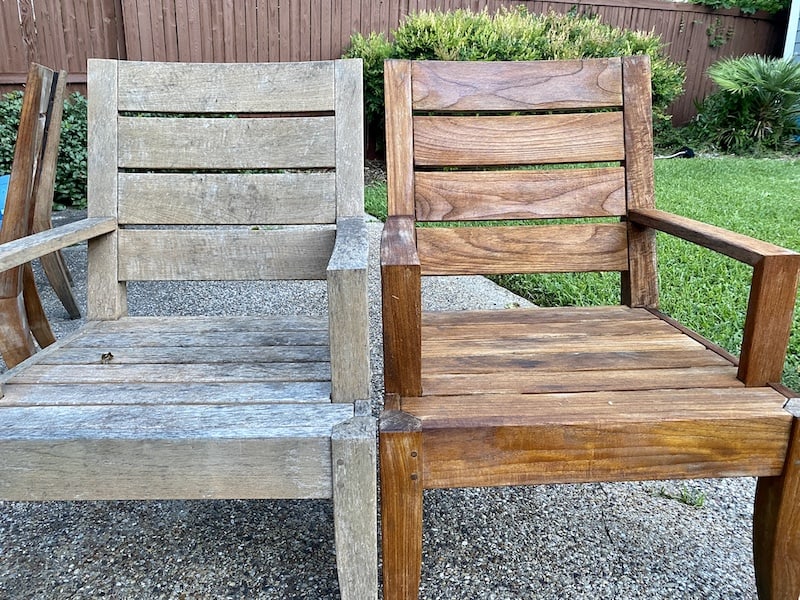 Teak is a very hard tropical wood. It can really stand up to the test of time. Even if it's been years since it had that original finish, it is still there waiting. I read that many people sand their teak, but this is too much work. I wanted to see how it would look without sanding because sanding a table and six chairs will take days (not just hours).
supplies you need to Refinish teak furniture
These are the supplies you will need for your teak restoration project.
Wood Cleaner – I've bought this at Home Depot and on Amazon, but this one was available without shipping.
Cleaning Brush – This makes it easy to apply the cleaner. The first time I used steel wool, but the brushes made the application much faster and less messy.
Teak Oil – Unless you only have one small piece of furniture, you are going to need multiple cans of teak oil. My table and chairs drank it up.
Rubber gloves – The container says that you aren't supposed to get the wood cleaner on your skin, so its best to wear long sleeves and rubber gloves.
Pressure washer – You don't have to use this, you could use just a hose. I think the pressure washer gets off a lot more of the built up grime. You can also rent one for the day if you don't want to buy.
Steps to refinish outdoor teak furniture
The process of restoring your outdoor teak furniture is not complicated, but it is messy. Before you start, suit up with long sleeves, rubber gloves and long paints. These are strong chemicals and they don't belong on your skin.
Step 1 – Apply the Cleaner
Pour the cleaner into a bucket and use a brush to apply it to your furniture. Be sure you get every side of the legs and every crevice in the chairs. I had a helper (my Dad) who was moving so fast I could hardly get a photo in. He doesn't mess around.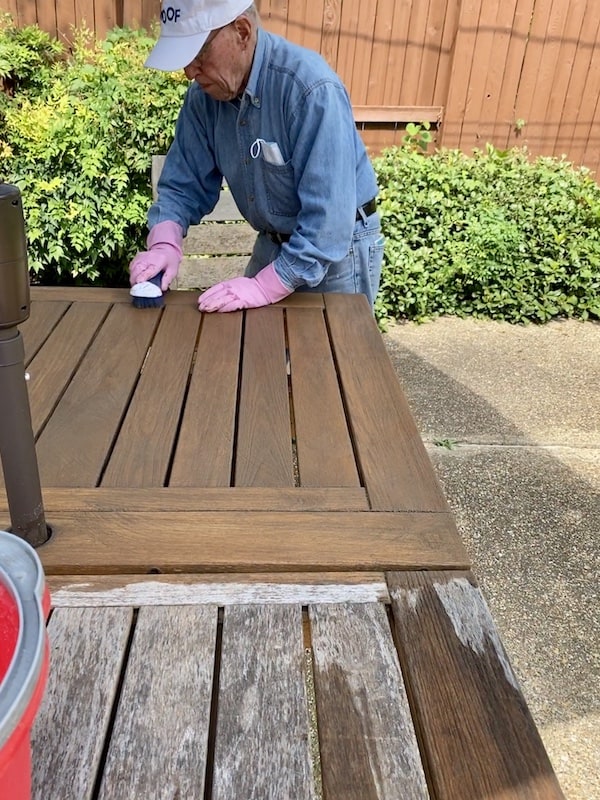 Try to brush the liquid on all your furniture and let it sit for at least 15 minutes. It's fine if the cleaner sits on for longer.
step 2 – spray off the cleaner
Once you've got everything painted with the liquid, it's time to start rinsing it off. If you have a power washer, this is the time to plug it in and get started. If you don't have a power washer, try to get a power spray head like this.
If you look at the photos you can actually see how the power washer is stripping off the dirt and build-up. There's a clear line. This makes it easy to see where you have sprayed and what is still dirty.
Once you have thoroughly sprayed the furniture it's time to let it dry completely. Try to choose a few days to restore your teak furniture when there is no rain in the forecast.
Once the furniture is dry it will have a raw look to it, like it's unfinished. Our cat said he liked it just fine at this stage of the process.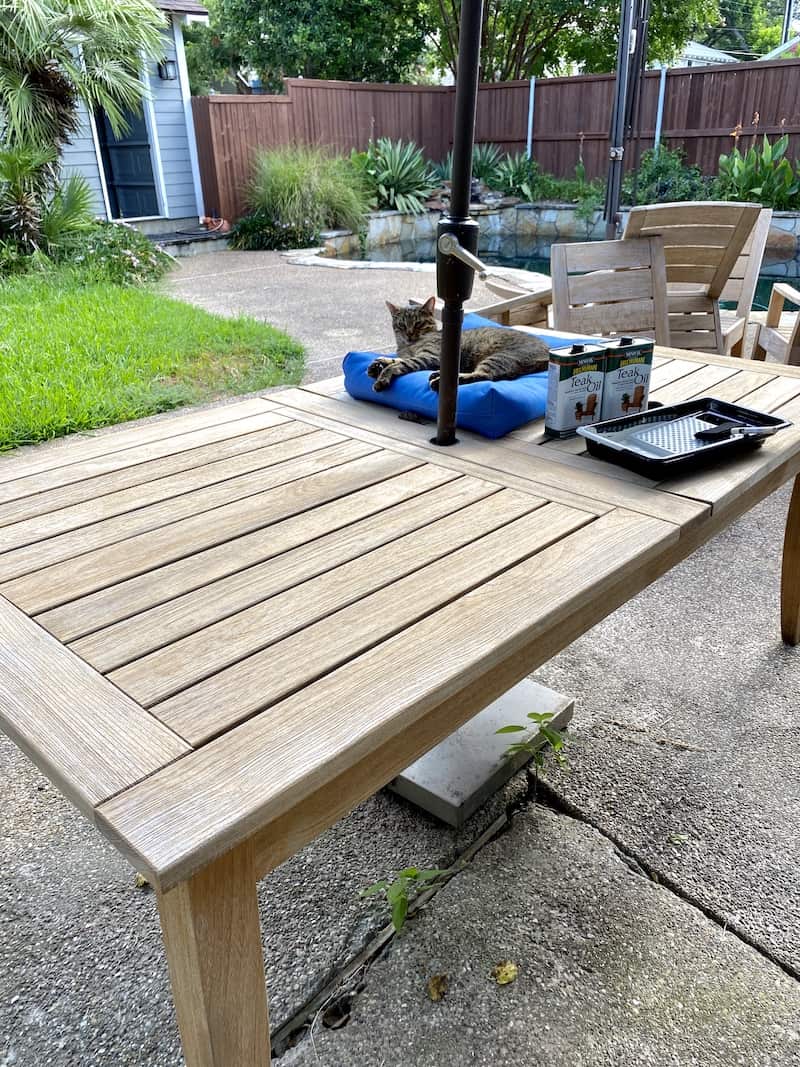 Step 3 – apply teak oil to the furniture
Unfortunately mine got rained on in the middle of this process, but I continued once it dried out. You can apply the teak oil with a foam brush or a bristle brush. I tried both and they were about equal.
My teak seemed very thirsty for the oil, so plan to apply it very generously. I applied two coats to the table top (and will probably try to use up what's left on a second coat for the chairs).
As with most things, I'm so happy that I finished this and I wish I hadn't waited so long. Next year, I want to replace the pea-gravel cement. If any one out there has advice on this I would love to hear it.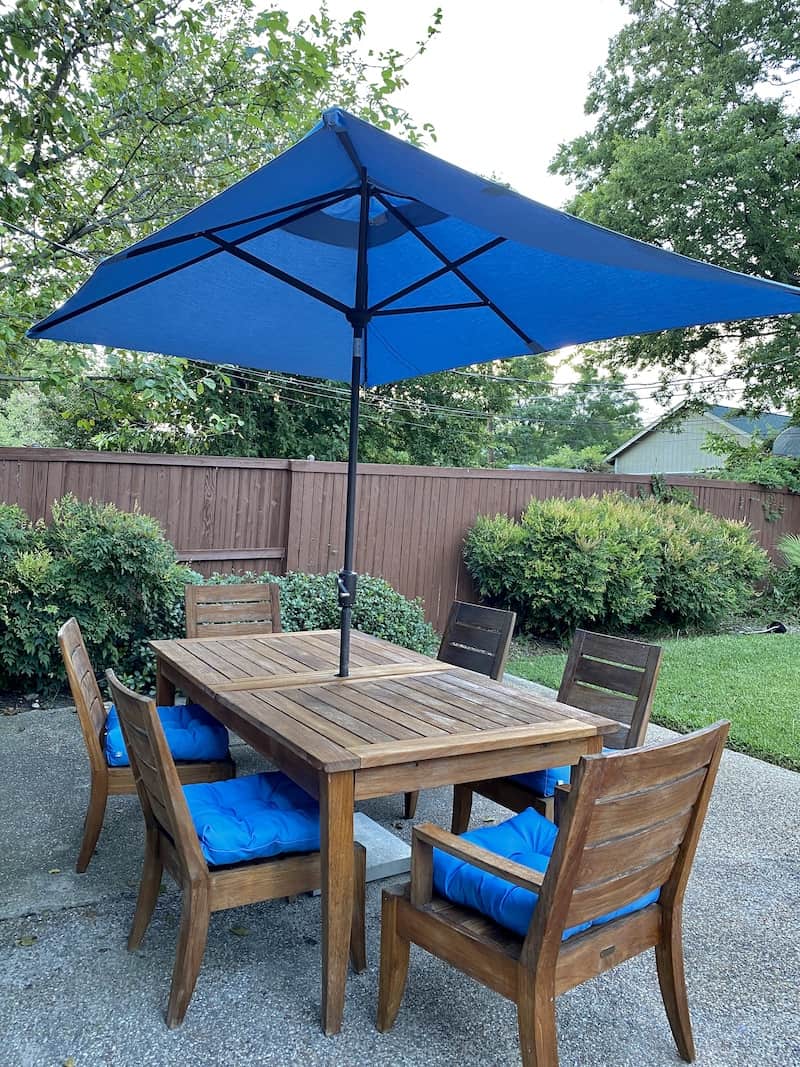 Other backyard projects
Now it's time to take a tour of some other backyard projects.
Chas has three ways to use solar lights outside. She always has something totally unexpected.
Tarah is making her own bar top deck railing. Her view looks like something in a magazine. What a great place to enjoy a cocktail.
Mary is sharing her Italian fountain renovation. These photos are making me long for travel. What about you?
Kippi is sharing her DIY Garden Obelisk. It looks like it even has a light on top.