Roofing options for outdoor pergolas: How we chose & Installed ours
Are you considering adding a roof to your pergola or patio? When I first started looking for a pergola the one thing that stopped me from buying a kit is that most don't have a roof.
I wanted an outdoor structure that offered more shade. If you want to be able to use your outdoor space all year, adding a solid roof will buy you more time on sunny days or rainy days.
Once we decided to build our own pergola, the roof possibilities opened up. You can add a roof to a pergola or any outdoor structure. The materials are pretty inexpensive AND the installation is surprisingly easy. The top of the pergola is the perfect base to attach corrugated panels, wood shingles or fabric.
Pergola Roof Options
There are different roof material options, each with advantages and disadvantages. How do you know which material is right for you? Here are the pros and cons of each type of roofing material:
Shingles – A traditional plywood roof with shingles is a great solution if you want to match your home's roof. This option provides the most shade at the highest cost and the highest level of difficulty to install.
Corrugated metal roofing – Corrugated metal panels come in different sizes, 6-feet, 8-feet, 10-feet and 16-feet. A metal roof also provides really good shade. For comparison's sake, an 8-foot panel that covers 14 square feet is $21 (cost of $1.5 per square foot). The installation is less difficult than a shingle roof, but a little more difficult than a plastic roof.
Polycarbonate roofing panels – Plastic roofs are easy to install, but a little more expensive than metal. They are also easy to handle and cut. An 8-foot panel that covers 14 square feet is $27 (cost of $1.92 per square foot). The panels come in clear, grey, white and green. The clear roof panels look similar to a glass roof, which gives you a lot of light and still keeps the rain out.
Fabric roof – There are different options if you choose to use fabric panels. You can install a retractable canopy, but that adds to the complexity. Fabric is not a waterproof cover. This is NOT the way to go if you have harsh weather conditions. Fabric is the least expensive option but also has the fewest years of use. Fabric is more likely to fade or get damaged.
We decided the polycarbonate panels were the best option. The advantages of using a transparent roof are that you get UV protection, but you also get natural light. It protects you from inclement weather and is easy enough to be a DIY project. The per-square-foot cost is a little higher than metal, but it's easier to handle. That is worth the trade off.
How to Install A Corrugated Roof
We chose to use Suntuf polycarbonate corrugated panels in grey. They block 99% of harmful UV rays. These are available at Home Depot and other big box stores in several colors. They come in grey, white, clear and green.
Before you start installing, consider the pitch of your roof. If it's flat, you can add a strip of wood to one side to direct the flow of water. You want the panels to run in the same direction that water drains through the channels. The closure strips are mounted perpendicular to the corrugated panels.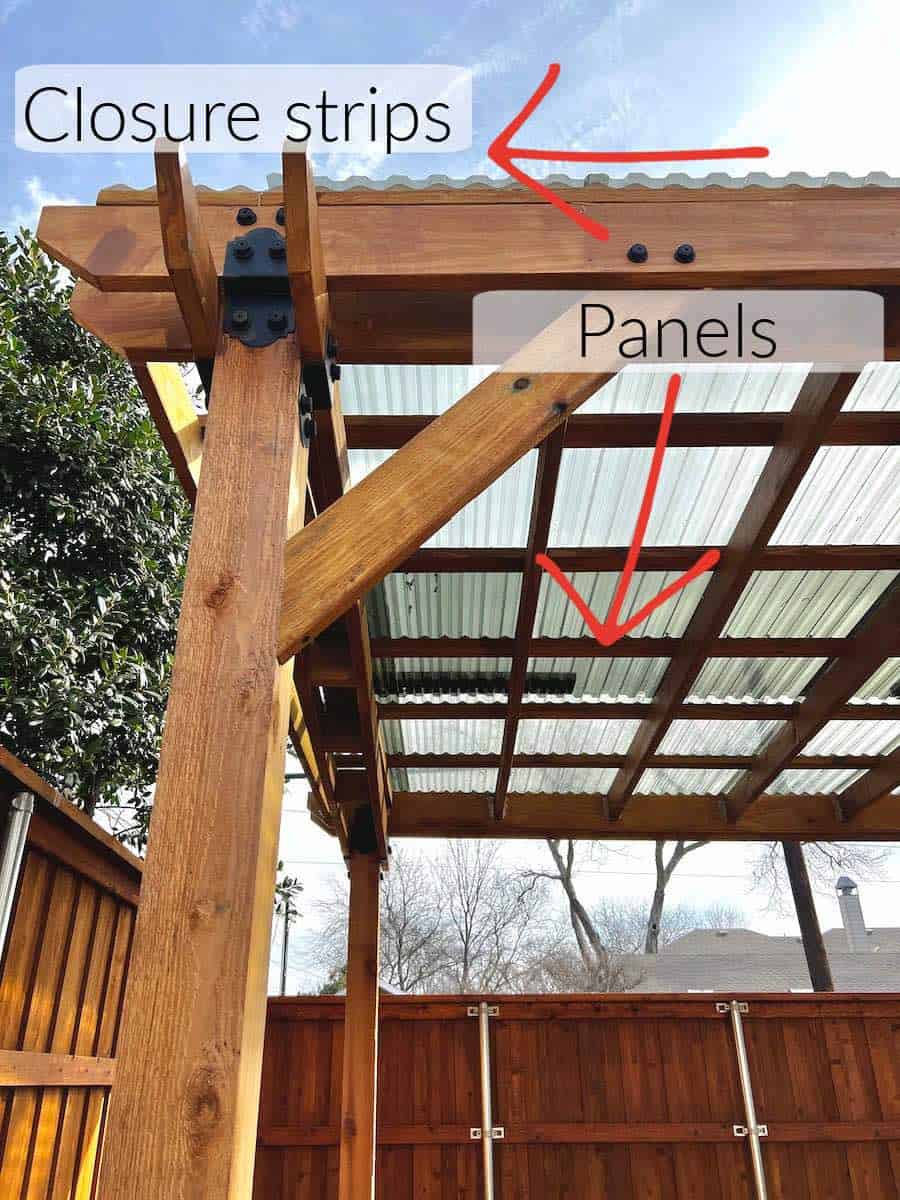 If your pergola design has wood beams running in only one direction, you will need to add 1x2s across the top of your pergola at 2-foot intervals to support the roof.
They can be easily attached to the wood using these plastic closure strips.
Each panel is 26 inches wide and you want them to overlap by one ridge. (Yes I didn't stain everything before we put it up 🤫)
The supplies you need to have are:
I use affiliate links so I can afford to keep doing this. Hope it saves you time. See my disclosure policy.
The ladder has to be tall enough that you can reach up and over the panels to attach them to the support beams.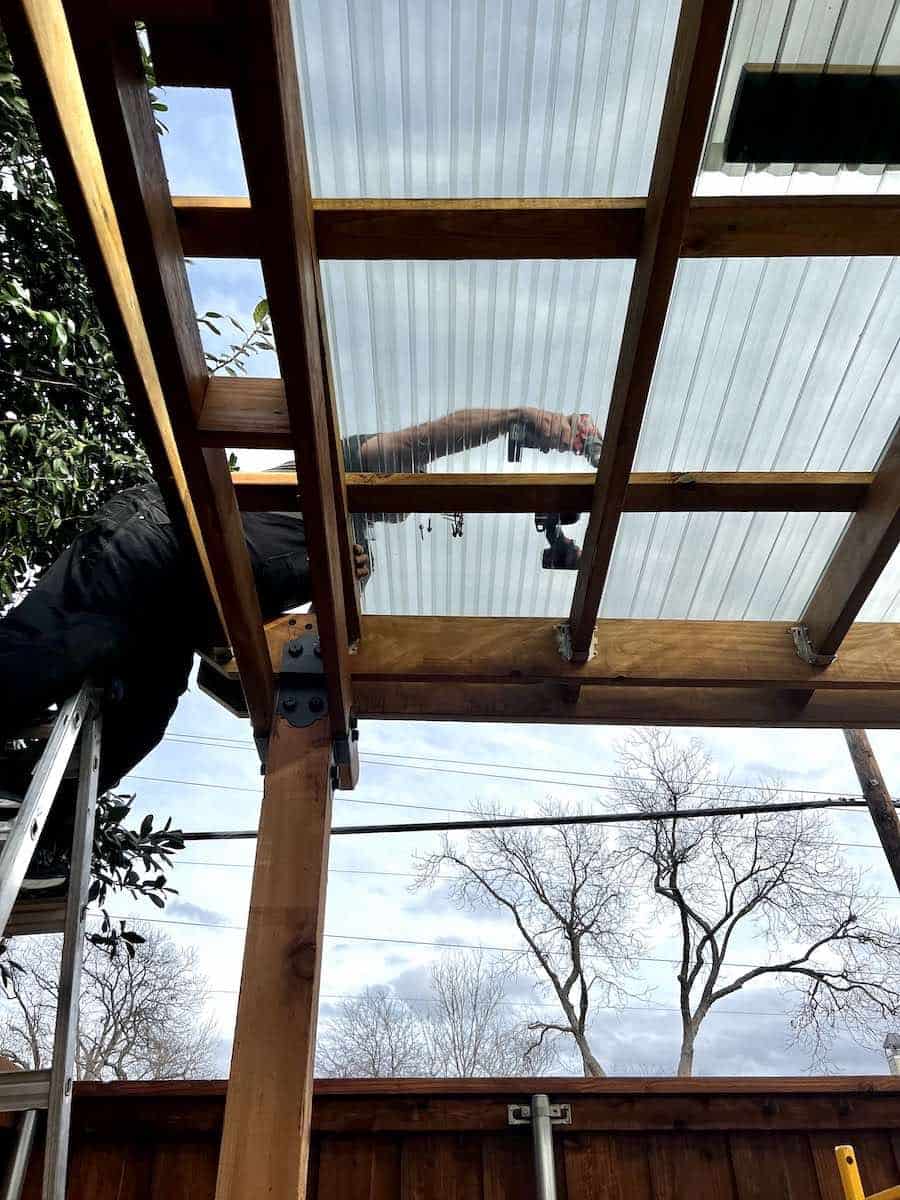 The first step is to lay the closure strips along each beam. The panels are set perpendicular to the closure strips. Set one strip of corrugated roofing on top of two strips.
Drill pilot holes through to the wood. We did about three holes per 24-inch strip. Attach with the Woodtite fasteners. Don't over-tighten. You want your screws to just touch the top of the plastic. If you tighten too much the panels can crack.
We overlapped our panels by a few feet to fit 2-panels from front to back. We added a big dab of silicone between the panels where they overlapped.
Be sure that your roof is sitting at a slight angle so that the water will drain off. You don't want water to sit on top of your louvered roof.
Can you Use Corrugated Panels On a Flat Roof?
It's NOT a good idea to use a corrugated panel on a roof that is 100% flat. Water will pool and either cause rust and cause the roof to deteriorate more quickly.
But you don't need a lot of pitch. You can add a 2×2 to one end of your structure before you attach the roof and that is enough to create a slope.
I hope this helps you to decide if you want to add a roof to your outdoor pergola. I think it's definitely going to make the space more usable.