Outdoor Curtains -They are so easy to make you won't believe it
Outdoor curtains can be a great way to get privacy and a little shade. Turns out they are SOOO simple to make, even if you don't sew much.
The hardest part is literally choosing which outdoor fabric you want to use. I'll share where I found the best deals on fabric below.
You might be wondering, as my husband was, won't outdoor curtains just be wet and dirty? You have to use the right fabric. Outdoor fabrics are meant to stand up to weather and dirt and can be hosed off. They are a great idea because they make your space feel like an outdoor room.
Best Fabric for Outdoor Curtains
DIY outdoor curtains can be made with drop cloth. Drop cloth curtains are inexpensive, but drop cloth is 100% cotton. It's not the best material if your curtains will be exposed to the elements. Beware if you go this route that the curtains will NOT be moisture or dirt resistant. Taking outdoor curtain panels down to put them in the washing machine is not worth the savings.
You can use waterproofing spray, but this doesn't prevent the fabric from fading in the sun.
I recommend opting for an OUTDOOR fabric. Sunbrella is a brand that everyone has heard of, but it's expensive. There are lots of outdoor fabrics that aren't Sunbrella. Get the widest fabric available, typically 55 inches. Try Fabricguru.com for much better prices on outdoor fabrics.
Supply List
This supply list includes what you need to mount the curtains. You can get hardware at Home Depot or Lowes.
I use affiliate links so I can afford to keep doing this. Hope it saves you time. See my disclosure policy.
The basic supplies for any DIY curtain are a sewing machine, scissors and thread.
How To Mount Easy Outdoor Curtain Rods
If you buy the 5-foot pre-cut metal pipe or electrical conduit you don't have to alter the length. You can easily fit one panel on a 5-foot rod or string multiple poles together.
It's easy to mount them using the conduit hangers. You can screw the conduit clips in either hanging down or sideways. The rods are just fed through. You can tighten the clips once they are in place.
Clip the rings on before you tighten the rods in place. I hung nine curtain rings on each rod.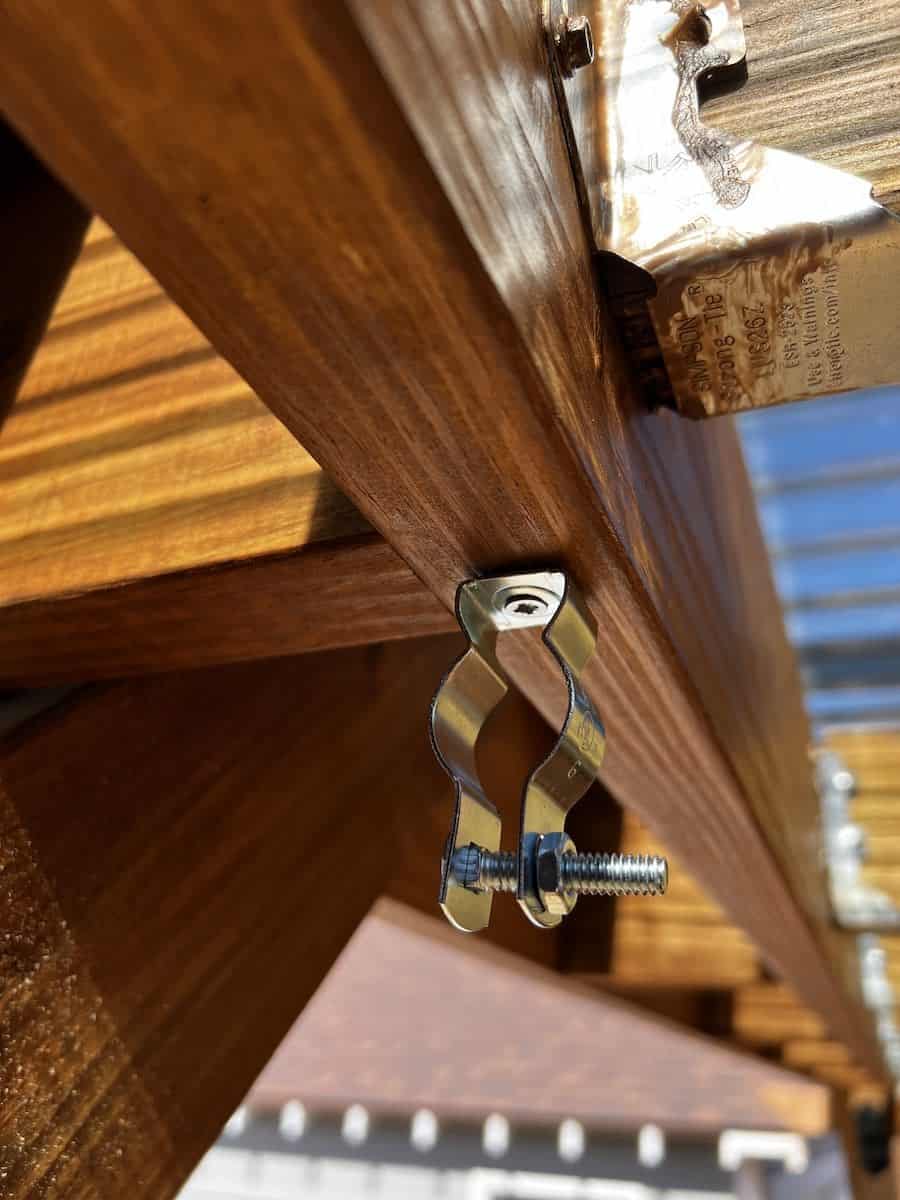 Figuring out where to mount the rods might be the hardest part. They can be mounted on the bottom of a piece of wood or on the side. I wish ALL curtain rods were made like this, it's a genius idea,
Don't use any kind of tension rods outdoors because they will not stand up to wind.
Steps to Make Outdoor Drapes (video tutorial at the bottom)
The first step is to decide what fabric you want. I don't like to spend a lot on this type of material since it is going to live outside. The best deals I found are at Fabric Guru. I needed 14 yards at $9.95 per yard. This isn't a big cash outlay compared to some of the name brand outdoor fabrics.
The next step is to determine the ideal length of your curtain. Normally I like the bottom edge of the curtain to reach the ground, but outside that's not practical. I measured from the bottom of the rod to 2 inches above the ground. Add 4 inches to the length for a top and bottom seam.
I wanted the length of the curtains to be 112 inches. I cut the panels to 116 inches. These are so long we had to cut the fabric on the floor. Why are animals so draw to fabric on the floor?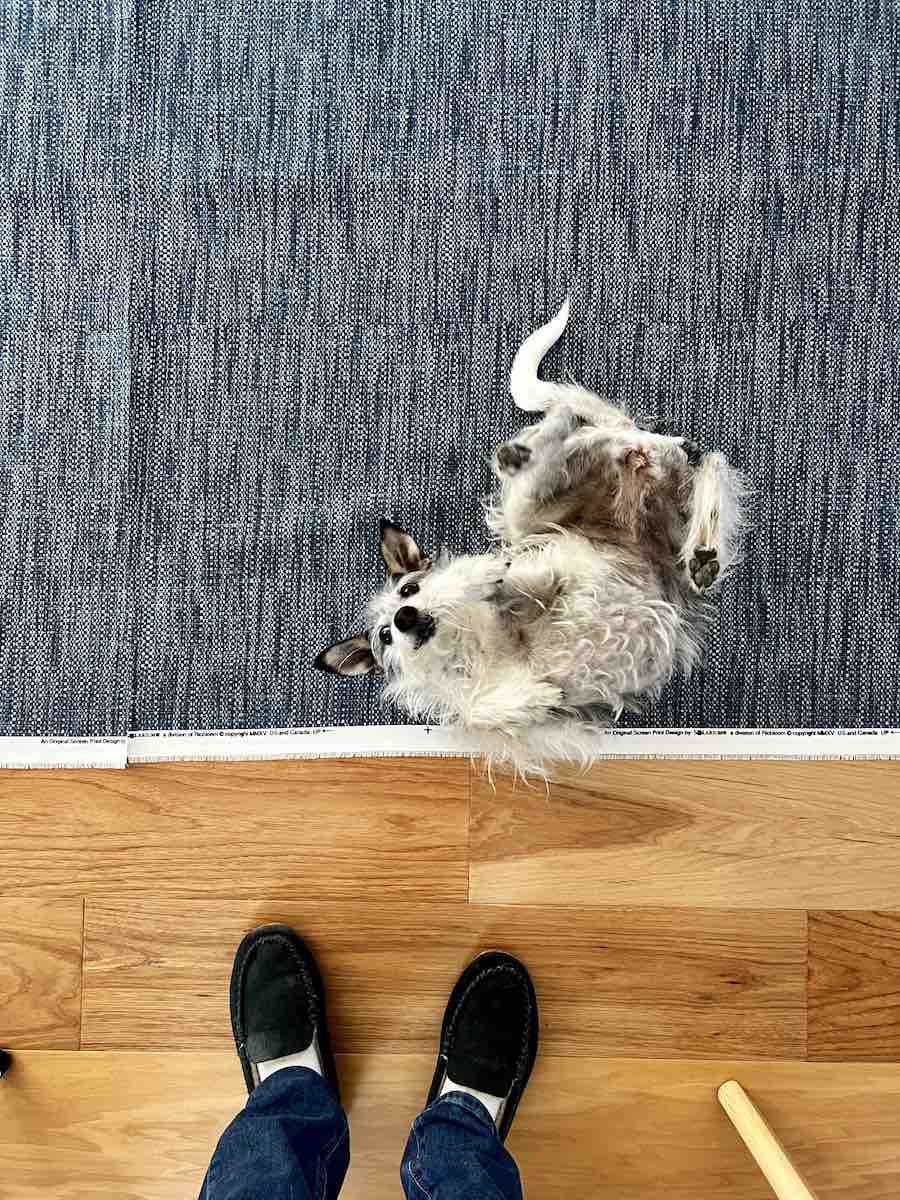 Each panel requires 4 seams. A two-inch hem at the top, bottom and both sides. Fold each edge of the fabric over one inch and press. Fold over another inch fold, press and sew. Sew the side of the panels first, then go back and sew the top and bottom seams.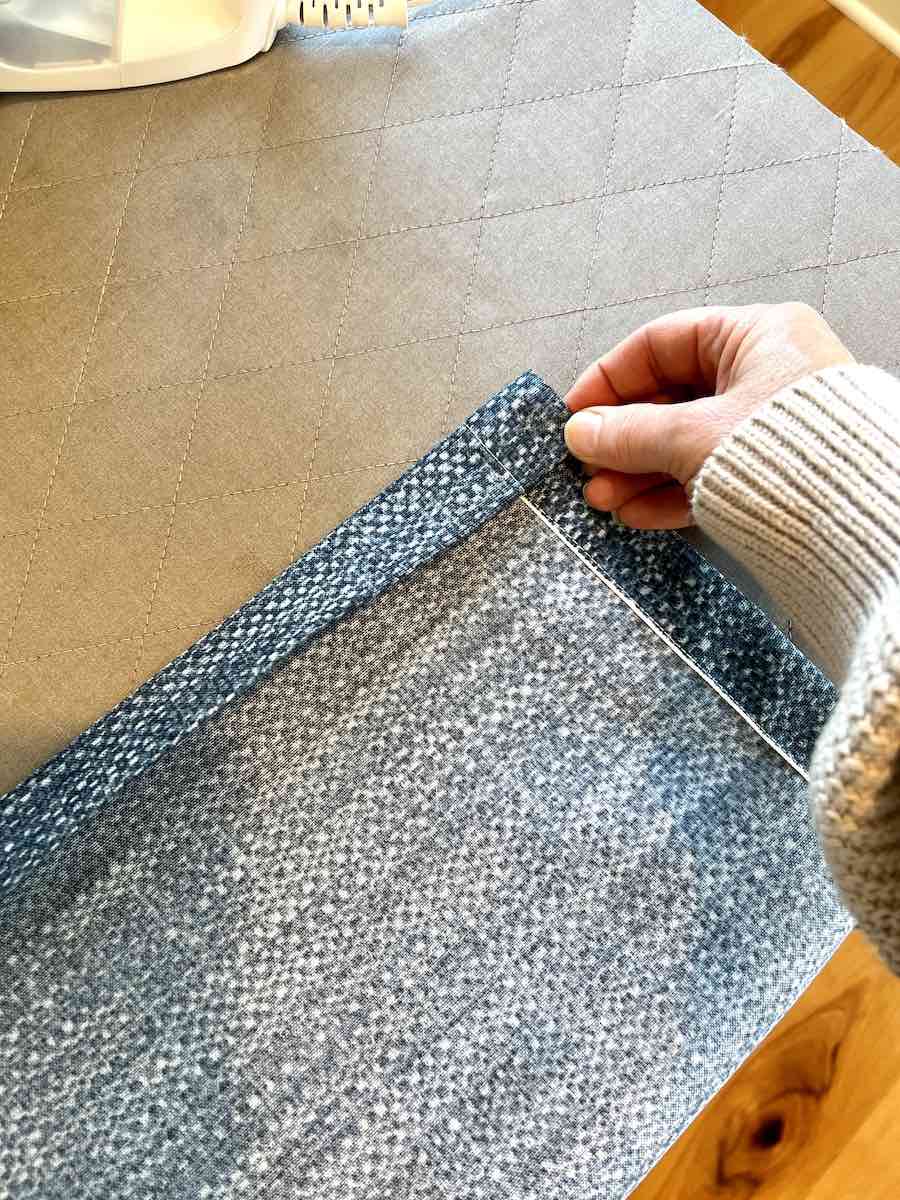 I didn't cut the side edges (the rough unfinished edge) because it's hidden inside the seam. This way I can get the full 55-inch width. Clip the curtains up using the rings.
What To Do In High Winds
Since wind is an inevitable part of the outdoors, you will probably need some kind of tie-back to keep the curtains from blowing. I made tiebacks with the extra fabric, but you could also use a piece of rope or ribbon.
There are some really cute ones available on Amazon. I decided to make a few tiebacks with leftover fabric. If you have leftover fabric, this is a quick option and you can clip them to the rings. I made tiebacks but with high winds I find that a ribbon or rope around the pole holds the curtains in place better.
The entire project can be done in a few hours. Once it's complete you will have instant privacy and shade.
If you like this post you might like, 7 tips for arranging outdoor furniture.
Related posts: