Why Decomposed Granite is the Perfect Surface for Outdoor Spaces
If you are in the process of changing the landscaping in your yard to include a patio, consider using decomposed granite or DG.
We recently took out our pool that took up most of our backyard and we are building a patio area. I was looking for the best option to landscape the newly gained space without using a landscape contractor ($$).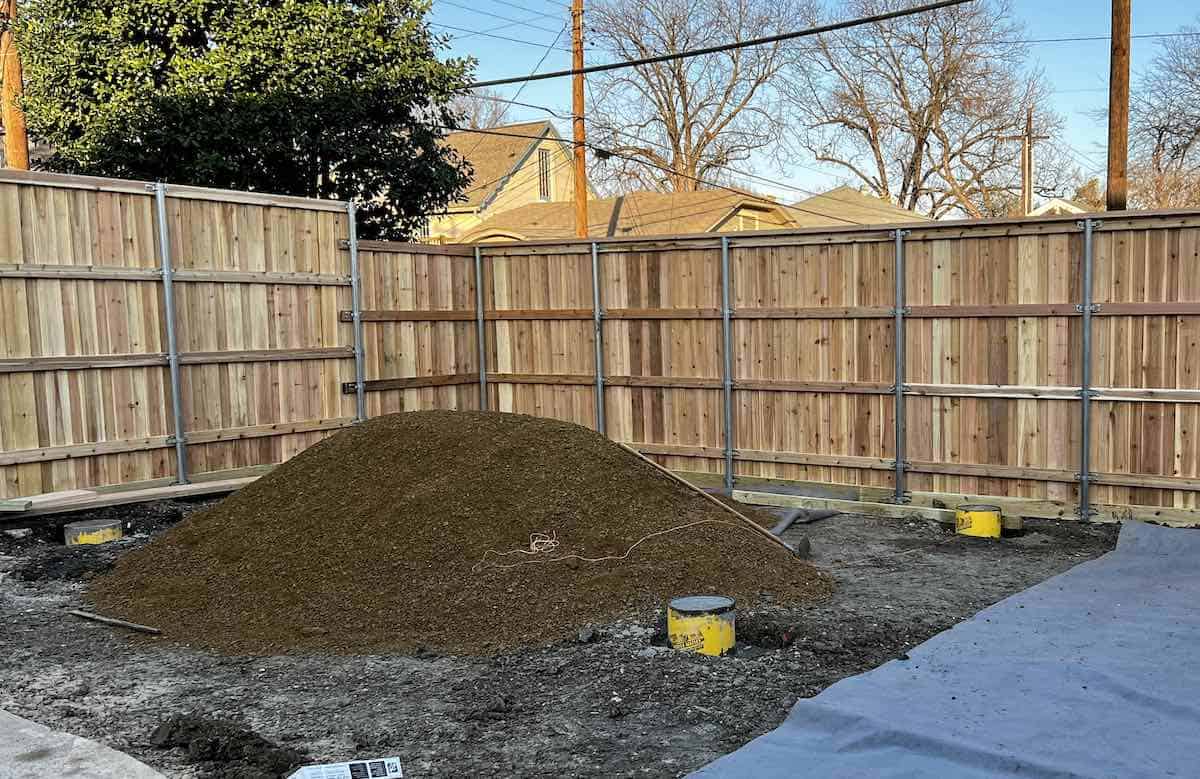 First, I wanted the space to be usable as an outdoor living room but I didn't want a big slab of cement, I wanted a more natural look. The problem with cement in Dallas is that the ground moves and it cracks and shifts. Second, I wanted something low-maintenance and grass-free. If you have similar goals, let me convince you why DG is a great patio or pathway alternative to cement.
Is Decomposed Granite Good for Landscaping?
Decomposed granite is showing up more in landscape plans for good reason. It's the perfect material because:
It provides excellent Drainage – It doesn't prevent rainwater from getting into the ground like cement. This means that you don't have to plan for where the water will drain or make sure that it is sloped to accommodate a heavy rainfall.
It is easy to put down – unlike cement, DG can be raked in place pretty quickly
It is affordable – The cost of decomposed granite is minimal compared to cement or other hardscape materials
What are the cons of decomposed granite?
If you want the look of your yard to be very manicured, this might not be the right surface for you. You can add patio stones or concrete pavers to the top but organic materials don't have the clean edges that cement does, but I like that.
It's not a great surface for dog poop. 💩
Will weeds grow in decomposed granite?
Weeds can grow through DG. There are two ways to reduce weeds.
First, lay down a weed barrier underneath the top layer. If you are going to get a weed barrier, get the thicker one.
Second, lay down at least 3 inches of DG to crowd out weeds. If you see a weed, pull it before it spreads.
Does water drain through decomposed granite?
Yes DG is a permeable surface and as such provides good drainage. There are so many practical benefits as well as environmental benefits.
As it compacts, it hardens into essentially a solid surface that is walkable and driveable. It does harden naturally or you can add a chemical hardener to the top to make it more stable. Using the pathway stabilizer is very expensive, $100 for 15 square feet. I opted not to do this because I don't want to apply a bunch of chemicals since my pets are all over this area.
Steps To Install DG patio or pathway
Set border – Determine the size and shape of your patio or path. If you really want to do it well it's a good idea to use spray paint on the ground to lay out your lines. I didn't do this step because I didn't allow enough time. 😢
Edging – Install landscape edging around the borders of your garden paths or patio. I used brick next to the sidewalk and some edging that I can't honestly recommend around the back. I think metal or stone edging would be better.
Excavate – Excavate where you want your decomposed granite to go. I just excavated the pool, but you would want 2.5 inches. Consider the type of soil you have underneath your patio, if it's dense clay you are all set. If it's loose soil you, might need to install road base or paver base underneath.
Weed Barrier – Roll out the weed barrier. It's better if the weed barrier is overlapped at the edges and if you use metal staples to hold it in place.
Calculate Your DG Need – The formula is length x width x depth (in feet). Here's an example, my space is 15×20 = 300 cubic feet. I want 3 inches of DG, which is 0.25 feet. 300x .25 = 75 cubic feet. If you want to buy in bulk you have to convert this number to cubic yards. To do that divide your cubic feet by 27. 75 cubic feet / 27 = 2.8 cubic yards. See below for more on the advantages of buying in bulk vs bags. It comes in a variety of colors.
Start Spreading – The tools you need are a shovel (a transfer shovel works much better), a wheelbarrow, and a rake. I also used a tamper. It's best to distribute the DG into small piles over the area and rake from there.
Level – We used a 2×4 to level out the DG and then used the hand tamper tool.
I use affiliate links so I can afford to keep doing this. Hope it saves you time. See my disclosure policy.
Should You Buy in Bulk?
YES! Buying in bulk is a great option as it reduces the granite cost significantly. Here's my example, the cost of 5 cubic yards was $650. Here's the best part, the same amount of bags purchased from Home Depot would be $4500 and that's without delivery. Home Depot has a calculator that will tell you how many bags you need for your space, but it's not the most affordable solution.
Suppliers of bulk materials have a minimum limit they will deliver, be sure to ask. For example, I ordered from Living Earth and they have a minimum order volume of 4 cubic yards. The cost of DG is $93 per cubic yard. The delivery fee is $135 plus a certain amount for mileage.
They will either deliver by dumping a heap in your yard or by pallet loaded with bags of decomposed granite.
This is more than what I needed, but I decided to expand the DG beyond what will be covered by the porch because bulk delivery is so much cheaper.
Is DG a good solution in very wet climates?
If you live in an area that has a lot of moisture, DG is not the best choice. It's most frequently used in more arid climates.
What Kind of Maintenance is Required?
DG is a durable option that requires less maintenance than wood mulch or ground cover. It will require some replenishment every year or two. Bring in a few bags and rake it in place to cover up any low spots.
I am really enjoying the patio area and I will be sharing the next steps, which are to build a covered porch or pergola.