Star Wars Christmas Ornaments
This year isn't going to be like any other Christmas for many of us. We normally share Christmas with cousins and grandparents, but this year in addition to COVID one of my nephews is having a major surgery.
It is a frightening time especially with all that's going on. Only one parent is allowed in the hospital even though he is a child. All this to say, we are preparing for a smaller Christmas and our first year without little kids around.
I want to challenge you to make this Christmas different in a good way. I'm making a Star Wars themed tree with all homemade ornaments. Last year our family watched the first season of the Mandelorian over the Christmas break. I'm a child of the 80s and I loved Star Wars. Consider making some of these ornaments for the Star Wars lovers in your family.
First up is my personal favorite, Chewbacca.
Materials for Chewbacca Star Wars Christmas Ornament
You don't need to own a Cricket or any fancy cutting devices to make this ornament. Fortunately, Chewy is very hairy and a precise pattern isn't required. I made mine out of a manila folder. These are the basic tools you will need to make a Chewbacca Christmas ornament:
Scissors and a fabric cutter
Hot glue gun or fabric glue
Iron
Cardboard or a thick piece of paper for the pattern
Chain ribbon – I found the ribbon I used at Joann's in the fancy ribbon section and it is what gave me the idea to make Chewbacca.
Black beads for eyes
Steps to make a chewbacca christmas ornament
Step 1 – Cut out the front of the body.
The first thing you need is a rough pattern. You can make it out of any stiff paper or cardboard. Trace out a very rough shape and then cut it out. It's easier to cut a folder than it is cardboard.
Put your pattern against the wrong side of your fur fabric and cut the fur. Be sure to cut the fur so the hair is flowing toward the feet.
I made several Chewbacca bodies out of felt. It's a good subsitute if you find the fur too difficult to work with. Working with the fur is kind of like hair styling, you have to play with the fur a little bit after you get the shape cut out.
Step 2 – Trim Chewbacca's fur and cut the backing
The fur is hard to cut with the scissors, but you can use scissors to cut out the smaller areas in between the legs and in between the body and the arms.
Use your pattern to cut the same shape out of fabric backing.
Step 3 – Iron the Backing on and glue cardboard
The fabric backing will give your fur body some firmness. You can press it on with an iron. Be careful not to leave the iron on the fur for a long time, just a few seconds. I wanted even more firmness so I added a layer of cardboard behind the fabric backing and attached it with hot glue.
Step 4 – Cut the felt backing and attach.
To make sure your ornament looks good from the side you'll want to attach a felt backing. Use your pattern to cut the back out of felt. For a few of my Chewbacca family ornaments I also made the body out of felt and just the head from fur.
Use hot glue to attach your felt to the cardboard backing.
Step 5 – Attach the black ribbon and chain ribbon
Cut a section of black ribbon that goes from the shoulder down under one arm. Cut a section of the chain to match that size. Attach the black ribbon with glue and then the chain ribbon.
Step 6 – Attach the eyes and the hanger
Attach the eyes with glue or if they have a sticky back you can just push them down into the fur. Attach a hanger using a loop of black ribbon or any kind of ribbon.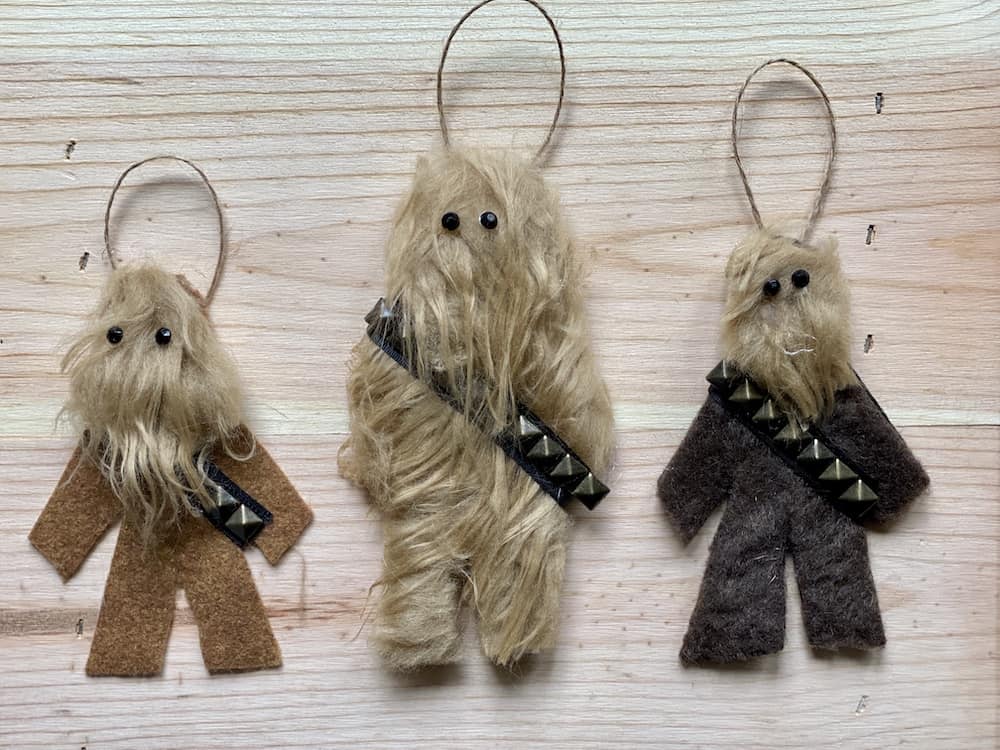 If you want to make more than one you can vary the material in the body. I made some with felt bodies and some with fur bodies. The fur is very difficult to work with. It's like a Wookie family.
If you are interested in more Star Wars Christmas ornaments, stay tuned. I have already shared a Baby Yoda Christmas Tree Topper, but I'm going to have more DIY Star Wars ornaments in the coming weeks.