Chandelier Size Guide – How Big Should My Chandelier Be?
Do you want a chandelier for your dining table, bedroom or bathroom. It sounds so decadent in the bathroom. If you are in the market for a chandelier you might be wondering what size to get.
Chandeliers can hang in so many places and they come in every style and finish. You don't want your chandelier to look too small or too large. There are a few guidelines that will help you choose the right size chandelier for every room.
The guidelines for size depend on where you will hang the chandelier. Is it going to hang an open area, like a bedroom or living room, or over a table? Believe it or not, there's a simple formula for how big your chandelier should be.
Chandelier Size Rules For A Bedroom or Living Room?
Chandeliers are not just beautiful over a table. They can also make a bolder statement than a pendant light in an entry, a bathroom, bedroom, living room or even a closet (if you are lucky enough to have a large one). If you have a two-story foyer or any room with a high ceiling, a chandelier is a natural focal point for your design whether it's modern, traditional or anything in between.
Chandelier Size Guide
Diameter of the Chandelier – The rule of thumb for how large your lighting fixture or chandelier should be in any room is pretty simple. Take the width of the room in feet and add that to the length of the room in feet. For example, if the room size is 15 feet by 21 feet. The sum of those two is 36. The ideal size chandelier for my living room should be 36 inches wide.
Similarly, if you are hanging a chandelier in a bathroom that is 5 feet by 10 feet your chandelier should be around 15 inches wide. You don't have to use the exact measurement that the calculation dictates, but the general rule helps you with proportion. Small spaces require a small chandelier.
Height of the Chandelier – Now that you know how wide your chandelier should be, let's look at height. Tall ceilings can accommodate a fixture with more vertical height.
Generally, the chandelier should be 2-3 in height for each foot of ceiling height. A standard 8-foot ceiling would hold a 16 to 24-inch tall chandelier. However, if you have 8-foot ceilings, stick to the lower end of the range. You don't want people to feel like they need to duck. If you have low ceilings, you can also consider flush mount chandeliers.
If you have 10-foot ceilings, you have more room to work with. If your chandelier will hang over a stairway, use the total height of the space to calculate the best height of the light fixture. Sizing is all about what looks in proportion to your room. Taller ceilings hold taller fixtures.
How Big of a Chandelier Do I need Over a Table?
A dining room chandelier is a little different. First, let's talk about width. You take the width of your table and subtract 12 inches. If your table is 36 inches wide the width of the perfect chandelier size would be 24 inches wide.
For the length of the table you want to make sure that the chandelier's length is at least 12 inches less than the table.
For example, my table is 83 inches long, which would suggest I could use a chandelier up to 70 inches long. This is the rule that designers use. But if your table is really long, this might not be possible. It does help you to see that you need a pretty large fixture to have it look in proportion to your table. You can also consider hanging two small chandeliers over a single table.
For any table you will want to stick to this rule of thumb – keep the chandelier width 12 inches less than the width or length of the table. You don't want people to bump into it when they stand up.
Does Table Shape Impact The Shape of Chandelier?
If your table is long and narrow, the width will limit how wide you should go (at least 12 inches less than the table). For a table that is greater than 60 inches in length, you should consider a chandelier that is similarly shaped – long and narrow.
Here's an example with a rectangular table from Ballard Designs and a chandelier from Ballard Designs. The calculation above suggests a chandelier size of 52 inches (64-12). First, this is not really a size that you could find, but it does help you to see that something 24 inches will look way too small. For this type of table, something more linear will be a better fit.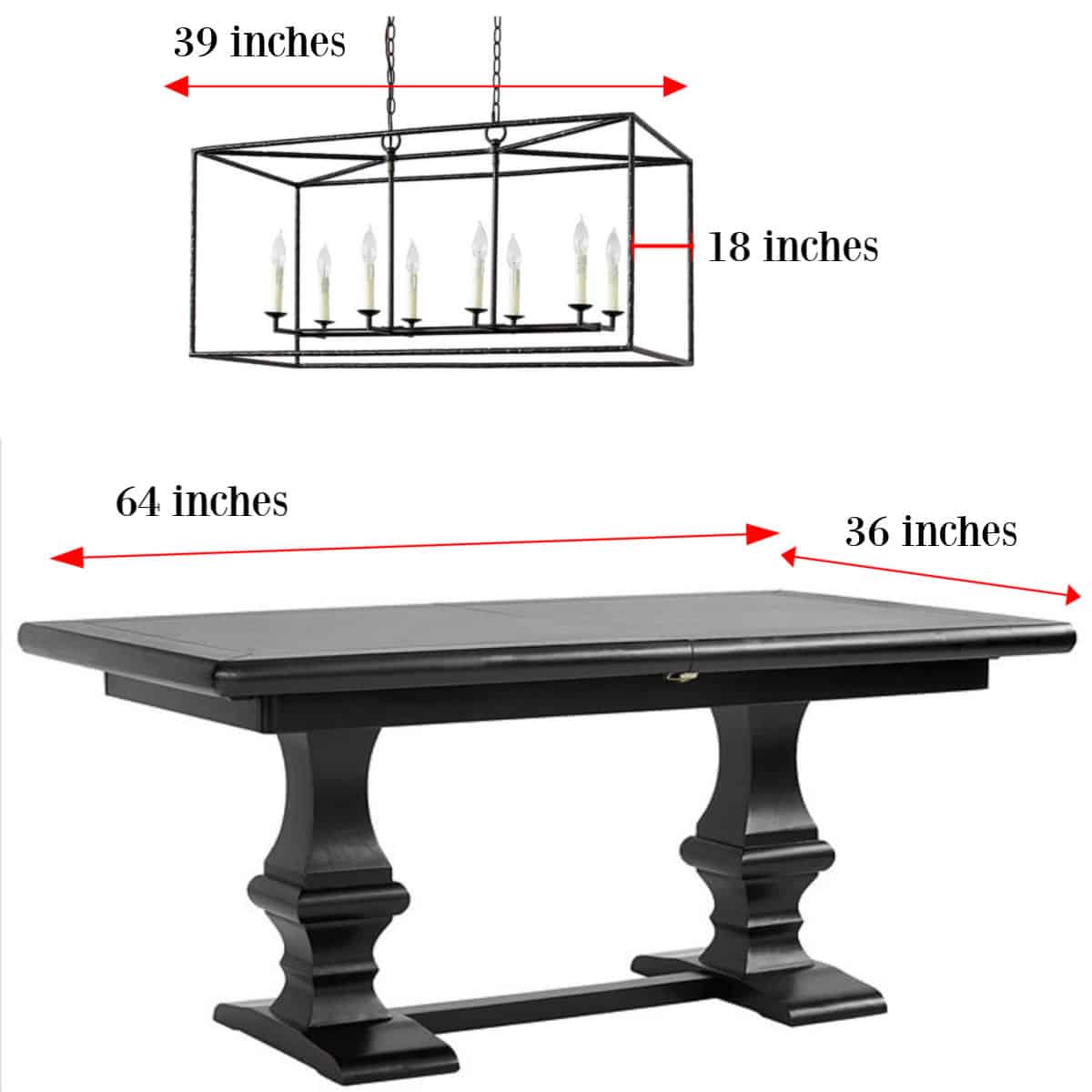 The shape of your chandelier should complement the shape of the chandelier. A round kitchen table looks best with a chandelier that is either round or square. For long narrow tables, you may want to consider a chandelier that is more rectangular than round.
This is an example with a round table from France & Sons paired with this West Elm chandelier.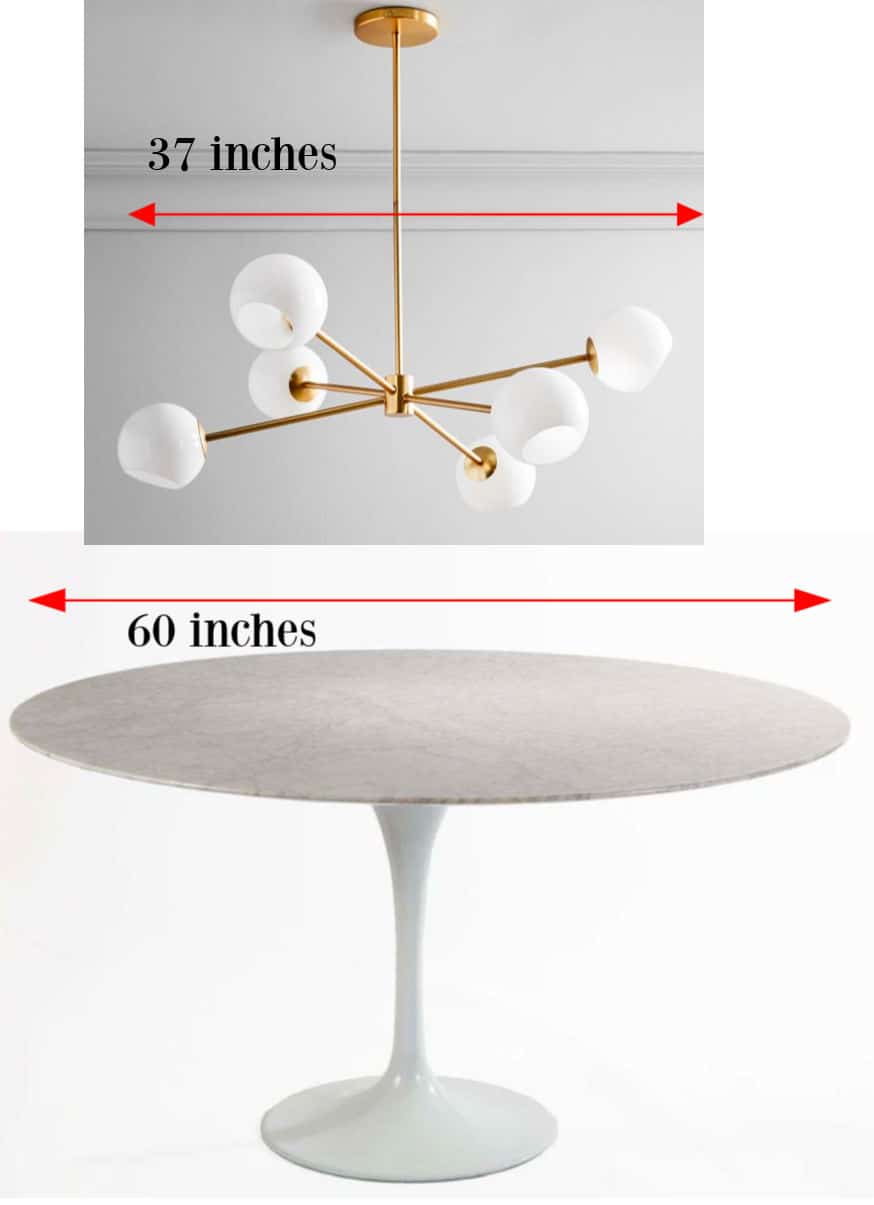 You may notice as you start shopping for your chandelier, that there is no fixture that perfectly matches the dimensions you are looking for. The key is to find a light that isn't too small or too large. These measurement rules are guidelines to help make sure you get close to the right proportion.
How Low Should a Chandelier Hang Over A Table?
A chandelier hung over a table should be 30 to 34 inches above the bottom of the table. The height isn't based on the height of your ceiling. Your chandelier height should be close enough to the table that it will light up the table more than a ceiling light would. But you also don't want the light to be so close that people hit their heads when they stand up from the table.
If you have a fixture that hangs from a chain, it is easy to adjust the height of your chandelier after you live with it for a few days. If your chandelier appears to have a fixed height because it has a pole (like this one) it's harder to adjust the length, but not impossible.
How To Lengthen A Chandelier (so it hangs lower)
If you want the bottom of the chandelier to be closer to your dining room table you can add more wire and more chain.
The first step is to turn the breaker off to your light and disconnect the screws that hold the light fixture up. Sometimes there is extra wire wrapped up inside the fixture. If there isn't, this post explains how to do extend the wires even if you aren't very handy.
You can easily make the chain longer if it hangs on a chain. If it hangs on a pole you can usually buy a longer pole in a finish that matches your fixture. Here are some examples.
I choose every product you see. I may earn an affiliate commission if you buy from one of the product links, at no extra cost to you. Read my full disclosure.
How to Shorten a Chandelier (so it hangs higher)
If you have the opposite problem it's solved in basically the same way. To raise your chandelier so it hangs farther from the dining room table you might be able to pull the wires up inside the ceiling. If not, you will need to shorten the wires/chain or rod.
The method for shortening the wires is much the same as it is for lengthening it. You trim the wires after you have the breaker shut off. You can take links out of the chain if it hangs from a chain. You can also get a shorter rod if your chandelier doesn't hang from a chain.
How to Hang Multiple Chandeliers/Pendants?
If you have a very long table you might want to consider hanging more than one light fixture. It can even be less expensive to hang two smaller chandeliers instead of one large one.
You can hang two pendant lights as well. The spacing rules for hanging two chandeliers are first, they should be 24 to 28 inches apart. Second, neither fixture should be closer than 6 inches from the edges of the table. It is similar to how you light a kitchen island.
Can a Chandelier Be Too Big?
A chandelier can be too large for a space, just like it can be too small. Most people make the mistake of putting a fixture that is too small rather than too large. If you stick close to the measurement guidelines above, the scale should be just right. Over a table use the length and width minus 12.
There is a trend to hang GIANT lights over a table like the one in this photo. If you LOVE the way that looks, that's the most important consideration, but remember that it is a trend and it might not always be in style.
Should a chandelier be in the center of the table?
What if your table is not in the middle of the room?
If you are hanging a chandelier over a table that is NOT in the center of your dining room it should be hung centered over the table. If you hang it in the center of the room it can make your table feel like it's in the wrong place.
The Bottom Line
If you are shopping for a chandelier, consider the size relative room width and room length. If you're looking for a chandelier to hang above a table, focus more on the dimensions of your table. Use the formulas as a guide to help you look for something that will be proportional. There is not one correct size.
If you have questions, ask them in the comments and share photos. It helps everyone.
See These Other Articles About Chandeliers