Choose the Perfect Light Fixture For Above Your Round Table
Do you have a round dining table? the light fixture that looks best over a round table isn't necessarily the same as the one that works best over a rectangular table. Lighting is a statement piece so you should choose one that is right for your table.
There are a few factors to think about when you are buying a chandelier or pendant fixture. What's the best shape and size for starters?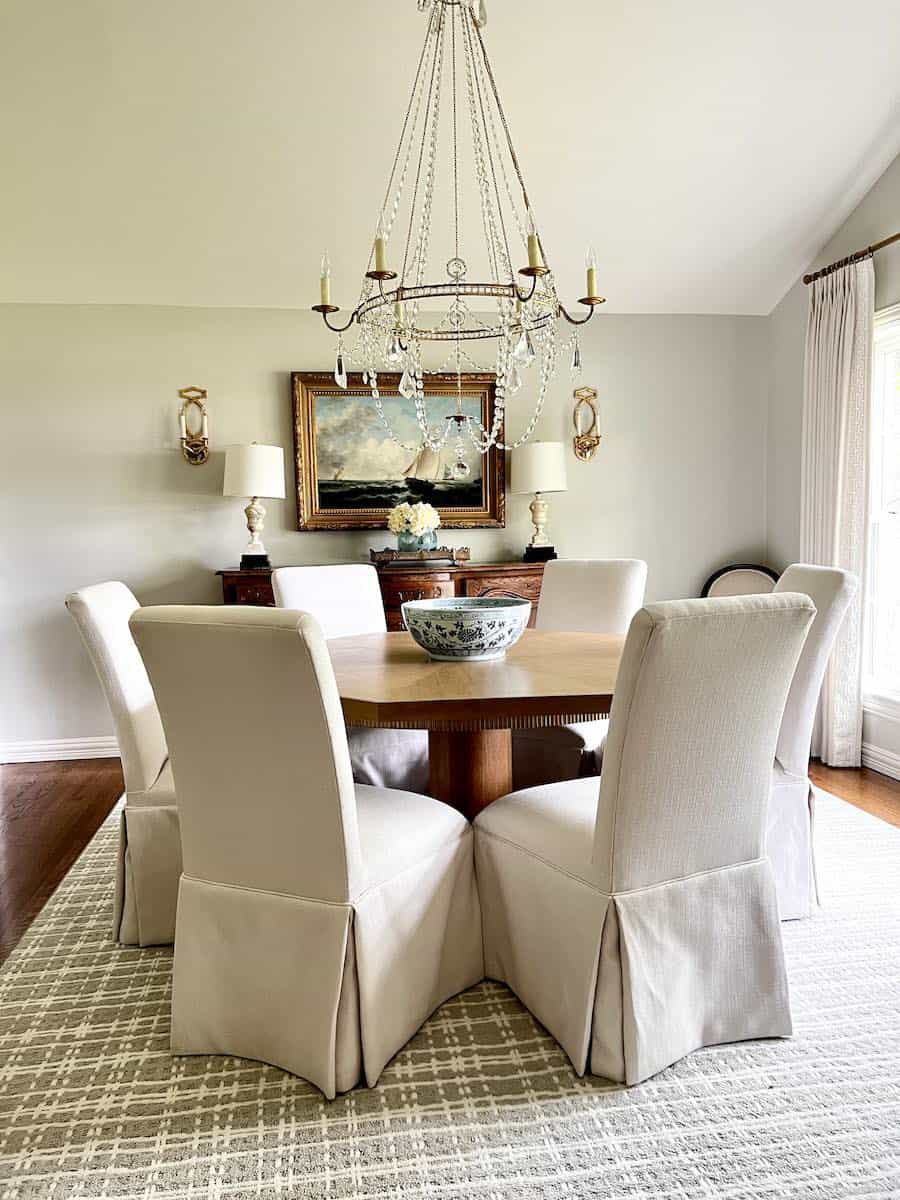 A picture is often worth a thousand words. I'm going to show you round dining tables so you can SEE what looks good and what doesn't. As you look at these pictures you can see similarities. It's a great way to spot what looks good and what feels a little bit off. Use this to make a decision about which lighting fixture will work best in your dining area.
What's the Right Size Fixture for my Round Table?
The easy way to choose the right size above your dining table is to use this general rule: the width of the table minus 12 inches. A 48-inch table can hold up to a 36-inch fixture. This is a guide and not a hard rule.
If you are trying to determine how large or small the fixture over your table should be here are two guidelines and some photos.
Bigger is usually better. Here's a mall pendant over round table from IKEA vs larger pendant over round table. A larger fixture makes the table feel more cozy and has the added benefit of providing better light.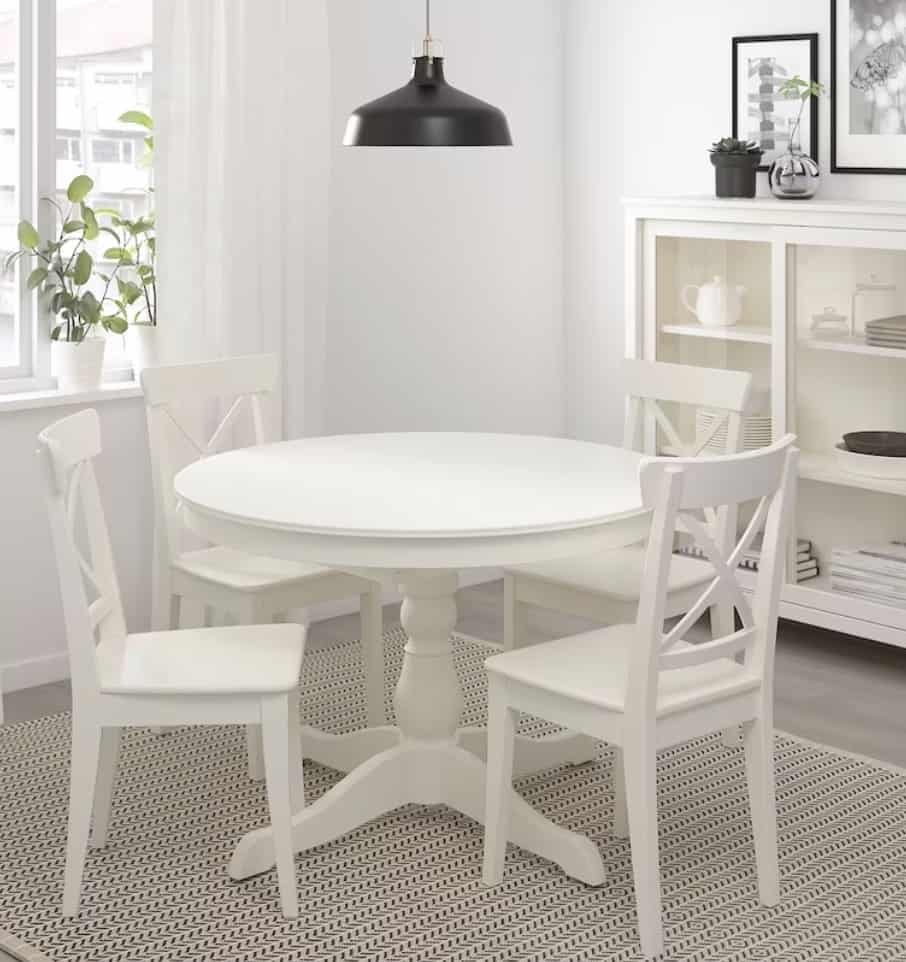 Don't exceed the maximum size should be 12″ less than the width of your table. A 42 inch table shouldn't have a fixture that is bigger than 30 inches. This size gives your guests room to stand up without worrying about bumping their heads.
Here's an example of a fixture that's a little bit too big over this round table from Target. The fixture is hung a little higher and the chairs are pushed out because otherwise the fixture looks the same size as the table. Here's an example of a light fixture that is too big for the table from West Elm.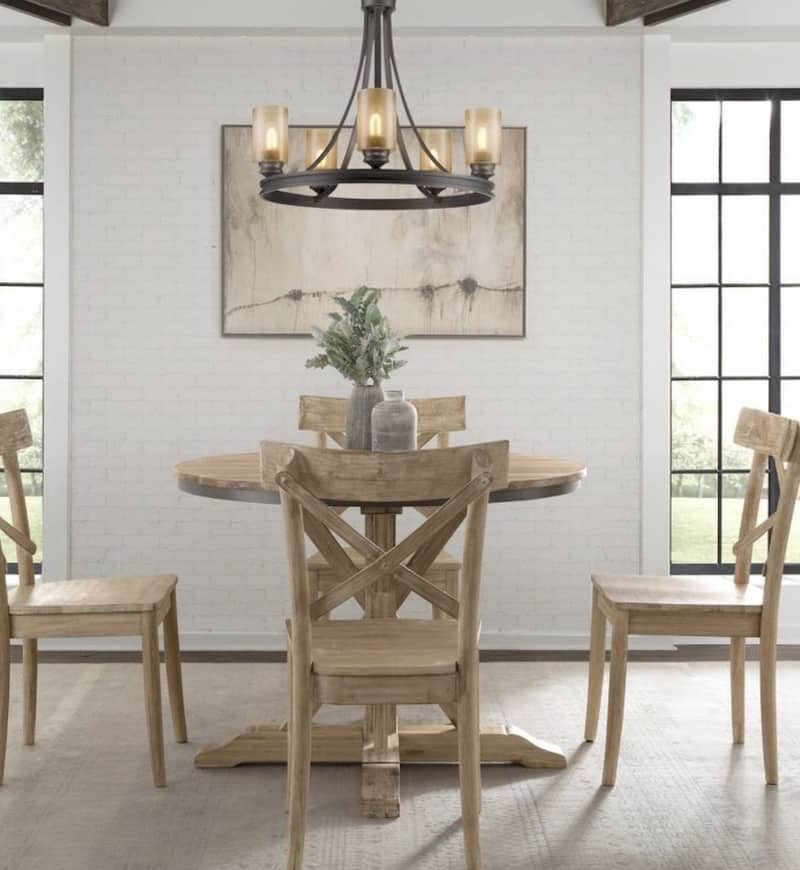 This post contains some affiliate links for your convenience. Click here to read my full disclosure policy.
What's the Best Shape Fixture For My Round Table?
The best shape for a chandelier over a round table is one that is symmetrical. This could be a round fixture or a square fixture. The only thing that really doesn't look right is a rectangular fixture. Even a triangle can be symmetrical, like this three light fixture over a pedastal table from Pottery Barn)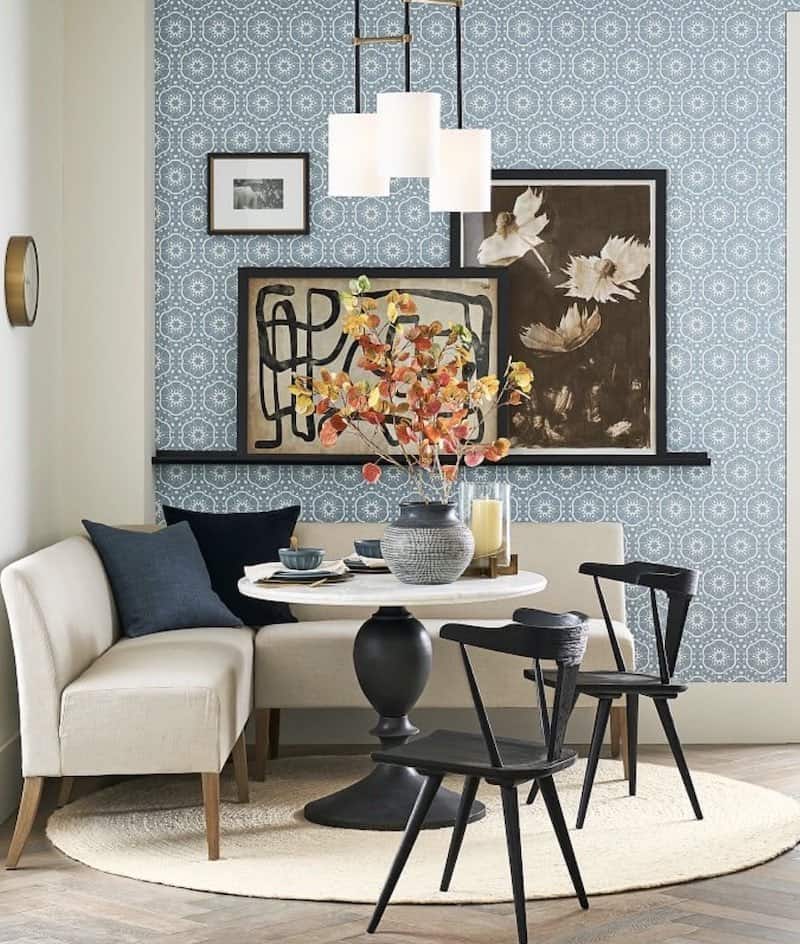 If you have a modern style you can still find modern chandeliers that are symmetrical. If you absolutely love an asymmetrical fixture, it's can work in modern dining rooms. Make sure that no part of the fixture is closer than six inches from the edge of the table.
Here are a few examples of round and square chandeliers over a round table. This combination is always a good choice.
What Not to Do
Before you hang your new fixture over your table, here are a few things NOT to do.
Don't hang your fixture off-center above the table, even if that's the center of the room. Here's an example of how that looks. Your eye doesn't like this. Your dining room table should be directly under the fixture. Here's an example of an off-center fixture over a table from Target.
Don't hang your fixture too high. If the fixture is meant to light the table it should be 30-34 inches above the table. This is not the same rule for fixtures that are meant to light a room vs the table.
Don't get a fixture that is too small. It's better to err on the side of too big than too small, similar to rugs.
Don't use a flush mount fixture over a table. You might have a flush mount fixture in a dining area in your home, but if you want to take your dining space from a C to an A, replace the flush mount with either a pedant or a chandelier. Flush mounts do not make a focal point, it doesn't make the table feel intimate.
Does the Size of the Room Matter?
When you are looking for a light fixture to go above your dining room table you DO NOT need to factor in the width of the room or the length of the room. A fixture for above a dining table should be sized to fit the table and not the room.
For open dining rooms open floor plans where the table is adjacent to your living room, give it a separate fixture. Tall ceilings need additional lighting from table lamps and recessed lights, but the fixture above your table is an accent light for the table alone.
Ceiling height only affects how long the arm or chain of your fixture must be. If you have a high ceiling, get a fixture with a long or extendable chain.
If you have 8-foot ceilings, you can still use a pendant or chandelier. Here's why.
The standard table height is 30 inches. If your ceiling is 96 inches (8 feet) just make sure the fixture doesn't hang down more than 32-36 inches. This take takes the bottom of the chandelier to 30 inches above the table. There are many small chandeliers and pendants that can fit in that space.
Tips for Easy Shopping
Use this specific search term formula when you shop for lighting:
size parameter – for example, 30 inch
type of fixture – for example, pendant or chandelier
design style – for example modern, traditional, farmhouse, rustic, etc.
price point – for example under $500
Here's an example. If you search for a "36-inch modern chandelier under $500" you narrow down the pool of possibilities really quick. Otherwise shopping for dining room lighting can feel like a really overwhelming task.
If you want a second opinion, email me your details. I love to look at lighting. Good luck!