Narrow Centerpiece for a Rustic Table Setting
Are you looking for a simple centerpiece for a dinner party? I have to admit, I like to look at giant show-stopping centerpieces, but when I'm actually sitting at a table those can be really annoying.
Have you ever had to look around the centerpiece to see the person you're trying to talk to on the other side? It defeats the purpose of sitting down to dinner with friends when the centerpiece is an obstacle instead of a complement to your table.
I have two rules when it comes to a centerpiece:
Below eye level and
Not so big or busy that there's no place to put plates, glasses, salt and pepper and all the other things you need when you eat.
I'm going to share an easy DIY centerpiece using jars or glasses you can make in just a few minutes. I have a table that is narrow so I have to keep my centerpieces small unless I want my guests to eat on their laps. I've used a wood box as a centerpiece and antlers as a centerpiece in the past. This year I used wine glasses to make candle holders and a wood baguette pan. Get the details below.
Rustic DIY Wine Glass Candle Holders
I have a bunch of these very inexpensive wine glasses that I found at a garage sale. They are perfect for small candles, but alone that seemed pretty blah. To jazz them up I used some wool yarn, burlap ribbon and hot glue. You could make these with any glass jar, a mason jar or a jam jar would be perfect.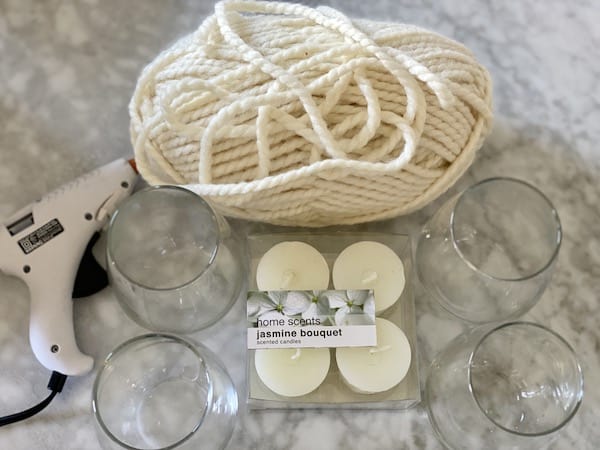 I choose every product I review. I may earn an affiliate commission if you buy from one of the product links, at no extra cost to you. This income supports this site. See the full disclosure.
They take only a few minutes to make, but they add a small detail to the table. I like to keep my tables simple. The supplies you will need are:
Step to Make Rustic Candle Holder
To make these you start with heating up your glue gun. Place a big dab of glue on the glass and press the end of your yarn into the glue. I used a toothpick to avoid burning my fingers. You don't need to glue all of the yarn down, just your starting point and ending point.
Wrap the glass until it's about two-thirds covered. Add another dab of glue to the start of the burlap twine. Twist it around on top of the yarn and add a second dab of glue at the end. That's it!
Next, see how you can use these in your table setting.
How to set a Simple Rustic Table
If you want to set a simple, rustic and classic table, here's an easy formula.
First, use a simple table cloth. This one is a cotton painter's drop cloth from Home Depot. You can use these straight out of the package and it has a soft rustic feeling. I didn't iron it, it's rustic right?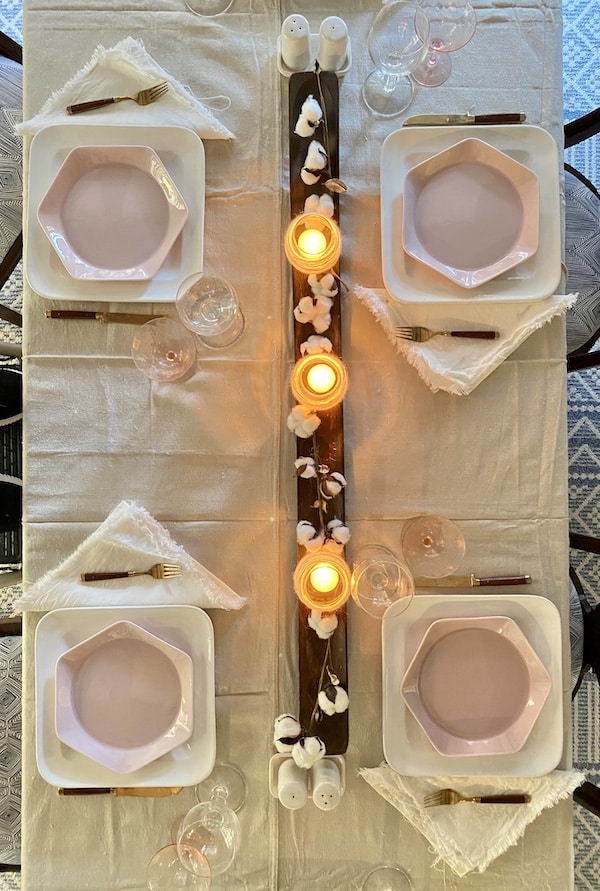 Second, use wood on the table in some way. Wood accessories give your table a warm, rustic feeling. I like to use this teak and brass vintage flatware from ETSY. I've also used an old wood baguette pan that I found at a flea market (you can find a similar baguette pan at Pottery Barn). The shape is perfect for a narrow table. You can fill a baguette pan with fruit, flowers or candles but it's nice and narrow. I used faux cotton stems.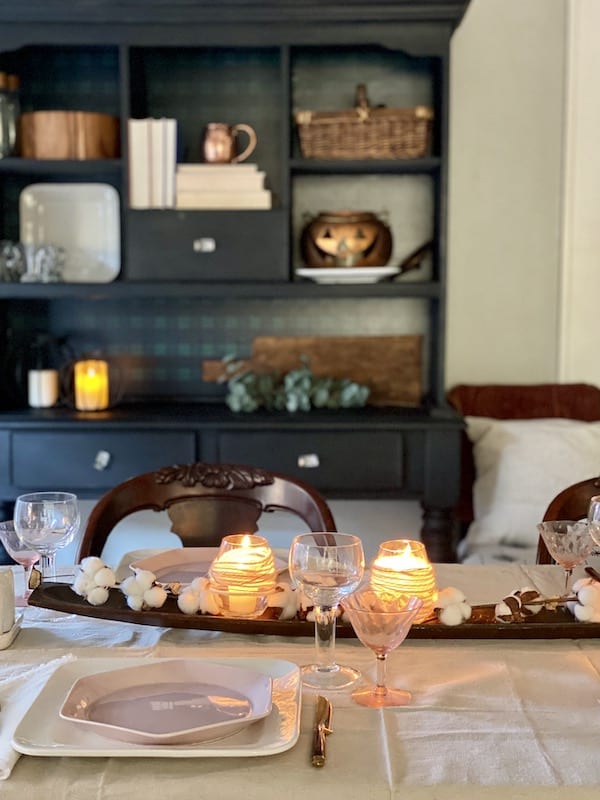 Third, use candles. Even if you don't have candle sticks, you can use candles in a glass jar, like the ones we made above.
Fourth, choose one accent color. Even if you don't have a lot of dishes, you can use color in napkins, or glassware. It doesn't have to be a bright color, it can be a muted color. For a rustic feeling, the colors that work well are warmer tones, pinks, browns, orange, red instead of cooler colors which have blue undertones. I've used pink because got some pink plates at IKEA.
Hopefully we will all get to go back to having friends for dinner this year. Try setting a simple rustic table and share a picture with me. I'd love to see it.