How Do You Style a Floor Lamp?
Do you have a room that is too dark? Unless you're living in a newish house there's a pretty good chance most rooms in your home or apartment could use more light. Take a look at every photo you see in a magazine. The room is always full of light.
Realtors turn on EVERY light when they show a house? That's because rooms look better when they are well lit. Interior decorators know that every room needs a minimum of three light sources. Floor lamps are a less expensive way to get lots of light.
But what do you do with a floor lamp? They don't look great just plugged into a corner. Here are five simple ways to style a floor lamp so they look like part of your design.
Ways to Style A Floor Lamp
Read this if you want to get familiar with the different styles of floor lamps. Floor lamps should never be an island, alone in a room. They should always be paired with another piece of furniture or next to a window. Here are my favorite ways to use a floor lamp.
I choose every product I review. I may earn an affiliate commission if you buy from one of the product links, at no extra cost to you. This income supports this site. See the full disclosure.
1. Tuck a floor lamp behind a chair or sofa
A floor lamp works well when you tuck it beside or slightly behind a chair. This creates a reading nook, even if there's no nook. If you look through design magazines, this is probably the most popular way that decorators use floor lamps.
This metal floor lamp from Pottery Barn is one of my favorites because it mixes black and brass.
2. Add a floor lamp next to a desk
Sometimes your desk isn't big enough for a table lamp, or if your desk is like mine there's already too much on the desk. I REALLY hate the fluorescent lights in my office. The space looks so much warmer when it's lit with lamps vs. those harsh strip lights.
My desk is too crowded with printers and papers to fit a lamp but my floor lamp really lights up the work area.
3. Sit a floor lamp inside a window
This counts as pairing because the lamp is paired with a curtain, which has texture like a piece of furniture. If you have a floor lamp sitting inside a window that doesn't get a lot of light it can be a good way to get light in a dark corner. This modern floor lamp from Crate & Barrel looks like sculpture almost.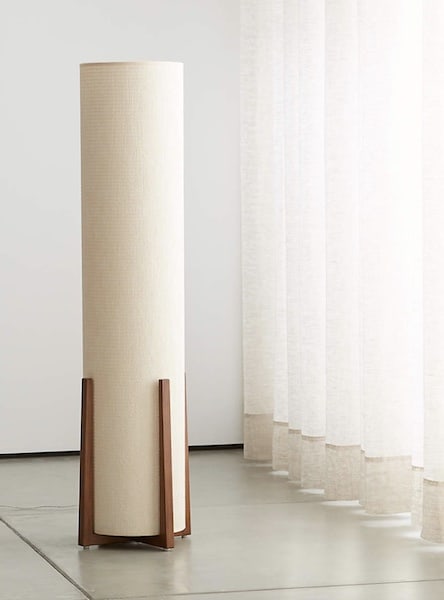 4. put a floor lamp next to a cabinet
You can put a floor lamp beside an entry cabinet, beside a buffet or beside a bookshelf. It can go next to any type of case good. I have placed a floor lamp next to my small entry cabinet because I need light there, but there's not room for a lamp. I've also used one next to my dresser, which doesn't have the space for a lamp.
5. Set a floor lamp next to a bed
If you put a floor lamp beside the bed, you can still have a bedside table. The nice thing about having a floor lamp is that your bedside table can have a lot more space for books or a planter instead of table lamp. If you have a small space it can also allow you to have a lamp without a table.
This floor lamp from Brightech Avery is dimmable, which makes it great for beside a bed. This ETSY seller has 5 star reviews and many great looking floor lamps. It comes in gold and black.
Can You Have Two Floor Lamps In One Room?
This can be a tough question. It depends. If the place you want to use two floor lamps is the same place that you would put two matching table lamps, it works. For example, two matching lamps on the sides of a bed. Or you could put two matching lamps on both sides of a couch.
If you have a very large room, like an open living room, dining room and kitchen, you can put two floor lamps in different living areas. Other than these two places, I don't like two floor lamps in one room.
Floor lamps are a really easy way to add lots of wattage to a bedroom, living room, dining room or entry. Try using one to fix a dark area in your home and see what a big difference it makes.
You can read more about why every room needs a floor lamp and where to find deals on lighting. Learn more lamps and lighting, check out these posts that cover all the details to make sure you get the right lamp for your space.