Chandelier Size Calculator: Find the perfect size for every shape table and room (with illustrations)
Choosing the perfect chandelier can be an overwhelming decision. There are lots of factors to consider. I'm going to help you take all of the guesswork out of the equation.
There are two different size measurements, one for chandeliers that will hang over a table and one for chandeliers in a room. Once you have your chandelier, there are more measurements to consider like how low should it hang from the ceiling?
This is a simple, straightforward answer to your all of your chandelier size questions. If you have specific questions about a chandelier you are considering purchasing, leave a comment with the details of your room size or table size.
Size Calculator: Chandelier Over A Table
The formula for a chandelier size over a table is:
Table width in inches – 12 = maximum chandelier width
This formula works if you have a square or circular table. For example, if you have a 42-inch square or circular table, you want a 30-inch wide chandelier. If your table is rectangular, you still use the same formula for the width of the table, but you might want to consider a chandelier that isn't round but more rectangular.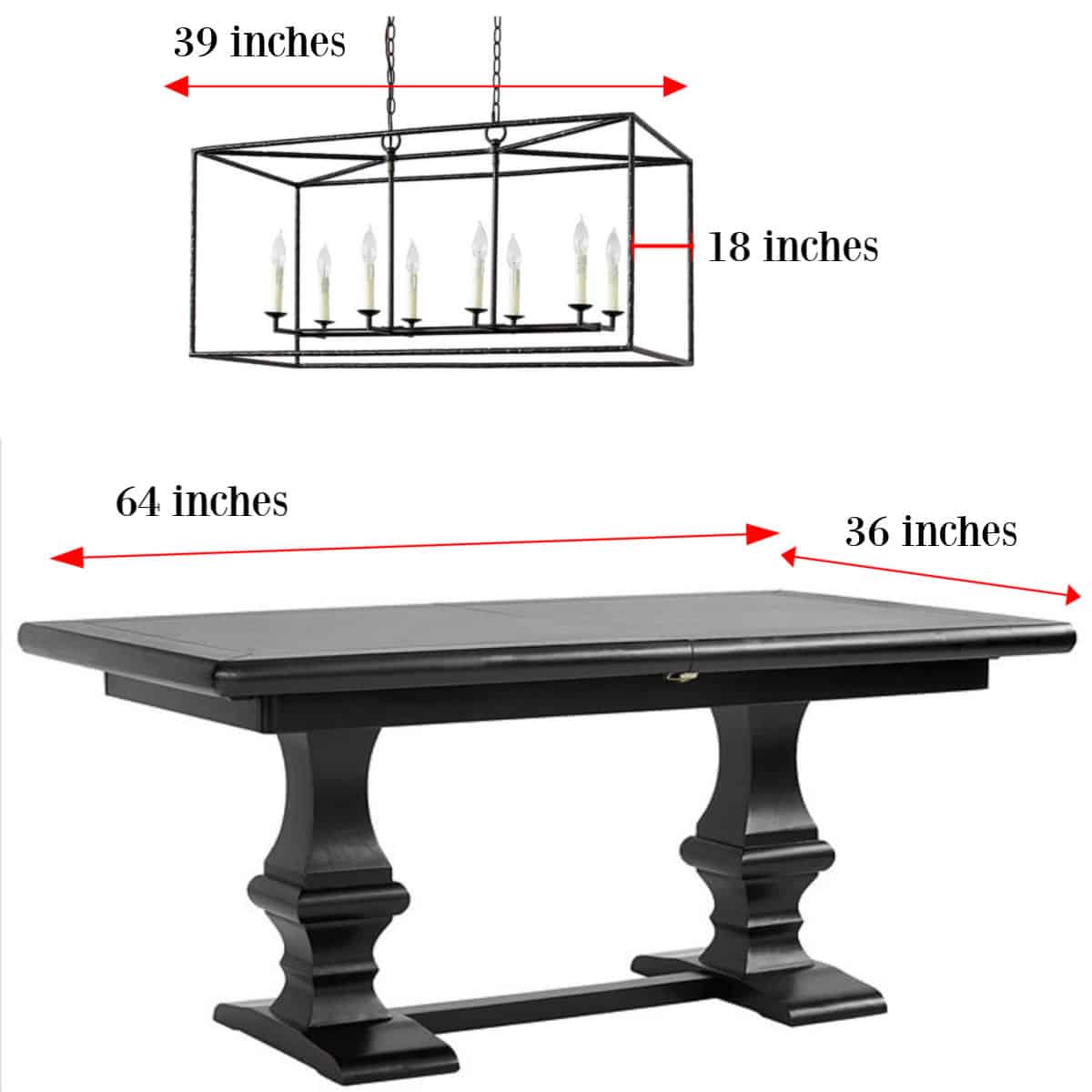 Rectangular chandeliers – If your chandelier is rectangular, the chandelier should not be closer than 12 inches from the long ends of the table.
Size Calculator: Chandelier For A Room
Use this formula if you are looking for a chandelier for your bedroom, living room, entry or any room where there is no table.
Room width in feet + Room Length in Feet = maximum chandelier width in inches
To give you an example, a room that is 12 feet wide by 14 feet long should have a 26-inch chandelier. You can go larger, but if you size down the chandelier might look too small for the space.
Size Calculator: Chandelier Height Over A Table
The rule of thumb for chandelier height is:
30-36″ above the table
This formula should be adjusted for the height of your ceiling. You can read more about the ideal height for a chandelier and how to adjust it here.
Size Calcultor: Chandelier Height For A Room
The height of a chandelier in a living room, bedroom, entry or any other room depends on the height of the ceiling.
For 8 foot ceiling, hang chandelier with bottom 7 feet from the ground
If your ceilings are higher than eight feet, the chandelier shouldn't be hung higher than eight feet. If you have a chandelier hanging in an open 2-story area, it should not hang below the first story.
If you have specific questions about what size chandelier will best in your space, leave a comment. I love to see other people's lighting and it's always nice to get a second opinion.