How to Brighten a Dark Room: You Need Floor Lamps!
When you sell your house what's the first thing a realtor does when they show it to a buyer? They turn on EVERY light. Most of our homes look too dark. Everyone wants a light, bright feeling home but not every room has large windows. Floor lamps can really brighten up a dark room. See my favorites updated for 2021 below.
Floor lamps allow you to get tons of light without adding in overhead lights (which are expensive). There are so many pictures in magazines of these beautiful bright rooms with giant windows. But let's be honest, the room look amazing because of the architecture which you can't duplicate. Good lighting is one of the most important design elements in every room.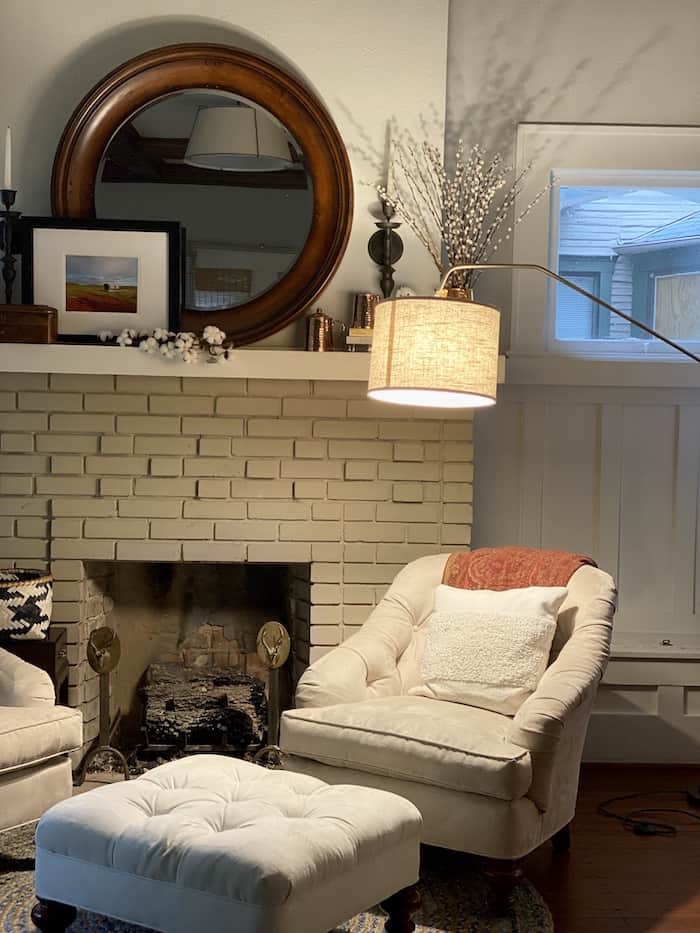 If you live in a place where you can't add windows or add/replace lights that are hard wired, floor lamps are your new best friend. They can brighten up a room without a big price tag.
They can also make a really big statement about your style because they are BIG. Choose one that complements your style. Their large size often means they hold multiple bulbs or higher wattage bulbs. Floor lamps can really lighten up every room.
What's the best place to Use a Floor Lamp?
Floor lamps work in so many spots (read more about how to style floor lamps here) all over your home. You can't put them out in the middle of a room, but they work tucked in these spaces:
Next to a sofa or chair
Standing alone in a dark corner
Next to a bed or beside a small nightstand (if you don't have room for a table lamp)
Beside a desk
A well lit room should have three light sources, not including the natural light from a window. Most rooms have some type of overhead lighting, source number one. To make a room look warm and inviting you need two more. Take a look at your room and see where the dark spots are. If you can't count three light sources, you need a floor lamp.
See this example – it's a dining room with no recessed lights. It looks light in the morning, but at night you need all the bulbs you can get. There's a chandelier, a table lamp and a floor lamp. Read more about finding the budget friendly chandeliers here.
How to brighten a dark room on a budget
Floor lamps come in all styles and budgets. I Stick to handful of sources for lighting to avoid spending hours of time online shopping. My go-to sources floor lamps including Ballard Designs (especially on sale), Pottery Barn, IKEA (for the biggest bargains, but not the most light) Target, Etsy and Amazon.
See the three tips for getting a floor lamp with lots of light.
Statement Floor Lamps
If you are looking for a floor lamp that makes a statement, take a look at these. They do a lot more than just provide light. They are large and more like a piece of art than a lamp.
I choose every product I review. I may earn an affiliate commission if you buy from one of the product links, at no extra cost to you. This income supports this site. See the full disclosure.
Arch Floor Lamps
This style of floor lamp works well over a chair or over a couch. These lamps are large enough that they can add height to a space and act like a sculptural element in the room. They can also add lots of light at a desk or a work space that needs task lighting.
Pillar Floor Lamps
These lamps are basically just like table lamps with a longer base. They don't make as much of a statement, but they can still add lots of light to a room and can often hold a higher wattage bulb than a table lamp.
Tripod Floor lamps
Tripod floor lamps have a bit more heft to them than the single pillar lamps so they can take up more space in your room.
They tend to have a more modern look to them and fit right into mid-century modern decor. Tripod lamps are more expensive than other styles of floor lamps, so only look for these if you have a budget of more than $100 (with the exception of these two below)
Wood and Brass Tripod Lamp from Target – This lamp can fit into so many different style rooms. I hope you go to Target's web site and scroll through the photos for this lamp, you will want to buy it and it's price very reasonably. Lamps Plus has an almost identical lamp that is twice as much. It also comes in a nickel finish. PS this is not a sponsored post.
Black Tripod – This one has an unusual black shade, which looks cool but will reduce the light output.
LEPOWER Wood Tripod Floor lamp – This lamp is a real bargain and comes in two wood finishes.
Torchiere Floor Lamps
Torchiere floor lamps are not meant for lighting up specific areas. Their light is aimed at the ceiling so they can light up a whole room because the light reflects off the ceiling. Honestly, I've never found one of these I would buy. They are inexpensive, but in my opinion, they look it.
If you need lots of light they can be great. Here are a few budget-friendly options.
Britech Torchiere light – This one comes in three finishes, brass, black and silver.
Britech Sky Dome light – This one comes in black and silver. It's like two lamps for the price of one. You get general room light and task lighting.
Conclusion
Look around your room and see if a floor lamp would be the answer to brighten up your space. Do you have three light sources in every room? If not, try adding one floor lamp and see what a difference it makes. You can read more about how to style a floor lamp. I hope this helps you the next time you need a light bulb. learn more lamps and lighting, check out these posts that cover all the details to make sure y
When you go to purchase a lamp be sure that the shade is included in the price. Sometimes shades are sold separately and they can be hard to match in scale if you don't buy with the lamp. If you have a favorite floor lamp, share it in the comments.