What's New in IKEA's 2021 Catalog
IKEA releases only one catalog per year and it usually comes out in August before back to school. They recently announced that this year was THE LAST one after 70 years. I got a sneak peek by looking at the catalog that's been released in Sweden, all 288 pages of it.
For me the catalog is more like a coffee table book than anything. I get lots of ideas by leafing through it, mostly about how to more efficiently store things. It's a feast for the eyes, they always manage to come up with unique designs that save space.
Here are a few of the fun new products that are coming soon to an IKEA near you (or via a delivery truck). IKEA delivers and it's not that expensive. Here's a post about how IKEA's delivery works.
New to IKEA in 2021
Dytag Curtains – Linen curtains are usually VERY expensive. IKEAs new Dytag curtains are $60 for two panels. Some retailers, like Pottery Barn sell each panel individually and one linen panel will be $100+. These curtains have an unusual back loop instead of a rod pocket, which makes them look like more expensive pinch pleat curtains. They come in white and oatmeal and each one is 98 inches long.
I've used IKEAs cotton curtains many times with some minor alterations. I can't wait to get my hands on the linen version. They aren't $20 like the Lenda curtains, but still a good bargain.
LINDBYN mirrors – This is my favorite because I've been lusting after a similar mirror at West Elm but it's too expensive. This mirror comes in many different sizes and shapes, round, square, oval, floor-length. All of them are $79 or less and the frame is a thick black metal.
Misterhult bamboo lighting – This light comes in a pendant shape and a tabletop. It's not a light to read by, but it does create a real mood and the table version is only $29.99. I think it would be cool outdoors on a porch.
Gistad and Muren recliners – For all the recliner lovers out there, this is a huge bargain. The Gistad, which is the more modern looking recliner It comes in black and dark red (or more of a wine) and it's only $199. The Muren recliner has a more traditional recliner look, meaning it looks a little more comfortable, and it's only $269. It comes in light and dark grey.
Hemnes is one of the more traditional styles that IKEA makes. They have lots of wood furniture and it's more heavy-duty than some of the IKEA case goods. The new Hemnes wall shelf is a very slender, which is so ideal for small spaces. I can't wait to try this out in my bathroom.
IKEA's new Navlinge pendant lights – These come in a few colors, red (I hope) and white. It's 13 inches for $12.99. They have also released an LED clamp spotlight in this same line that comes in white and black, which would be great for reading in bed.
Skaftet arched floor lamp – I'm not sure if you've ever shopped for an arched floor lamp, but I have one and this seems like a great bargain. There are three different color shades available, white, black and red with a gold inside.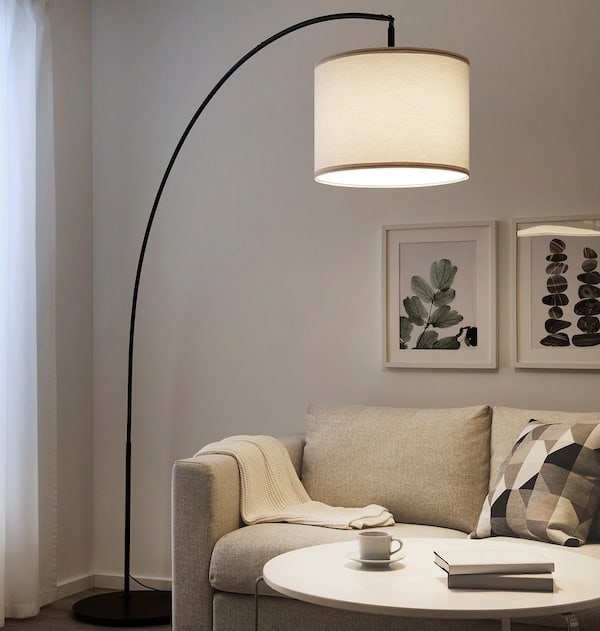 Mojna Pendant Light Shade – This is $14.99 for just the shade, so you would have to have a light fixture. The shade is made of recycled plastic and comes packed flat. It packs a punch in area of making a statement for such a small price tag.
Tjena Storage box – These boxes look good and they are on.y $4.99. You can't buy a regular cardboard box for that price and they have handles. They come in different sizes and colors including white, charcoal and lots of blue patterns. I think they would be great for adding your own style by putting contact paper on the sides.
Bissing Clock – I'm a big fan of IKEA clocks. I have a big Bravur clock hanging in my kitchen (it's 24 inches). This one is so cool in the right spot. It looks like something you would see in a Swiss railway. It's only $19.99. They also released the Stursk clock, which looks like a modern version of a grandfather clock.
Sandared Pouffe – This pouffe comes in three sizes and it has a removable cover that you can wash. It comes in multiple colors too. Can be used as a footstool or a chair. It's not the cheapest thing at IKEA but it's very versatile. Based on reviews I recommend buying an extra cover to swap out.
Gladelig bowl – I love a bowl that's big enough to be a plate. Great for pasta, salads large enough to be a meal or this Carne Asada Bowl. These bowls are stoneware and they only cost $12.99 for a set of four. I like the understated simplicity.
Bullig Bamboo boxes – These come in two sizes and the largest is only $14.99. It could add lots of texture and give you extra storage.
IKEA Tried and True Favorites
There are few things at IKEA that I will buy over and over because they are a great deal and the quality is high.
IKEA 365 food containers with lids. This is a really affordable way to get rid of plastic food storage containers. They are as low as $1.99 each depending on the size. If you break one, it's not the end of the world.
Duvet comforter inserts – IKEA has great prices on their comforter inserts and they come in many different weights measured by temperature. There is cooler, warm, cool, light warm, etc. Prices range, but many of the queen inserts are only $29.99 as a benchmark.
Wood hangers – Set of 8 for $4.99. You see all of these photos of closets where the owner has nice hangers that all match. I'm not going to spend that much to replace my plastic hangers that work perfectly well, but these wood ones are pretty awesome.