Shark vs Dyson Cordless Vacuum Review
Does this ever happen to you? You notice dirt on your rug and you get out the vacuum. You finish, put the vacuum away only to notice that the dirt/hair/debris is still there.
This was happening in my house a lot. Time for a new vacuum. I love research, but even for me the volume of information about all of the vacuum models is overwhelming.
I've read many testimonials about different vacuums. But when someone is getting paid to review the product or getting it for free I have less confidence in the review.
This review is not sponsored and I didn't get the product for free. It's 100% my own opinion. If you buy through my link for the one I bought with my own money after my research, I do earn a small commission. I'm sharing my research on the mid-range cordless vacuum models I considered and the vacuum I chose in case it helps you.
I choose every product you see. I may earn an affiliate commission if you buy from one of the product links, at no extra cost to you. Read my full disclosure.
Cordless Vacuum Metrics
These are the factors are the most important when you are buying a cordless vacuum. There is no one place that compares all of these for you. I was weighing the three mid-range cordless vacuums: Shark ION P50, Shark ION F80 and the Dyson Cyclone V10 (standard version, not the Animal or Animal Pro which are significantly more expensive).
Mid-range at the time of this post is around $300-$400.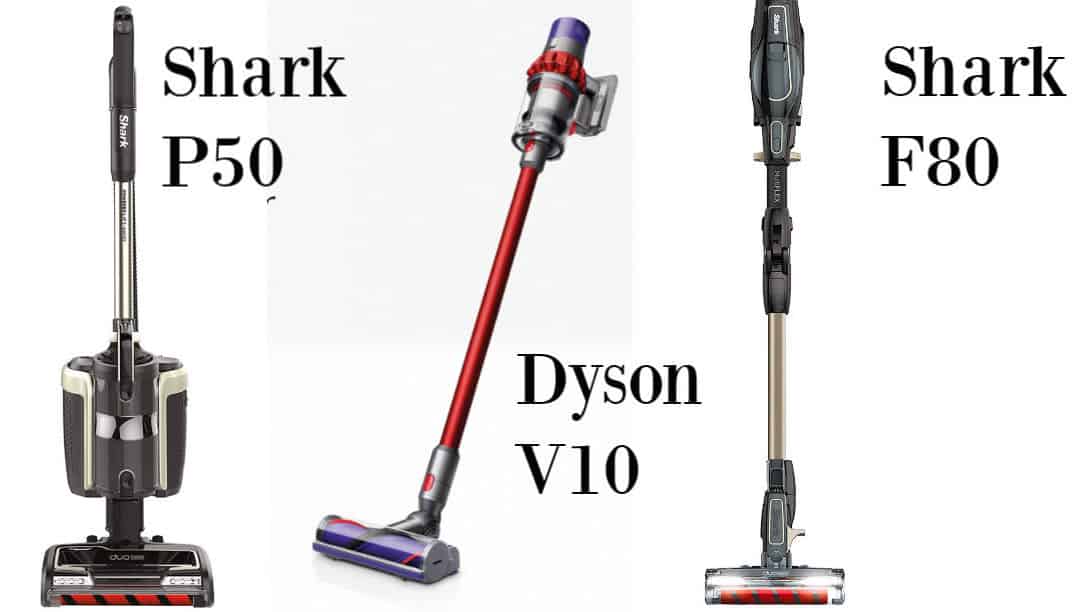 You can read more details below, but if you want a quick reference table this is it. You can click on each heading to go to that section.
Rating
DysonV10
SharkF80
SharkP50
(my pick, review at the bottom)
Suction/Power
measure in CFM*
53 CFM on high
24 CFM on low
38 CFM on high
24 CFM on low
44 CFM on high
28 CFM on low
Battery Life
60 low no head
46 low with head
7 high with head
80 low no head
57 low with head
27 high with head
55 low no head
Weight
6.0lbs
8.7lbs
12.0lbs
Vacuum Head
2 heads
one for hard surfaces
one for carpet
dual roller head – soft roller in front and a brush roller in back
dual roller head – soft roller in front and a brush roller in back
Bin Capacity
2 1/2 cups
2 3/4 cups
4 1/2 cups
Filtration
Sealed System with HEPA
No HEPA Filter
Sealed System with HEPA
*CFM is Cubic Feet per Minute – It's a measure of the air that flows through a vacuum. The higher the number the more suction the vacuum will have.
Suction and pickup power
A vaccum's power is measured by CFM (cubic feet of air per minute). This is the amount of air that flows through the vacuum, and more is better. This number varies depending on the power setting you use.
The Sharks both have two different power settings, low and high. The Dyson has three power settings and on "max" power it has more suction, but not much battery life. Battery life declines as power increases. More on that below. Dyson's suction beats any competing vacuum.
How well the vacuum head picks up dust and debris is not solely defined by suction. The vacuum head plays an important roll in performance. See more about the heads below.
The Dyson does a better job of deep cleaning carpet with the carpet head attached, but the Shark doesn't require changing heads. The shark does a better job picking up debris on both the hardwood and carpet without just pushing the dirt around (called snow-plowing).
vacuum Battery Life
Battery life varies greatly depending on how you use the vacuum. If you use it on the "high" setting the battery doesn't last as long. For example, the Dyson can run for 60 minutes (without the drive head, but who uses it that way for 60 minutes?). The SharkP50 can go for just under 55 minutes on low without the drive head. The SharkF80 can go for 80 minutes (because it comes with extra batteries).
On High power, with the drive head the Dyson drops significantly to under 10 minutes. On medium power the battery life is closer to 30 minutes with the drive head. The Sharks can go on high with the drive head for around 25 minutes, which is about the same for the Dyson on medium.
Filtration
Both the SharkP50 and the DysonV10 have a sealed system, which means that no particles escape as you are vacuuming. They both have HEPA (High Efficiency Particulate Air) filters. This means that the filter remove at least 99.97% of dust, pollen, mold, bacteria, and any airborne particles.
If we are splitting hairs, there are non-HEPA filters that are just as good. The SharkP50 boasts that it has Anti-Allergen Complete Seal Technology, which means it seals in even more than HEPA at 99.99%.
The SharkF80 does not have a HEPA filter or what's considered a sealed system. It has a foam and felt filter. If you have allergies this could be a minus.
vacuum Weight
The difference between these two units is that with the Dyson, all of the weight is at the top by the handle. With the Shark the weight is close to the base. The SharkP50 weighs 12.0lbs, the Shark F80 weight 8.7lbs and the Dyson weighs 6.0lbs.
Even though the SharkP50 is the heaviest, it feels less lighter because the weight is at the bottom and not supported by your arm.
Dyson has really set the standard for cordless vacuums because the units have the most power, but the Shark's design makes it easier to handle and more like a small upright vacuum.
Vacuum Head
Vacuum heads come in many different varieties. There are soft rollers and rollers with a brush. Soft rollers were invented to work on hard surfaces.
The Dyson vacuum has two heads ONLY if you buy the upgraded "Absolute" version. The basic version comes with one head called a Torque Drive Head. The Torque head is optimal on rugs and carpet, but doesn't work as well as a soft roller head on hard surfaces. You can buy the second head separately if you find that you want a soft roller.
The Sharks both have a dual roller head. This means that it has a soft roller in front that is really better for hardwoods and a brush roller behind that, which is better for carpet. No switching required.
Size of Collection Chamber
The SharkP50 has a much larger collection chamber for debris at more than 4 cups. If you have lots of debris (small kids or messy animals) this could be the best feature for you. The Shark P50 collects more than more than most hand held vacuums on the market.
The SharkF80 and Dyson hold roughly the same amount of debris in the bin at around 2 1/2 cups.
Accessories Included
The Dyson comes with more accessories included. It includes a motorized mini brush, where the SharkP50 does not. The Dyson has a head that is easier to clean because it is detachable.
The SharkF80 comes with a crevice tool, an upholstery tool and a car detailing crevice tool (for all those gross things that fall beside the seat). It also comes with two extra batteries so you can swap out while you are cleaning. This is the biggest plus.
The SharkP50 comes with the same attachments as the F80 minus the extra battery. It includes a crevice tool and upholstery tool and car detailing crevice tool.
price
The Dyson vacuums are almost always more expensive than comparable models. My theory is that it's due to the amount of advertising they do.
Other Selling Points
The SharkP50 can is a free standing unit and the Dyson does not.
The SharkF80 has a "multi-flex" function which means that the arm can bend when you release it. This makes it easy to vacuum under furniture without bending over.
Video Reviews
If you are the type of person that likes to see the models in action, there is an amazing Youtube channel that has reviewed all three of these models. The channel is called Vacuum Wars and it's a guy who runs a cleaning company. The videos are so detailed that you won't regret watching before you buy (or you can watch my short video below).
My review of the Shark P50
Based on all of this research I decided to buy the SharkP50. I could not be happier. The brush on the vacuum head made a tremendous difference on my rugs which have lots of pet hair. I love how compact it is and I like the lift-away feature.
I've never had a vacuum that had a light at the head, which was also really helpful for me when you vacuum under furniture. Using this vacuum for just a few days makes me realize how bad my old vacuum was. The bin capacity wasn't enough to get through too much of my house but it picked up so much hair that was hiding on my rugs. Gross!
I think the Dyson might have been my pick if I had carpet, but I don't. The Shark F80 (which is newer) would have been my pick if I had a larger house, but my house is only 1800 square feet. The run time of the F80 was plenty for me.