Front Porch Decorating Ideas on a Budget
Now is the time when many of us are spending a lot of time on our balconies and porches as an escape from the indoors.
Do you wish that your front porch or balcony had a more warm and cozy feel like an outdoor living room? It can be hard to wrap your mind around spending money on your porch because it's outside. Stuff happens outside that you can't control, rain, dirt and critters just to name a few. Also, things on your porch can walk away (at least in my neighborhood), so I don't advocate having expensive outdoor furniture.
These porch staples won't break the bank, especially if you can get them on sale! This is a time when every retailer is having a sale and you can get it delivered without having to leave your home.
Here are some inspiring porches to get your creative juices flowing. Look at these photos and you will notice the same things are in every one and that's why they look so cozy. Each outdoor space has a rug, plants in cute planters, lights or lanterns, pillows and multiple fabrics (on pillows, cushions and sometimes even curtains).
The secret to making your outdoor space look like a room is to treat it like you would any other room. That means it has to have a rug, lots of fabrics, lighting and plants.
Where to Find Bargains on Outdoor Decor
I always go to Craigslist and Facebook and search for what I want, just in case there is something awesome that is already assembled and cheap. Below are my best sources for new outdoor porch decor on a budget. I did a separate post all about outdoor rugs here.
Furniture:
Online I like to go to Overstock for furniture. If you can shop in person there are some good deals at Pier1, Target and World Market (some choices may only be available online). If you have the budget to mix up the pieces so they aren't a set of all the same material that can add interest to your porch. For example, metal chairs with a wood table or vice versa.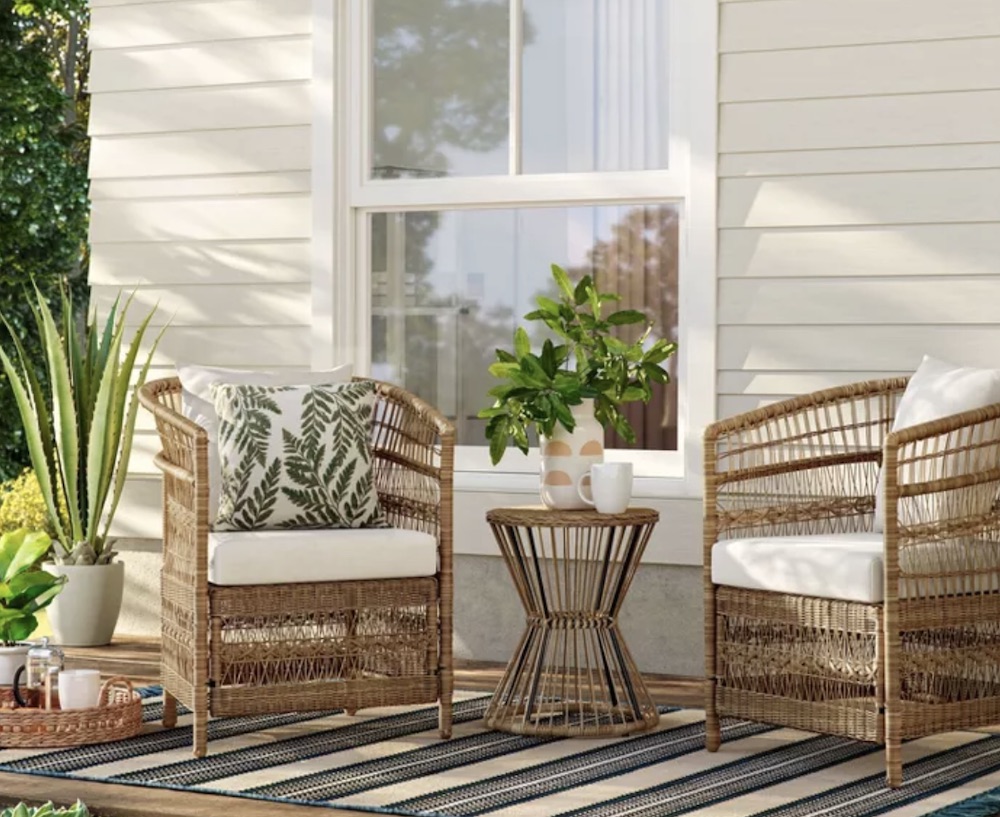 I choose every product you see. I may earn an affiliate commission if you buy from one of the product links, at no extra cost to you. Read my full disclosure.
Outdoor Lighting and Lanterns
Amazon has some of the best deals on outdoor lighting online. If you prefer to shop in a store Home Depot, Lowes and Target have some great lanterns and outdoor lights. The greatest thing about some of the new outdoor lighting is that it's battery operated so you get all of the ambiance without having electricity.
I use affiliate links so I can afford to keep doing this.  Hope it saves you time. See my disclosure policy.
Pillows and Outdoor Fabrics
The inspiration photos really drive home the importance of having lots of fabric BUT it's outside and it will get dirty. Outdoor pillows can be very pricey. In this category you have to weigh the importance of longevity vs price.
If you would rather throw the pillows away every year or two go for the less expensive ones at Pier 1 and Target. If you want a cushion where you know the fabric will last and you can remove the pillow and wash it go to World Market or Ballard Designs where the covers zip off. The price tag can go from as low as $10 for the throw away kind to $50-$70 for the washable kind.
In addition to pillows an inexpensive throw "blanket" is a good way to add more fabric, even though it might not be useful during the summer. For outdoors I recommend using cotton and something that is washable. Turkish towels make great summer throws because they have fringe, are washable and affordable. They come in every color you can imagine.
Potted Plants for the Porch
Plants in every room add so much. Outside they make even more sense because they can actually get sunlight. Adding a few plants on your porch can be a good way to get some color. Pots can be heavy and breakable so I don't like to buy online.
I'm partial to terracotta for real plants because its porous nature allows for air and water to move through the walls. I'm not the best with plants, but I have success keeping plants alive in terracotta pots. You can buy inexpensive terracotta at Home Depot.
If you are looking for something with more color, Target has come great planters.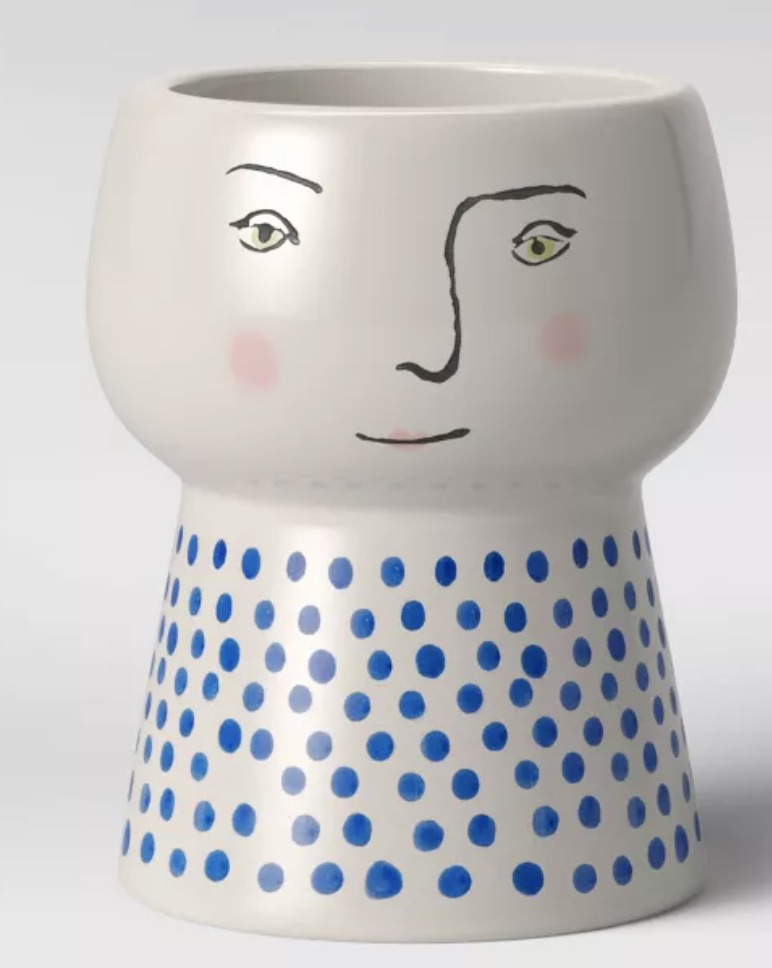 Now that you see how easy it is to make your porch feel like a cozy room it's time to shop. If you are like me you will try to look in your house for things you can re-purpose first. I bet you have an extra planter or throw blanket. Try adding each of these elements to your porch and see if it feels more cozy.
Before you go, you might like Front porch redo for less than $100 or porch planters, an easy 3 part formula.