7 Tips to Arrange Outdoor Furniture for a Magazine-Worthy Space
I'm sure you've seen the images of amazing outdoor living areas. There's something about them that looks so inviting. Size has no bearing, a small space can be just as cozy as a large one.
Follow these seven steps to get the outdoor living space of your dreams, whether that's for dining, cooking or just lounging.
But before we start with that you have to ask yourself a few questions about your space. Don't skip straight to the fun part. These questions can really help you to afford to buy the right outdoor pieces.
What Do You REALLY Want To Do In The Space?
Before you start arranging furniture you have to ask what you want to get out of the space. Here are a few examples to give you ideas: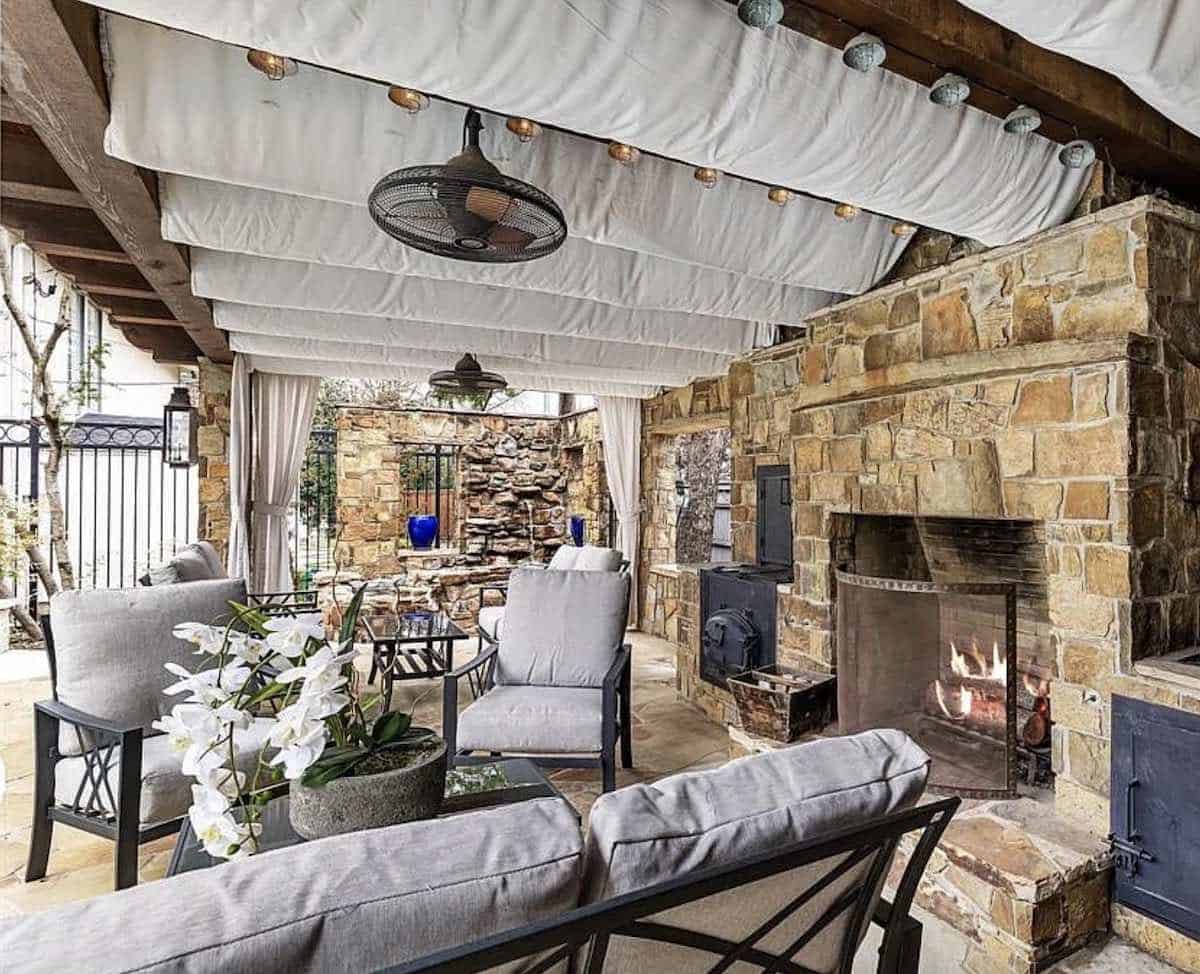 Do you want to eat there?
Do you want to cook dinner in an outdoor kitchen?
Do you want to lounge and relax with a drink?
Do you want to have a space to sit in chaise lounges beside the pool?
Do you want a quiet space to read?
Do you want to watch sporting events or movies there?
Do you want to cook?
Do you want a hot tub with lounging space?
Do you want a fire pit for evenings?
Do you want an outdoor daybed with lots of pillows for lounging?
One space can serve many purposes, but it really helps you to decide what kind of furniture you want if you think about these questions first.
I'll give you an example. I wanted to put a dining space under our pergola, but then I thought about how we are really going to use it 99% of the time. My husband really HATES eating outside. So what I really need is a place to serve drinks and appetizers. A coffee table and a few end tables would serve my purpose better than a table and chairs. Do you see why this matters?
Don't rush the decision because furnishing your outdoor space isn't cheap. You might not have a big budget because it's not a requirement to live in your home. You have to make your dollars count.
There secret to a cozy and inviting outdoor space on your patio, porch or in your yard is found by following these steps.
Divide the space – The first step is to think of your yard like you would an open space floor plan. You need to separate the larger area into separate spaces. This is still true in small back yards, where the dining area might be a smaller scale bistro set. Give each space a purpose. Think of it like rooms, a living room, dining room and kitchen, all of which are optional.
Measure each area as if there were walls – To begin to see the distinct spaces an you can use painter's tape on the ground where walls would be. This works well for hard surfaces. If you have a soft surface you can use stakes and string. It's important to know how much area you have before you start buying furniture. Consider it a budgeting step. You might not need the 5-piece set because there isn't enough space.
Use a space planning tool – I like to use a floor plans tool to help me decide the scale of the outdoor furniture. For example, a great option is the room planning tool at Pottery Barn. You do have to give them an email address, but it's easy to use and free. You can also draw it out by hand on a piece of graph paper. This REALLY helped me to see that I needed less furniture. I thought my outdoor pergola would hold a living room set and one side could be dining on the other, but it's too small. This helped me to decide what new pieces I needed. Large furniture is hard to return.
Create A Focal Point – Just like in an indoor room, your eye wants a design element to be the center of attention. You can't use art, but you can make it one piece of furniture like a really cozy porch swing or a great outdoor area rug.
Add lighting – Even if you don't have the budget for hard-wired lighting, add string lights or lanterns. Even a little bit of lighting REALLY makes a difference.
Incorporate Soft Surfaces – Make sure you've got LOTS of soft surfaces, outdoor throw pillows, soft cushions and throw blankets. Some of the warmest spaces even have outdoor curtains, which can help to block sunlight in the middle of the day and privacy. I really like to use an outdoor rug. I have several that really help the space to feel like a room. Be sure all your outdoor accessories are weather friendly fabric like Sunbrella so they stand up for longer.
Use Plants – This sounds obvious, but your grass doesn't count. Use plants around your outdoor spaces to make them feel more inviting. Use potted plants inside the space, it's the one room in your home that probably gets enough light.
Here's an example of how I used this process in my backyard to figure out how to arrange the spaces. This is the space under my new pergola. I measured it and started dragging furniture into the space. Use the tool to see get a feeling of the size and scale of furniture together. You want to see how it fits.
These are my layouts in order and you can see that doing this helped me to see what I really wanted and what would fit best. The best layouts will become obvious to you as you play with the tool. The first one is TOO much furniture, it feels crowded.
You DON'T have to buy the pieces from Pottery Barn (I didn't). You DON'T even have to use outdoor pieces in your layout. Try to get sizes that match the outdoor pieces you are shopping for. The lounge chairs I used are also indoor because they are the same size as the Walmart version.
For example, I was looking at 80″ outdoor sofas from Walmart. To see how that size works I found an 80″ indoor sofa (because none of the outdoor ones are small enough). Same with the coffee table and several small side tables.
Once you've plotted out what will fit there are lots of budget-friendly ways to furnish your outdoor living area. You can search on Facebook Marketplace, but you have to check often. Walmart, Target had Home Depot have affordable outdoor options. Costco also has some great outdoor furniture at great prices.
The best way to make the investment in your outdoor space worth the cost is to take some time planning before you start shopping. If you do it will be a place the entire family will want to hang out.
Before you go, you might be interested in how to refinish your teak furniture or what to look for when you buy an outdoor umbrella. Or you can see how I furnished my outdoor space.