Boho Table Setting – A Casual Holiday with a Little Sparkle
What images come to mind when you think of boho style? I imagine lots of plants, macrame, pillows, twinkling lights and lots of texture. It's a very casual and comfortable style. I wanted to try setting a table with a boho look.
I always like to challenge myself to use white plates in most of my table settings. I believe you can set a table hundreds of different ways even if you don't have lots of dishes (and I don't have room to store them if I did).
Here are three tips for giving your holiday table a boho vibe.
Use Layers of Texture
You can add texture to a table by layer on tablecloths. Even if you don't have multiple tablecloths you can use a throw blanket or a curtain as a layer. I'm using a white curtain with a smaller tablecloth over the top. Using table runners is another great idea for adding texture. I used white napkins with a fringed edge because they seem more casual.
Pillows are one of the best options for giving the table a cozy feeling. You can also use small throw blanket over the back of the chair. I used my favorite faux fur rug.
This post contains some affiliate links for your convenience. Click here to read my full disclosure policy.
Add Lots of Plants
Nothing says Boho more than LOTS of plants. You can use plants as a centerpiece or just in the room. My kitchen happens to be the only place that my plants thrive, so I have plants in the room covered.
I added plants to the table by adding a few eucalyptus stems and a faux succulent to the table. You can add any kind of plant as a centerpiece. The added benefit of a plant vs fresh flowers is that they are sustainable.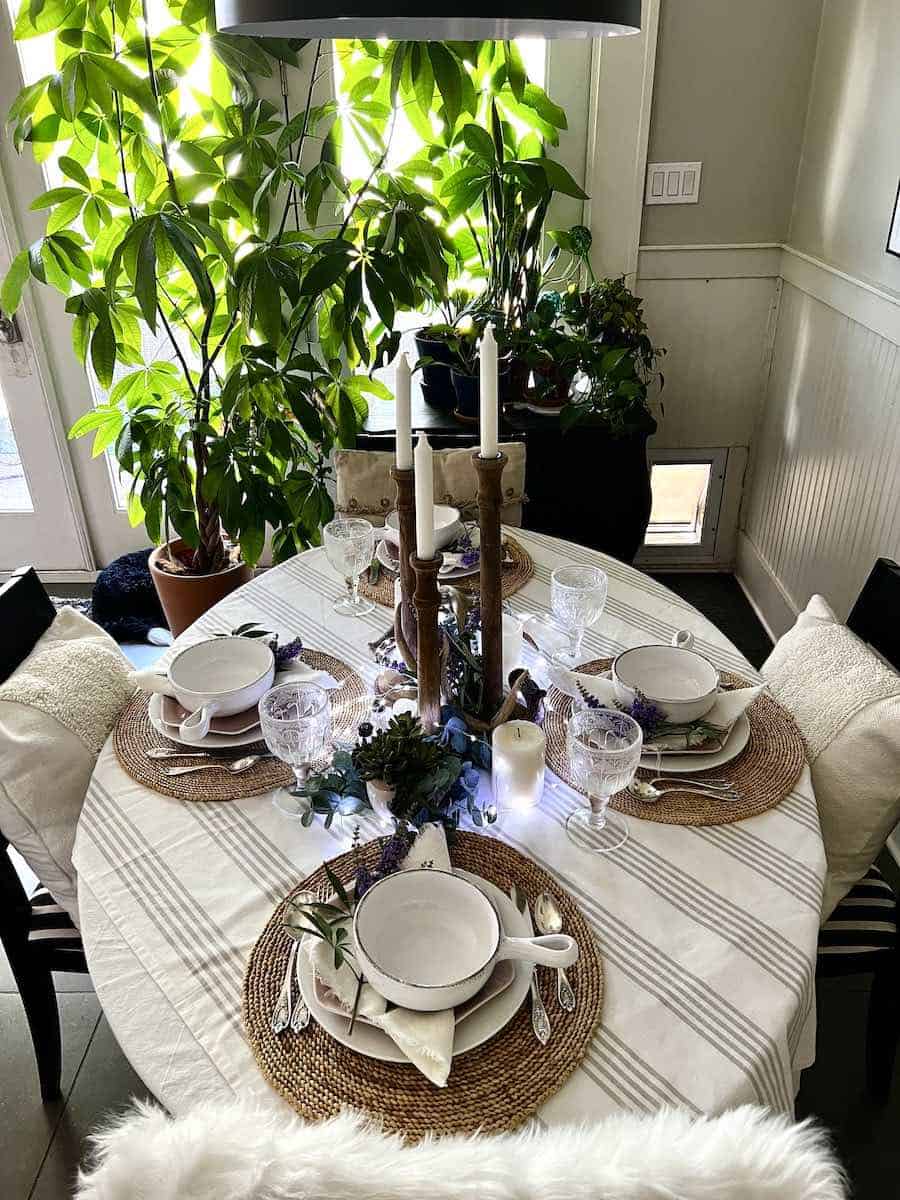 Another idea for adding more greenery is to use palm leaves for place mats. I couldn't find four real ones that were in good shape, but here's an idea of how that would look with a faux palm or this one is a felt palm. I cut a few sprigs from the flowering bush in my yard and put them on the plates instead.
Layer in Lots of Light
I added light by using a combination of string lights, faux candles and real candles. I think the new faux candles that have a little bit of a flicker are so real looking. You can layer in light by using candles in candle holders in addition to tea lights and candles that sit directly on the table.
For the finishing touch, I added a pair of antlers to the center because natural elements add warmth. We found these on a walk last summer but you can buy them and they are surprisingly versatile accessories.
Table Setting
For the dishes, I like to use white plates because food looks good on a white plate, and these are my everyday plates. To add a little color I prefer to use a colorful accent plate, like these pink salad plates with a white soup bowl.
If you don't have enough flatware that matches, that's OK. Using a mix of silver plate can give add to the relaxed feeling.
The best part about the boho style is that it's supposed to have an eclectic mix and match spirit. For the finishing touch, I added a pair of antlers to the center because natural elements add warmth.
If your weather is nice, setting your table outdoors is a great way to get a bohemian style.
Before you go, if you like this you might enjoy reading Try A Black Table For Something Different this Holiday
Related posts: