Simple Pink and Green Summer Table You Can Set in 15 Minutes
The best thing about summer is that everything happens at a slower pace and entertaining is more casual. If you're having people over you want a less formal table setting that comes together without spending a lot of time.
This entire table is something that you can pull together in just a few minutes. I like to set my tables with white dishes because all food looks good on white.
Bring in the different shades of your color scheme with table decorations such as napkins, floral arrangements, greens and linens. Here's the table I set for a group of talented friends in just 15 minutes.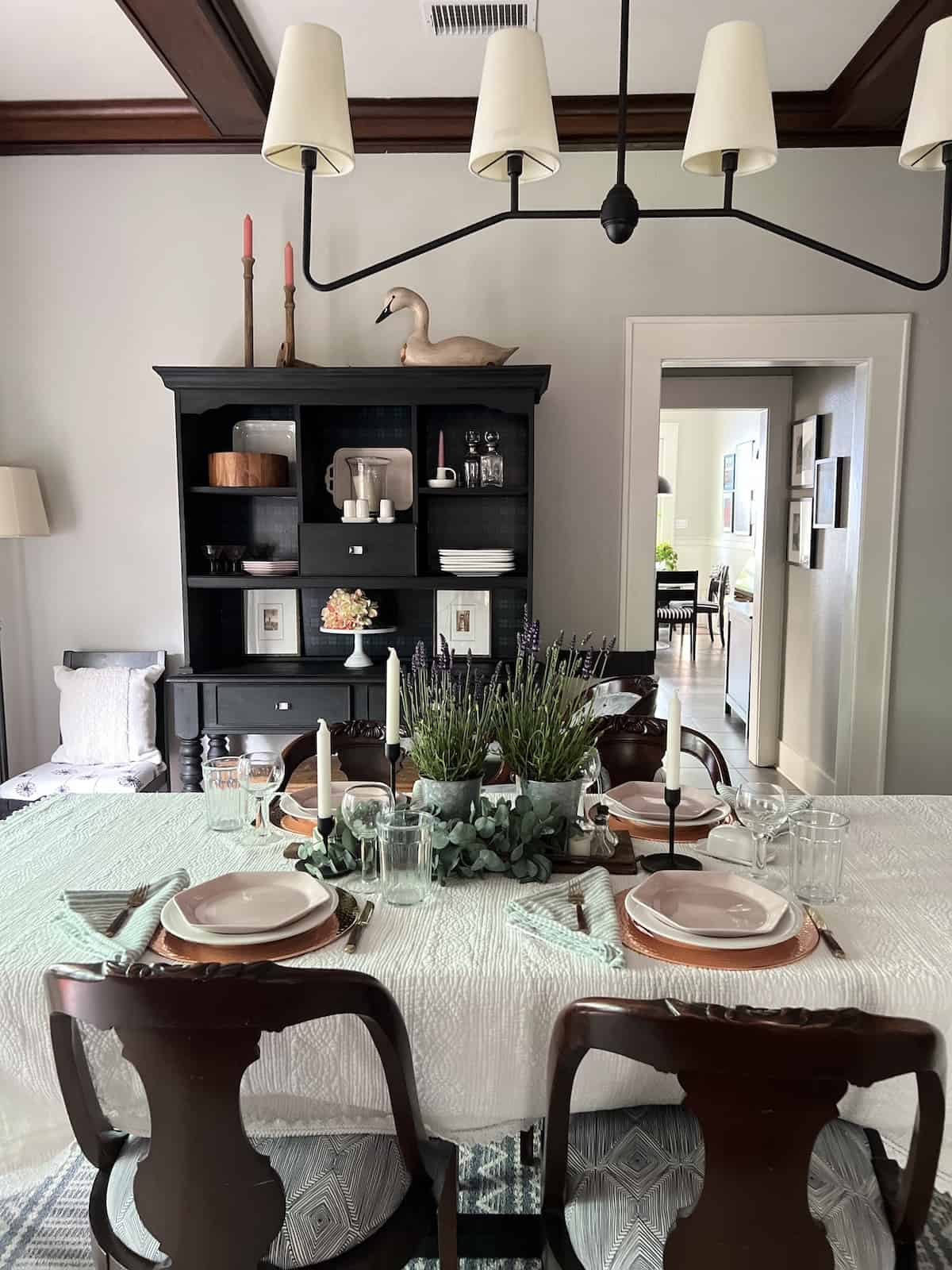 This post contains some affiliate links for your convenience. Click here to read my full disclosure policy.
Place Settings For Summer
This place setting is a simple combination of white plates and a light pink salad plate. I don't have enough room for lots of dishes, but I like to keep a few different accent plates of different sizes (salad plates or dessert plates). This is a great way to expand the color palette of your dining table without spending a lot.
If you're looking for a few new dishes to brighten up your table, think about doing it with the side dish or salad plates. Here are few fun plates I like that are affordable. 
The chargers are hammered copper, a surprisingly great find from Barbara at Mantel & Table. The green and white napkins are from Amazon. These cloth napkins come in a wide variety of colors, blue, grey, rust and yellow, but summer for me is pink and green. I skipped the napkin rings and place cards because it's such a casual table.
I found vintage teak silverware from an Etsy seller. The mid-century silverware is a bit smaller in size than modern silverware. I found something similar on Home Depot.
Budget Friendly Table Cloth Alternatives
I don't have many linens but there are lots of things you can use instead of a tablecloth. For this table I used a white blanket. Other things I've used before that aren't technically tablecloths are curtains and paper.
My favorite trick is to use wrapping paper, craft paper or other similar items. If you like the idea of wrapping paper, be sure to get the widest paper you can find. Alternatively, if your dining table is too wide to use paper, use the paper to make a colorful table runner.
There are also really inexpensive tablecloth options on Amazon.
Where to Find Affordable Table Ware?
If you only have one set of silverware, it can be a fun thing to find when you visit your favorite thrift stores. Or you can try my favorite, ETSY.
ETSY has some great finds. The best way to find what you're looking for on ETSY is to use really specific search terms. For example, use vintage teak silverware or copper charger plates.
Simple Centerpiece For Summer
I don't like to use pieces in the center of the table that take away from the conversation. The height needs to be below eye level. I think all centerpieces should have a natural element, a plant, flowers or fresh fruit for a pop of color. I like to mix that with a few candle sticks.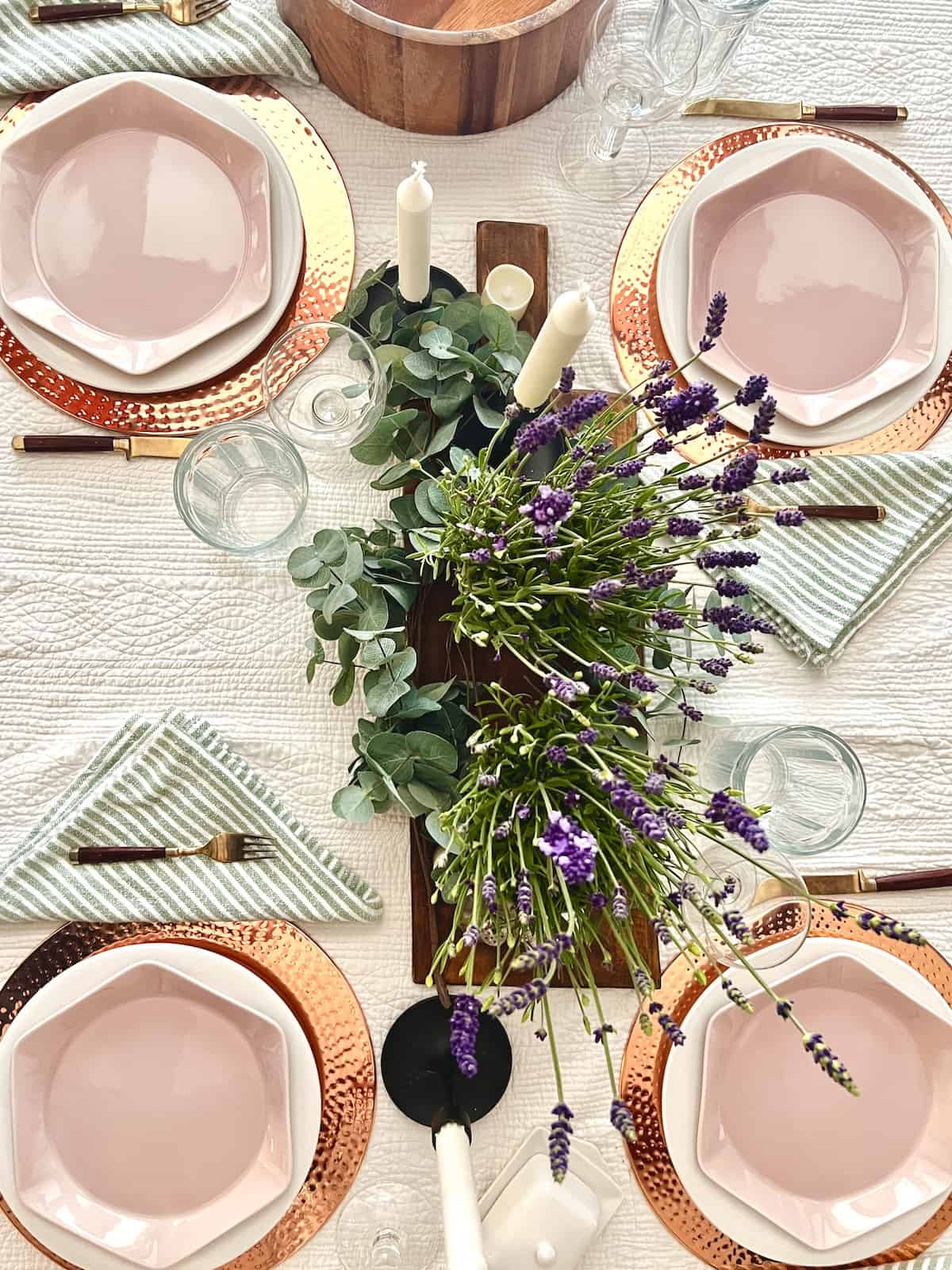 I'm the first one to say that a big bunch of long-stemmed flowers are beautiful, but not in the middle of the table. Keep your floral centerpiece low. To do that, try putting arrangements into smaller sized vases, like mason jars, paper boxes or small baskets. This works well for casual dinners.
In this case, I used live lavender plants in small steel pails from Trader Joe's. I filled in around the pails with some faux eucalyptus stems. You can use any flower that spells summer like pink peonies, daisies or dahlias.
Easy Outdoor Entertaining
Just because you entertain outdoors, doesn't mean you can't use the same table setting. If you have a casual table that you like indoors, summer is the perfect time to try using it outside. Add some string lights and you are good to go.
Unfortunately, It's too hot and there are too many mosquitos where I am to host summer dinner parties outside but if it's nice where you live take your party outside.