What Size Rug Do You Need for A Bedroom: 3 Options
Updated for 2022: Getting the perfect rug for a bedroom can make it feel so much more luxurious. It can be hard to tell what size to get. Whether you've just moved in or you're giving your bedroom a refresh, here are some size guidelines for bedroom rugs.
There are two things that determine the size of the rug. The first thing you need to know is the dimensions of your room. Measure your room length and width.
Second, determine where you want the furniture to go. That includes most importantly the bed and any seating in your room. The bed is the most important piece because it's the largest. Try moving it to each wall to see where it will fit with a bedside table(s). Which wall feels right to you? You'll know it when you see it. Next, you can focus on the rug placement and determine the size rug that will work best.
There are three different options for bedroom rugs, 1.) full coverage, 2) partial coverage under the bed and 3) rug (or rugs) beside the bed. The thing to avoid is placing a smaller rug that is just at the foot of the bed. See visual examples below.
Option 1 – Full Coverage Bedroom Rug Under the Bed
My favorite look for a bedroom rug is one that is large enough to go almost all the way under the bed. This rug covers most of the room, under the bed and just up to the other furniture that's against the wall. If you have any seating, the legs of the chairs should ideally sit on the rug, or at least the front two legs.
The general rule to determine rug size if you want a full coverage look is to measure in from the wall 12 to 18 inches. Once you know this measurement, you know the ideal size rug for your bedroom. Rugs come in standard sizes so choose the one that's the closest, 8×10 or 9×12 are typically the best for full coverage. Square rugs and round rugs don't work as well in a bedroom.r your bedroom.
Think about the other furniture in the room. If you have a dresser, do you want the rug to go under the dresser? I prefer not to have the rug partially under a dresser if it's thick because it feels uneven. Think about nightstands and chairs. For a full coverage look, the front of your nightstand can sit on the rug or 6-12 inches in front of the nightstand.
In a bedroom with a seating area, aim to get the front legs of any chairs ON the rug. This helps the room to feel cozier but takes a pretty large rug. Here's an example of a full coverage bedroom rug.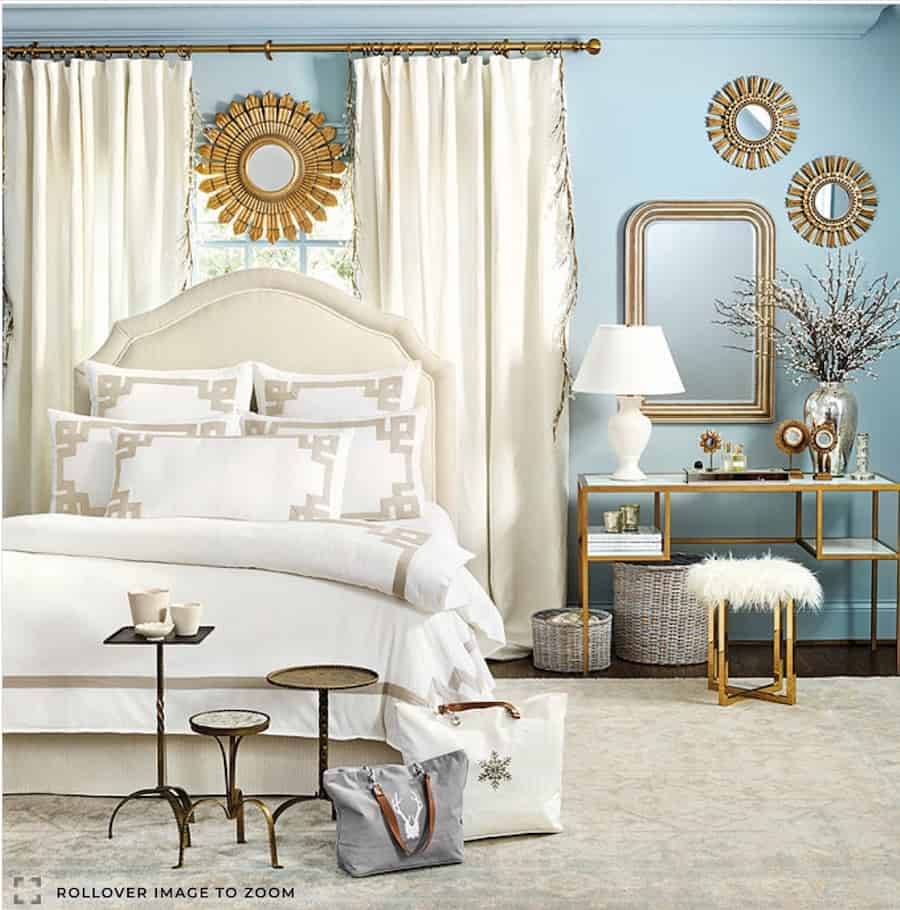 I choose every product I review. I may earn a small commission if you buy from one of the product links, at no extra cost to you. This income supports this site. See the full disclosure.
You might be thinking, what if they don't make rugs in this exact size? It's almost always better to go big than to choose a small rug.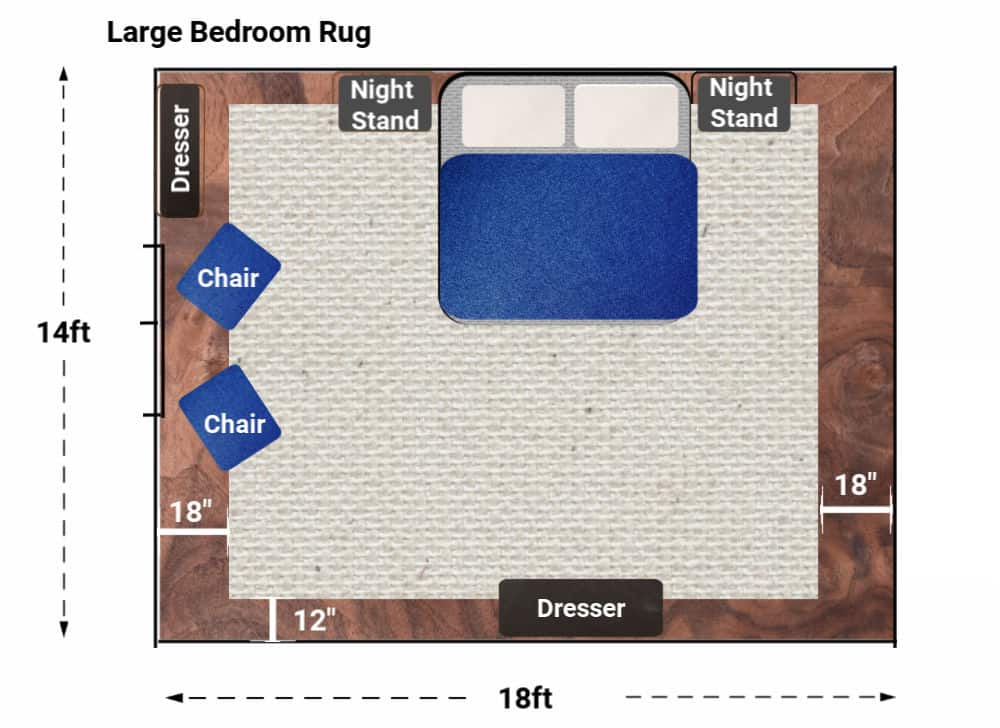 If you have hardwood floors full coverage is a special treat in the bedroom.
Option 2: Rugs on Either Side Of The Bed
This option is less expensive and still gives you a soft surface to step out of bed onto. If you have two twin beds can put a rug between the two beds. Rugs beside the bed is a good solution for narrow spaces too.
In this option, you have to get two rugs and put one of each on the side of the bed. They should be identical in size if possibleand not go under the bed. If you can't see both sides of the bed when you look at the room it is less of a big deal if you use different sizes.
This rug arrangement works well if you have a smaller, rectangular bedroom. It looks best if you have two matching rugs.
Here's an example with a soft chenille rug on both sides of the bed. If you like vintage rugs, this is a great way to incorporate smaller ones.
Option 3: Rug Partially Under the Bed
This is a good option if you don't want to spend the money for a full coverage rug, but you like the idea of your bed on top of the rug, You place the rug at least 2/3 of the way under the bed.
This still gives you something to step out onto in the morning. Here's an example of a partial rug option with a queen-sized bed.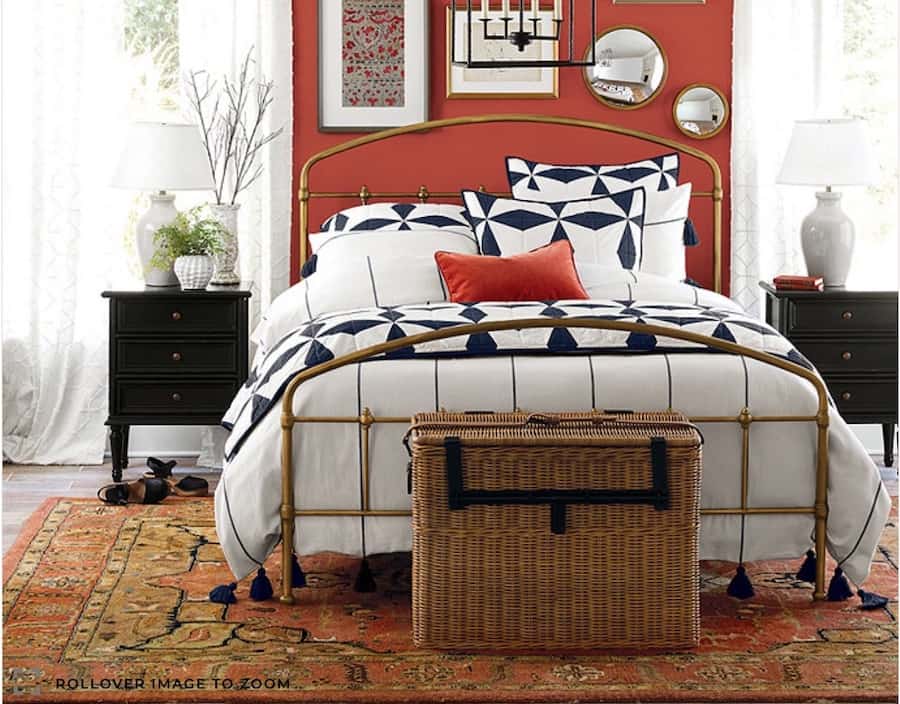 What's The Best Rug Size?
Since the bed is the star of the bedroom, the bed size is important.
Queen – A standard queen-sized bed is 60 inches wide x 80 inches tall. For a rug to go under the bed and stick out on both sides you'll want to get at least a 6×9 rug so you have 2 feet on either side of the bed. An 8×10 is better if it fits in your room.
King – a standard king size bed is 76 inches wide x 80 inches tall. You will need at least an 8×10 and a 9×12 works even better if it fits in your room. Get more details about the best size rug for a king bed here.
These are general guidelines based on bed size, but you should consider the size of the room.
What To Avoid: Rug Just Under The End of the Bed
Avoid putting a rug just under the foot of your bed. You know when the rug is just peeking out from the bed.
There are two reasons you shouldn't do this. First, you don't get to step out of bed onto the rug. Second, it looks like the rug is too small for the room, but you put it in there anyway.
Honestly, I have had a rug like this in my bedroom, for years and once I upgraded to a larger rug it made a big difference in how the room feels.
How Do You Place A Rug In A Bedroom?
When it comes down to it, how you place the rug in a bedroom is dependent on the bed. Your bed is most likely the largest furniture in your room and it should drive where the rug is placed. The rug should be placed where you can step onto it from your bed. It doesn't matter if you have a queen bed or a king-sized bed.
The dimensions of your room are the second biggest factor in deciding how big your rug should be. A larger room can accommodate a larger rug.
How to Place Your Rug When The Bed Is Off Center
What if your room size makes it necessary to put the bed to one side? If you need to place the bed in a position that is clearly off-center it looks better to have a larger rug that makes the room feel cohesive. In this example, maybe you have only room for very small table on one side of the bed.
In this case, it's much better to have the rug reach to both sides of the bed.
A Rug Pad Is The Secret To a Soft Rug
Rug pads may seem like they aren't important, but they are. Don't get one of the cheap waffle kind from target because over time they disintegrate (and leave sticky residue on wood).
My favorite rug pads are from Overstock and they aren't the cheapest, but they make your rugs feel more high quality.
Where To Find Bedroom Rugs
There are lots of really affordable rugs available online now. There are rooms where I like to splurge on rugs and rooms where I like to save. The bedroom is the one room where I think wool feels worth a splurge, especially in a master bedroom.
If you can't afford wool, try a thick synthetic rug. They hold up really well in lower traffic areas like bedrooms.
You can find affordable wool rugs on Overstock and Amazon. There are even 8×10 wool rugs for under $400. Look for quality name brands like Safavieh and Nuloom. I also like to shop Pottery Barn Kids, which has better pricing than the regular store.
The Right Size Bedroom Rug
Finding the right size rug can transform your bedroom from cold and sterile to a cozy escape. You won't believe the difference until you try it yourself. You won't regret it, especially in the winter when you have to step out onto a cold hard floor.
Before you go, you might be interested in using carpet instead of a rug (there are modern ways to do it).