What Size Rug Do I Need for My Bedroom
Getting the perfect size rug for a bedroom can really make it feel so much more luxurious. But it can be hard to tell what size to get.
If you have just moved into a new home or you just want something different in your bedroom, follow these size guidelines for your new rug. First things first, you will need to know the dimensions of your room. Measure your room from wall to wall.
You also need to know where you want your bed and any large pieces of furniture to go. To figure out the ideal placement for your bed, try moving it to each wall in the room where it will fit with a small bedside table on each side BEFORE you get a rug. See which wall feels right to you.
Option 1 – Large bedroom Rug Under the Bed
My favorite look for a bedroom rug is one that is large enough to go under the bed. This rug has plenty of room to reach under the bed and just up to the other furniture in the room.
The best way to determine size if you want a more full coverage look is to measure in from the wall 12 to 18 inches. Once you know this measurement, you know the ideal size rug for your bedroom.
Before you choose this option you need to think about the other furniture in the room. For example, if you have a dresser, do you want the rug to go under the dresser? If it goes partially under it might make the dresser uneven (which can make it rock). You should also think about night stands and chairs. If you don't want the rug to go under these pieces of furniture, measure 6-12 inches in from these pieces of furniture.
You might be thinking, what if they don't make rugs in this exact size? Typical rug sizes are 8×10 and 9×12. It's almost always better to go a little larger, than a little smaller. Your room will look more luxurious if any chairs, benches or other seating has at least two legs ON the rug. You definitely don't want your rug to feel too small.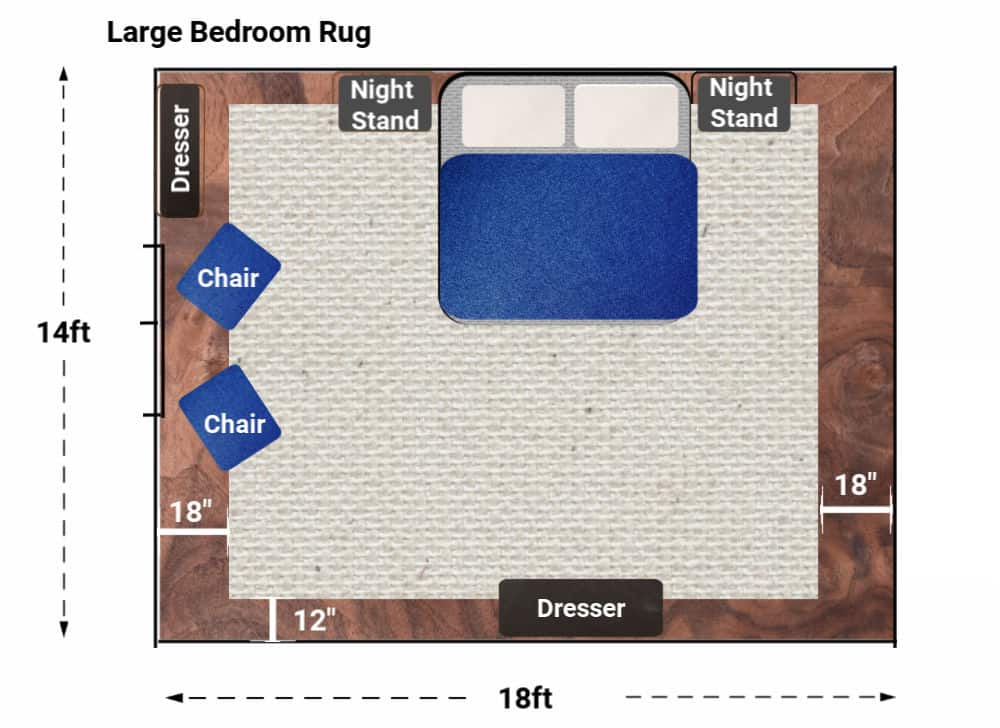 Here's an example of a rug that stops in front of a dresser, but goes under the nightstands.
Option 2: two rugs on either side of the bed
This option is less expensive and it still gives you the option to get something soft to land as you get out of bed. In this scenario, you have to get two rugs and put one of each on the side of the bed. They should be identical in size and not go under the bed.
This rug arrangement works well if you have a smaller, rectangular bedroom. It looks best if you have two matching rugs.
Option 3: Rug under the end of the bed
Avoid this rug placement in a bedroom if you can. Don't place a rug just peaking out from the bed. In this configuration you don't get to step out of bed onto the rug. It looks like the rug is too small for the room, but you put it in there anyway.
Honestly I have had a rug like this in a bedroom, for years and it makes a big difference in how the room feels.
How do you place a rug in a bedroom?
When it comes down to it, how you place the rug in a bedroom is dependent on the bed. Your bed is most likely the largest furniture in your room and it should drive where the rug is placed. The rug should be placed where you can step onto it from your bed.
The dimensions of your room is second biggest factor in deciding how big your rug should be.
placing a rug if your bed is off center
What if your room size makes it necessary to put the bed to one side? If you need to place the bed in a position that is clearly off-center it looks better to have a larger rug that makes the room feel cohesive. In this example, maybe you have only room for very small table on one side of the bed.
In this case it's much better to have the rug reach to both sides of the bed.
rug pads Are the secret to a soft rug
Rug pads may seem like they aren't important, but they are. Don't get one of the cheap waffle kind from target because over time they disintegrate. Get a rug pad that will add to the luxuriousness of your rug. This is particularly important in a bedroom.
My favorite rug pads are from Overstock and they aren't the cheapest, but they make your rugs feel more high quality.
where to find a great bedroom rug
There are lots of really affordable rugs available online now. There are rooms where I like to splurge on rugs and rooms where I like to save. The bedroom is the one room where I think wool feels so worth a splurge.
You can find affordable wool rugs on Overstock. There are 8×10 wool rugs for under $400.
the right size bedroom rug
Finding the right size rug can transform your bedroom from cold and sterile to a cozy escape. You won't believe the difference until you try it yourself. You won't regret it.