Best Mats and Rugs For in Front of the Kitchen Sink
The area right in front of your kitchen sink is likely to be one of the messiest places in your entire house. I've tried lots of different solutions in front of the sink, mats and rugs alike. I've come up with a list of pros and cons different types of rugs, mats and vinyl. Hopefully, this will help you find the best solutions for your kitchen floor or other high-traffic areas.
I've tried many types of rug material in my kitchen: a wool rug, a cotton rug, a natural fiber rug, foam mats and a vinyl cloth. They have a drastically different look and require different methods for keeping them clean. Your choice will depend on your specific needs.
Best Kitchen Mats for Hardwood Floors
If you have hardwood floors a kitchen mat is essential because you need to protect the floor from water. It's not as important with tile floors. I don't know about you, but I'm not able to cook AND do dishes without getting water on the floor, not to mention some tomato sauce.
I choose every product I review. I may earn an affiliate commission if you buy from one of the product links, at no extra cost to you. This income supports this site. See the full disclosure.
The best kitchen mat or rug for a wood floor is one that is held in place by a mat or that has a nonslip bottom. I love these rug pads from Overstock and have them under every rug. They make a huge difference. Don't use the ones that look like this photo. These can leave a sticky residue on your floor after a few months.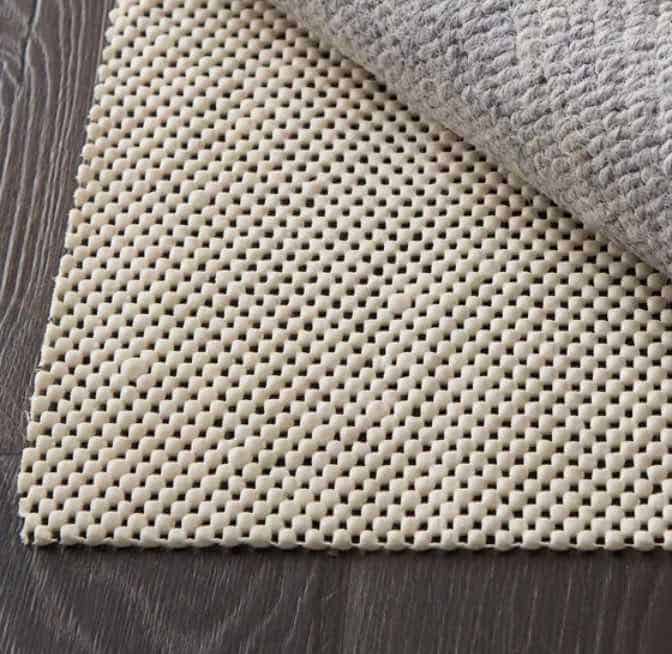 The best kitchen rugs if you have wood floors are the same as any other surface AS LONG AS you have a good pad in place. I personally like either a machine washable rug (see the good and the bad below) or a vinyl cloth or mat.
Vinyl Cloth For Kitchen – Pros and Cons
I recently discovered the vinyl cloth and I'm wondering why. How did I not know about these sooner? They are a great option for the space in front of your sink because they are water resistant and you can just mop them off. There are so many cute designs. Rugs-Direct.com has the largest selection.
The downside is that they are very thin. I definitely recommend a thick rug pad.
Washable Rugs For Kitchen – Pros and Cons
I've tested out a few brands of washable rugs, you can read about my favorite brands here. I'm not a huge fan of washable rugs, especially Ruggable. Ruggable rugs don't feel like a rug. They are too thin.
The bigger con for me about washable rugs is that, you CAN wash them, but mine don't look clean and they are difficult to fit in the dryer. I would get one with lots of pattern that doesn't have cream or white areas.
I have a runner rug, the Neyland washable runner from Boutique Rugs in a hallway and it's great. This is the only brand I would buy again.
Cotton Rugs For Kitchen – Pros and Cons
Cotton rugs are a good choice for the kitchen area because they are washable. They will slip around if you don't put a rug pad underneath them. Sometimes the corners can start to roll up, this is less of an issue if you get one that is reversible because if a corner starts to roll you can just flip it over and that usually solves the problem.
I found these rugs need to be washed regularly and are not stain resistant. I would get a cotton rug with a darker color palette and not white.
Kitchen Comfort Mats – Pros and Cons
These anti-fatigue mats are really nice underfoot and they absorb small amounts of water. If you spend long periods of time cooking or on your feet these are a great choice, they have provide thick cushioning that just FEELS good. They are usually washable, but they have to be air-dried. I used this one in my kitchen space over my hard floors for several years. They are also pretty inexpensive.
After about two years in my kitchen it started to look a little frayed, but that's quit a long time in a busy kitchen. There are not as many fun choices if you don't want a solid color mat.
This is the one I used for a few years from Ballard.
This one on ETSY is customizable. You can choose color, pattern, font and name. The only downside is that it's pretty small.
I like this mat on Wayfair and it's nice and long.
Conclusion
I feel like my sink is naked without a rug in front of it. After trying lots of different materials, I will only buy something that can go in the washing machine. Maybe I'm too messy.