Flea Market Finds, See What's Trending
Is there a flea market in your area? If so, this can be a great place to find one or two things that give your home that totally unique feel. Those one of a kind pieces that you pick up over time can give character to all of the other things that are not so unique.
I recently went to Round Top flea market. I didn't come home with a car load of things, but I did come home with a ton of ideas. I love to just wander through the tents and see what people are making and selling. The Round Top Texas Antiques market is expensive, but ideas are free.
What became clear as we walked the stalls was that certain things were hot, they were everywhere. Here's a list of what's trending at flea markets. See if any of these would fit into your home. If so, find your way to the nearest flea market.
1.) Reclaimed Wood
If you watch HGTV you will see this trend in spades. I've been watching Home Town and they use reclaimed wood in every home they work on.
This photo is from my favorite dealer at the market, Rural Route Rust. I wanted to buy several things from this booth, but I couldn't fit them in my car. This is a filing cabinet with a reclaimed wood top. It makes a perfect coffee table with storage built in.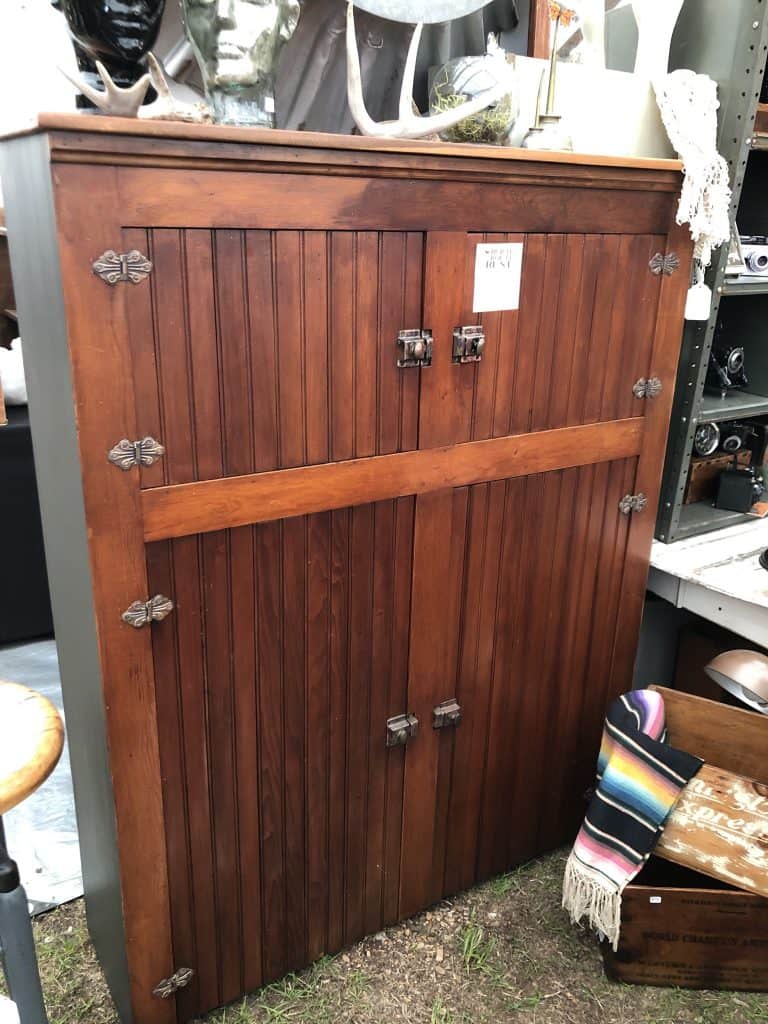 2.) Hotel Silver
We saw lots of hotel silver throughout the market. I can't afford most of of the hotel silver but I love to look. Hotel silver was originally made for hotels to use in their dining rooms. It often bears the name of the hotel it was made for.
It's more durable than traditional silver because it is made of copper composition plated with a heavy layer of soldered nickel silver. I haven't found a look-a-like source of hotel silver that is more reasonably priced yet.
You don't have to use it in the traditional way that it was used, it can be hung on a wall or used as a tray.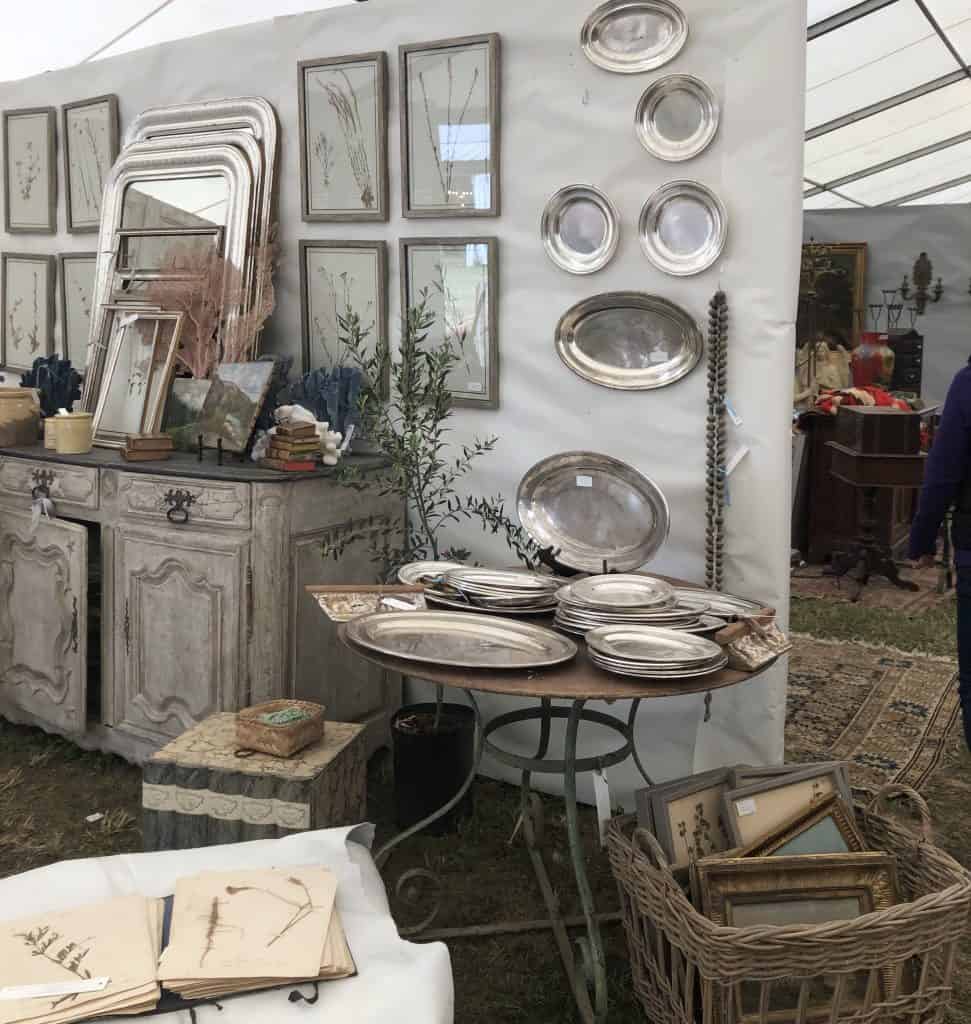 3.) Rustic Lighting
There were tons of homemade light fixtures out of all kinds of unexpected things, like bottles or wood tools . Basket lights are definitely trending. We also saw these cool rustic lights which have an industrial looking shade that almost looks like a plate.
Some of these one of a kind lights could be hung as a chandelier/pendant, you just need a hook for the ceiling. They don't have to be hard wired in.
4.) Ironstone
My mom collects Ironstone and has for as long as I remember. It is usually very expensive unless it has a crack. It is heavier than fine china because it is made of glazed earthenware.
Because it's white Ironstone can be used for almost anything. Here is a collection of my mom's.
5.) Bamboo
Bamboo decorative shelves, tables, stands and chairs were everywhere, much like the ones above. These are also expensive and sometimes a little wobbly.
Anthropologie has a bamboo chair that looks very similar to the chair in the photo above for only $98. You can find newer, old looking bamboo if you want to use it in a spot where it will be more than just display.
6.) Vintage Rugs
I don't remember seeing multiple rug dealers at a flea market in years past. Yes there would be rugs for sale in a booth, but not stacks and stacks of rugs in every size and color imaginable. This is not a place to get a bargain though. You are better off getting a low price on Ebay or Etsy. In particular, I love this store on Etsy for Vintage rugs.
If you spot a dealer that just has one or two rugs, they might be more willing to deal.
If you are looking for a rug read this article about how to choose a rug for your room.
7.) Antique Card Catalogues
I saw one of these tucked into every booth. The size and price range was huge. There were some that were just tabletop and some that could replace a dresser. Some were metal and some were wood. The only similarity they shared was that they are all expensive.
This one was at my favorite vendor and they had finished the top with reclaimed wood.
I've seen many copycat ideas using Ikea cabinets. Stay tuned in a future post for one of these because I think they are so cute. I love how the Painted Hive's card catalog turned out.
8.) Word Art
Since farmhouse style is really hot, there was a ton of word art. That's enough said about that. It can look amazing. However, I prefer to hang art that makes me feel something, but what it doesn't tell me what to feel. I did find some really cool letters I would like to make.
This charcuterie sign looks metal but it's paper.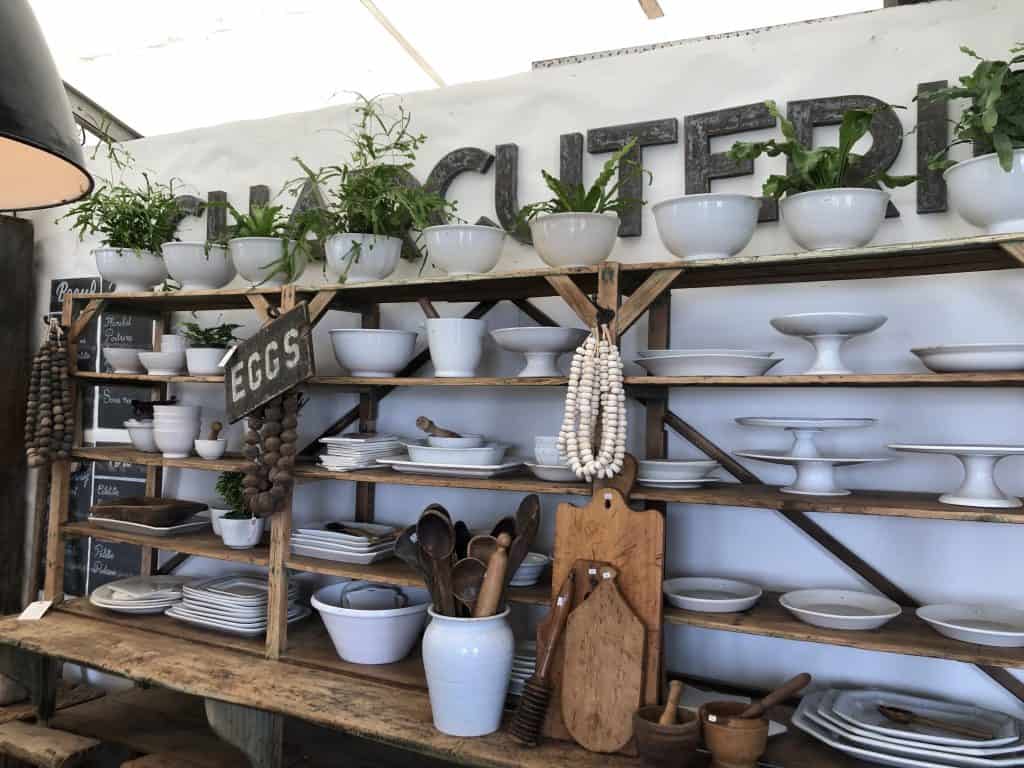 Word art is definitely something you can find all over Etsy at pretty reasonable prices. You can even get someone to make a custom sign in multiple different fonts.
9.) Hide Rugs
These aren't considered vintage rugs, because for the most part these are new. They vary in size, shape and color depending on what animal they came from. Each one is truly unique.
What are the things you see trending at your local flea market?