Secret to Arranging Living Room Furniture
Do you feel like you just can't get the furniture in your living room arranged in a way that you like? There are lots of reasons why your furniture arrangement might be off.
If you have a difficult living room because you have too many doors or your living room is long and narrow, or there's no good place for the TV I have a method to share with you. You don't have to be a professional space planner to see what works if you use one of these two tools.
If you prefer watching to reading, check out this video.
What to Consider Before You Begin
Before you start to arrange your living room, think about what you use the room for. Do you need the TV to be the main attraction? Do you need room for an entry? Do you want an area to use for work? Do you need a lot of storage?
Everyone uses their home in a unique way. It doesn't matter if the plan looks pretty, if it doesn't serve the functions that you use the space for.
Travel pathways through the space are an important thing to consider. You don't want the main travel path to be in the middle of a seating area. You also don't want the path of travel to be too narrow. That's one reason why seeing it on paper before you move the heavy stuff is so helpful.
1. Paper and Pencil Approach
If you are overwhelmed by trying to figure it out using technology, you don't have to. You can take pencil to paper (in this case my bullet journal, which is kind of like graph paper). All you have to do is sketch out your room, length and width. Leave blanks where the doors are and add a double line for windows.
Here's a hand drawn example of my living room. I cut out furniture using a template, you can download and use here. Then I just slide the furniture around until I get an arrangement I like. I didn't do small accent tables or lamps, I just worry about the big things like chairs, sofa, couch and TV.
Once you have the templates cut out you can slide them around until you come up with a configuration you really like. Here's how my living room is arranged now.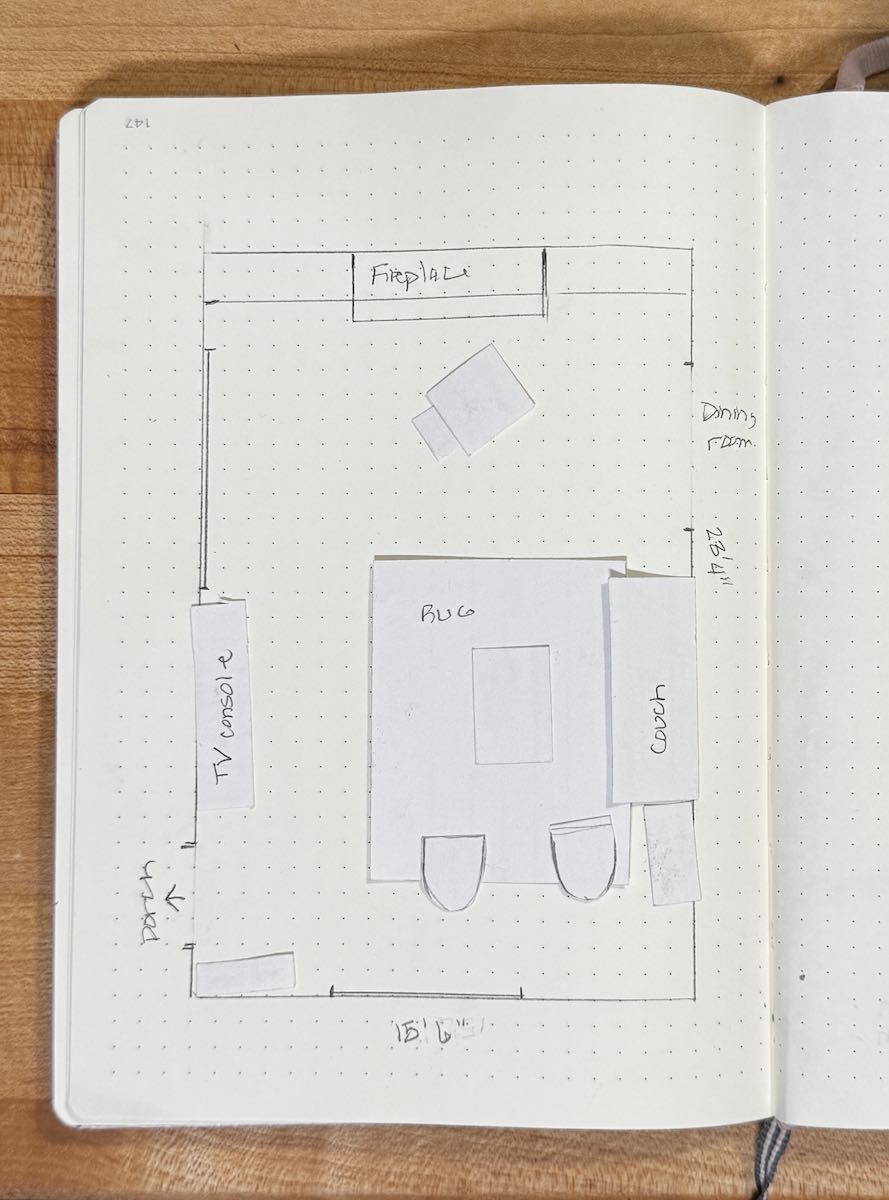 The disadvantage of the current layout (left) is there is a lot of wasted space that we don't use. More importantly, the couch is the first thing you see when you come in the front door.
This is the second arrangement (right) where I moved the TV over under one of the windows. We don't watch a lot of TV (about 60 minutes a day). With this arrangement you walk in and there's more of an entry area. I also have room for a desk, which we really need.
Online Floor Plan Tool That's Free
I've mentioned this tool before. The beauty of it, is that it's easy to use. It doesn't mean that you have to purchase all of the pieces that they sell, you just use pieces that are similar in size to what you already have.
I laid out my room as it is now (on the right) in about 30 minutes using pieces similar in size. The color doesn't really matter since it's not going to be in the room.
Then I laid out my room the way I think I would like it to be (on the left). I made a few changes from the pen and pencil version. I didn't put two chairs in the entry I put a bench. And I moved the drop zone to the other side of the front door.
Doing it both ways helped me to see different things. Do you have a challenging living room? If so, I would love to see what you can learn from using one of these two tools before you try rearranging your furniture.
Be sure to download my living room furniture template, which makes cutting out all the furniture easy This makes it easy to try out tons of floor plan layouts without lifting a finger. You can see an example of a floor plan from a virtual makeover here.
If you liked this you might want to read how to choose the right sized rug for your living room and TV placement ideas.