6 TV placement ideas for a living room with a fireplace
Do you have a living room with a fireplace and you can't decide where to put the TV? This can be a challenge because a fireplace is a natural focal point, but we all want to be able to watch TV comfortably. If you don't have a separate media room, the living room IS your TV room.
It's especially tricky deciding where to put the TV in a living room that is small and has a fireplace. I used a 12-foot living area in the floor plans below, that's the dimensions in the question I received, (thanks Carol). In larger rooms, you might be able to get away with two separate seating areas, one can be directed at the fireplace and another at the TV. But let's imagine you don't have that option.
I'm sharing furniture arrangement alternatives if you DON'T want to put the TV above the fireplace. Having the TV over your fireplace means that it is not at eye level. There are a lot of options besides above the mantel. The ideal place for the TV depends a little on the size and shape of your room. Trying lots of different options is the easiest way to see which one is the best in your space. See more on that below.
6 Living Room Arrangements
1. Think Outside the Box – In a living room with fireplace and tv consider putting a dining table in front of the fireplace instead of your sofa. This might not work for all floor plans, but if you've never thought about this as an option, try it.
Think back to when you first saw your living room. Most of us stick with the furniture arrangement that existed when we purchased our house. Somehow that vision of how they had the furniture placed gets stuck in our head.
Furniture can be arranged in a handful of different ways, even in the smallest living rooms. If the flow works, setting your dining table in front of the fireplace is a great option. It feels very cozy and it frees up your seating area to focus around the TV.
2. Use Opposite Walls – Try setting the TV at the opposite end of the fireplace. In this example, the home has two swivel chairs in front of the fireplace and two sofas that face each other. The TV is at the opposite end of the room. The focus can be turned to either side.
You can see both sides of one room. One side focused on the fireplace and the other on the TV.
3. Side Seat – Set the TV beside the fireplace. You can put the TV at an angle or flat against the wall. You can achieve this either by setting the TV on a stand beside the fireplace or by stowing the TV in a media cabinet. This arrangement works well in tighter living rooms.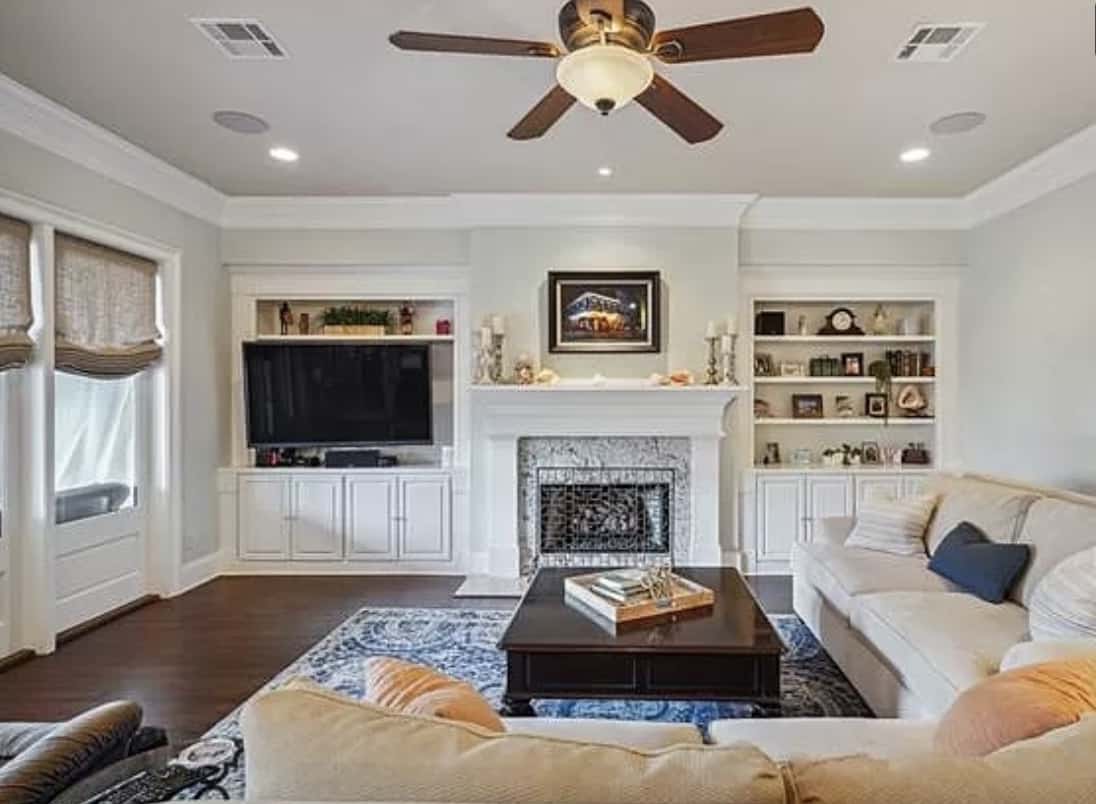 I love this example, but if the person in the chair doesn't get to watch TV. 😢
4. Project it – If you have a fireplace and a modern design aesthetic, consider getting a drop-down projector screen in front of the fireplace. I had my doubts about this until I saw interior designer Emily Henderson put a projector in her family room. If you thought projectors were just for media rooms, you'll reconsider after seeing THIS IMAGE (go see it).
It's not as complicated as you think to set up a projector. You don't need special sound systems with a projector either.
The limiting factor with using a projector is that the visibility is not great if it's daytime and your room gets lots of natural light. To make this work, you need to have the ability to darken the room with drapes if you are watching your favorite show in the daytime.
5. Hide it – If it's just the way the TV looks above the fireplace that you don't like, there are several ways to disguise even a really large TV.
First, the best way I've seen to disguise a TV is behind a sliding panel or a paneled cabinet. Chloe has a great example of this in her living room.
Second, get a frame TV, which turns your television screen into a large piece of art. You can see the wall mount TV that I framed here.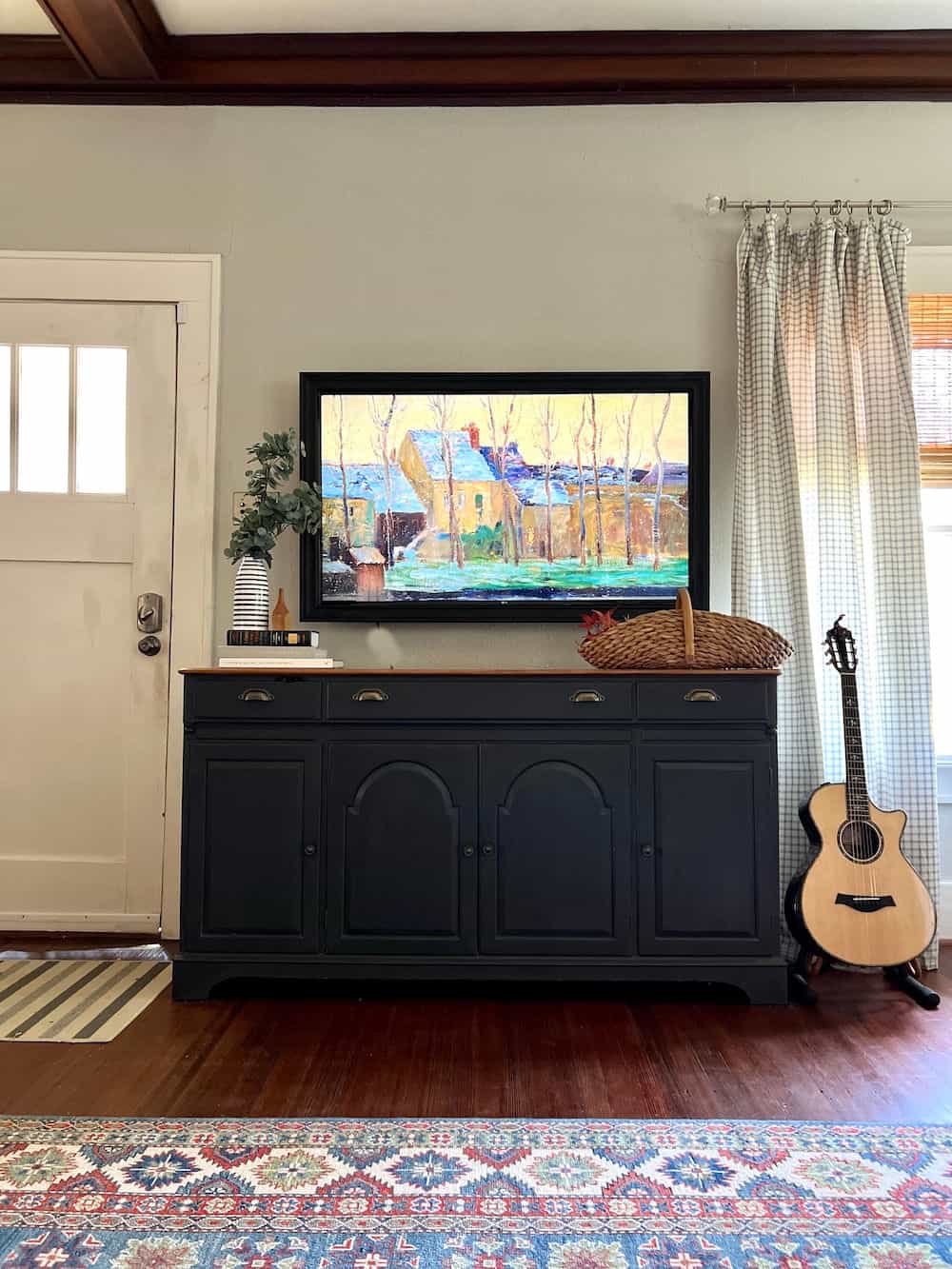 6. Ignore it – There are many beautiful living rooms where the focal point is NOT the fireplace. This can be the case even if the fireplace takes up an entire wall. The TV set can be the functional focal point, and the fireplace is just there, it's a nice accessory.
How to Try Out Different Floor Plans Without Lifting a Finger
If you want to try playing with your living room furniture without actually moving it around I discovered a fun tool. It's called floorplanner.com.
You can put your own dimensions into this free planner and drag in all kinds of furnishings. This lets you see in 2D and 3D how the spacing works without lifting a finger.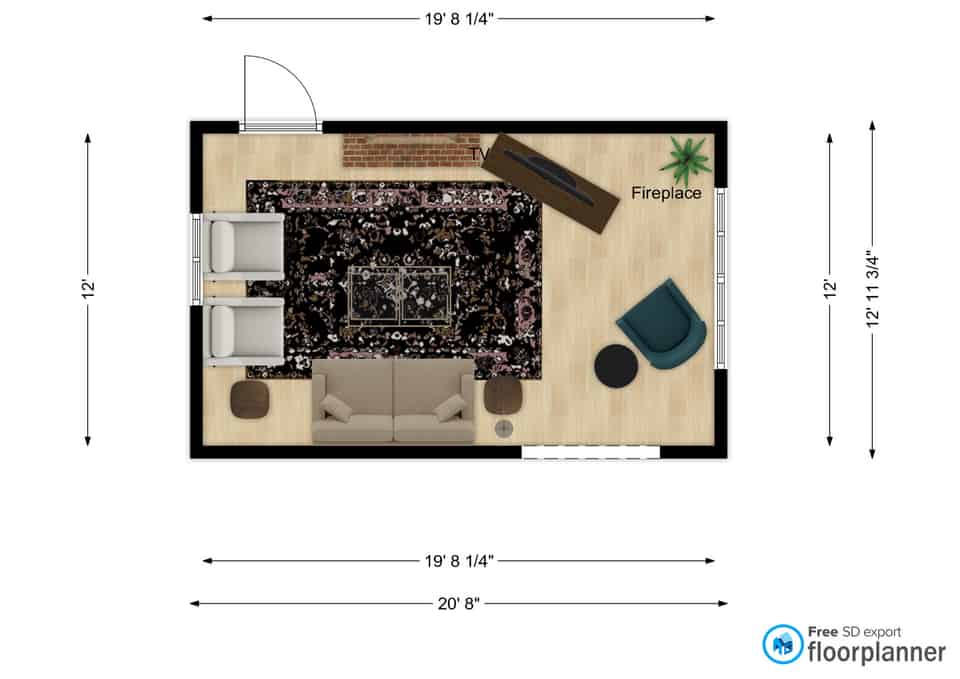 If you have specific questions about YOUR living room or want me to put it into this tool, email me the details including the windows and doors. It's a really fun tool.
Before you go, you might like couchless living room inspiration or a how to reaarrange the furniture in your living room.