Modern Industrial Living Room Makeover
This week I'm going to share a design plan for Julie. She contacted me to ask for help with a living room in a home they just bought.
I'm going to walk you through the 4-step process that you could use for ANY room. First, determine the function and mood, next decide the floor plan, then choose your color scheme and finally keep what works and shop for what's missing.
They described their style as modern/industrial. The living area has a tile that looks like light wood planks. They are not interested in changing the floor, which is in great condition.
Step 1 – Function and Mood
As you know if you've read other makeover posts, the first question whenever you want to redo a room is how will you use the room. Answer these questions for your own living room:
What's the mood and style you want your room to have? Peaceful, dramatic, cozy… Julie's word is dramatic and modern/industrial. It's a good idea to choose a feeling + style words.
Do you need a TV?
What kind of storage do you need?
Do you entertain often and if so how many people do you need to seat?
Do you have children and/or pets?
What do you need to do in the room? read, play music, work, etc.
Don't make this mistake: If you're moving into a new house, it can be tempting to use the previous owner's furniture layout. It's better if you start from scratch. They might not have used the space the same way that you will.
For the mood, Julie wants her space to feel dramatic. She is an artist. This might feel like a challenge if your home doesn't have a particular style (like most of our homes). But, I'll share the secrets to achieving this look even if your home's architecture doesn't provide the wow factor.
Here are her inspirational photos.
Step 2 – Furniture Layout
This living room is open to the kitchen. One side of the room needs to used for dining and the other for living/seating. When you have a large open room a rug really helps to define two separate areas. In this case, a nine-foot square rug fits the furniture layout the best.
The main path of travel from the backyard, which is visible outside of a sliding door, is through the center of the room. This is the layout that she liked the best.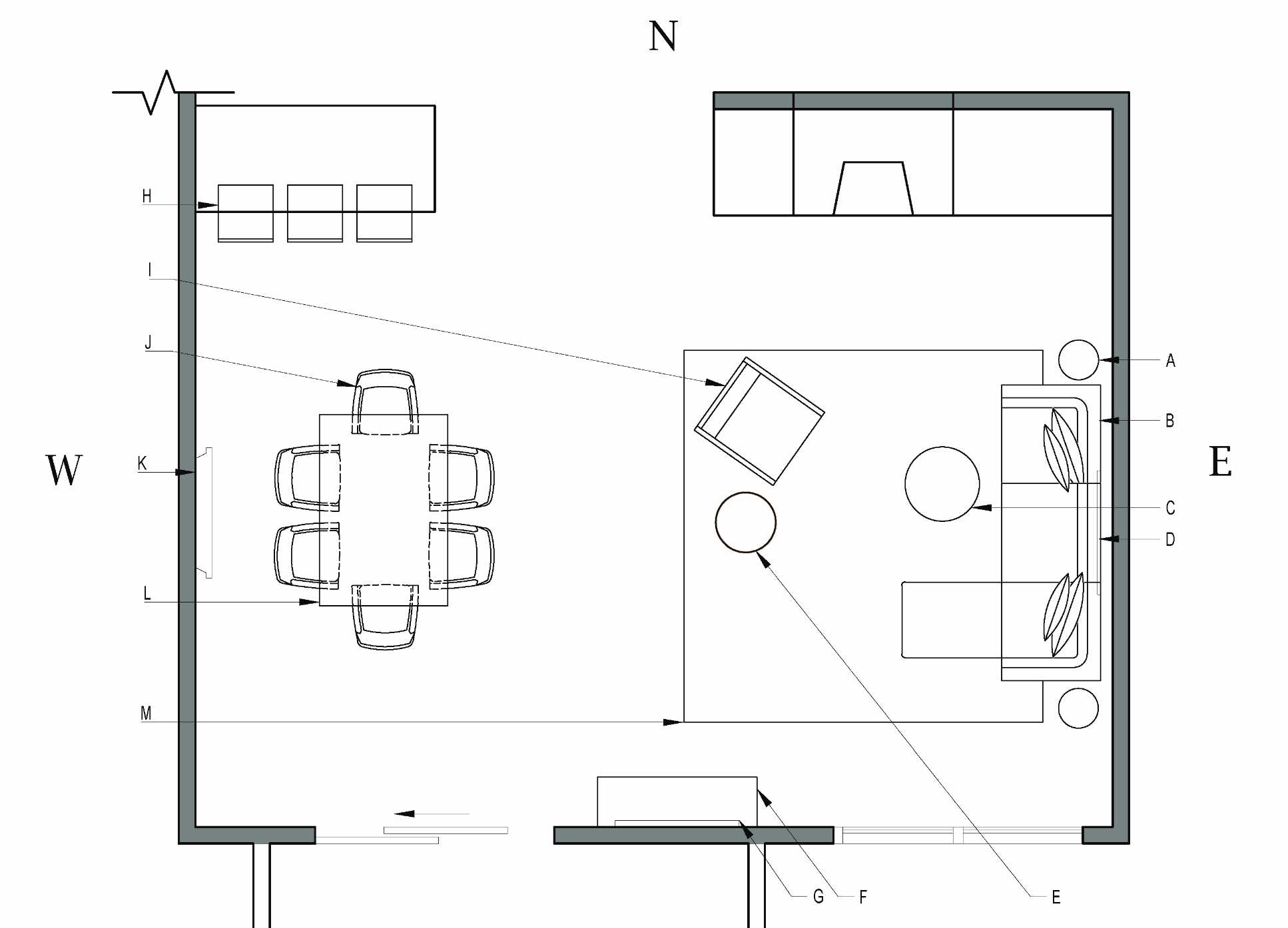 If you want to see the alternate arrangements that we tried, comment below. This was actually not my favorite. There were other arrangements that allowed for more seating, but this is what Julie liked best. Print this free furniture tool to work on your layout.
Step 3 – Choose A Color Scheme
It's really important to choose colors before you buy anything. I have lots of examples in this video about 4 easy ways to do that.
For this room, the color inspiration comes from a piece of art. The flooring is a tile that looks like light hardwood flooring. The flooring stays, so it has to be in our color palette. The circle on the far left is the wall color, which is Alabaster by Sherwin Williams.
Step 4 – Decide What You Need and What to Keep
The challenge in this room is that the industrial modern look Julie wants is dominated by some really stunning architectural features that her home does NOT have.
You can get a similar feeling by being really INTENTIONAL about the non-architectural parts of the room. These are the common elements in these industrial-style rooms. The ones in bold are the things we tried to focus on to get as much of the look as possible.
Metal in the furnishings
Exposed brick walls (or wall treatments)
Concrete (if not the floor, accessories)
Open floor plan
Exposed windows with black trim
Neutral furniture
Uncluttered
Low-profile (low to the ground) upholstered furniture
High ceilings
Lots of natural light
Wood and leather furniture
Lots of plants
Choose the ones that you CAN bring to your space even if it's not a loft-style warehouse.
Julie really wanted her room to have blue and not just neutrals. Her modern fireplace has a black granite surround and no mantel. This wall will be the focal point of this modern-style industrial living room.
Julie also has a sliding door on one side of her room. This goes against that more industrial vibe. An inexpensive solution is to have the metal trim painted black and update the hardware/handles to something more modern like these.
To make it really stand out, used wallpaper. The fireplace wall isn't that big, so using a really bold wallpaper won't be that expensive. Since the room is divided into two areas, here are the plans for each side.
Here's the design plan that Julie liked for both sides of the space.
I've included all the details in the links below.
Are YOU interested in a FREE virtual makeover?
I use affiliate links so I can afford to keep doing this. Hope it saves you time. See my disclosure policy.