Couchless Living Room Inspiration – Who Needs a Sofa When You Can Have This?
Do you have a living room that doesn't have a couch? For some reason there are VERY FEW examples of living rooms where the sofa doesn't play a part. This could be because everyone thinks they MUST have a sofa. But you don't need a couch to have a cozy living room.
If you don't own or don't want a traditional couch, you can opt for an open seating area. Four chairs will comfortably seat more people than a small sofa and chair. Most people don't want to sit in the middle of a couch. This isn't JUST a great option for smaller apartments, it's a sophisticated look.
There are a few rules to follow when you have a living room with no sofa. Follow the six tips below, which I illustrate with examples.
6 Tips for Cozy Living Room With NO Couch
1. Arrange your seating facing a central point – In most of the examples, the chairs are all facing each other and not the wall or TV. This makes the space feel cozy and makes you imagine sitting in the chairs for a great conversation with friends. The seating isn't up against the walls it is in the center of the room.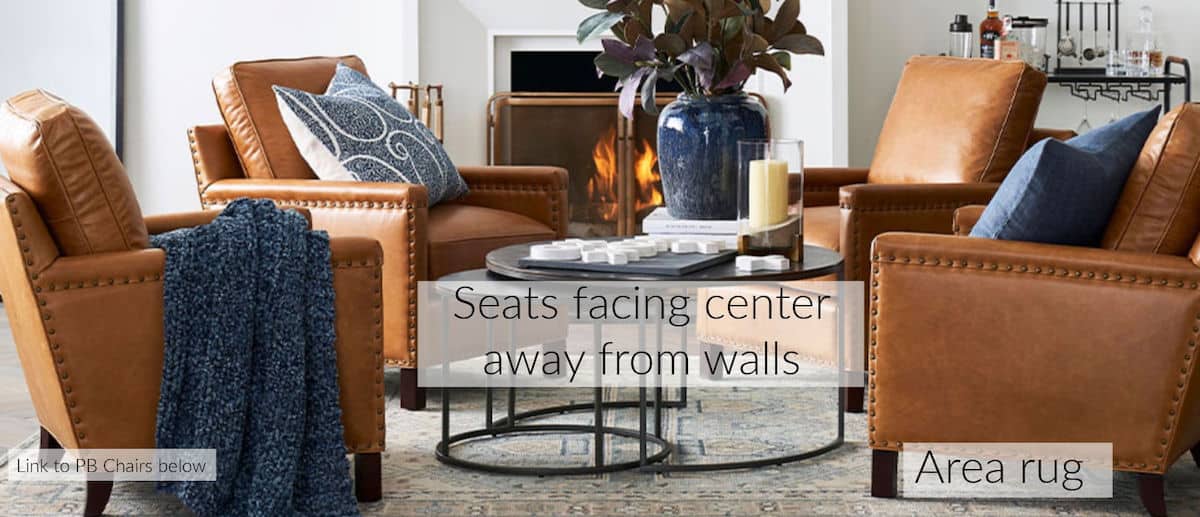 2. Use an area rug to define the space – Rugs are a great idea for defining seating areas. One of the best ways to make any room feel complete is to use a rug. It's also important to make sure the rug is large enough. The perfect size for a rug means that all the seating has the front legs ON the rug. If you can afford a large enough rug to fit all the legs on the rug, that makes it feel even cozier.
3. Provide a footrest. The thing people really love about a couch is that you can put your feet up. If you have a chair and a footstool, that gives you the same relaxed feeling. It's much more comfortable if your footrest is padded. You can always add a tray to the top of a large padded footrest for glasses and storage.
Instead of setting glasses on the padded footrest, try adding smaller end tables beside each chair. This saves your upholstery from spills.
4. Use floor lighting – Add a floor lamp to your seating area. Floor lamps add a comfortable feel to your seating area. This is also true if you have a sofa, but floor lamps are a great way to pull the space together. It can be hard to use a table lamp because the seating is in an open space, but all lamps always add warmth.
5. Keep an unobstructed view – This might sound obvious, but if you have a coffee table as the central point, don't put anything on the coffee table that will block the view of the chair that is opposite.
6. Lots of cozy throw pillows and blankets set the stage. Don't use them sparingly. On rare occasions, if you find you don't have enough seating, keep floor pillows on hand.
As I searched for living rooms to share that had NO sofa I realized that even the really small living rooms have a couch. One reason you might consider going without is if you want a space that is unique. Comfy chairs are just good as a sofa.
You can get a really polished look as you will see below. So don't run out and buy a new couch just because you want to elevate your living room, it can be done very successfully without one.
What not to do: I don't recommend using a chaise lounge instead of a small sofa. A small sofa or love seat can always hold at least two people, but a chaise lounge takes up a lot of room and only seats one person.
Look Book: Examples of living areas without a sofa
Now for a few visual examples of just how great your living space can look without a sofa. A picture is always worth a thousand words. I bet you expected to see bean bags. Bean bags are one way to get seating without a couch, but these are not bohemian-style living areas.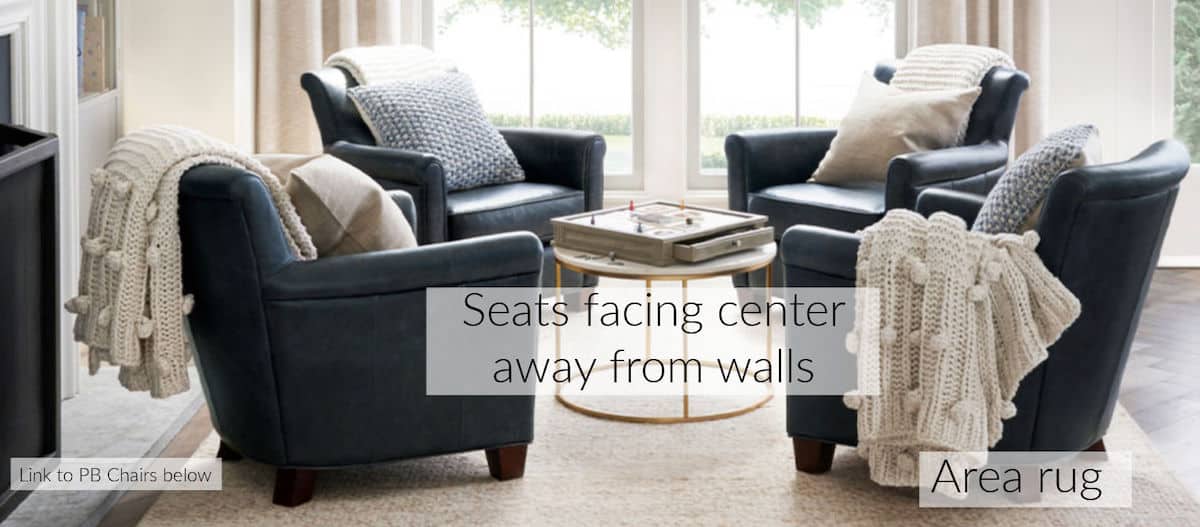 This example above from Pottery Barn uses gorgeous leather chairs. Notice how the chairs are all focused around a large coffee table. Here's another similar leather chair example. These are not particularly small rooms, but they are distinctive.
My favorite example is one from Better Homes And Gardens (is it just me or is this one of the few magazines you still receive and love). Click through to see the full post for small living room solutions.
Another really great example is in Architectural Digest, this one is a small living room but it's so dramatic.
You want to be sure that the chairs you choose look as good from the back as they do from the front. When you have chairs centered in a room they are visible from every angle. Wingback chairs are popular for sofa free seating options because they look nice from behind.
Popular Options for Furniture Arrangement Without a Sofa
Here are a few living room layout ideas that work without a couch.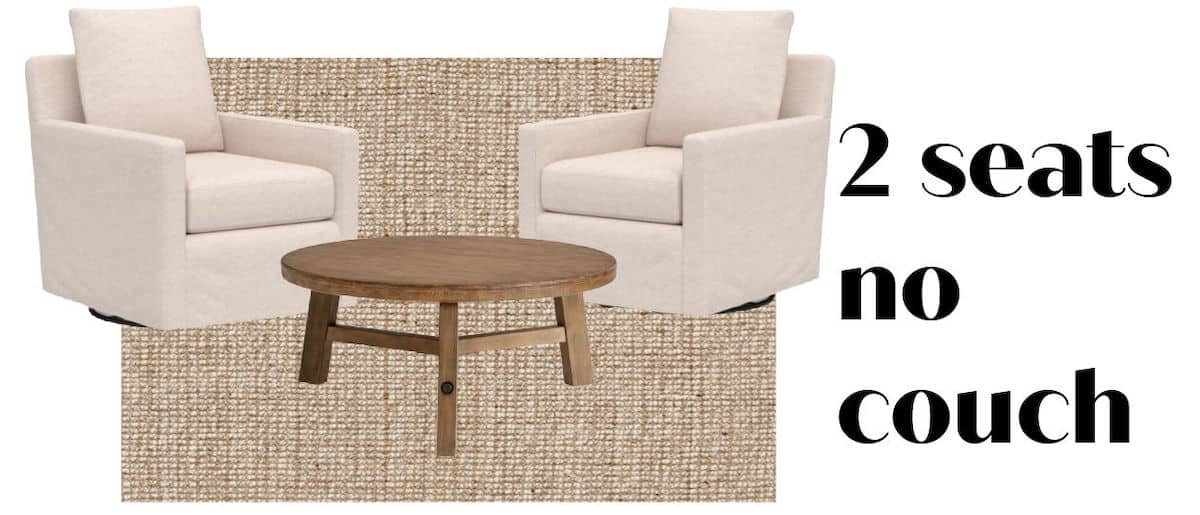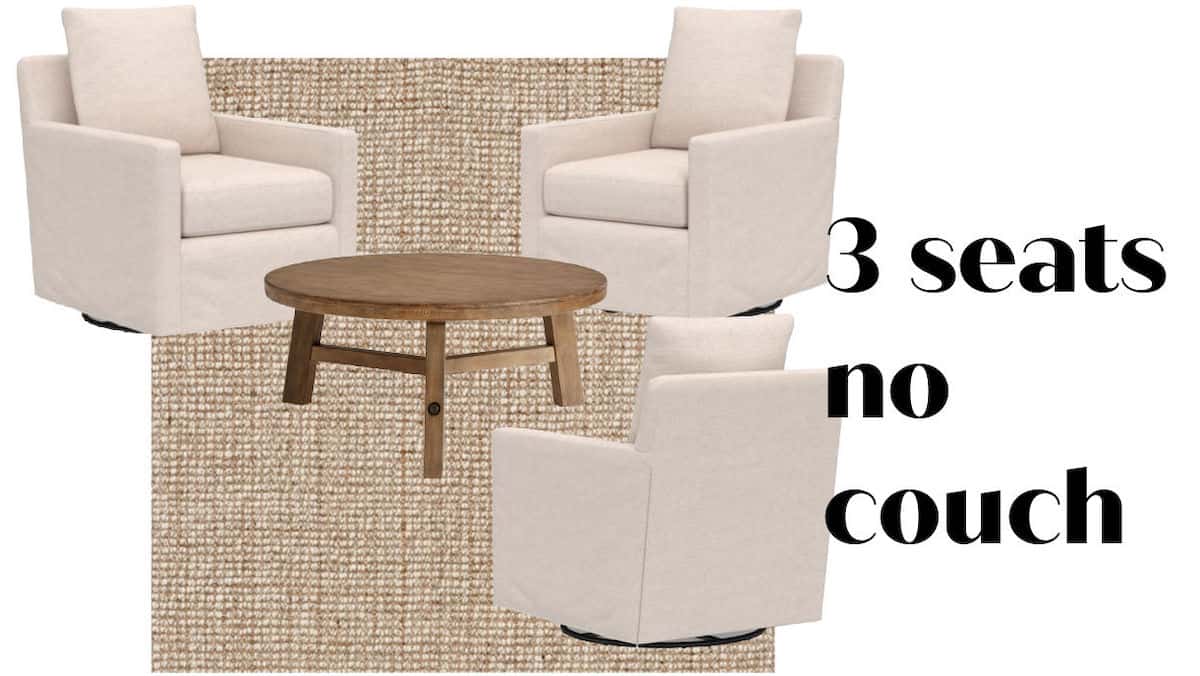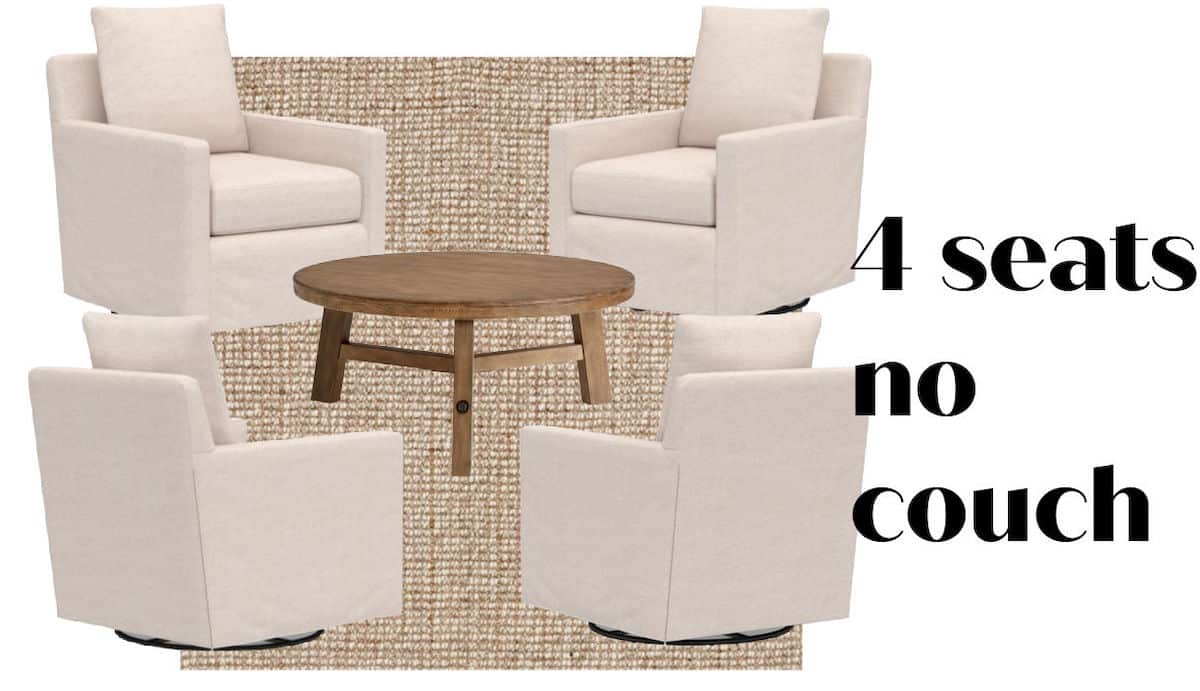 I hope that if you have a living room that doesn't have a couch you will share a photo in the comments. There are not many inspirational real-life images out there, but as you can see the few I've found are worth considering.
Before you go, you might like 6 TV Placement ideas for your living room and 7 tips to make any room look larger.