How To Choose the Perfect Curtains For Your Bay Window
Large bay windows are show stoppers because they let so much natural light into a room. The downside is that because they are so large, window dressings are harder to fit.
If you have a bay window and you've always struggled with how to cover it, this is the post for you. I've got examples of some beautiful large bay window curtains for inspiration. I'll also be sharing great sources if you are in the market for bay window treatments.
Make your bay window even more stunning. The right curtain really sets the stage in a living room, bedroom or breakfast nook.
How Many Curtains Do I need In a Bay Window?
There are many examples of bay windows with ONLY two curtain panels on either side of the bay window. This makes the space look like one long regular window with not enough drapery, instead of a bay window. You essentially lose the beautiful feature of the bay window. It's the easy way, but not the best way. Here's an example of how that looks.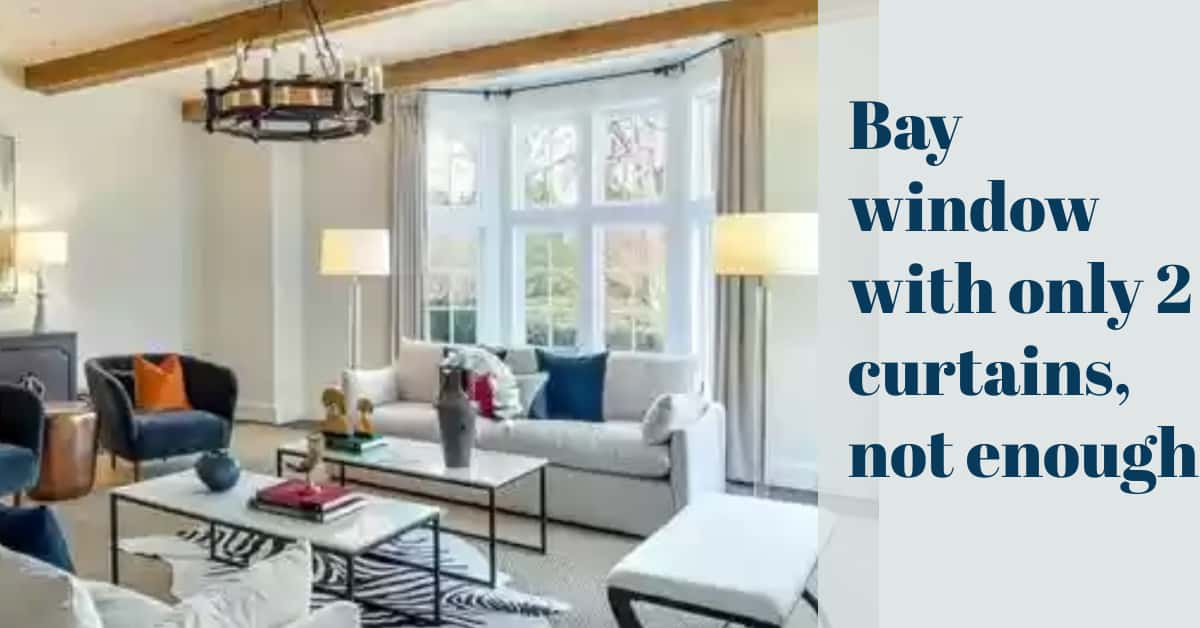 Let's talk about a better solution. Your best bet is to have as many curtains as you have windows plus one. If your bay window has three windows, you need at least four panels for standard windows. Panels can be split between two windows on the angle. See this example from Ballard Designs where the curtain is being split on the angle to cover a portion of two windows.
I choose every product I review. I may earn a small commission if you buy from one of the product links, at no extra cost to you. This income supports this site. See the full disclosure.
On the other hand, if each window is large, consider putting two panels PER window. This is an example of how great this can look from Ballard Designs. In this bay area the individual windows each have their own set of curtains. It works because each window frame is large on its own, but you still appreciate the shape of the bay window.
If your windows are very large, the curtains look skimpy if the curtains are shared.
If the bay window is in a bedroom, roman shades are nice to have for privacy. They can be used either alone or in a layered look in combination with curtains.
What Type of Curtain Works Best?
Be sure to consider these factors:
Mounting mechanism – When you are buying drapery panels you need to consider the mounting mechanism, for example, clip rings, grommets or a rod pocket. I like curtains that are hung using clip rings for a bay window? Clip rings are the best way to hang drapes if you want them slide very easily. If you prefer for the curtains to stay in place and NOT move, you can use a rod pocket curtain instead.
Privacy and light – Curtains have two practical functions, in addition to just being pretty. They can filter light if the space gets too much. Curtains can also add privacy if they are used in a bedroom. Bedroom curtains can also use blackout lining, for room darkening.
Most bay windows let in a lot of light. If you like that in the space be sure to get more sheer curtains that filter the light instead of blocking it. This is practical in living rooms and dining room bay windows.
Go To Affordable Curtain Sources
My favorite places to buy curtains depend on the budget. If I've got more money in my pocket I love Pottery Barn and Ballard's curtains. If I'm trying to spend less I like Target, West Elm, Walmart and IKEA.
Here are few of the more affordable options that I like that are light filtering.
Based on lots of windows I've seen and dressed, drapes look more expensive if you don't skimp on getting enough panels. The more fabric look you have the more luxurious it looks even if the fabric is not the most expensive.
Do I Need A Custom Rod?
The drapery hardware required for a bay window is a little bit different. There are some people that hang a single curtain rod above the wall outside the bay, The single rod doesn't frame the window, It looks instead like you will drape off the entire area. It's an easy solution, but NOT a perfect option
You don't need custom curtain rods despite what some suggest. You can find curtain rods for almost any bay window configuration at Lowes, Hart & Harlow makes every different size combination possible. You can also use a Pottery Barn rod with one of these corner brackets to connect the angles (they come in several finishes). Pottery Barn makes these corner connectors in many finishes and diameters.
I choose every product you see. I may earn an affiliate commission if you buy from one of the product links, at no extra cost to you. Read my full disclosure.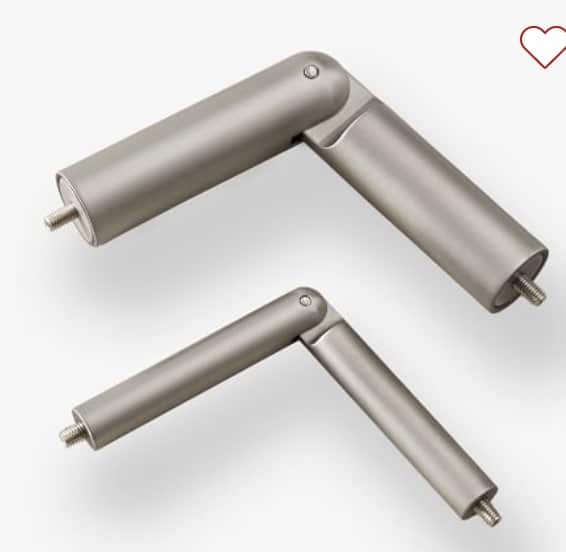 What Is A Bay Window?
A bay window is at least three large windows together that jet out past the exterior walls. Frequently two of the windows stick out at an angle. They are a beautiful architectural feature both inside and outside.
Bay windows are a natural focal point for any room, that's why curtains can be such an important design decision.
How to Measure For A Bay Window For Curtains
The best way to measure for curtains in a bay window is to measure each wall of the bay. Here's a simple example that shows you how to measure the entire window.
You can figure the width of the drapery you need using this post for more information. The rule of thumb is that you need 2x the width of your window. For example, if your window is 30 inches wide you need 60 inches of fabric. This is not an exact formula because drapes don't come in that many widths.
If possible you want to mount the rod 4-6 inches outside the window frame at a minimum, both above and to the side. Avoid hanging the rod at the top of the window.
You might not be able to hang the rod to the left or right of the window opening if the side of the window frame goes all the way to the end of the wall. But always hang the drapery above the window to make the window appear larger.
Curtains for a Bay Window With A Window Seat
If your bay window has a seating area, you have two options for curtains. You can use a roman shade on each of the windows. Read more about how to find affordable roman shades. This keeps the window covering above the seating area. You can also use a shorter cafe-style curtain that is mounted in the middle of the window.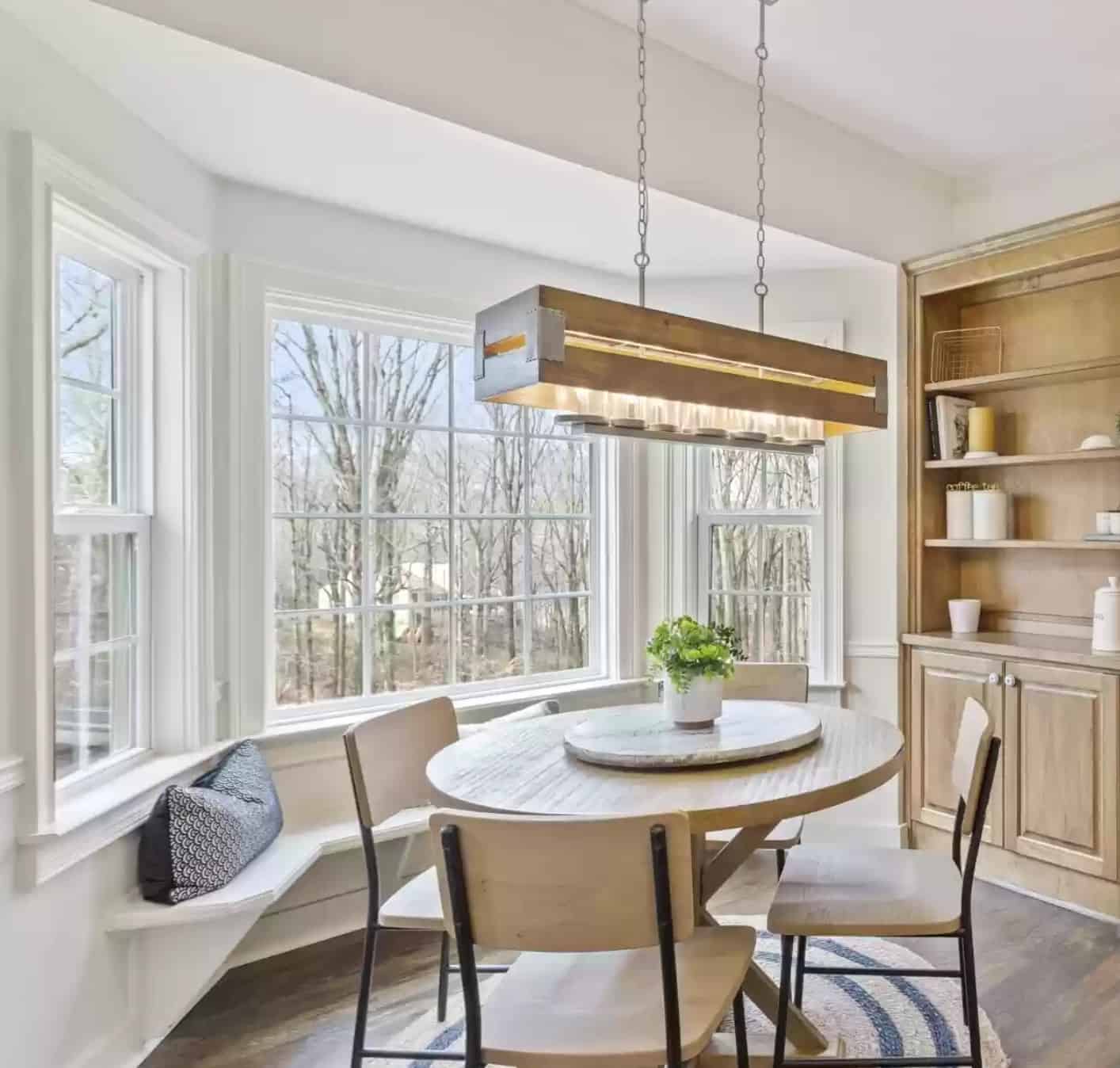 If you use cafe curtains you should consider whether people sitting in the bay window will be leaning against the curtain (which is not a good idea). If that's the case you might not want the curtain to change to the bottom of the window.
These are a few cafe curtain ideas that I like that work in a bay window with seating.
If you've got a bay window in your home and you have more questions, leave me a comment. I love to look at photos of real spaces if you want a second opinion on how to dress up your bay window.
Before you go, you might be interested in curtain rods for a sliding door or how high should I hang my curtain rod?