Office Makeover in 4 Steps
In the spirit of makeovers, I decided it is past due for my office makeover. This is a really challenging room because it's small and there are NO windows. There are typical office fluorescents.
This makeover is going to be a two-fer. I will also walk through how to decorate a room with no windows. I will also walk you through a 4-step process that you can use if you're considering an office makeover.
These steps help you to figure out a clear plan of attack. They will also help you to save money because you'll know exactly what you need to buy.
Step 1 – Figure out The Function
The function of an office is a space to work, obviously, but there's more to it than that. For example, here are a list of questions to ask yourself before you work on decorating an office:
How many people need to work in your office (this office has to work for two).
Does your office require a printer(s)?
Will there be lots of cords or is everything cordless? This helps determine where the desk goes.
Do you need storage and for what items? This office has lots of storage built in for files, books, papers.
How many people need to work in your office?
Will you have other people visiting your office and need seating? (clients, coworkers). This office needed a chair for an occasional client. The extra chair has room to pull out on those days.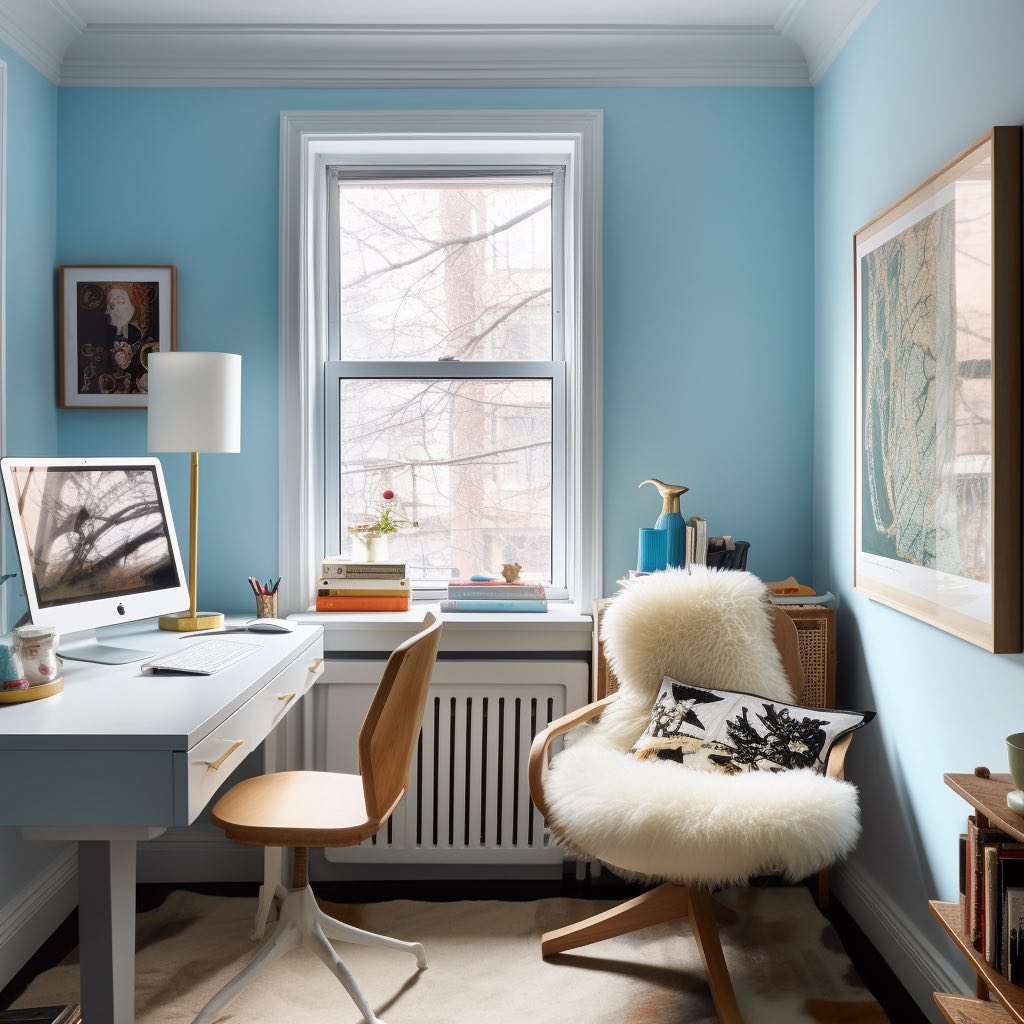 Is there natural light? This office is in a closet so it needs lots of light.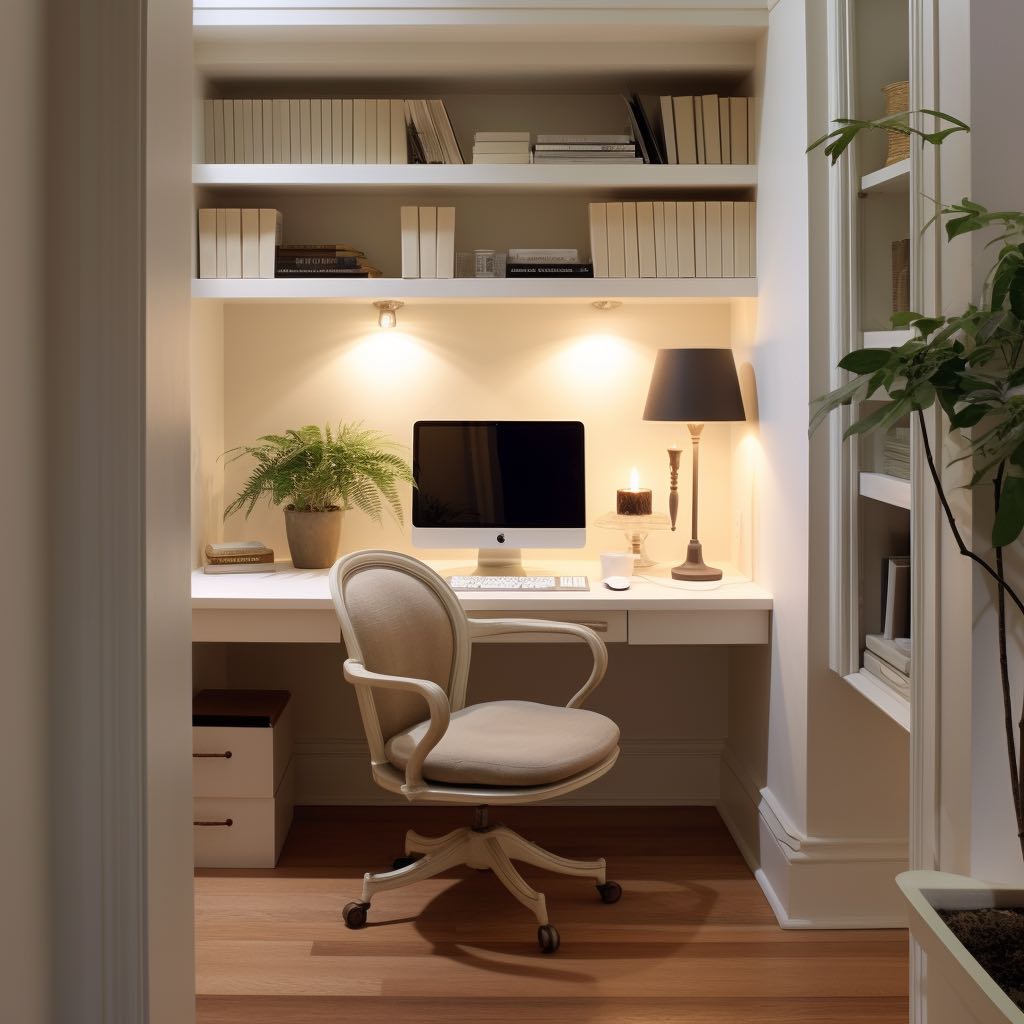 Step 2 – Floor Planning
Even the smallest spaces need a floor plan. Sometimes it's even more important to plan out a small space because you REALLY have to make use of every inch. If you want a furniture template so you can try out your furniture arrangement on paper, download it here.
This office is small and there are windows, but they are faux windows that don't have an outside view. The desk is pretty large, but there are a lot of cords that need a place to hide. It look very messy when the desk sits away from the wall because of the cord situation.
Here are the options I considered using pencil and paper.
When you play with your furniture remember to consider balance and travel paths. You want the furniture to be balanced in the room, not all on one side.
To evaluate balance It helps to draw a vertical and horizontal line through the middle of your floor plan. This divides the room into four quarters. The room should feel pretty equally weighted.
You also need space to navigate around the room and around the furniture.
For example, option 4 above doesn't have enough space for a travel path around the desk. Option 2 has all of the furniture on one side of the room. If you don't like to use pencil and paper, you can figure out a floor plan using free tools on Pottery Barn.
With this online tool, you find items sold by Pottery Barn that are similar in SIZE. Size matters, ignore the colors and fabrics. I've got a video showing how to use the tool here so you can see how easy it is to set the dimensions of the room, find furniture and try out different arrangements.
This tool is especially helpful if you want a rug. I tried several sizes to find one that is large enough, but doesn't go under my office chair. This layout has a small rug, which makes the space feel cozy but doesn't go under my rolling chair.
Step 3 – Determine A Color Palette
It's important to do all these steps before you start shopping because you end up saving money when you know exactly what you need.
The inspiration for my color palette is a fabric. Fabrics are a great way to cheat when you choose colors for your color palette. If you find a piece of fabric you really like or some artwork, it's a great method to help you set the colors that make your space feel intentional and designed.
Use the fabric, painting or whatever is your inspiration for the color palette to help you choose furniture, pillows, curtains, accessories and paint. This is the color palette I settled on.
Step 4 – Shop
Now that you know how you want to arrange the furniture and what what your colors are you can easily determine which things you need to buy.
First, ask yourself, what furniture do I have that will work in the space already? I have a desk that I like and a credence (similar to the one above).
Second, ask yourself what do I need to find or buy? And what do I need to sell or donate?
I love selling furniture on Facebook (which I talked about here). I needed the fabric, some drapes and a rug. I like to use drapes even when there are faux windows. Drapes will make it feel more cozy.
Sources:
The inspiration fabric is from Spoonflower. The rug/floor mat is from Williamsburg vinyl floor mats. I ordered these Amazon drapes that I've been hearing about for the windows.
I use affiliate links so I can afford to keep doing this. Hope it saves you time. See my disclosure policy.
You can redecorate your office without buying all new furniture if you make smaller strategic changes. They key is to come up with a plan, which will help you to save money in the long run.
Should I Use A Rug In My Office?
Rugs are a great way to add coziness to an office, which can sometimes feel the opposite of cozy. BUT rolling chairs add a complication. If you're looking for specific rug types that work well with rolling chairs, read this.
IF you have an office chair that will be on the rug make sure the rug is large enough that the chair can roll around and not roll off the rug (like the one in this example).
What To Do If Your Office Has Bad Lighting
If you have an office that has big square fluorescent lights in the ceiling (AKA most interior offices) and NO natural light you can light the space just like you would a basement.
I learned in design school that every room needs three sources of light, ambient lighting (ceiling), task lighting and accent lighting. If your room has fluorescent lights, that IS your ambient light. You can try to swap out the fluorescent lights with a warmer LED, but what will really warm up the space are the task lights and accent lights.
Try adding torchiere style floor lamps to shine light up, use table lamps, sconces and plug in pendants. Here's an example of an office in a basement that uses many of these.
If you spend time planning the layout and colors it can save you a lot of time and money when you begin shopping.
Click here if you're interested in a free virtual makeover.
If you liked this post you might be interested in how to hang a chandelier over your desk.