Rearrange Your Living Room Furniture (Get a New Look Free)
You can get a completely different look in you home or apartment just by moving the stuff you have around. Maybe there is a better way to arrange furniture. The only way to figure it out is to try.
After reading the Cozy Minimalist Home and Affordable Interior Design, I realized that I needed to figure out where to put my furniture before doing anything else. Seems obvious right?
Many people, including myself, move into a home or apartment and put the furniture pretty much where the last person had it. That's the way you saw the furniture when you decided to buy or rent the place, but that doesn't mean it's the best place for it.
Here's how our living room looked when we bought the house. I didn't love the colors or the furniture.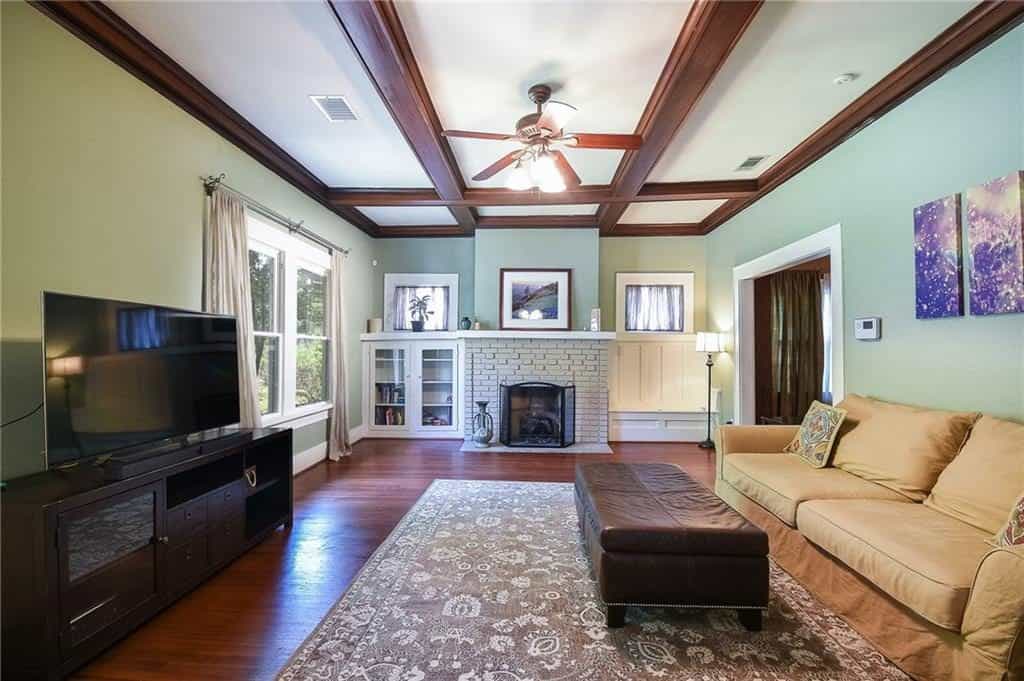 How to Rearrange Your living Room
The important thing to consider in a living room (and most rooms) is the largest piece of furniture and the focal point. In a living room this is usually a sofa and a TV.
If you spend a lot of time on Pinterest you might think that no one has a TV. Seriously, there are so many photos of living rooms with no TV. Is that someone's real living room. I bet not. In reality, the TV is one of the most important things in our living rooms.
The ideal arrangement in a Living room would have the sofa or primary seating opposite from the TV. This may not be possible for you depending on where the internet/cable is and where the walls are but if it is possible, you should do it.
Decide Where to Put Your Couch
Move Your Largest Seating Around. Now that you know where your primary seating fits, try it out in all the possible positions. Don't move the TV just yet. This is also good exercise, so think of the added calories you can burn.
Get some of those furniture sliders and you can move almost anything by yourself. If you have a rug, roll it up and start moving. At each spot, stop and move around the room to get a real sense of how it looks and where the TV will eventually fit.
If your living room is like mine, there may be only one option after seeing many. I tried putting the couch opposite from the fireplace (thinking the TV could go on top of the fireplace). But when I did the couch was right in the path to the rest of the house or way too far back to be able to see the TV.
Once you figure out the best place for your couch, the couch and the TV are a pair (unless you don't watch TV). The ideal spot for a TV is directly opposite from the couch.
Move Your Chairs
The other seating, that is less comfortable often, is considered secondary seating. Once the sofa is in a good spot, start moving chairs. Chairs are easy to move around so try putting them in different places in the room.
Move Rugs and Lighting
Now that you have the seating worked out you can move any rugs or lamps around. If you need help deciding what size rug is right for your room, check out this post. Try to arrange the rug with the legs of the furniture on the rug, at a minimum.
Lighting can depend on where you have plugs, but generally it's best to have a three light sources in a room in addition to overhead lighting.
Hang Art
Since art is something that you may have to fix when you move, save this for last. It also make sense because it's hard to know where your pictures look best until you have the furniture where it goes.
This is something I'm still working on. I didn't love anything from my old house. If you don't have anything, it doesn't hurt to wait until you find something that you really love.
I found these bicycle patents on Etsy for $80. My husband is a cyclist so we have lots of bikes. This may not be my forever art, but I really like them and they were inexpensive.
Have you tried to rearrange your living room? I'd love to see photos of the before and after. Before you go, you might like couchless living room inspiration and TV placement ideas for your living room.