Rugs for An Office – Rollable Rugs
With more of us working at home these days you may be experiencing roller chair problems. Rolling chairs just don't work on many rugs and I hate those plastic roller pads that you can put on top of a rug.
I've had many rugs in my office and most of them were terrible. They were either so flat they had no life or so thick it was like rolling through the grass. But a rug can really add so much warmth and texture that I like to have one in my office. They also help with noise control.
If you have an office and you want to add a rug, stick to these guidelines. See what materials don't work, which do and what size you should get.
If you're looking for more ideas about how to improve your office space, keep reading to the end to see other creative office makeover ideas.
Types of Rugs You DON'T Want In an Office
These are the rug styles to avoid in an office space:
Natural fiber rugs like seagrass, jute and sisal don't accommodate rolling chairs very well. These natural fiber rugs often have a very loose weave and chairs can get stuck.
Rugs that have a high pile like shag rugs and flokati rugs. If you are wondering what a flokati rug is, check out this list of rug types with pictures.
Rugs with a raised pattern that chair wheels can get stuck in, like this example below.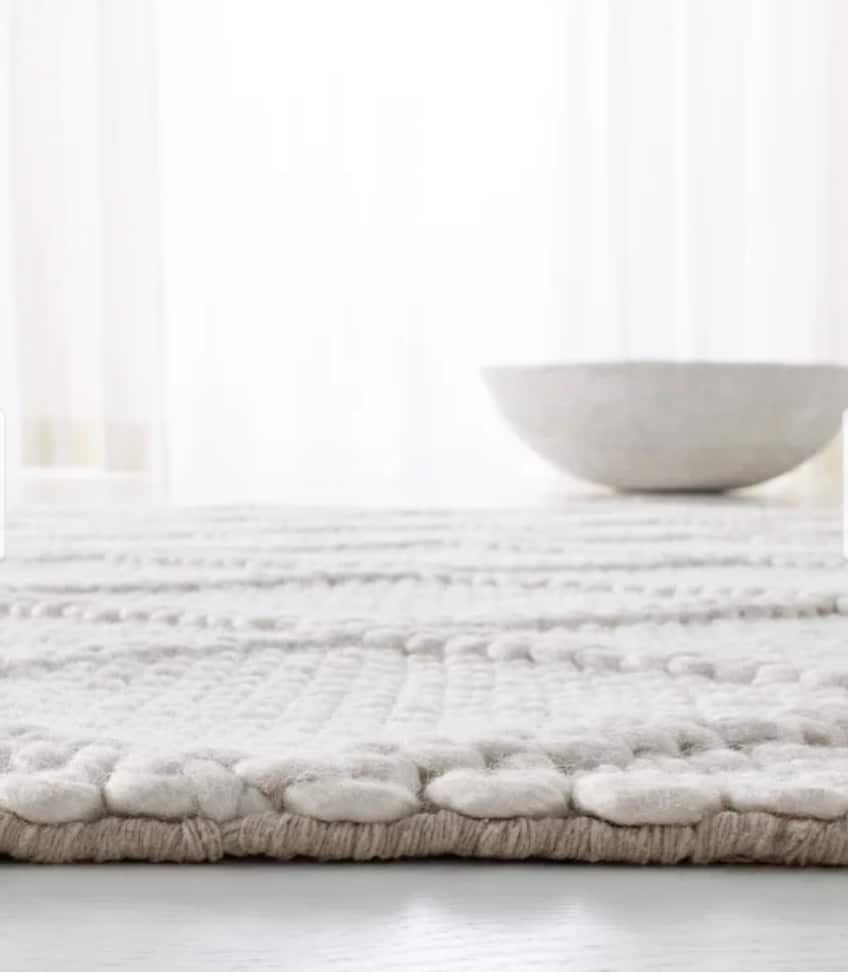 Rug Materials That Work in an Office
Pile height is very important for a rug in an office. You want a low pile rug, less than 1/2 inch is best. These are all types of rug with low pile height:
Indoor/outdoor rugs have a very low pile so they are great for roller chairs. These are also very affordable.
Cotton rugs – Cotton rugs are very flat. They are easy to roll over BUT they also move around easily. If you go with a cotton rug make sure your chair doesn't need to be close to the edge. If it does use rug sticky pads to make sure the edge stays firmly in place (or the spot close to your chair).
Oriental rugs – This class of rugs includes many wool rugs that have a low pile height and a tight weave.
I choose every product I review. I may earn an affiliate commission if you buy from one of the product links, at no extra cost to you. This income supports this site. See the full disclosure.
Part of what makes a rug work in an office space is the size of the rug. No matter how great your rug is, if you have to keep rolling on and off the rug that's a problem. See more about how to choose the right size below.
Consider how much traffic your office will get. If it's being used by you and your children, get a rug with pattern so dirt is easier to hide. If you have lots of pets in your office (who would have thought we would say that) it's also better to get a rug with pattern.
My favorite office rugs
These are my favorite office rugs. My office is black and white (you can see my favorite black and white office accessories here).
What Size Rug Should You Choose for Your Office?
A rug gives a room a warmth and texture. If it's too small it can make the room feel awkward. Here are the three size rules for office rugs.
Get a rug that fits all the way under all four corners of your desk.
If your desk is up against a wall make sure the rug sits up under the desk at least 2/3 of the way. This means when you are sitting at the desk and your chair is pulled in, your feet are on your nice warm rug.
Make sure any furniture around your desk, like guest chairs or a couch, has at least the front two legs on the rug. Bigger is almost always better when it comes to rugs.
A picture can be worth a thousand words, so here are some examples of people who didn't choose the right size rug for their office. In this first one, the wheels are half on and half off. That's no fun if you have to sit at this chair very often.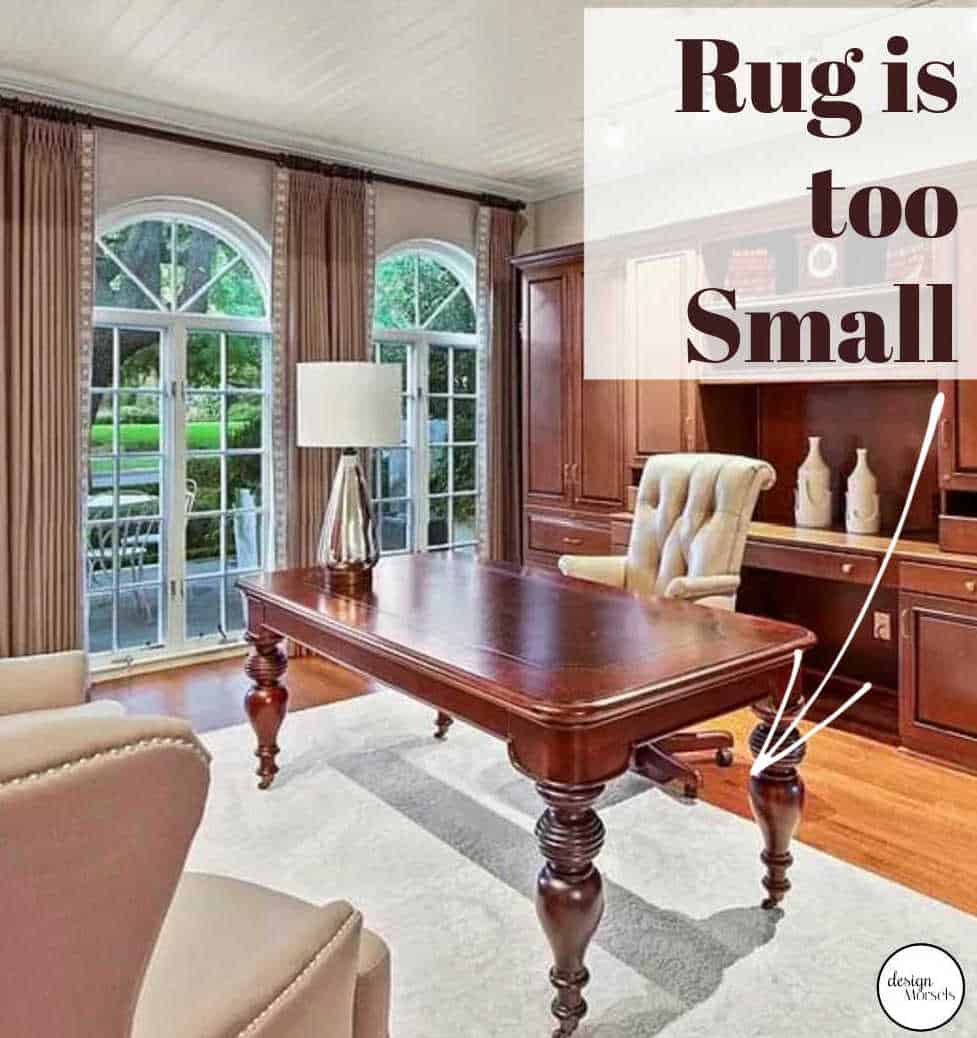 In this one, the rug looks like a postage stamp in the room. It would be better to have no rug. You want your rug to fit all the way under your chair no matter where it rolls.
This one is just right. This cute chair from CB2 fits all the way on the rug even if it rolls back.
Creative ideas for your office
How To DIY A Can Organizer for Supplies from Chas' Crazy Creations
Home Office Makeover from The House On Silverado
Home Office Organization from Life at Bella Terra
Create a Command Center to Reduce Clutter from Health Home and Heart