Mid-Century Modern Dining Room
If you have a dining room that's connected to your kitchen, this is a recent design for Valerie. She just moved into a new home (new construction). The home itself doesn't have a particular style, but that's like a painter with a blank canvas. It can be any style that you want.
Valerie described her style as mid-century modern and comfortable. She has a 9-year old daughter.
I'm going to share the four steps that we took to get to Valerie's design plan. You can follow these steps for your own dining room transformation, even if your style is completely different. If you do, I promise you will end up saving money because it will help you come up with a plan before you buy anything.
Step 1 – Identify Your Style/Function
Valerie described the style she wants in her new home as Mid-Century modern. She has a dining room that is open to the kitchen. Her a 9-year old daughter will use the space for homework, games and crafts.
She wants her space to be casual and fun. I asked her to show me a few inspirational photos of dining areas that she loves. Neither of these have round tables, but they are both open to a patio area, which is her setup too.
Step 2 – Floor Plan
Here's the floor plan that Valerie liked the best. She has a round table and she wants to use it.
If you want to play with your own dining room floor plan, check out this floor planning template. You just print, cut out the furniture that you want to use and slid it round on a piece of paper. All you need are the dimensions of your dining room.
Step 3 – Determine Your Color Palette
Valerie wants to use light blues and greens in her color palette. We used a piece of art to set the color palette, which you can see below. We will paint the walls the pail blue in the dining and living rooms, since they are connected.
Using art is an easy way to cheat, which I talked about here.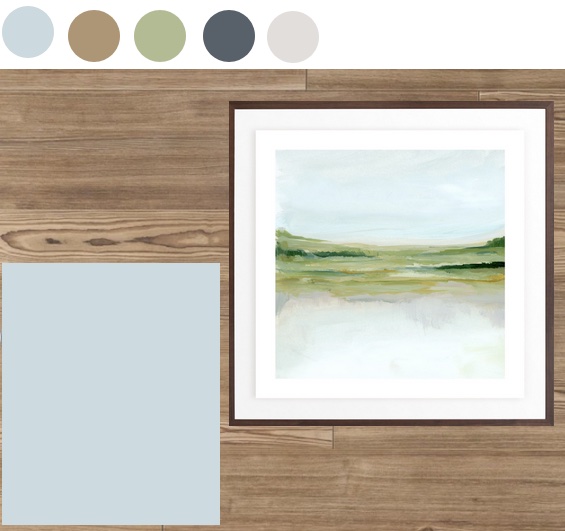 Now that we have the colors, it makes shopping for the right pieces easier.
Step 4 – Decide What to Keep and What to Buy
Now that we have a really focused plan, we know exactly what we are shopping for. Valerie is keeping her table and chairs. She wants to change the lighting in the new home and needs a new rug.
Once you've identified your color and style it's a lot easier to search for and find "mid-century globe light chandelier" or "mid-century bar stools". Otherwise there are too many options to choose from.
I've linked to all of the pieces below. I've included lighting below because lighting is one of the most important parts of any room. It's like the jewelry of your outfit.
I use affiliate links so I can afford to keep doing this. Hope it saves you time. See my disclosure policy.
How to Decorate Around A Sliding Door
Sliding doors are common in newer homes. They can often look outdated, but the hardware surrounding the glass can be painted and/or replaced.
The hardware on this sliding door is chrome, which doesn't really go with the mid-century style. I would spend the money to paint the trim a dark bronze and upgrade the door handle to something more modern.
We didn't add any window coverings because the wants a light and airy feeling and there is only one window in this dining area.
If you liked this post you might like how to choose the right sized chandelier for your dining room or how to choose the right size rug for your dining area.