Framed Fabric Art – A Quick & Easy DIY Project
I am always looking for unique artwork for my home but sometimes finding just the right piece can be challenging. I may find a piece of art with just the right colors, but I don't like the art itself or I find a piece I love but it's not the right color palette.
My searches have taken me to online fabric stores. The selection of fabrics seems endless and you can really find designs for any style of decor. One of my favorite places to shop for unique fabric is Spoonflower.
This got me to thinking, maybe I could use fabric to create art for my home. Fabric can be a really inexpensive way to add interest to a wall. A yard of fabric, which is 36×52 (the 52-inch part varies based on the type of fabric), can be as low as $20. You can't find a piece of art that big for the same price. Graphic fabric prints have the most impact when it comes to framed fabric art.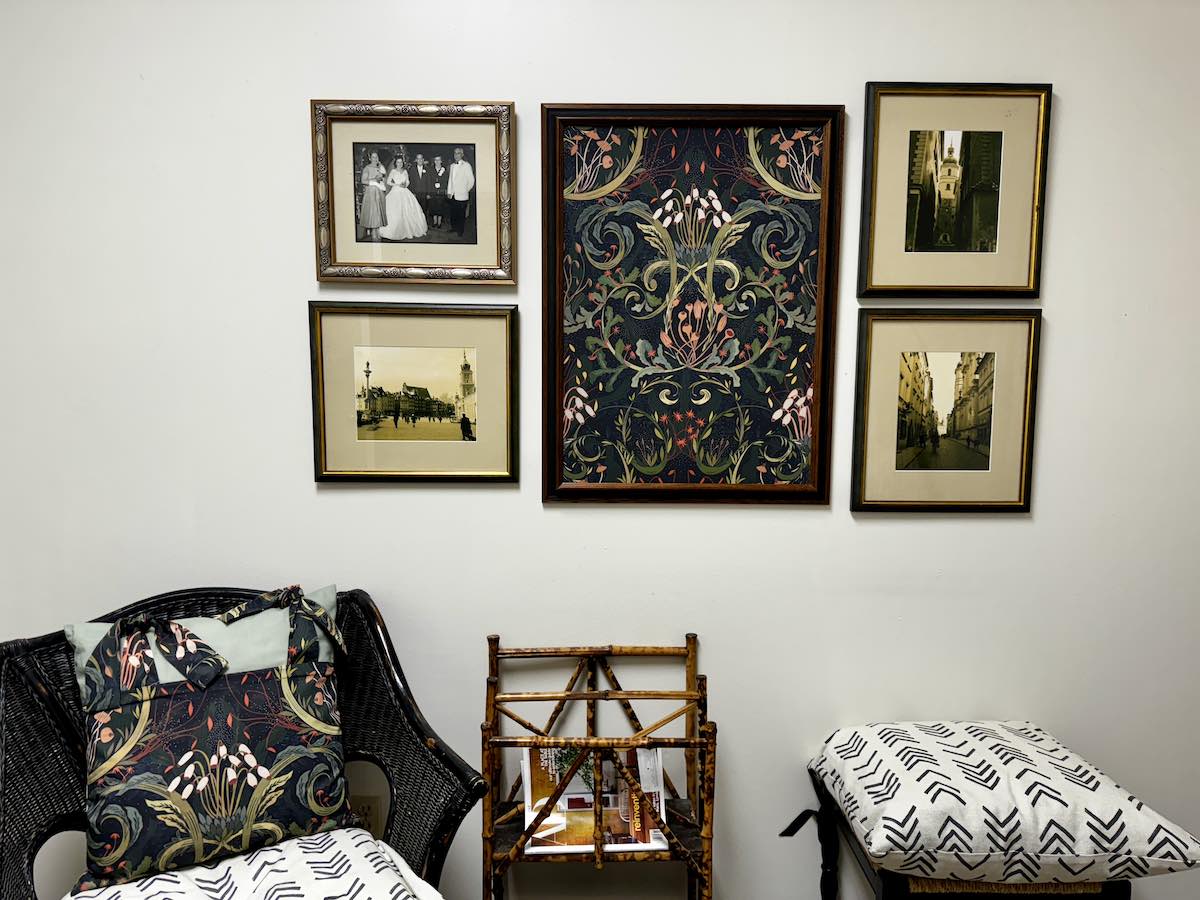 In this blog post, we'll explore two methods of framing fabric art: taping fabric inside a frame and stretching fabric over a frame like a canvas.
Method 1: Taping Fabric Inside a Frame
This method is perfect for beginners or those looking for a quick and easy project.
Materials Needed:
Fabric of your choice (this is from Spoonflower)
Picture frame. If you can find an ugly piece of art with a decent frame when you're at a garage sale or out thrifting, the whole project can be done for less than $30.
Fabric chalk or pen
Tape
Ruler or measuring tape
Some sort of board to mount the fabric on. I used an old bulletin board.
Step-by-Step Guide:
Choose Your Fabric: Select a piece of fabric that speaks to your style. It could be anything from a vintage scarf to a piece of printed cotton. Graphic prints work the best for this project.
Choose a Frame: Pick a frame that complements your fabric in size and color. I chose to embellish an old frame with a black border to complement the fabric. It is important to carefully tape before painting so you get crisp lines.
Measure and Cut: Measure the backing of the frame or board you are using and cut your fabric about 2 inches larger than these dimensions. This extra fabric will help in securing it to the frame.
Secure the Fabric: Center the fabric on the backing or board & tape along the edges.
Assemble the Frame: Once your fabric is in place, reassemble the frame. Your fabric art is now ready to display!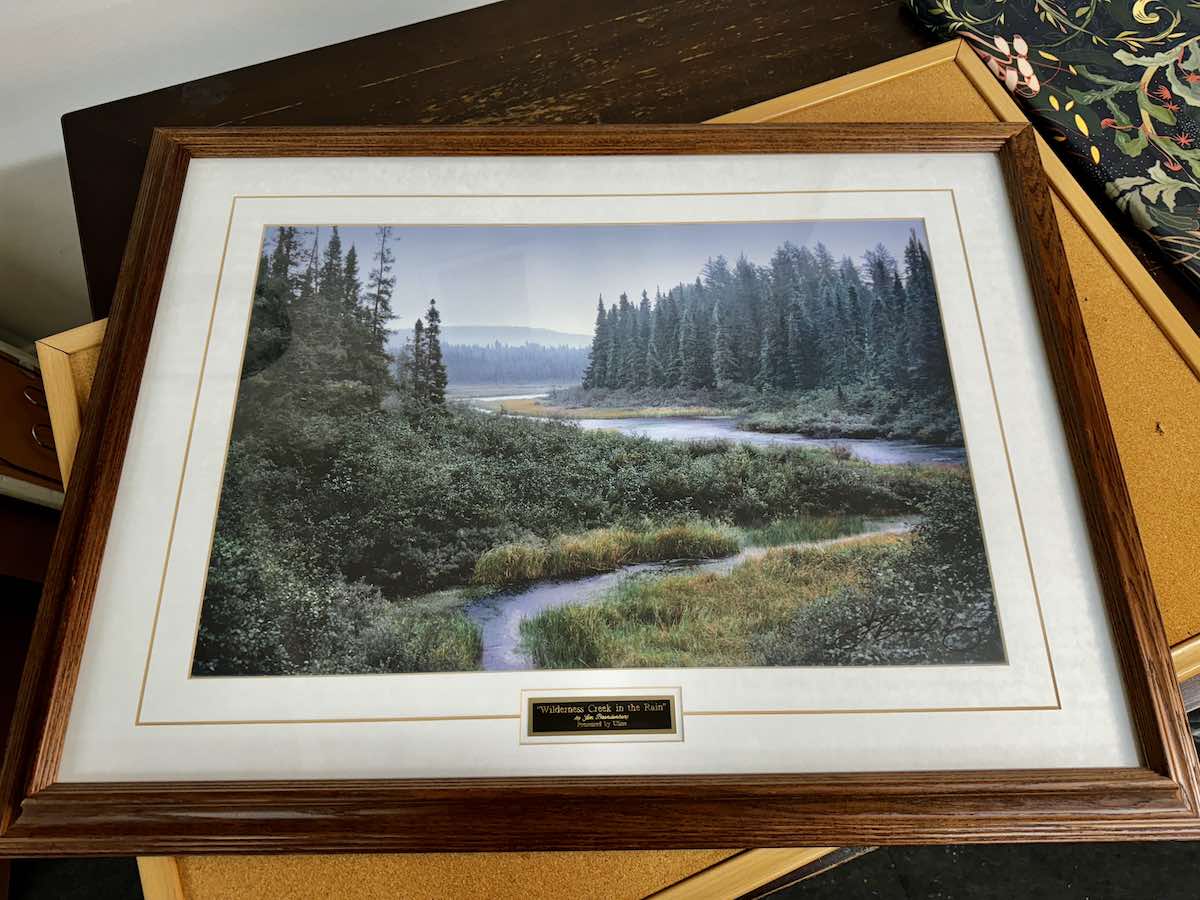 Method 2: Stretching Fabric Over a Frame Like a Canvas
This method is slightly more involved but is perfect if you prefer the look of a stretched canvas without a frame.
Materials Needed:
Fabric of your choice
Wood slats or an old canvas
Staple gun and staples
Scissors
Ruler or measuring tape
Step-by-Step Guide:
Assemble Your Frame: If you're using stretcher bars, assemble them into a frame. I just used scrap wood and added an old piece of paneling to make it a bit more sturdy. You can also use an old canvas and simply remove the existing artwork.
Cut Your Fabric: Lay your fabric face-down and place the frame over it. Cut the fabric, leaving enough around the edges to wrap around the frame (about 2-3 inches).
Stretch and Staple: Start by stapling the fabric to the frame at the center of one side. Pull the fabric taut and staple the opposite side. Continue this process on all sides, working towards the corners.
Finish the Corners: For a neat finish, fold the corners like you would wrap a present and staple in place.
Trim Excess Fabric: Trim any excess fabric from the back for a clean look.
Display Your Art: Your stretched fabric art is now ready to hang and enjoy!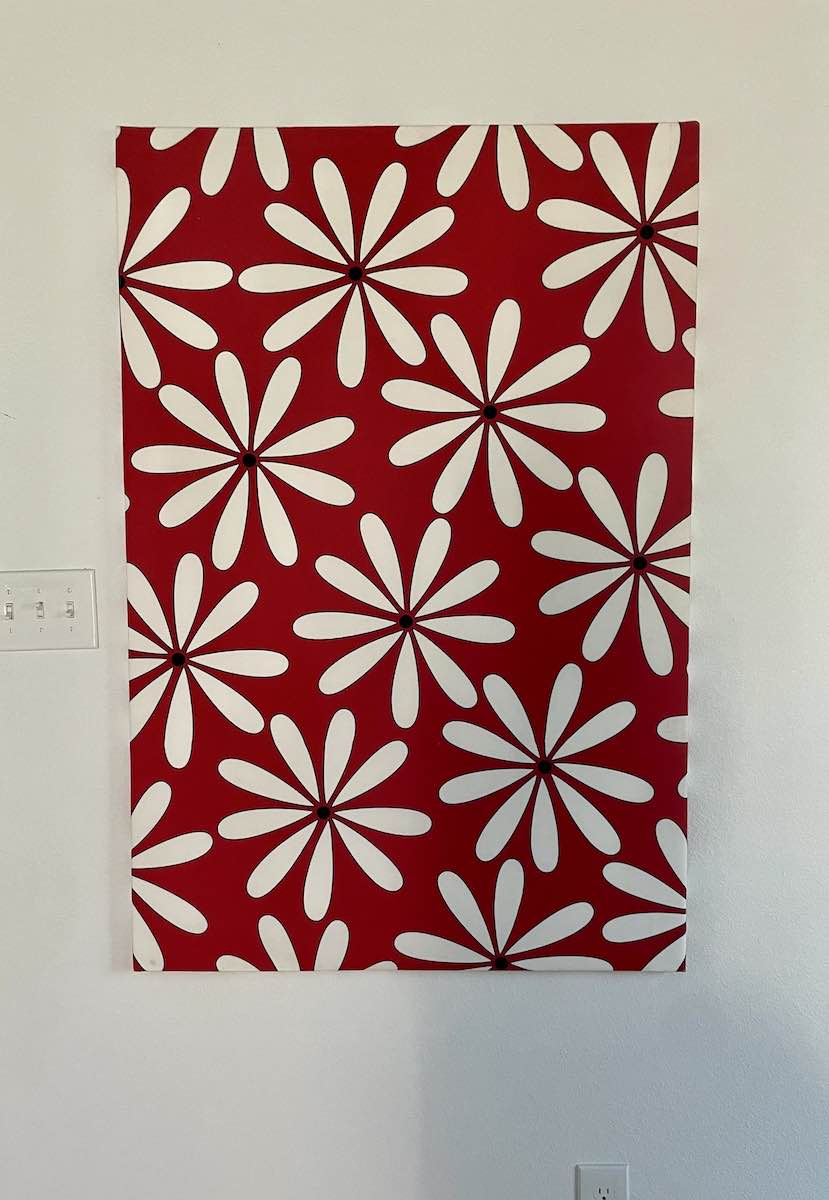 Tips for Success:
When choosing fabric, consider the room where you'll display your art. Think about color schemes and themes.
If using patterned fabric, pay attention to how the pattern will align in the frame.
For stretching over a frame, make sure the fabric is even and taut to avoid sagging.
Framed fabric art is a wonderful way to bring a burst of color and pattern into your living space. Whether you choose the simplicity of taping fabric inside a frame or the polished look of stretching it over a frame, you'll end up with a unique piece of art that reflects your personal style.
Get creative and start framing! If you liked this, you might enjoy how to paint a stencil art piece or DIY abstract art.