Digital art: How to print so it looks like the real thing
In the world of digital art, more and more creators are selling amazing and unique works of art for less than $10. This really opens up the possibilities for what you can find to hang in your home for artwork. The options are limitless.
This article will guide you through buying, downloading and printing your digital art professionally. Trying to print artwork at home doesn't deliver the same quality of art that you can buy unless you've got a really high end home printer. The art itself is practically free and the cost to have it printed is worth the price, which isn't that high.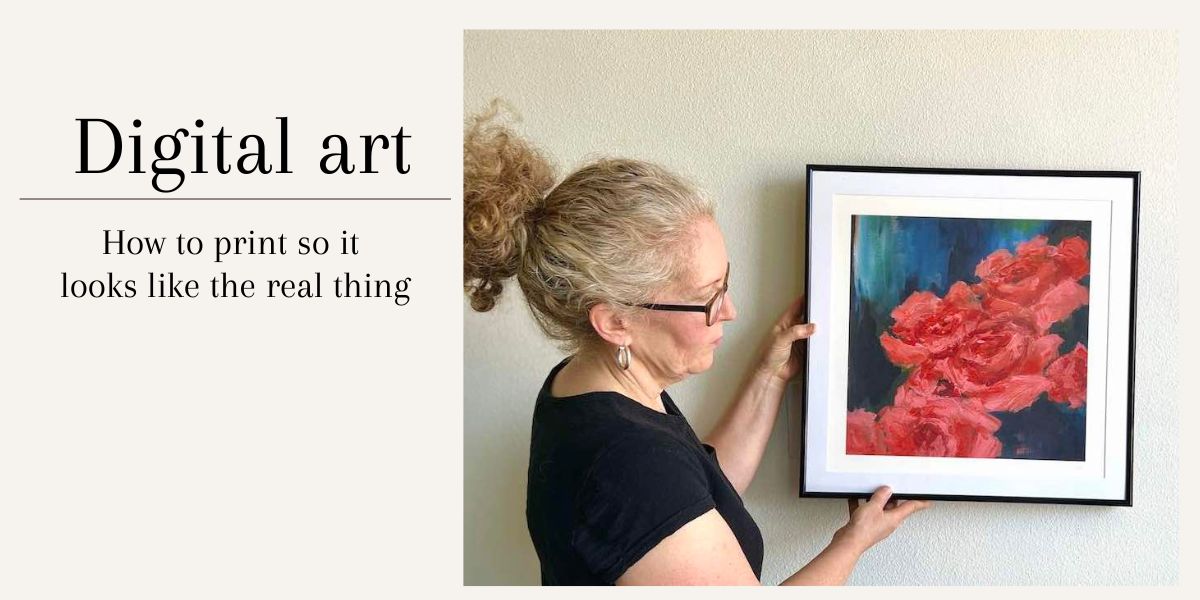 We'll discuss these parts of the process (so you can click on the one that you need most)
This is for someone who has never really delved into the world of digital art. You can take your favorite pieces from digital downloads to fine art.
Some of you might be looking for FREE digital art, but there are so many great options out there for $10 or less.
How to Narrow Down Your Digital Art Options
The world of digital artwork is so vast that it's hard to decide what to buy. Art is such a personal thing that it's a good idea to think of a theme that you want. Here are a few examples:
Coastal art Prints
Vintage art portraits
French countryside (or fill in the blank for where you like to travel)
Matisse style prints (or fill in your favorite artist)
Floral paintings
Neutral abstract art (or fill in your color palette)
Watercolor paintings of flowers
You probably have some idea of the subject matter in mind, even if it's from an example of a room on Pinterest. It's also a good idea to add primary a color to your search. Color narrows the field of choices.
My favorite place to find printable wall art is on ETSY. Be sure the ETSY sellers you buy from have a fair amount of good reviews. You will find as you start looking that many sellers are selling the exact same printable art because the artwork is in the public domain.
There is a lot of art on Minted and Society 6, but these stores sell printed art, not art that YOU print.
High resolution is critical for a clear, crisp print. Resolution refers to the number of dots or pixels in a particular area of an image, usually measured in dots per inch (DPI) or pixels per inch (PPI). The higher the DPI or PPI, the sharper the image will appear when printed. For a quality print, you'll generally want a resolution of at least 300 DPI. Anything less could result in a blurry or pixelated image.
Most digital art comes with the ability to print in a variety of different size sizes. When you purchase the art you usually get multiple sizes and aspect ratio options, like a 3:2 configuration that can be printed in a bunch of sizes or a 4:3. Here's an example of the sizes and configurations for the print I purchased:
Don't try buying a smaller size file for less and enlarging it. The quality of the image isn't as good and might be blurry or pixelated. You can always buy the largest size and then reduce it if you want to print something smaller.
When purchasing digital images, most artwork says that it is for personal use (not commercial use). This means you have the right to print and display it, but not sell it.
How to choose a professional printer
You might be thinking that you can print the art at home. Most people don't have the color printer necessary to get a really high image quality result. Even if you have a color printer the quality of the print is not going to be as high and you won't be able to print larger size images. You can always test your own printer in a standard size or 8.5×11 paper size and see if you like the result.
Etsy recommends these two printing companies: finerworks.com and mpix.com. You can go to a local print shop or even somewhere like Wallgreens/Duane Reade (see print options below) or CVS if you are printing a small size and you want limited size and paper options (more on that later). These options are NOT necessarily cheaper.
I sent a print to Finerworks and had a really great experience. To give you an idea of the price, here is the cost for a 12×18 print from Finerworks and MPIX. The paper choice you make impacts the price. Both Finerworks and MPIX offer discounts to new customers, these prices are without discounts.
MPIX offers fewer paper choices listed below. The price range for a 12×18 is from $22 to $26. They offer mats and framing if that's something you want get your art ready to hang. The pricing at Finerworks ranges from $21 to $30 depending on the type of paper. They also offer mats and framing. Getting an oversized print from Walgreens (not available in 12×18) but 16×20 is $20 and it's only available printed on glossy photo paper.
Finerworks offers the option to print the art onto gatorboard, which gives you the option to frame it without glass. Gatorboard is like printing art onto a piece of foam board, much thinner than a canvas.
You might be wondering what in the world does giclee mean (as I was)? Giclee is "technology for fine art or photograph reproduction using a high-quality inkjet printer".
Which Paper Should You Choose?
The paper you select for your digital prints drastically impacts how your artwork looks and whether it looks like something you printed or something more high-end.
When you are choosing the paper for your print there are a dizzying number of options available. There are different weights, textures, finishes and the color of the paper itself. The weight and texture of the paper you choose will depend on how you want to display your art. Will you mount it with a mat and frame it behind glass or do you want to display it without glass?
Weight: Heavier papers are typically more durable and give your print a high-quality feel. Standard paper weights suitable for art prints range from 90 to 300 gsm (grams per square meter).
Texture: Paper texture can range from smooth to rough. Smooth papers are excellent for showcasing fine details, making them a great choice for art with intricate designs or typography. Rougher, more textured papers can give your prints a tactile, organic feel, which can complement certain styles of art, such as watercolor effects, illustrations, or vintage-style designs.
Finish: The finish of a paper refers to its sheen which is typically matte, semi-gloss, or gloss. Matte papers have no shine and can reduce glare, making them suitable for highly detailed or dark artwork. Semi-gloss or gloss finishes, on the other hand, have a shine that can make colors pop and appear more vibrant, but they may be more reflective if they are under direct lights.
Color: While most people default to white paper. Papers actually come in a variety of shades, from bright white to natural or cream. The color of the paper can subtly influence the overall tone of the image. Bright white papers can make colors appear brighter and more vivid, while natural or cream papers can give a warmer, vintage feel.
MPIX has fewer choices glossy photographic, deep matte photographic, semi-gloss photgraphic and textured matte finish.
Finerworks has so many paper options that I listed just a few here. You can see the complete list of options here, but here is a sample.
Archival Matte Paper 230 grams perfect for both photography & fine art reproductions
Archival Canvas Paper – 230 grams is the same as Archival Matte Paper embossed with a canvas texture
Archival Linen Paper – 230 grams based on Archival Matte Paper but embossed with a linen texture, has a lighter feel
Watercolor Bright White – 300 grams, this is a cold-press texture (you know if you paint) adds depth to photographs and fine art
Color Profiles
While most people default to white paper. Papers actually come in a variety of shades, from bright white to natural or cream. The color of the paper can subtly influence the overall tone of the image. Bright white papers can make colors appear brighter and more vivid, while natural or cream papers can give a warmer, vintage feel.
If you go to a local printer you can get samples and offer guidance based on their experience. Consider the nature of the art piece you're printing. A vintage illustration might look best on heavier, textured paper with a natural shade, while a modern digital painting may shine on a smooth, bright white paper with a semi-gloss finish.
How to Frame Your Art
The simplest option is to choose your mat and frame directly from the print shop. This one-stop shopping is a great way to get your art ready to hang fast. They also show. you what the piece will look like inside the frame.
Note that there are hundreds of frames to choose from. Here's an example of the print I ordered with a frame rustic ornate style frame and a 1″ mat. Without a mat the price was $89 and with the mat the price is $111.
If you want something more unique, there are lots of options. You can find a lot of great vintage frames at bargain prices. The best way to use a vintage frame is to get the frame BEFORE you decide on the print size, so you can make sure it will fit.
You can also buy frames from Amazon, Walmart and Target if you want a basic black, white or brown/wood.
The world of digital art can be an intimidating and overwhelming place. But it's worth the effort to get some really great artwork at a reasonable price.
If you're in the market for one of a kind art, read how to find original artwork on a budget, Or read this 8 steps to the perfect gallery wall.