Size Guide for Art For Above Your Bed
Are you trying to figure out artwork for your bedroom? I love choosing art for a bedroom almost more than any other room because there's a pretty good chance that most people WON'T see it. This means you can choose something without worrying about what anyone else thinks about it.
There's a freedom in that. You could choose something really off the wall or something really personal that you love. Choosing art for the wall above your bed is often the prime spot. There are some general guidelines for choosing art that goes above a piece of furniture. You have to consider the scale of the furniture when you decide.
Whether you have a king bed or a queen bed, interior designers use some rules when choosing art for above the bed. Many things in interior design come down to proportions. Things look and feel better when the proportions are right. I'm going to share a bunch of options with photos to go with each. This will help you to get the look you want if you're looking to hang art above your bed.
General Guidelines for Artwork Size Above a Bed
Before we start looking at the style of your wall decor, let's talk about size.
Width rule – A good rule of thumb for art above a bed is that it should be 2/3 to 3/4 the width of the bed. This includes the width of your bed frame. If your queen bed is 60 inches and the frame is the same width, your artwork should be between 40 inches and 45 inches. This could be divided up into as many pieces as you like, but all the pieces together should be this wide. A typical king bed is 76 inches wide, artwork should be 50 to 57 inches wide. This could be one large piece or any number of smaller ones.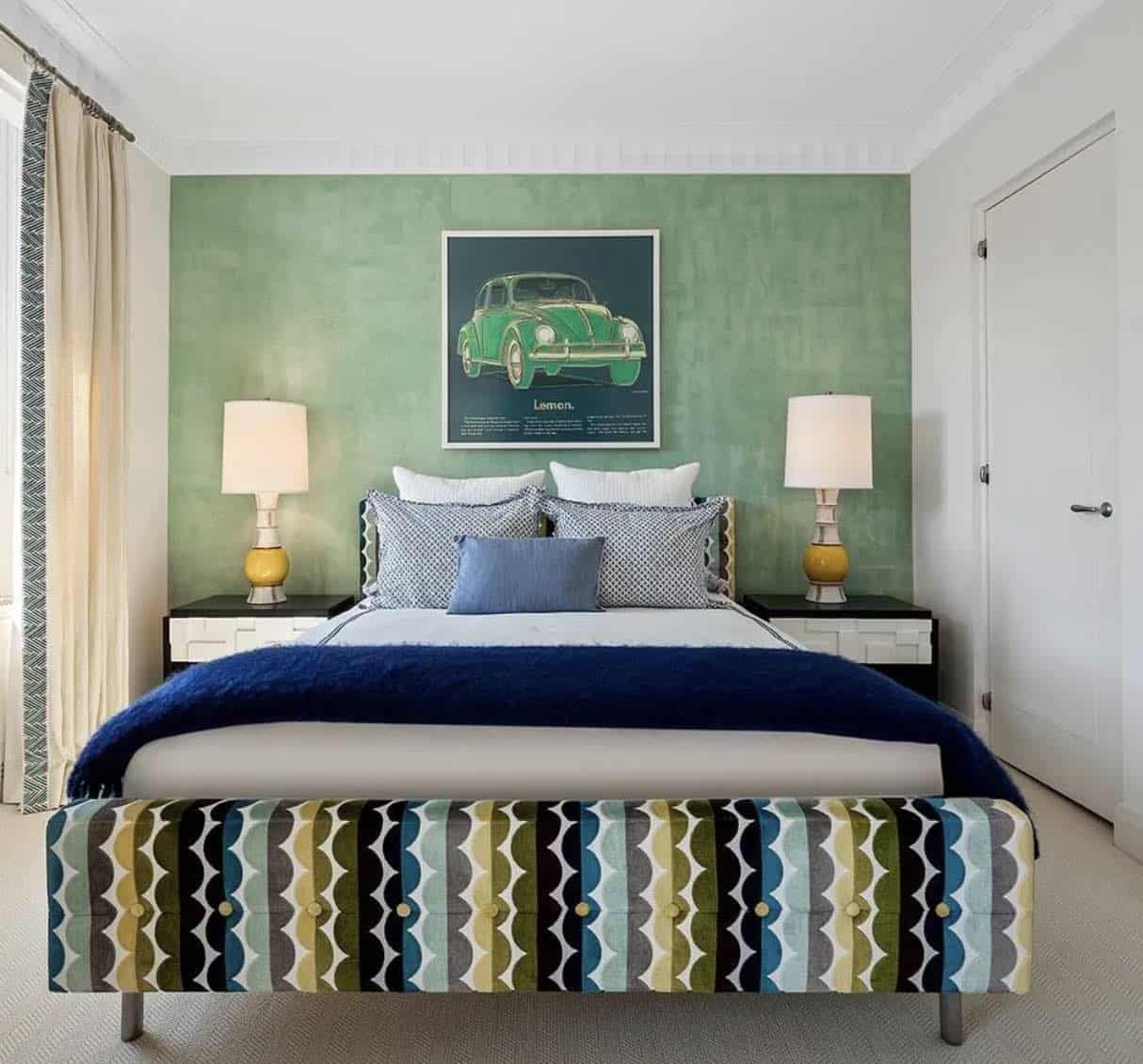 Height rule – This rule isn't about how TALL the art should be. The height rule is about how high the artwork should be. It's important to keep artwork with the center at eye level, or close. If the artwork is hung much higher than eye level, it looks strange. You feel like the house was made for a giant. If you hang a gallery or multiple pieces, you want the center of the grouping to be at eye level.
Distance Above Headboard – The other measurement to consider is the distance from the top of the headboard. As you can see in these examples, there is often not much space between the top of the bed and the art. This depends on the headboard size. If you have a really tall headboard, you're going to have to keep the artwork close to it to make sure that the middle is at eye level.
You can satisfy these size guidelines for a single piece of art or a collection of smaller pieces.  In fact, building a gallery wall of more mid-sized canvas prints can be less expensive than getting one large piece to fill the width above the bed.  The formula is for the total width of all the pieces including the open space between pieces.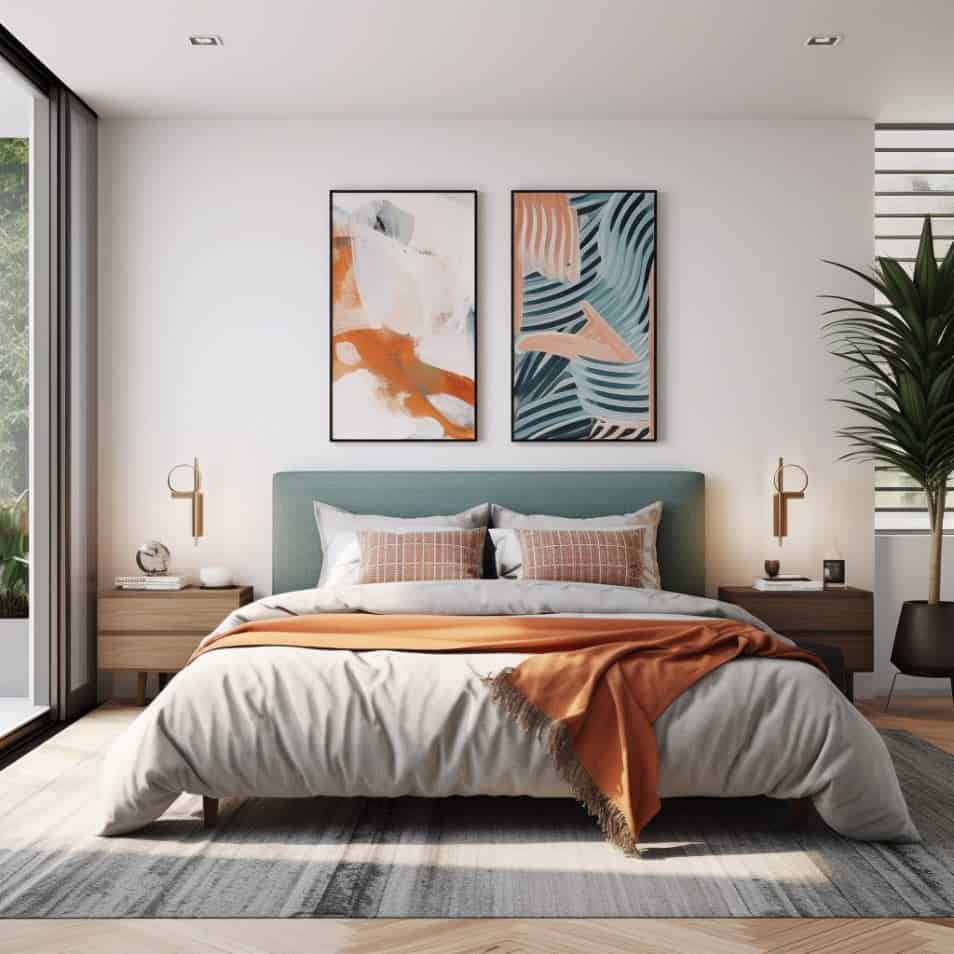 You might think that if you have high ceilings, the artwork should be hung higher. That is not the case. Artwork doesn't get higher as the ceilings go up. The art needs to be anchored to the furniture or it feels like it's floating.
​The reason the formula exists is that our eyes like to see things that look in proportion. That doesn't mean you won't find examples of a king sized bed with a 24-inch piece of art. But an undersized piece of art doesn't give you the sense of proportion that feels good to your eyes.
Now that we covered what size the artwork should be it is time to consider style.
Style Guide for Artwork Above the Bed
The most important rule about style is that the art should really be something that you LOVE.  No two people have exactly the same style, but it's a good idea to get a piece that everyone who sleeps in the room likes.  Art can be a really easy way to set a color palette for your room.  
If you don't have any clue what kind of art you like, Pinterest can be a great way to begin. Search for the words that describe a style you like + bedroom.  For example, you might want a cottage bedroom or a boho bedroom.  Pin images where you see art that you like.  This gives you a starting point.  
For example, if I search French country bedroom, I see lots of still-life paintings and botanicals in the bedrooms. If I search for modern bedroom I see more abstract art and photo prints.
My favorite places to find the art, once I figure out the style that I want is to look at Etsy.  There is SOOO much artwork, but narrowing down your search using size, style and even a color scheme makes it easier to search.  The good news is that if you want help, I love shopping for artwork.  Send me a photo of your room and let me know what your style is.  I might be able to steer you to some choices that you like.  
If you enjoyed this post you might like these tips for how to furnish a bedroom or bedroom decorating mistakes.