What Size art Should You Put Above Your Sofa?
Are you looking for artwork to go behind your sofa? There's an easy rule that interior designers use, and so can you.
The blank wall behind a sofa can be a daunting space to fill. For most living rooms, it's a natural focal point. You want to get something that is personal, but the choices can be overwhelming. If you're like me you might put up something "temporary" that winds up hanging in your living room for five years.
I'm going to give you the best tips for how to choose the right size of wall art for this space. I'll show you examples of where to hang your art on the wall. Lastly, you can see a great way to "try on" your art before you buy it. I'll show you how I used this technique over my own sofa.
What Size Art Should You Get?
Once you know what size art you need, finding it becomes easier. There's a good rule of thumb that interior designers like to use. The rule is that there should be a 70/30 ratio of negative space to positive space. What is negative space? It's the blank spaces between things, furniture, art, plants, windows or anything else that takes up space in your visual field.
The rule is that 30% of a room should be blank space (negative space) and 70% positive space. This kind of ratio helps you to achieve a balanced look. Still not sure what size to get?
Cozy, cottage living room – To make your living space feel a cozy, use more pieces of art with different canvas sizes and even different heights.
Minimal Modern living room – To get this feel you can use a large piece of artwork instead of lots of smaller pieces. You still don't want the rooms to be empty.
Traditional living room – Look for symmetry. Using two or three pieces that are the same size and frame can give your space a more traditional feeling.
The first step is to measure the width of the sofa. If the sofa is alone on the wall and it's the main wall, you will want to fill up more space above the couch. For example, if your sofa is 84 inches, your artwork can and should fill up 70% of the space above the couch. Here are a few examples, since a picture speaks a thousand words.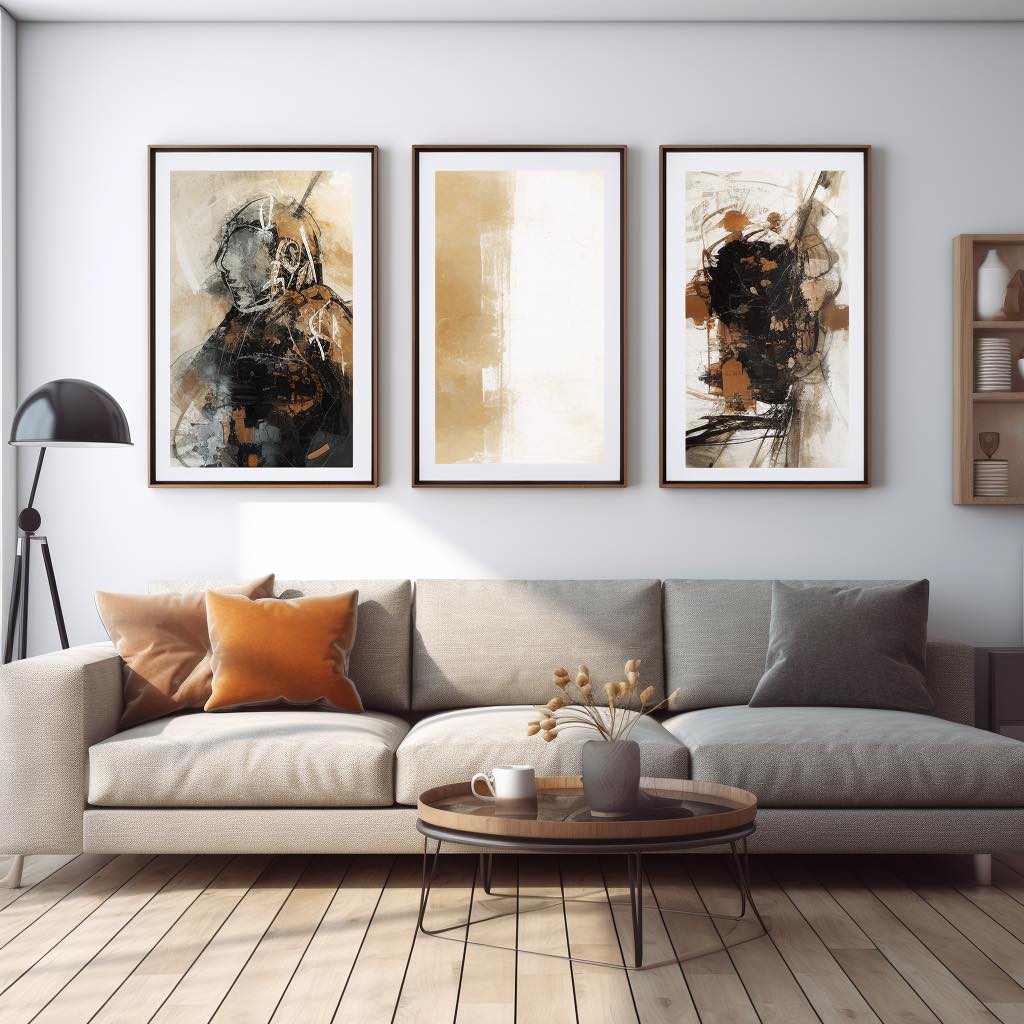 Once you know the percentage of space that you need to cover, you can decide if you want to fill that space up with smaller pieces or larger pieces.
Where Art Should Hang Above the Sofa
This is one of the most asked questions I get. Where should I hang my art? How high? The art should be 1.) hung where the center is at eye level and 2.) if it's hung directly above a piece of furniture, it should be anchored to that furniture. This means that it's not hanging several feet above the furniture, even if you have high ceilings.
Here's an example of a dining room where the art is hung too high and NOT anchored to the buffet that it sits above. The second photo is an example of a sofa that doesn't have enough hanging above it. This is a large space with too much empty wall or negative space.
Center the art over the width of your sofa. This is true whether you have lots of pieces or just one.
How to Try on Art Before You Buy
This process helped me decide what to buy. I was toying with the idea of hanging a gallery wall filled with travel photos, hanging one large painting or hanging three. I couldn't decide until I saw it in black and white. Here's how you can do it too.
Take a picture of your sofa from the farthest spot directly opposite it. Make sure you get your picture with decent light and straight on, not at an angle.
Next, if you have never used Canva or Picmonkey, choose one. Both have completely free versions and work very similarly. Upload your photo to the tool. Next, take screenshots of the art you're thinking of buying. Drag those into the picture above your sofa. You might need to shrink them or make them bigger.
I have a video showing you how to do this this below. I put a grey box over my current art, to block it out of the picture, which you can see, but it doesn't matter.
Here are the options I tried. First, a black and white travel photos. I used the same one over and over, to see if I liked the black and white with my color palette. Once I saw it I knew that I didn't like it.
Next, I tried two abstract art pieces. Then I tried three modern floral pieces, one large piece of art and finally, I tried three botanicals. Once I could visualize the art in my room it made it so much easier for me to see the size and scale that I liked as well as the subject. I discovered that I really didn't like small pieces of art or a large single piece of art.
If you're having trouble with this approach, please comment below. I can help. Just ask your questions in the comments.
Can I Hang a Large Mirror Over My Sofa?
You CAN hang anything you want in your own home. But should you? It's not a great idea to use a mirror if the TV sits opposite from the sofa. If you have a mirror, you will see a reflection on your TV.
If you have a window be sure to consider how the light will reflect off the mirror. Bottom line, this is not my favorite place to put a mirror in the living room. Mirrors don't add color in the same way that a fine art canvas print can.
I hope this helped you to choose art for the wall above your couch. Using a tool like Canva is a great option to try out the art before you buy. If have a piece that will make a bold statement, it's really worth a few minutes to do a test run.
If you liked this post, you might like How to Print Digital Art So It Looks Real and how to put together a gallery wall.