DIY Dog Ornaments: A Themed Christmas Tree
This year I'm going to do a dog-themed Christmas tree. My family has lots of dogs and cats, mostly rescued (although Milo was not).
I often try to do a themed tree every year. I don't have a huge tree, so I can usually do that without spending a fortune. One year I did a Star Wars theme and another year I used only ribbon bows. This year I'm going to do a pet theme.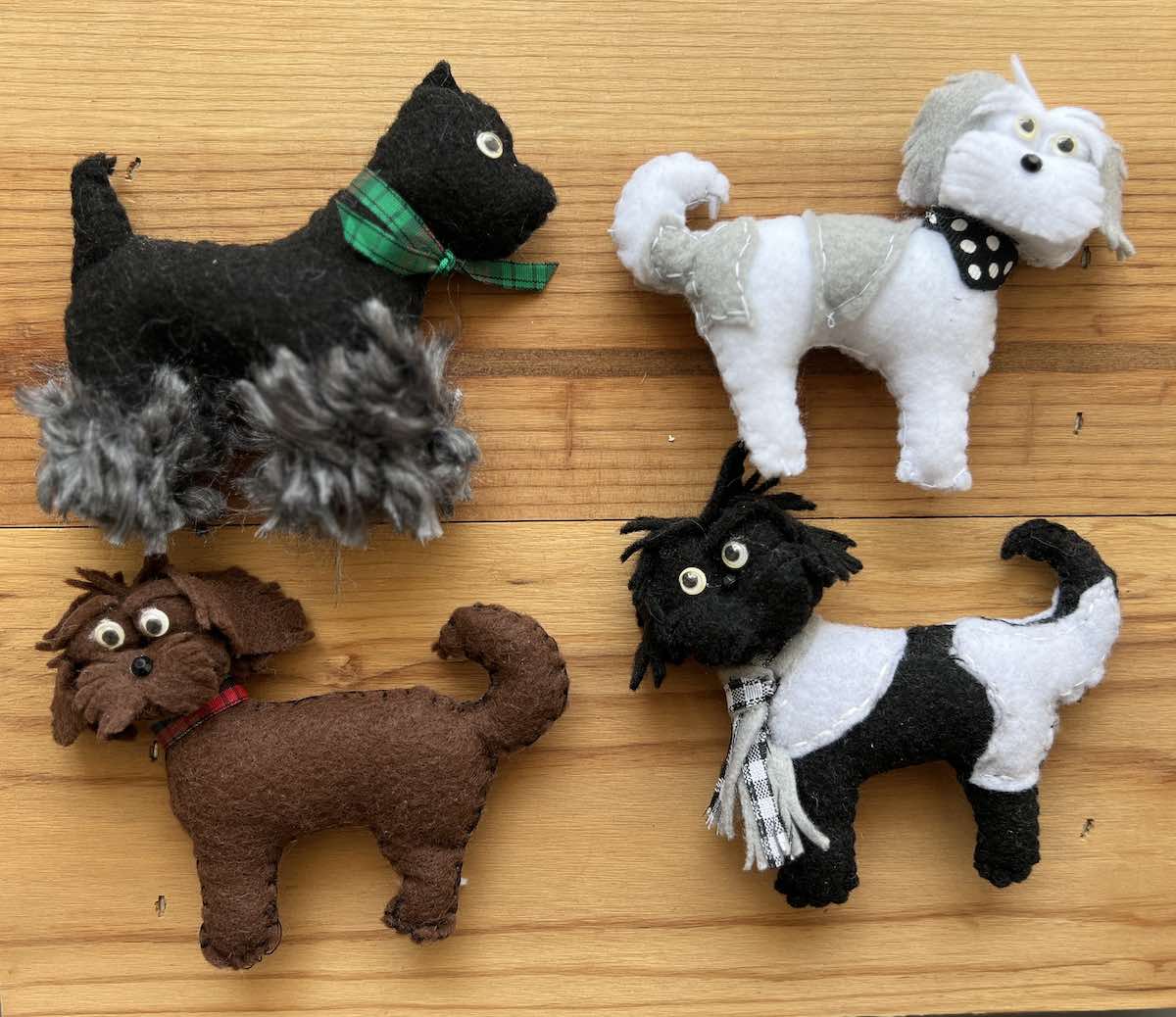 My family is full of dog lovers so why not try to make a bunch of ornaments for all the different dogs and cats in our family?
I'm sharing the steps involved to show you how you can make your own personalized dog ornaments for any breed of dog. They make great gifts for the pet lovers in your life, too. I'm not trying to leave out cat lovers, but I did find those a little more challenging because of the tail. Maybe next year.
Materials Needed
The materials you will need for any felt Christmas ornaments are pretty minimal. Here's what I used: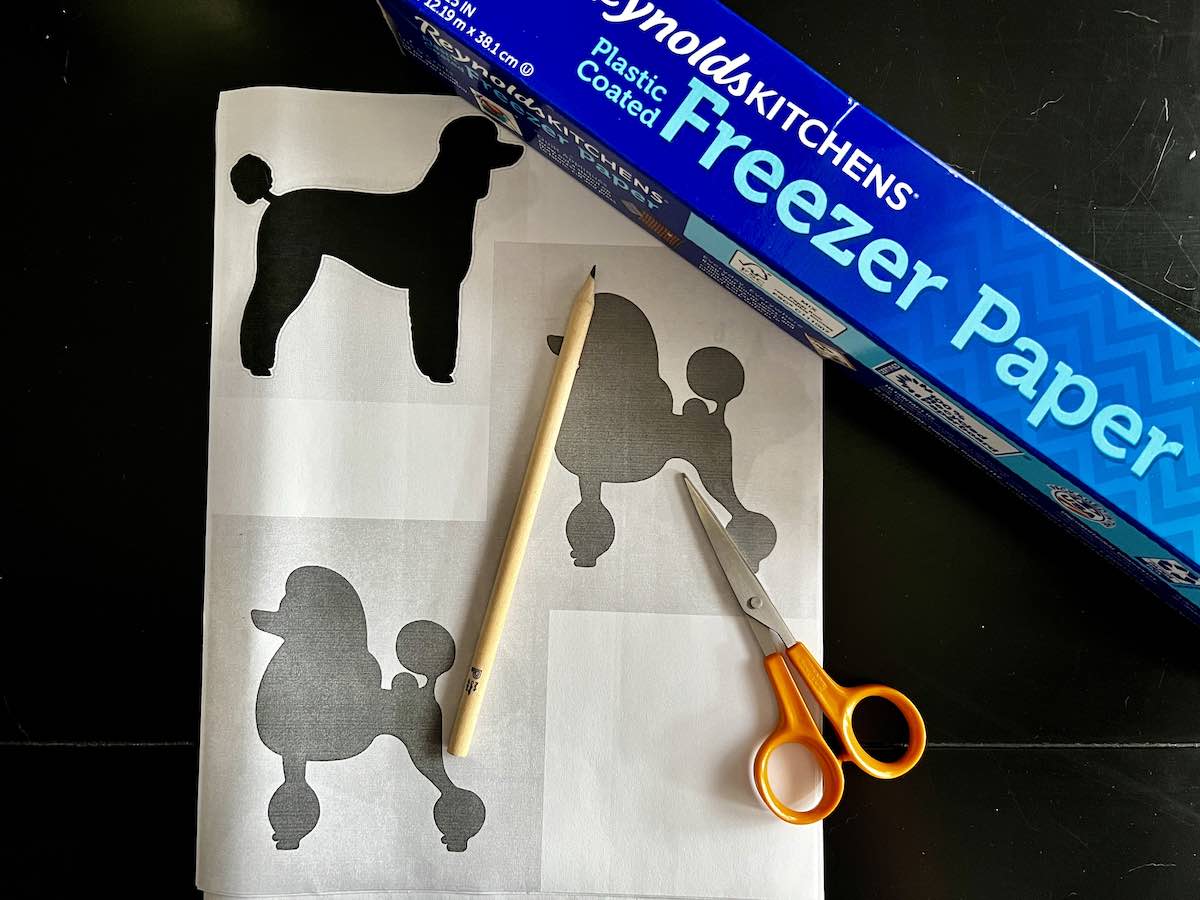 Assorted squares of felt depending on the breed
Needle
Assorted pompoms – I found the best option at Joann's
Freezer paper – This might seem strange, but read on to see why
Scissors – A small pair that can really cut details works best
Assorted ribbons – You don't need large pieces, so you can probably use leftover ribbons
Eyes – assorted sizes
I use affiliate links so I can afford to keep doing this. Hope it saves you time. See my disclosure policy.
Before you choose colors, think about what dog breeds you want to make and the colors you will want. I picked up grey, white, black and several shades of brown. I think this covers most breeds.
I made a dachshund, a shepherd, a French bulldog, a labrador, a poodle and a doodle. Y can choose your favorite breed, but if you stick to dogs that have a recognizable shape, it's easier to find a good silhouette. I had a harder time finding good silhouettes for fluffy breeds like an Australian Shepherd.
Creating Your Dog Templates
Before you start making the felt ornaments you will need to get a good template. The best way I found to do this is to search for the dog breed plus the word "silhouette". I printed the silhouette on a regular laser printer and used that as my template.
This is where the freezer paper comes in. It can be challenging to cut the dog shapes out on felt.
First, print your template out on regular paper and cut the template out. Now use that to trace the shape onto the non-waxed side of the freezer paper.
Using an iron, press the wax paper onto the felt, with the waxy side down. It doesn't still permanently stick, but just enough to make it easier to cut the shapes out.
Sewing and Decorating Your Dog Christmas Ornaments
Once you have the ornaments cut out, you can begin sewing them together. I used a blanket stitch (demonstrated in this video) to sew the bodies together. Once you get them about 75% sewn together, stuff them and sew them the rest of the way.
If you want to add color patches to your dog, it's best to sew that one before you sew the two sides together. I cut a few separate small patterns for the ears and a forward looking face.
At this point, you can be done, or you can add LOTS of embellishments to them. Here are a few of the fun things I glued and sewed on:
A forward-facing face (to contrast the side view). I did these mostly on the doodles.
eyes
nose
ears
eyebrows
patches of color for fur
dog collars/scarves
furry legs
tail fur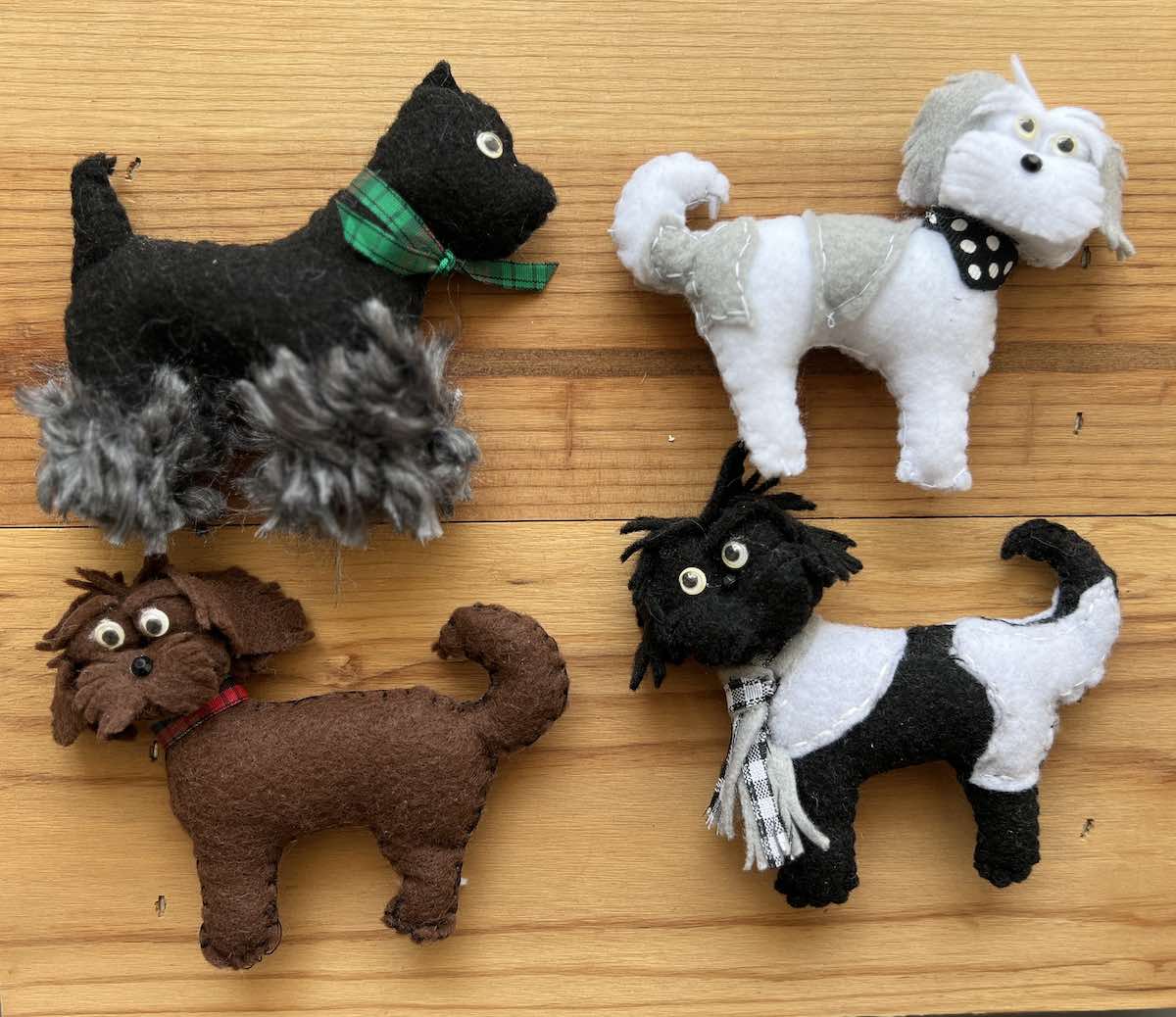 I will share the finished tree with these guys later this year. If you liked this post you might like the dog stockings or the DIY ribbon bow for the tree topper.