Chalk Paint® Tips for Beginners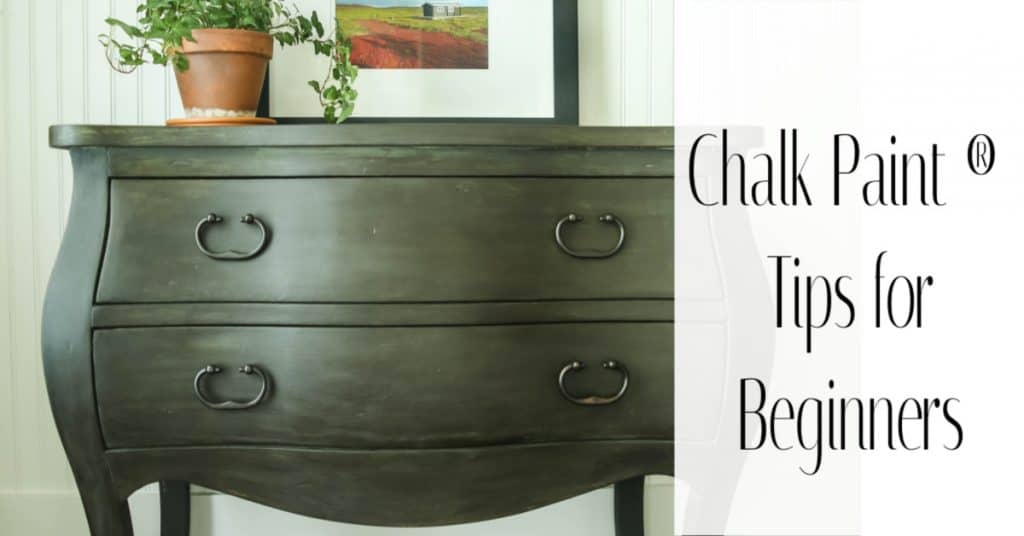 Do you have a piece of furniture you want to paint? It can be daunting to try your first piece, but it can transform your look without costing you a lot of money. I recommend starting with something small that isn't a family heirloom. Here are my no fail chalk paint® tips for beginner (the term chalk paint is trademarked by it's creator, Annie Sloan).
This is my second major undertaking with painting furniture. I didn't use chalk paint the first time. You can see the large chest I painted white. This time I decided to try chalk paint to avoid all the sanding and countless coats of paint.
Tip 1 – The finish can be smooth if you don't want a distressed look
Most people think that chalk paint is only used for a distressed or antique look. That's not true. I wasn't trying to give this piece of furniture a distressed look, but chalk paint doesn't have to look rough. You can achieve a smooth finish depending on how the paint is applied.
The mother of chalk paint, Annie Sloan, uses a very haphazard method of painting. She explains that if you want a textured finish you should apply the paint "every which way". If you want a more traditional smooth finish it's better to use a standard flat paint brush and paint using more traditional straight brush strokes.
Tip 2 – You don't need special paint brush
Wherever you find chalk paint® for sale you will also find very expensive round paint brushes to apply it ($40+ per brush). They look like giant shaving brushes (I remember from my dad). These paint brushes are great, but there are less expensive alternatives on Amazon. Here is a set of three chalk paint brushes for $15.
I choose every product you see. I may earn an affiliate commission if you buy from one of the product links, at no extra cost to you. Read my full disclosure.
Alternatively, you can use a standard paint brush if you are not looking for lots of visible brush stroke texture. I used a standard $2 paint brush from Home Depot.
Tip 3 – You don't have to buy expensive chalk paint
I ended up buying Annie Sloan Graphite paint because it was for sale at the flea market and it saved me a trip to Home Depot. A quart of Annie Sloan Chalk Paint costs around $34.
A quart of chalked paint at Home Depot is around $19. It is called "chalked paint" because the phrase is a registered trademark. Home Depot carries two brands – Rust-Oleum and Behr. I tried out the Rust-Oleum to paint tile floors and it's as good as the more expensive brand.
A little of this paint goes a long way. It goes on really thick so if you are painting furniture, a quart is probably enough. If you feel like your paint is too thick, you can add in a tiny bit of water and mix to thin.
There are also many crafty people out there that have developed recipes for making your own. This sounds like too much work for me, but if you are into it here is a chalk paint® recipe.
Tip 4 – You can paint fast and loose with chalked paint
The beauty of this paint is that there is no sanding or prep required. I painted my small dresser in less than 45 minutes. I'm not the most meticulous painter, which is why you don't see step by step photos. You don't have to be with this paint.
It dries very quickly so if you need a second coat you can put one on about 30 minutes after you finish the first coat.
Tip 5 – Apply wax to seal the paint
I wasn't sure that I wanted to apply wax until I saw the finished product after two coats. It is a VERY FLAT finish. The wax is necessary to seal the paint and to give it a warmer look.
I used the black wax because I used a graphite paint. If you are painting with a lighter color, use the light wax unless you want and antiqued look.
Tip 6 – You don't need a brush to apply wax
This may sound redundant, but they also sell very expensive wax brushes. The wax can be applied with an old T-shirt. If you cut a rag in two pieces you can use one to apply the wax and one to wipe off the excess.
It's almost like smearing lotion on when you apply it. Then you take the clean rage and rub it over the surface to pick up any excess. If you are trying to save money this is the way to go.
Tip 7 – Wax completely changes the color
If you don't like the color when you get the paint on, know that it will change drastically when you wax it. The graphite color reminded me of an old car with no paint. Once I applied the dark wax, the color became a lot darker and more like shiny charcoal.
I suggest buying the larger container of wax and applying it very liberally.
Materials Needed
There isn't much you need to use chalk paint®. No sanding is required. You need the following:
Drop Cloth (or a sheet). I have been known to paint inside on my wood floors and I like to use cardboard because it can absorb mistakes.
Dusting cloth
Can of paint in your choice of color. I'm using Annie's Sloan's graphite, but Rustoleum's Charcoal is similar for half the price.
Paint brush – See my tips above.
Wax – Most people use the dark wax to give lighter furniture an antiqued look but if you are using it over dark paint, it transforms the color and makes it much deeper.
How to Apply Chalk Paint®
Wipe down the furniture to get off any dust.
Take off the hardware, unless you are going for painted hardware look. If you have wood hardware you may choose to paint the hardware the same color.
Brush the paint on quickly with random strokes for texture or smooth strokes for a smooth finish.
It takes about 30 minutes to dry. Once it's dry apply a second coat if necessary. If you want to cover an old color, you will probably want a second coat.
Apply wax with a rag as if you were spreading lotion over the furniture. A paper plate is the perfect disposable tool for holding the wax. You scoop some wax out onto the paper plate and rub it on with an old t-shirt.
Wipe off the excess wax with a clean rag. You don't have to scrub, just wipe down thoroughly.
Pros and Cons of Annie Sloan Chalk Paint®
The two biggest advantages of this paint are 1.) It has NO smell. I often paint inside because then I don't have to deal with the elements. I can't speak to the odor of other brands. 2.) This paint requires no furniture prep, priming or sanding.
The biggest con is the price. If you have a large piece to paint, you could end up spending $70 not including the wax.
can you paint kitchen cabinets with chalk paint?
This question was inspired by a reader. I have not painted my kitchen cabinets with chalk paint. But I have learned a lot about using chalk paint.
You can paint kitchen cabinets with chalked paint, BUT you must seal it with wax. The waxed paint takes 30 days to fully cure. You can still use and touch your furniture but the wax isn't fully cooked right when you put it on. It can scratch more easily until it is fully cured.
The creator chalk paint, Annie Sloan, recommends that you apply two coats of wax to cabinet doors to make them extra durable. You should also allow the first coat of wax to cure before you apply the second coat.
Can you paint over laminate with chalk paint?
Laminate surfaces are very slick and shiny. With standard latex paint most experts recommend that you sand a laminate surface before painting it. However, with chalked paint that's not necessary. It might require two coats of chalk paint®, but it will adhere without priming or sanding.
See this in action as Suzanne paints over an old laminate dresser with chalked paint. She's my kind of painter, she does the task in a few hours and it looks completely transformed.
Have you tried painting any furniture with chalk paint?
Before you go, you might be interested in reading about Chalk Paint Vs. Milk Paint.
Related posts: