Painting Tile Floors – A Beginner's Guide
Do you have some old, ugly tile floors that you'd love to replace if you had the money? Did you know that you can paint tile floors? If you don't like the results you can still rip them out. But I think you're going to love it.
Tile can be really labor intensive to remove and therefore, really expensive. If you've ever had tile ripped out of your house it can be really loud, messy and it takes forever.
We decided to try painting my sister's gross white tiles in her entry/laundry instead of having them ripped out. Take a look at the finished project, I think it's looks pretty great!
The downside is that I feel like I'm about 90 years old after spending a full day bent over. Get my step by step instructions for how to paint your tile floor below.
Can you paint tile Floors?
The short answer is yes, you can paint ceramic tile flooring. It doesn't matter if your tile floor is in damaged, cracked or just dirty. My sister's ceramic tile was stained with rust, which didn't sand off. It was also cracked.
You can't make the tile floor new, but you CAN make it look 90% better without ripping it out. The total cost for this project is less than $100, and maybe less if you have some of these things on hand already.
Supplies Needed to Paint Tile Floors
The supplies you will need to paint your ceramic tile floors are inexpensive and many you might already have if you are into DIY projects.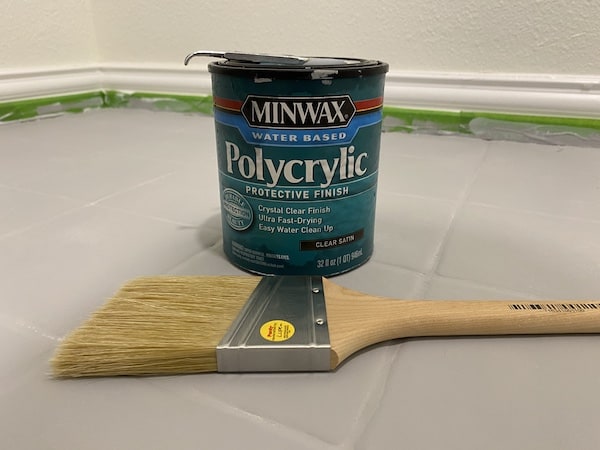 What kind of paint do you use on ceramic tile floors?
You can use different types of paint on your ceramic tile. I chose to use chalked paint, which is a thick acrylic paint. I really like chalked paint because it adheres to most surfaces without prep. I've used chalk paint on this chest and this hutch without sanding.
I did sand the ceramic tile, just to make sure the primer would adhere to the shiny tile finish.
There are lots of manufacturer's that make chalked paint. You can get it at Home Depot, Lowes and Amazon. I have used Annie Sloan Chalk Paint® before and it's great, but it tends to be more expensive. For this project I used Rust-Oleum chalked paint.
You can also use floor paint on your ceramic tile, if you can find it. I couldn't find it at Home Depot or Sherwin Williams, but I know that Benjamin Moore makes a floor paint.
I use affiliate links so I can afford to keep doing this.  Hope it saves you time. See my disclosure policy.
Steps to Paint Tile Floors
Here are the steps to paint your ceramic tile floor. It CAN BE done in one day, but it could be a very long day depending on the size of your room.
1.) Sand your tile. I used a hand sander. You aren't trying to take the finish off so you don't have to spend a lot of time on each tile, you just want to rough up the tile's surface slightly so that paint adheres better.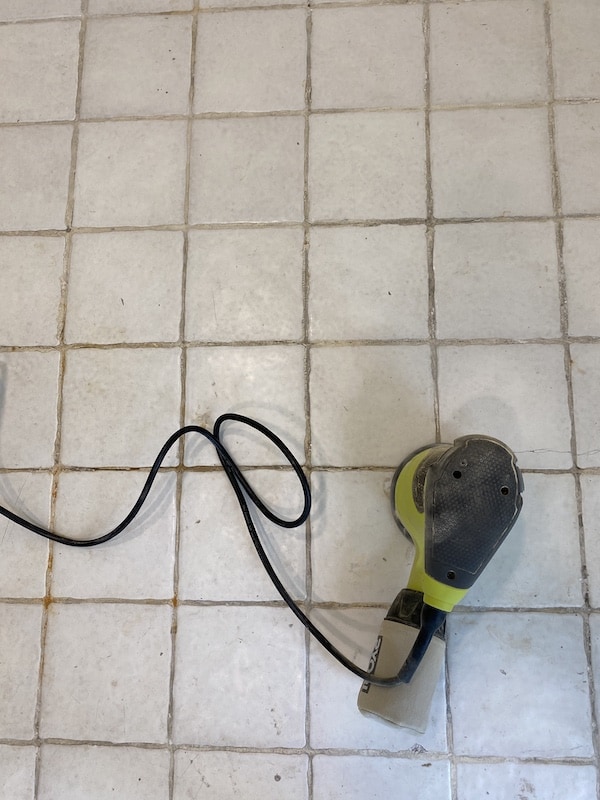 2.) Apply frog tape to the wood trim or walls to protect from paint. You might not have molding, but if you have floor molding you don't want to paint it with chalk paint. Wood trim normally has a pretty shiny finish and you'll want to keep your trim as neat and clean as possible. Even if you have no wood trim, tape your walls to prevent getting paint on them.
3.) Clean your ceramic tile floor. I sprayed the tile with the Krud Kutter and then cleaned it off with a bucket of water and a sponge. Our tile was pretty gross and I thought (mistakenly) that much of the grossness would disappear when I cleaned it. That didn't happen. It was still pretty gross looking even when it was clean. The floors looked rusty.
4.) Dry floor thoroughly. If you aren't in a hurry, I suggest letting the floors dry for several hours, but I couldn't do that since I only had one day. I dried the floors with rags.
5.) Apply caulk to large cracks and smooth it out. I squirted the caulk out and smooshed it flat with my finger. There are tools you can use to do this with more precision, but I didn't have many cracks to fill. I only caulked very large cracks. Allow the caulk to dry.
6.) Apply primer with foam roller and let it dry. The dry time was approximately one hour.
7.) Apply chalked paint to tile with foam brush and let it dry. Chalked paint dries very quickly, around 30 minutes. You can almost SEE it drying it's so fast.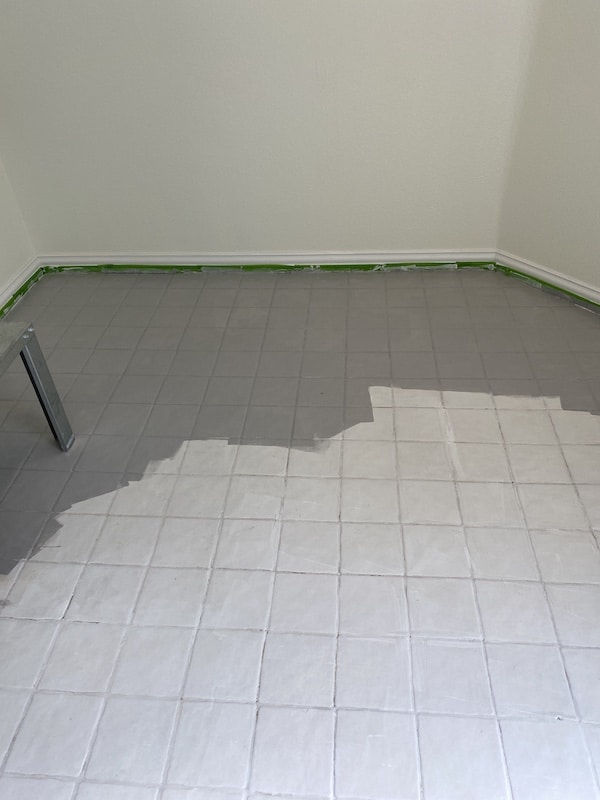 8.) Depending on how thickly you apply the paint (and what color your old floor was) you may need to apply a second coat of paint to the floor. Let your second coat dry.
9.) Apply a coat of sealer to the floor and let that dry. I learned the hard way that the Minwax takes about 48 hours to get completely dry. Someone stepped on the floor the same day I applied the wax and it left a big smudge so I had to sand and repaint two foot prints.
10.) Remove frog tape.
Can I change the color of my tile floor?
The answer to this question is YES. Not only can you change the color of your ceramic tile floor with paint, but you can also add a pattern like cement tiles have, see more about that below.
If you are going from a dark color to a light color, plan to paint a second coat. If you are covering black tile, you probably can't complete your job in just one day.
Can I Paint Tile to Look Like Cement Tile?
The photo that inspired me to try painting tile floors came from a post at Young House Love. Check out this amazing stenciled, painted floor tile. Painting a stencil on each individual tile is a time consuming process, but it has the look of concrete tile when you are done.
If you want to do this it will take an extra day at least because you have to paint each tile with stencil. If you want to get this look, the contrasting color should be painted on before you seal the tile with Minwax.
There are stencils available for tile in every possible size on Etsy. Here are some of my favorites.
Stay tuned for a tutorial on how to use a stencil to paint your ceramic tiles.
Would I do it again?
It is a time consuming DIY project to paint your ceramic tile floors. BUT it's so much cheaper and more eco-friendly to paint them. My only regret is that someone walked on them before they were dry. BE SURE to let them dry for 48 hours after you paint.
Before you go, you might be interested in painting a checkerboard floor.